Collections
Universal Studios Singapore

Adventure Cove Waterpark
Singapore
Why Visit Adventure Cove Waterpark Singapore
---
Experience a day of thrilling water rides and encounters with marine life at the Adventure Cove Waterpark. Ride the high-adrenaline water slides, snorkel with tropical fish or choose from a plethora of unique immersive experiences. With activities and rides for all ages, Adventure Cove is a waterpark where the water's full of life!
Visitors usually combine their visit to Adventure Cove Waterpark with visits to other theme parks or by engaging in the ultimate marine encounters available at the park. For a full list of activities and combos, visit the Adventure Cove Headout page.
Useful Info and Quick Facts
---
Adventure Cove Waterpark timings : 10am - 6pm
Ride up to 7 different water slides including the Riptide Rocket - Southeast Asia's first hydro-magnetic coaster.
Book your tickets prior to the visit to ensure easy access into the theme park. Adventure Cove tickets usually sell out days and weeks in advance depending on seasonal holidays, school vacations and other events.
On the adventure river, you'll be able to float across 14 different rivers from around the world. See flora and fauna indigenous to these specific zones as you cross the rivers.
The immersive experiences at Adventure Cove, such as the diving and the Ultimate Marine Encounters, require separate tickets which are available with Headout under the Adventure Cove Category.
ACW has lockers available for rent and other facilities including showering areas, nursing rooms and baby centres. Safety equipment such as floatation jackets and tubes are available at the venue.
Outside food will not be allowed within the venue. There are restaurants at Adventure Cove Waterpark for those looking to grab a bite.
Adventure Cove Waterpark Tickets
---
Adventure Cove Day Ticket
Valid for the whole day, the tickets allow you to save time at the queue when you arrive. The ticket is valid for thirty days from selected day of visit allowing you the flexibility to choose your date. You also get priority access to the park when you book your tickets online. The price for the Adventure Cove Day Tickets with Headout is 34 SGD for adults and 27 SGD for children.
Adventure Cove Express Ticket
The express ticket allows you to skip-the-line at the ride queues within Adventure Cove. This is an add-on to the base ticket and is available for purchase here or at the venue. With this ticket, you'll get priority access to and Rainbow Reef, two rides known for their long queues. These tickets start at an additional 10 SGD and have dynamic prices which change upon date and season of visit.
Why Book with Headout
---
Headout offers tickets at cheaper prices than the official Adventure Cove Waterpark Singapore website. Using our lowest price guarantee you can save up to 10% when you book your Adventure Cove ticket with us.
With your pre-booked ticket, you can skip-the-line at the entrance.
24x7 helpline to solve any unexpected problem that might occur to guarantee you a perfect experience.
What To Expect at Adventure Cove
Adventure Cove Waterpark, true to its name, holds all kinds of aquatic wonders for people of all ages. It has 7 water rides, a water maze, and interactive experiences with marine animals. Enjoy endless splashes of fun at Southeast Asia's only aquatic water park where thrilling waterslides and marine life encounters are located all in one place. You can get to zoom down Southeast Asia's first hydro-magnetic coaster, snorkel with 20,000 tropical fish over a colorful coral reef, and feel the magic of wading and interacting with dozens of rays.
Expect an day of water-filled fun as you slide down the Riptide Rocket which is known for its incredible speeds. The other water rides are also must-visit thrills along with the Ultimate Marine Encounters which allow you to come face-to-face with the aquatic life. Learn about the condition of life underwater and the threats humans present to this ancient ecosystem.
Adventure Cove Rides
---
Top Rides at Adventure Cove Waterpark
Riptide Rocket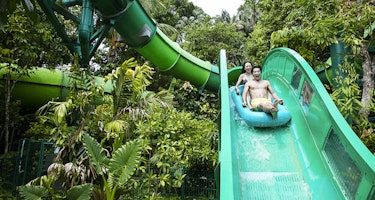 The first hydro-magnetic coaster in Southeast Asia, Riptide Rocket combines exhilarating speeds with exciting twists and turns to provide an adrenaline-rich adventure.
Spiral Washout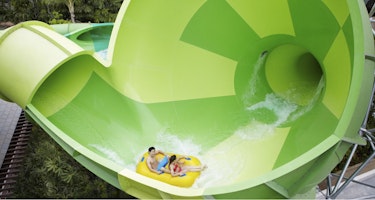 Get funneled into an oscillating tube ride and watch your world spin around in circles! Hold on tight as you soar at incredible speeds.
Pipeline Plunge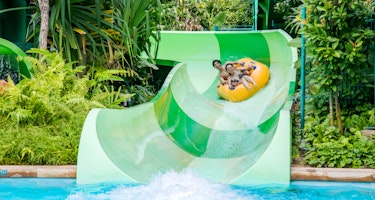 A water tornado in the dark! This unique experience will have you dropping through a pipeline with radical twists and turns before splashing you into the pool.
Adventure River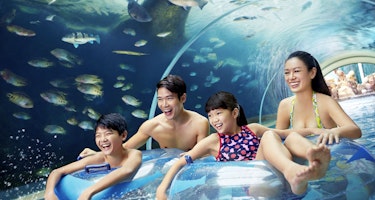 Leisurely float down the Adventure River and pass through 14 different habitat zones. You'll venture into forests, caves, underwater tunnels and much more as you take in the marine life while floating across the zones.
Bluwater Bay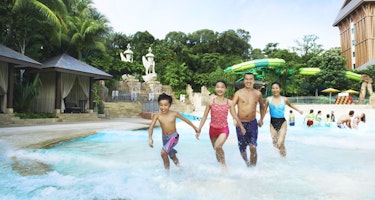 The surf's always up at Bluewater Bay! Crash into the waves and experience a beach-like setting at this giant wave pool.
Rainbow Reef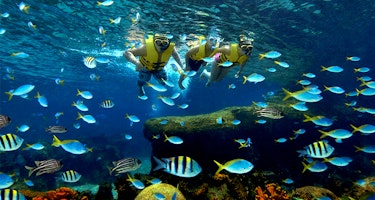 Snorkel with more than 20,000 fish and enjoy the aquatic world up close. Watch the colorful tropical fish swim through the reefs and cherish spending time underwater, away from the sounds and smells you're used to.
Rides Popular with Thrill-seekers
Adventure River
Bluwater Bay
Rainbow Reef
Big Bucket Treehouse
Seahorse Hideaway
Ultimate Marine Encounters at Adventure Cove Waterpark
---
The Ultimate Marine Encounters provides immersive aquatic experiences(detailed below). Dive into the world underwater and explore the rich wildlife and peculiarities it's known for. Swim with sharks or dive into the open aquarium to float along with schools of fish at the Waterpark.
The ultimate marine encounters are not included in the Adventure Cove Waterpark admission tickets. Tickets for these experiences have to be purchased separately, either online or at the venue, and require the Adventure Cove ticket.
Sea Trek Adventure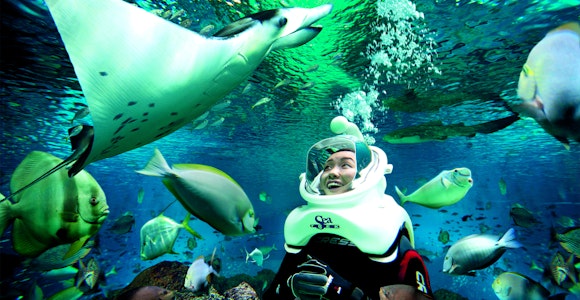 The Sea Trek Adventure plunges you into the aquatic world of gentle sea creatures. Stroll with marine life and watch the manta rays glide along the floor. This experiences allows you to walk the ocean floor as the fish swim all around and above you. The Sea Trek Adventure tickets are available from Monday - Friday at 1pm starting at SGD 80.
Shark Encounter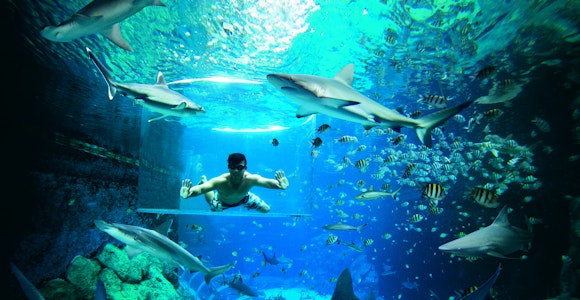 Feel the excitement of being circled by sharks in this shark habitat. See these ferocious predators up close and be mesmerized by their size and movement. Glimpse at the various species of sharks including the hammerhead, silvertip, sandbar and many more. Don't worry, you'll be placed within a customised acrylic enclosure to protect you from these stealthy marine predators. With hourly sessions everyday priced at SGD 67 with Headout, enjoy a special adventure with these Shark Encounter tickets.
Shark Dive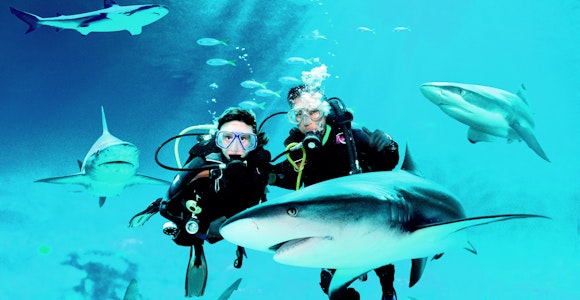 A special programme for certified divers, this experience provides the thrill of swimming with the seas apex predator. Dive into the Shark Habitat with your gear experience a rare feeling as you take in the sharks up close and personal. You will also learn about these fascinating creatures from your dive master. This experience needs to be pre-booked and prices for the Shark Dive tickets start from SGD 170.
Ray Bay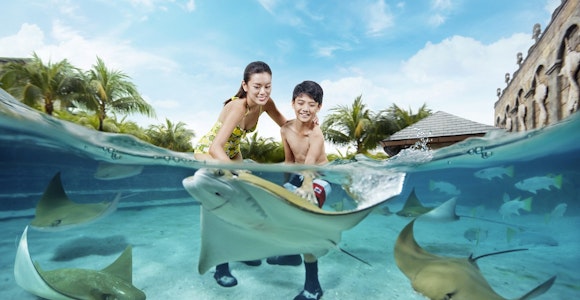 Spend a few hours of your day on an interaction with the mesmerizing rays. Learn how to feed these animals and interact with them as you touch their velvety wings. Your trainer will tell you everything you need to do and will answer all your questions about these wonderful creatures. Book your Ray Bay tickets starting at SGD 51 from Headout.
Know Before You Go
---
Plan your day to make the most of your time. Ensure you know the layout using the Adventure Cove map. This will help you plan the rest of your day too.
Adventure Cove Tickets do not permit entry into the ultimate marine encounters. Tickets for these events must be purchased separately.
Locker room facilities, showers and changing rooms are available at the venue.
Food stands and restaurants will be open within Adventure Cove. No outside food will be permitted.
Tips
---
Arrive early to beat the queues.The best time to visit the park is during the weekdays when everyone's off to work or school.
Eat light and regularly as the intensive activities are bound to leave you hungry.
Try to finish the Adventure River early in the day as the ride gets crowded later.
Ensure you don't carry big backpacks and carry-ons.
Carry your own towels and change of clothes.
How To Get There
---
By Bus
Alight at RWS 8 bus stop outside The Forum
By Sentosa Express
Alight at Waterfront Station
By Car
Alight at B1 West Car Park
Adventure Cove Reviews
---
Chiara West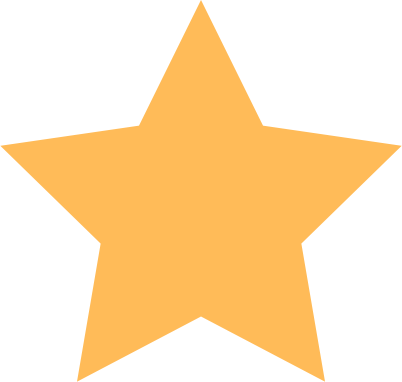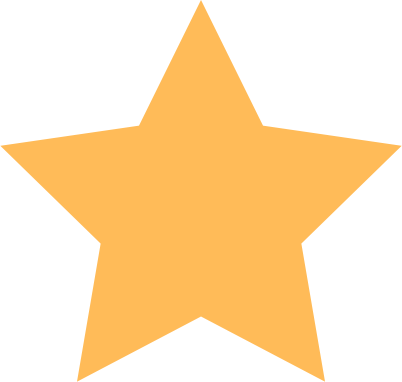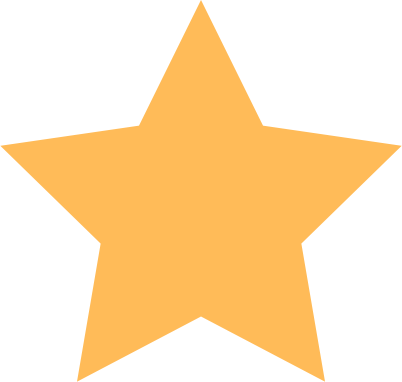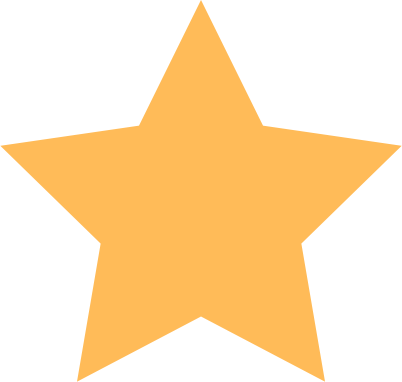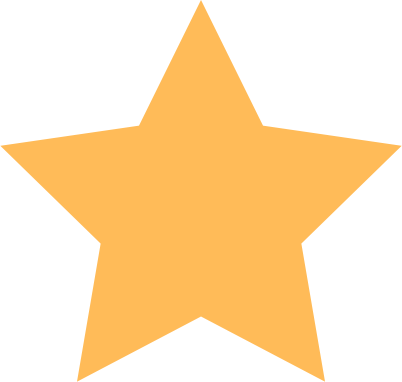 Brilliant Waterpark!
Had a lot of fun at Adventure Cove with the family. Riptide Rocket was fun but the highlight of the day was snorkeling at Rainbow Reef. We purchased our tickets online with Headout. Process was smooth and it helped save some time in the queues. Customer service team is pretty responsive to all the questions.
Jackson Dew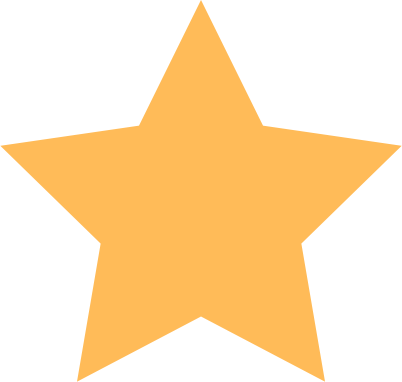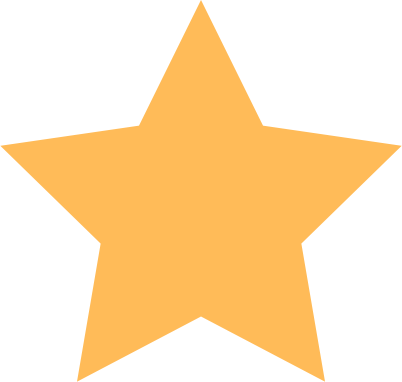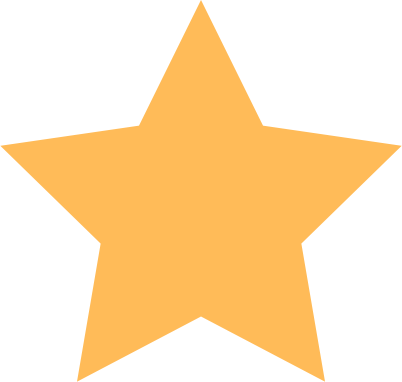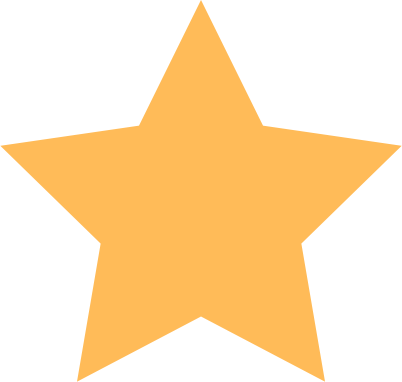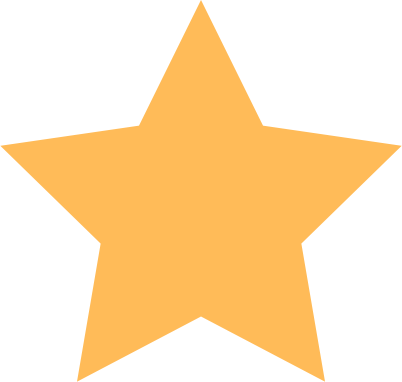 Unlimited fun on the rides
We went with low to medium expectations but had a surprisingly good time. The park is clean, organised and fun. Do book cabanas instead of lockers if you are visiting with a group of 4-5. They are well worth the SGD 68 premium as they come with SGD 30 savings on meals plus they are a lot closer to the rides section. Have been using Headout for our entire trip in Singapore with no complaints thus far.