Adventure Cove Waterpark Tickets
Experience Adventure Cove Waterpark in Singapore. Dive into thrilling slides, wave pools, and snorkeling. Choose from our ticket options for aquatic fun.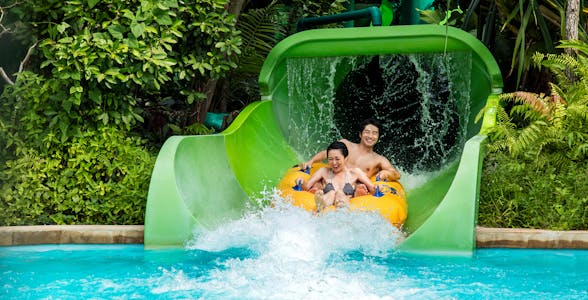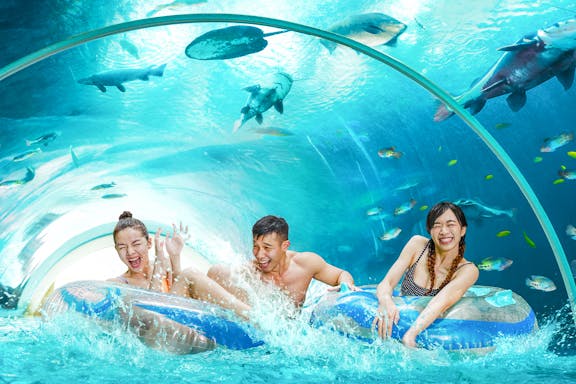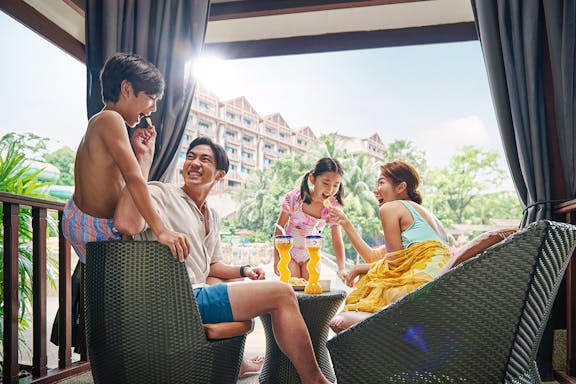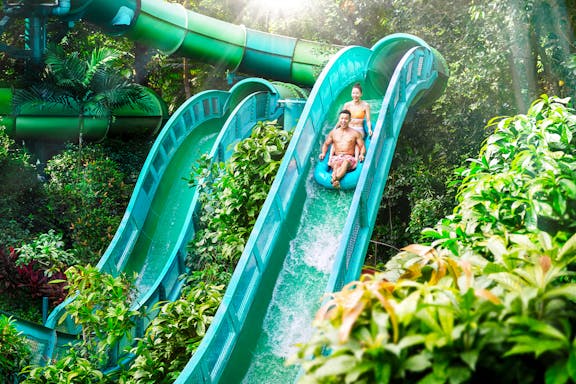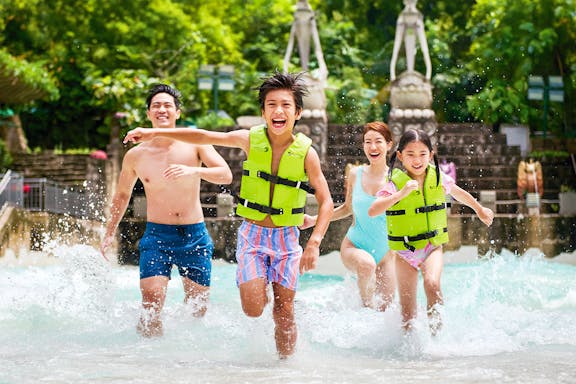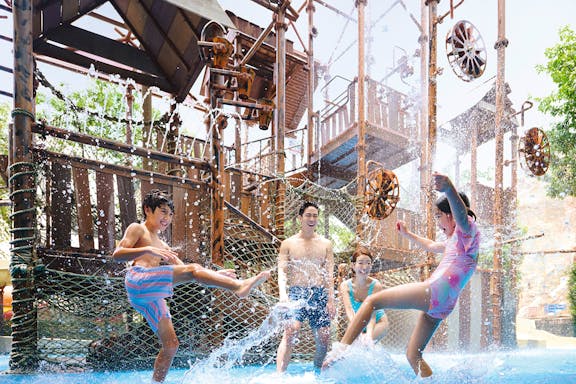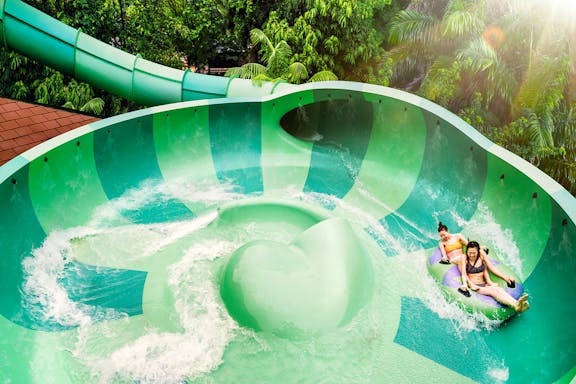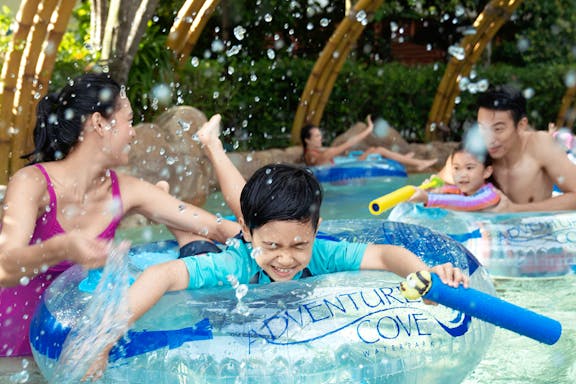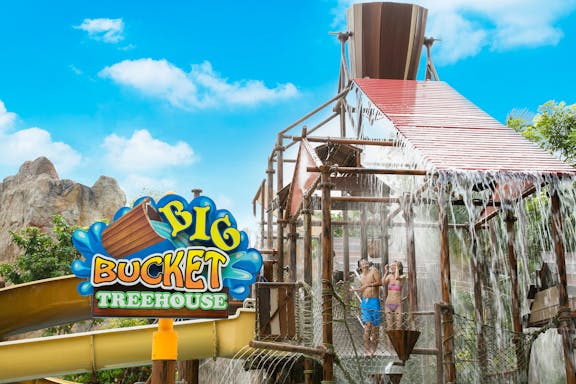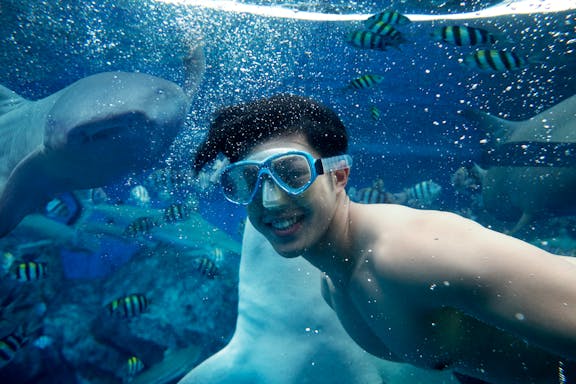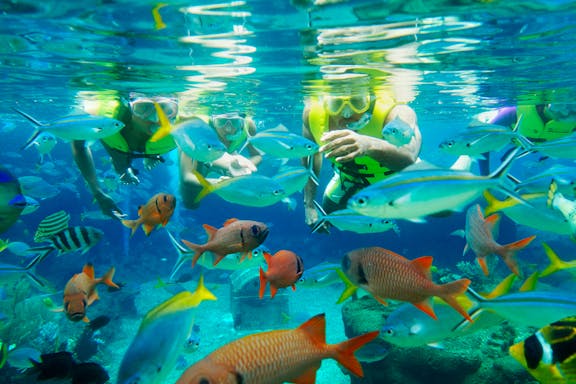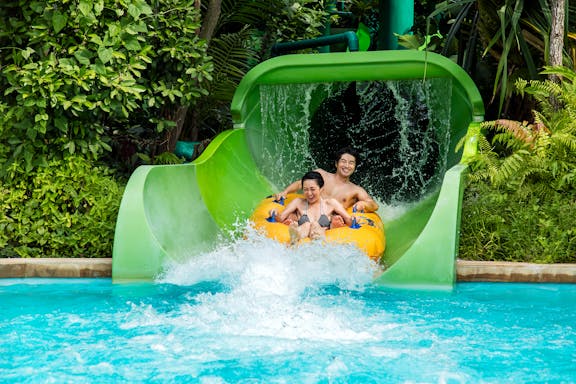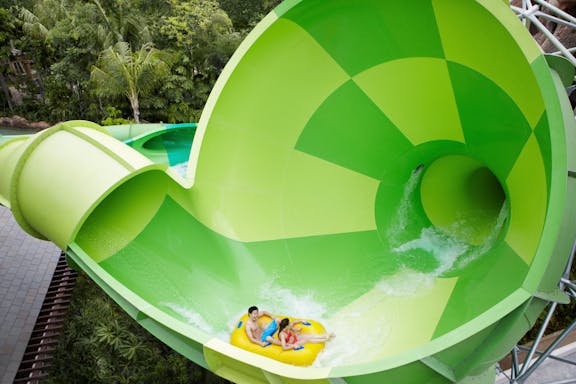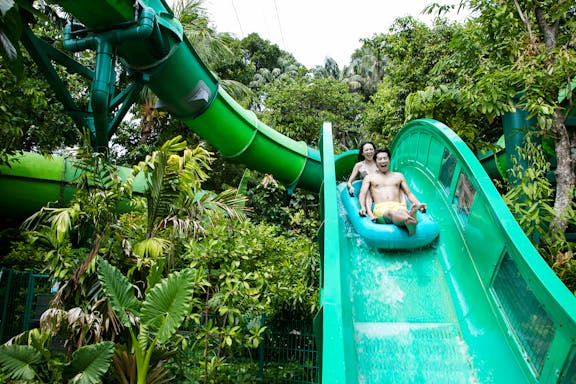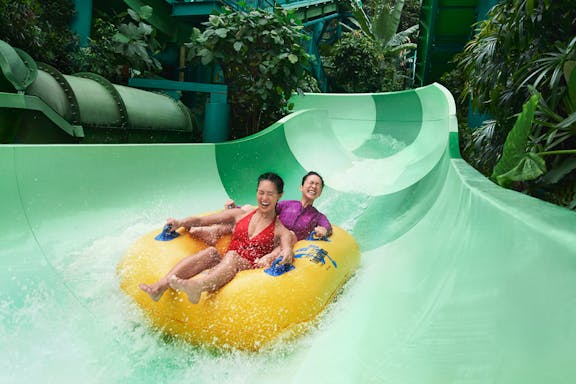 Millions love heading out with us
Adventure Cove Waterpark Tickets Guide

Adventure Cove Waterpark is the ultimate combination of an adventure-filled waterpark and encounters with marine life. Its seven thrilling water slides and rides, including Southeast Asia's first hydro-magnetic coaster - the Riptide Rocket, make it a heaven for adventure-seeking waterpark enthusiasts. It boasts of one of the world's longest lazy rivers, the Adventure River at 620m long. The Adventure Cover Waterpark is equipped with the best equipment and has lifeguards posted at every ride to ensure complete safety.
All Adventure Cove Waterpark Ticket and Tour Options

Adventure Cove Waterpark, true to its name, holds all kinds of aquatic wonders for people of all ages. It has 7 water rides, a water maze, and interactive experiences with marine animals. You can get to zoom down Southeast Asia's first hydro-magnetic coaster, snorkel with 20,000 tropical fish over a colorful coral reef, and feel the magic of wading and interacting with dozens of rays. Adventure Cove Waterpark tickets come bundled with access to the SEA Aquarium in Singapore to give you a more complete experience.

Super Saver Combo: Adventure Cove Waterpark + SEA Aquarium Ticket

Experience a day of thrilling water rides and encounters with marine life at the Adventure Cove Waterpark. Ride the high-adrenaline water slides, snorkel with tropical fish or choose from a plethora of unique immersive experiences. Visitors usually combine their visit to Adventure Cove Waterpark with visits to other theme parks or by engaging in the ultimate marine encounters available at the park. This particular ticket option comes bundled with priority access to SEA Aquarium to complete your aquatic experience.

Why go for these tickets?

Explore 2 attractions at your own pace: With Adventure Cove Waterpark combo tickets, you can skip the long waiting times at all the rides at the park and SEA Aquarium and explore all the themed zones on offer at both the attractions. With quite a few rides and shows to choose from, you are guaranteed to have a fun and thrilling time at both the parks.  

Recommended Experiences

Venture into the underwater world as you explore two of Singapore's best water parks, S.E.A. Aquarium™ and Adventure Cove Waterpark™, which provide insights into the underwater world of aquatic life in a thrilling, immersive experience.
Plan your Adventure Cove Waterpark visit

Timings

Getting to Adventure Cove Waterpark

Best Time to Visit

1. What are the opening hours of Adventure Cove Waterpark?

Opening Hours:

The park is open every day of the week from 10:00 AM – 06:00 PM.

2. How long does it take to tour Adventure Cove Waterpark?

To completely explore Adventure Cove Waterpark, you will need somewhere between 1 - 3 hours as there's going to be long queues, especially on the popular rides.

1. How do I get to Adventure Cove Waterpark by Cable Car?

Cable Car is a preferred way to reach the waterpark. Take the cable car from Harbourfront station to the Imbiah Station.
Take the Sentosa express and alight at the Waterfront station.
Walk towards the Merlion Statuette and onwards the Maritime Experiential Museum. Now follow the signage along the waterfront and you will reach the Adventure Cove Waterpark.

2. How do I get to Adventure Cove Waterpark by car?

Drive on the Sentosa Gateway and stick to the left lane towards the Resorts World Sentosa Car Park.
Turn right towards the space for 'Cars/Taxi' and follow the signage to 'B1 East'.
Locate the nearest Car Park directory and follow directions to Adventure Cove Waterpark on Level 1.
Extra parking charges will apply for the car park. Make sure you remember the parking spot.

3. Can I get to Adventure Cove Waterpark by bus?

Buses are available from all major attractions in Sentosa as well as Harbourfront in Singapore.
Alight at Bus Stop 14519 at the Resorts World Sentosa Bus Stop.
Enter via the Forum and turn right to take the elevator to Level 1. Follow the signage along the waterfront and you will reach Adventure Cove Waterpark.

When is the best time of the year to visit the Adventure Cove Waterpark?

Adventure Cove Waterpark sees unprecedented crowds during March, June, September, and December as this is the school holiday season. Any other time of the year is ideal to visit the attraction.

When is the best time of the day to visit Adventure Cove Waterpark?

The best time to visit Adventure Cove Waterpark is when right when it opens at 10:00 AM as it will give you ample time to explore all the rides on offer.
Explore Adventure Cove Waterpark

Immersive experiences are what make Adventure Cove Waterpark different and unique from the rest of parks in Singapore. It has unique enclosures that host a variety of marine animals. The Ray Bay is exclusively for species of rays and allows visitors to wade through the water and even feed them. The Shark encounter is a special encounter with the ocean's apex predator and allows guests to come face to face with the sharks through a unique viewing pod. The best feature of the waterpark is the Rainbow Reef where guests can snorkel and view more than 20,000 tropical fish amongst the beautiful reef.

Dueling Racer

Dare a friend to a thrilling competitive race down the Dueling Racer slide. Grab a mat and slide down the water slide to victory for the biggest thrill ever. This fun two-person water slide is perfect for bringing in excitement and challenge to your day.

Pipeline Plunge

It's fast, dark, and exciting! The Pipeline Plunge feels like riding a water tornado in the dark. The unique slide starts off down an elevated chute and then twists, turns, and dips before splashing out in a pool of water. It's guaranteed with thrills and chills!

Riptide Rocket

The Riptide Rocket is Adventure Cove's most thrilling ride. It is Southeast Asia's first hydro-magnetic coaster and is a combination of dizzying climbs, plunging drops, and terrifying twists and turns. It's bound to get your adrenaline pumping as you hold onto your float!

Spiral Washout

The Spiral Washout ride is exactly as advertised! An oscillating tube ride will take you and your friends into a spiraling adventure complete with unending twists and turns. Hold on tight as you swish and swash through the tube and finally into a splash pool.

Tidal Twister

You never know what's coming your way in this exciting and unexpected water slide! The Tidal Twister is a hit with the crowds as it winds down a series of swirls and slaloms. Just when you think it's calm and mild it turns into a mad rush of speed.

Whirlpool Washout

Whirl through a series of exciting turns, twists, revolutions, and dips in this thrill-inducing ride - the Whirlpool Washout. The fun ride takes you through a series of pipes and open areas while sucking you into whirlpool madness! Don't miss out on this one.

Rainbow Reef

One of the best experiences at Adventure Cove, the Rainbow Reef is where the excitement is! Snorkel through the vast reef which is home to more than 20,000 beautiful fish. It's a magical undersea world that will take your breath away as you watch these fish play hide and seek.

Wet Maze

The Wet Maze is perfect for groups seeking for having fun together. Packed with action and excitement, this two-level adventure play experience has a lot of tricks. Navigate your way through the laze but keep a look out for the water blasters, water sprays and more.
1. Is there a ticket to visit the Adventure Cove Waterpark?

Yes, you need tickets to access Adventure Cove Waterpark. There are quite a few ticket variations to choose from, including Super Saver Combo tickets which let you combine your Adventure Cove Waterpark experience with a visit to the SEA Aquarium.

2. What are the rules and regulations at the Adventure Cove Waterpark?

Height and size limitations are applicable to rides and attractions across the park.
Children under 122cm must be accompanied by a supervising adult.
Guests must carry appropriate swimwear according to the waterpark swimwear policy. The Lifeguards or Guest Service Team members can be approached for more information.
All valuables and guest belongings should be secured in lockers provided for a nominal fee.
Life jackets will be provided, do not bring in any personal floatation devices.
Outside food and beverages are strictly not allowed inside the premises.
Photography and videography are allowed only for personal use. The management is authorized to stop any such activity at any time.
Guests should shower prior to entering pools and going on water rides.

3. What are the facilities available inside Adventure Cove Waterpark?

All basic facilities including sanitization measures are available at the park. Additionally, there are many food options inside the waterpark, but the best value for money is at The Bay Restaurant. There are lockers at the entrance and near the Bay Restaurant.

4. Are there any new rules and regulations in light of the coronavirus crisis?

The park is currently closed due to the Coronovirus pandemic. The authorities will lift the restrictions right after the Singapore government eases their restrictions on opening water theme parks.

5. Can I cancel/reschedule my Adventure Cove Waterparke tickets?

Yes, depending on your ticket, you may cancel your tickets up to 24 hours in advance for a full refund.