Eiffel Tower Reopening Date - 25th June 2020
---
After 104 days, what seemed like eternity, the Eiffel Tower reopens after its longest closure. Effective measures have been set in place by authorities to ensure maximum safety for all visitors. In the mission to create a safe and enjoyable space for all, guidelines have been created by the staff which needs to be strictly followed by every visitor.
New Rules & Safety Measures at the Eiffel Tower
---
For safety reasons, all visitors are advised to purchase tickets online to avoid standing in long queues at the venue. To avoid overly large gatherings, the number of stair and elevator tickets available online and on site will be much more limited than usual. All visitors from 11 and above are required to wear masks. Important signage and markings on the ground will help guests to respect the distance (1.5m) between people, especially in the queues and in the "areas" of viewpoints most visited.
There are around thirty hydroalcoholic gel distribution points within the venue. Snack points are open on the forecourt and on the 2nd floor. Shops will also remain open on the forecourt, on the 1st floor and on the 2nd floor. The Michelin-starred Jules Verne, which has its own elevator to a dining room perched 125 metres (410 feet) above the ground, will open on June 30.
Elevator service inside the monument is slated to begin again on July 1.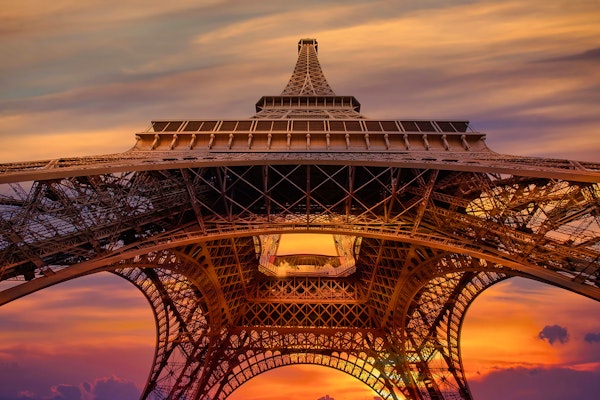 Booking Eiffel Tower Tickets Online
---
Eiffel Tower Tickets are available online.
The ticket is valid only for the day and time of scheduled. All guests are required to reach at least 10 - 15 minutes before the start time to avoid any delay.
To maintain social distance, the Eiffel Tower is open for visits to the 2nd floor, by stairs only from June 25 to 30, then by elevator also from July 1.2nd floor elevator tickets for August will start on sale from June 23. The 2nd floor staircase tickets for the month of August will be on sale at D-7.
For more information about visiting Eiffel Tower, refer to their information page.
Recommended Eiffel Tower Tickets For A Safe Experience