Aquaventure Waterpark Reopening Date - 23rd Maay
---
After being closed for several weeks, Aquaventure Waterpark has officially reopened on 23rd May 2020. Find out more about the effective measures put in place to ensure a safe and relaxed environment for all visitors.
Safety Measures & New Rules at Aquaventure Waterpark
---
Due to safety reasons, all visitors are requested to follow social distancing of at least 2 meters from other guests throughout the venue. Thermal cameras have been installed at various points to conduct temperature checks.
The staff within the venue have been trained and briefed about all the protocols necessary ensuring a seamless experience is provided during the visit. The frequency of air filter replacement and HVAC system cleaning has been increased and fresh air exchange is optimised.
Hand sanitizing stations have been placed at various points within the venue for guests to avail. Lockers can be rented from the ticket counter when you arrive at the venue. Lockers can be accessed by using the wristband provided.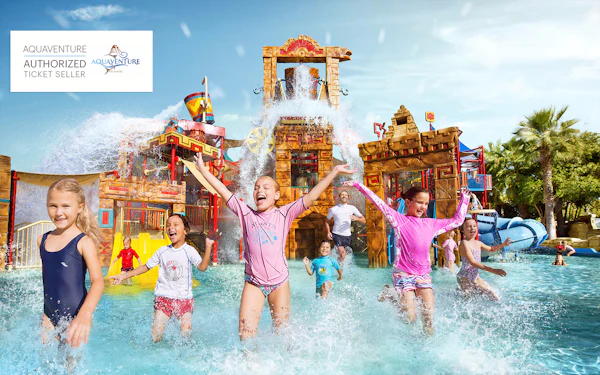 Booking Aquaventure Waterpark Tickets Online
---
Tickets for the Aquaventure Waterpark are available here.
To maintain a safe distance and to avoid overcrowding, it is advised to purchase tickets online before arriving at the venue. Tickets can also be purchased directly from the water park entrance ticket counter as well.
Children must be at least 13 years old to enter Aquaventure if unaccompanied by an adult. To ensure the safety of our guests, access to certain rides is restricted to those over 1.2m. All visitors over 1.2m are required to purchase an adult ticket.
For more information about visiting Aquaventure Waterpark, refer to their information page here.