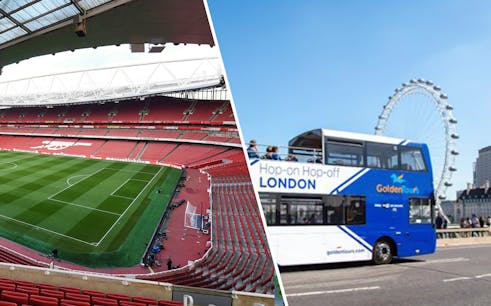 Arsenal FC Stadium Tickets Guide


Looking to take your Arsenal Stadium experience to the next level? With a variety of tour options to choose from, you can customize your visit to fit your schedule and interests. Whether you prefer a standard tour or a combo tour, each ticket type is packed with perks to make your visit unforgettable. Get ready to immerse yourself in the heart of Arsenal's history, culture, and passion. From start to finish, you'll enjoy a thrilling escapade that will leave you cheering for the Gunners!
All Your Arsenal FC Stadium Ticket Options

If you're planning a visit to London, the Arsenal FC Stadium is an attraction that you won't want to miss. Whether you opt for a standard ticket or a combo tour with other London attractions, each ticket type provides its own unique benefits and allows you to explore different areas of the stadium, from the pitch and players' tunnel to the Arsenal Museum. Here's a breakdown of your ticket options and what they include, so you can choose the perfect option for your visit.

Standard Entry

Combo Tour

Step into the legendary Emirates Stadium, the home of Arsenal FC. With admission to this magnificent arena, you'll get a chance to witness the architectural marvel that has played host to some of the most thrilling moments in English football history! During your tour of Emirates Stadium, you'll be able to marvel at the club's rich trophy cabinet, showcasing their achievements, including 13 Premier League titles and 14 FA Cups.

Recommended Experiences

Arsenal FC Emirates Stadium Tour

Arsenal FC Emirates Stadium Tour: This ticket gives you entry into the Emirates Stadium. It also includes entry into Arsenal's museum. You can also opt to have an audio guide, which is available in 9 languages.

Discover the best of London and Arsenal Football Club with this convenient and cost-effective combo tour. Experience the thrill of visiting the prestigious Emirates Stadium with a 9-language audio guide leading you through the Emirates pitch, dressing rooms, and tunnels used by legendary players. Choose between a 24-hr or 48-hr tour, depending on your schedule and you'll be able to explore the city at your own pace. You can also enjoy a tranquil walking tour and a scenic cruise along the Thames. 

Recommended Experiences

Arsenal FC Emirates Stadium Tour + London HOHO Tickets

Arsenal FC Emirates Stadium Tour + London HOHO Tickets: These combo tickets include entry into the Emirates Stadium and Arsenal's Museum as well as a hop-on-hop-off tour of London. It covers 4 routes and 70 stops across the city with an audio guide for a rounded experience.
Plan Your Visit to Arsenal FC Stadium

Opening Hours

Getting There

Guidelines/Facilities

What are Arsenal FC Stadium opening hours?

The stadium is open daily from 10 AM - 4 PM, with last entry at 3 PM.


What is the best time to go on a Arsenal FC Stadium tour?

Visiting the Emirates Stadium in the early morning is the perfect way to experience the best of the exceptional weather and avoid large crowds. To fully enjoy the attractions of the stadium, it's recommended to schedule your visit during a weekday when it's less busy. If you're looking for a livelier atmosphere, consider timing your tour for a game day, though be aware that it may be more crowded.

How long is an Arsenal FC Stadium tour?

An Arsenal FC Stadium tour typically lasts around 90 minutes, though the duration may vary depending on the size of the group and the time of day.

Where is Arsenal FC Stadium located?

Emirates Stadium is located at Hornsey Road, London N7 7AJ, United Kingdom.

Can I take the tube/train to Arsenal FC Stadium?

You can take the Northern line to King's Cross St. Pancras Underground Station and then get off at Holloway Road. Walk for about 5 minutes till you reach the Emirates Stadium. The three closest train stations to the Emirates Stadium are Drayton Park, Finsbury Park or Highbury, and Islington. 

Can I take the bus to Arsenal FC Stadium?

Bus lines 4, 19, 29, 43, 91, 106, 153, 253, 254, 259, 263, 271, and 393 may all take you to Emirates Stadium. Bus stops are at Nags Head, Holloway Road, Seven Sisters Road, Blackstock Road, and Highbury Corner, only a few minutes' walk away.

Are Arsenal FC Stadium tours wheelchair accessible?

Yes, the stadium is fully accessible for wheelchair users.

Are outside food and drinks permitted on an Arsenal FC Stadium tour?

Are audio guides available on an Arsenal FC Stadium tour?

Yes, audio guides are available in 9 languages.

Are there places to shop during the Arsenal FC Stadium Tour?

The flagship store, The Armoury, is on the West side of Emirates Stadium, below the podium. It offers a complete line of Adidas fan gear, apparel, training gear, and accessories.

Is parking available at Arsenal FC Stadium?

There is parking available at the nearby Sobell Leisure Centre which is a brief five-to-ten-minute walk from Emirates Stadium and can be found at: Hornsey Road, London, N7 7NY.
What to See at the Arsenal FC Emirates Stadium

Located in the heart of North London, the stadium is a must-visit destination for any football fan. With a seating capacity of 60,260, it is one of the largest stadiums in the Premier League. The stadium not only hosts football matches but also offers a range of attractions for visitors.

Arsenal Museum

The club's museum is a place of rich history and heritage, a celebration of all things Gunners. With its interactive exhibits, treasured memorabilia, and impressive collection of trophies, visitors can delve into the club's story, tracing its evolution from its founding in 1886 to the present day.

Club Store

The club store is a mecca for Arsenal fans, offering a range of merchandise that will delight and inspire. From official replica kits to training wear and souvenirs, there's something for everyone.

Highbury Squad Wall

The Highbury Squad Wall is a tribute to the legends of the past, a celebration of the greats who have graced the pitch in the service of Arsenal Football Club. Visitors can gaze upon the photographs of the club's finest players and be transported back in time to the days of Highbury Stadium, the club's former home.

Tunnel Club

The Tunnel Club presents the unique opportunity to step into the shoes of an Arsenal player and walk down the same tunnel as your heroes. This behind-the-scenes experience offers a glimpse of what it's like to play at Emirates Stadium and provides a truly unforgettable matchday experience.
Top Attractions in London

With its rich history, iconic landmarks, and vibrant cultural scene, there is something for everyone in London. From the historic Tower of London to the modern London Eye, the city is home to some of the world's most recognizable attractions.

Big Ben and the Houses of Parliament

Big Ben, now officially known as the Elizabeth Tower, is one of the most iconic landmarks in London. The Houses of Parliament, located nearby, is the seat of the UK's government and is a stunning example of gothic revival architecture. Visitors can take a tour of the building to learn about its history and see the famous clock tower up close.

Buckingham Palace

As the official residence of the British monarch, Buckingham Palace is one of the most famous buildings in the world. It is the center of the monarchy's public life and serves as the backdrop for the Changing of the Guard ceremony, a popular tourist attraction.

Tower of London

This historic castle has served as a palace, prison, and armory over the centuries. It is now a museum that displays the Crown Jewels and provides an insight into the history of the monarchy. Visitors can also learn about the castle's dark past as a prison for some of England's most notorious criminals.

London Eye

This giant Ferris wheel offers incredible views of the city from 135 meters high. It is the largest observation wheel in Europe and one of London's most popular tourist attractions.

British Museum

This museum is home to over 8 million artifacts from all over the world, including the Rosetta Stone, the Elgin Marbles, and the ancient Egyptian mummies. The museum is free to visit, making it a must-see for all visitors to London.

Trafalgar Square

This iconic square is home to the National Gallery and is surrounded by some of London's most famous landmarks, including Nelson's Column and the fountains. It is a popular gathering place for Londoners and visitors alike and is a hub of cultural activity in the city.
Arsenal FC Stadium Tour FAQs

What can I see on the Emirates Stadium tour?

On the Emirates Stadium tour, you'll get to see the pitch, dressing rooms, players' tunnel, and more. You'll also have access to the Arsenal Museum, which features a vast collection of memorabilia and trophies.

How long is the Emirates Stadium tour?

The Emirates Stadium tour typically lasts around 90 minutes, though this may vary depending on the size of the group and the time of day.

Is Emirates Stadium accessible for visitors with disabilities?

Yes, Emirates Stadium is fully accessible for visitors with disabilities. There are lifts, ramps, and accessible toilets throughout the stadium, and disabled visitors are entitled to a free carer ticket.

Are food and drinks available on the Emirates Stadium tour?

Yes, there are several food and drink outlets located within Emirates Stadium, including cafes and restaurants. However, food and drink are not allowed on the tour itself.

Can I bring luggage on the Emirates Stadium tour?

Bags larger than A4 size are not permitted on the Emirates Stadium tour, and there is no storage available at the stadium. It's best to leave large bags at your accommodation or in a locker at a nearby train station.

Can I take photos on the Emirates Stadium tour?

Yes, photography is allowed on the Emirates Stadium tour, except in certain areas where it is prohibited for security or copyright reasons.

Are there any age restrictions for the Emirates Stadium tour?

There are no age restrictions for the Emirates Stadium tour, but children under 16 must be accompanied by an adult.

What is the best way to get to Emirates Stadium?

The best way to get to Emirates Stadium is by public transport, with the nearest tube station being Arsenal on the Piccadilly Line. There are also several bus routes that stop near the stadium, and a limited number of parking spaces available for those driving.