Rome To Naples Tours
Football fans, assemble! Enjoy seamless high-speed train transfers from Rome to Naples, where an expert guide will take you to places that represent the legendary Maradona. Visit Umberto I Gallery, Spanish Quarters, Vico Lungo Gelso, and Piazza Maradona which celebrates the player's legacy.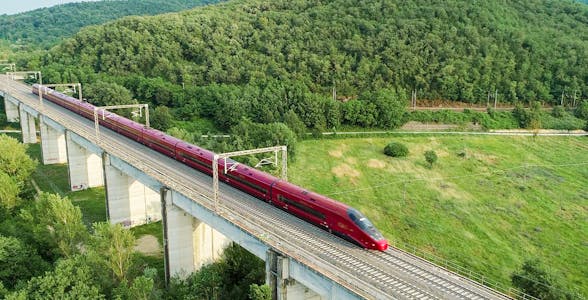 Rome To Naples Tours Guide

Are you ready to embark on an unforgettable journey from Rome to Naples? It is time to uncover the treasures of Italy as you venture from the Eternal City to the vibrant streets of Naples. Here's why this captivating itinerary deserves a special place on your travel list:
Discover The Magic Of Naples

Naples, the city of contrasts, is a place where history, culture, and culinary delights intertwine. Nestled by the Bay of Naples, this bustling metropolis offers a captivating blend of ancient ruins, stunning architecture, and a lively atmosphere. Get ready to immerse yourself in the vibrant Neapolitan culture and experience a city like no other.
Unmissable Attractions In Naples

Pompeii

Spaccanapoli

The National Archaeological Museum

Just a short distance from Naples lies the ancient city of Pompeii. Step back in time as you explore the remarkably preserved ruins of this Roman city buried by the eruption of Mount Vesuvius in 79 AD. Wander through the streets, visit the grand amphitheater, and marvel at the frescoes that have survived the test of time.

Explore the heart of Naples by strolling along Spaccanapoli, a long and narrow street that divides the city's historic center. Admire the charming architecture, browse through artisan shops, and sample local street food as you soak up the lively atmosphere of this vibrant neighborhood.

Immerse yourself in the archaeological wonders of Naples at The National Archaeological Museum. Marvel at the extensive collection of artifacts, including the Farnese Bull and the Secret Cabinet, which houses a unique collection of ancient erotic art.
Insider Tips For Exploring Naples

Indulge in Neapolitan Pizza

Naples is the birthplace of pizza, and you can't leave without savoring a traditional Neapolitan pizza. Seek out a local pizzeria and taste the authentic flavors of this beloved dish.

Explore the Quartieri Spagnoli

Venture into the Quartieri Spagnoli, Naples' Spanish Quarter, known for its vibrant atmosphere and narrow alleys. Discover hidden gems, local markets, and experience the true essence of Neapolitan daily life.

Visit the Naples Waterfront

Take a leisurely stroll along the Naples Waterfront (Via Caracciolo) and enjoy panoramic views of the Bay of Naples and Mount Vesuvius. Breathe in the fresh sea air and watch the colorful fishing boats bobbing in the water.
Naples offers a range of shopping experiences, from bustling markets to high-end boutiques. Here are a few destinations worth exploring:

Via Toledo

Antique Shops in Via San Gregorio Armeno

Visit Via Toledo, one of Naples' main shopping streets, and find a mix of local and international brands. Explore department stores, fashion boutiques, and enjoy a spot of retail therapy.

Dive into the world of craftsmanship and antique treasures in Via San Gregorio Armeno. This narrow street is famous for its artisan workshops, specializing in the creation of Neapolitan nativity scenes, known as presepi.
Indulge In Culinary Delights

Naples is renowned for its mouthwatering cuisine. From iconic pizzas to delectable pastries, here are a few culinary delights you shouldn't miss:

Pizza Margherita

Sfogliatella

Treat yourself to a classic Pizza Margherita, made with San Marzano tomatoes, buffalo mozzarella, fresh basil, and drizzled with olive oil. Savor every bite of this Neapolitan culinary masterpiece.

Delight your taste buds with a sfogliatella, a traditional Neapolitan pastry with a flaky crust and a rich, sweet filling of ricotta cheese, candied fruit, and orange zest.
Getting From Rome To Naples

Traveling from Rome to Naples is convenient and offers various transportation options:

By Train

By Car

The high-speed train is the most popular and efficient way to travel between Rome and Naples. The journey takes approximately 1 to 2 hours, providing comfort and scenic views along the way.

If you prefer a more flexible itinerary, you can rent a car and drive from Rome to Naples. The journey takes around 2 to 3 hours, depending on traffic conditions.