Landmarks in Vienna
Top Experiences
Sort By: Our Recommendations
Travel Guides and Tips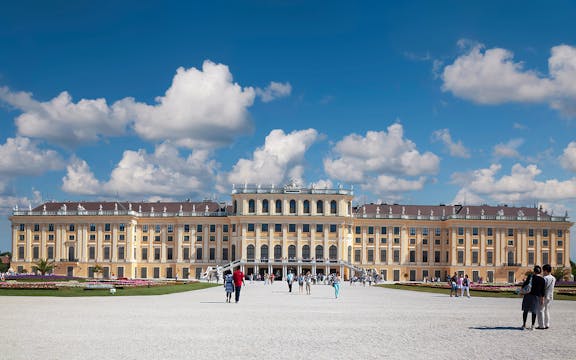 Explore the Splendid Schönbrunn Palace: A Window into Austria's Rich History
The Schönbrunn Palace, located in Vienna, Austria is a magnificent baroque palace that dates back to the 16th century. It was once the summer residence of the Habsburgs and has been designated as a UNESCO World Heritage Site since 1996 due to its impressive architecture and vast gardens. The palace features 1,441 rooms, 40 of […]
Read More
Is it worth booking Vienna landmark tickets?

A premier location in Central Europe, Vienna is both the cultural and the federal capital of Austria. Known for the great minds that contributed to the world's artistic legacy, Vienna is a must-visit for any travel-enthusiast. It is a location replete with more than 2,400 coffeehouses serving the ever-popular concoction endemic to the region – Viennese coffee –  with an array of museums and galleries dotting the streets, such as the Kunsthistorisches Museum, The Hofburg, and the Mozarthaus. 

And of course, it is impossible to leave the Prater unmentioned when we're talking about Vienna. For the full and unabridged travel experience for Europe, it is definitely worth taking a trip to popular Viennese landmarks and witness the magic of the city yourself!
What is the starting price of Vienna landmark tickets?

It is possible to have fun on a budget when you're in Vienna. While there are many free of cost options to explore in the city as far as attractions are concerned, most landmarks require you to pay an entry fee in order to gain unlimited access to them. You can head to landmarks such as the Belvedere Palace to explore the Baroque structure for as low as €8.90.

Other landmarks include:

Klosterneuburg Monastery: €9 onwards
Schonbrunn Palace: €19.90 onwards
Which Vienna landmark tickets are cheapest?

The following are the cheapest tickets available:

Belvedere Palace: €8.90 onwards 
Klosterneuburg Monastery: €9 onwards
Are discounts available on landmark tickets in Vienna?

Children till the age of 19 enjoy free entry to most landmarks, and seniors over the age of 65 along with students enjoy discounted prices on their tickets. Headout also offers cashbacks of 5% on all landmark tickets in Vienna.
Are guided tours included in Vienna landmark tickets?

Guided tours can help you explore your landmark of choice with a greater insight into the historical and/or architectural intricacies of the location.

Tours in Vienna

are available in multiple languages, and some guided tours also offer skip the line tickets so that you can avoid waiting in long queues for your Vienna landmark experience. You can expect to find

guided tours in Vienna

for important landmarks such as the Hofburg Palace, City Hall, Schonbrunn Palace,

Vienna Klosterneuburg Monastery

and the Vienna State Opera.
Are combos available with Vienna landmark tickets?
What is the cancelation policy for Vienna landmark tickets?

While most Vienna landmark tickets do not allow you to cancel your tickets before the experience, some offer free cancellation and a full refund for up to 24 hours before the experience begins. Ensure that you check your ticket information before proceeding with the booking.
What are the most famous landmarks in Vienna?

Schonbrunn Palace: A World Heritage Site under UNESCO, the Schonbrunn Palace is easily the most popular tourist attraction in Vienna. This royal landmark developed from a pleasure palace built for Eleanore von Gonzaga into the sprawling complex that it is now, post the siege of Vienna. The interiors of the Schonbrunn Palace boast of some distinct and beautiful Rococo artistry. Explore this and much more with your Schonbrunn Palace tickets.
St Stephen's Cathedral: An impossible-to-miss Gothic structure. St Stephen's Cathedral is simply indispensable to Vienna's history. Your St. Stephen's Cathedral ticket gives you access to the Gothic and Romanesque styles of architecture in its entirety, with a must-see pulpit within the premises.
The Hofburg: Easily one of the biggest Austrian landmarks in terms of area covered, the Hofburg used to be the epicenter of royal history in Vienna - and remains to this day a testament to the long-standing architectural appreciation throughout Austrian history. You can find a variety of architectural styles in all 18 groups of buildings that make up the Hofburg, making it a landmark that always has room for exploration!
Belvedere Palace: Fans of Baroque architecture consider this Vienna landmark to be a must-visit on their list. Depending on your choice of Belvedere Palace tickets, you can get access to two palaces - namely, the Upper and Lower Belvedere - as well as the Belvedere 21, the building complex houses museums, galleries, as well as an array of gardens around the complex you can walk through to explore.
Vienna Operahouse: Catch a performance at the world-renowned Vienna State Operahouse and witness the maestros in action with some stunning opera and ballet ensembles. The building was reconstructed in the mid-1950s, and has since been housing classic musical performances every night for an audience of over 1,700.
Which is the oldest landmark in Vienna?

The Schottenstift, a Benedictine monastery in present-day, is the oldest landmark in Vienna. Heading to the Schottenstift offers you access to the museum, housing works from artists like Peter Paul Rubens and Franz Anton Maulbertsch.
Which is the tallest landmark in Vienna?

The Danube Tower, or the Donauturm as it is referred to in Vienna, is the tallest structure in the city, offering a viewing platform at a height of 150 meters above ground - as well as a restaurant that is 170 meters off the ground so you can dine in the midst of a stunning view of the city.
Which is the most visited landmark in Vienna?

The Schonbrunn Palace is the most popular tourist attraction in Vienna - and even in all of Austria. Once the summer home for the monarchs, and now boasts rooms upon rooms of Baroque and Rococo-period art.
What are 5 must-visit landmarks in Vienna?

The five landmarks in Vienna that you absolutely must visit are the following:

Schonbrunn Palace
St Stephen's Cathedral
The Hofburg
Belvedere Palace
Vienna Operahouse
What are some underrated landmarks in Vienna?

Kunst Haus Wien: Museum Hundertwasser: A building serving as a museum housing Hundertwasser's art, this furniture-factory-turned-museum is a hidden gem that has only recently become popularly-frequented by tourists heading to Vienna. The building is adorned with Hundertwasser's typical style of colorful mosaic tiles and wavy lines.
Hofburg Imperial Palace: The sprawling grounds of the Hofburg allow visitors to explore 18 groups of buildings and gain greater insight into Austrian imperial history. Notable spots to visit here include the Sisi Museum and the Imperial Apartments.
Kriminalmuseum: Fans of true crime are going to love this one. This museum houses a grotesque collection of crime scene evidence preserved and images of both popular and rare true crime cases - for those attempting to satisfy their morbid curiosity.
Schmetterlinghaus: Catch a view of the rarest species of butterflies by heading to this greenhouse close to the Opera House in the midst of the city. These brightly-coloured insects in their natural habitat are sure to delight you in this gorgeous landscape garden with exotic plants.
On which days can you enter landmarks in Vienna for free?

You can enter the Schonbrunn Palace Park free of charge during opening hours. Similarly, most landmarks have the option to stroll the grounds (and some of the interior, in the case of St. Stephen's Cathedral). Additionally, children below the age of 19 can access most landmarks in Vienna for free.
Do landmark tickets in Vienna offer skip-the-line access?

It is possible to avoid the large number of people queuing up to popular Vienna landmarks by opting for skip-the-line tickets, which are offered on some attractions. If you prefer to skip the line, you can order tickets online, or use the city pass.

Vienna City Passes

offer fast track entry to several locations at Vienna's premier landmarks. Additionally, you can purchase standalone skip the line tickets for attractions such as Belvedere Palace, Schonbrunn Palace and more.
Are popular landmarks in Vienna included in the city pass?

Yes, the city pass includes admission to popular Vienna landmarks, while some city pass options even offer skip-the-line access to them. You can choose to opt for the Vienna Pass, Vienna Flexi Pass or the 24 hour HOHO tour, depending on how long you want access to explore these landmarks - as well as the number of days you plan to go around Vienna.
Which landmarks are located close to each other?

To get to premier landmarks around the city with ease, you can start by heading to Belvedere Palace in Prinz Eugen-Straße 27. The following landmarks are close-by and are easily accessible by various means:

 

Under 3 km radius:

St Stephen's Cathedral
Heeresgeschichtliches Museum
The Hofburg
Karlskirche
Albertina
Vienna State Operahouse
Which parts of Vienna have the most landmarks?

The area surrounding Innere Stadt and Wieden is replete with several popular attractions that you can head to with ease.