Food Tours in Rome
Top Experiences
Sort By: Our Recommendations
Travel Guides and Tips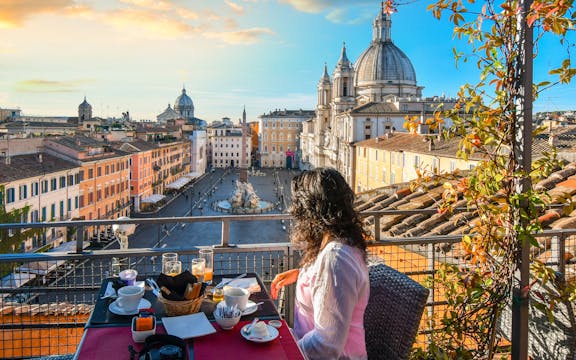 A Foodie's Guide To The Best Food Tours and Cooking Classes in Rome
Discover the enchanting world of Food and Wine Tours, and Cooking Classes as we explore the rich flavors, traditional dishes, and local gems that make Rome a gastronomic paradise. From savoring mouthwatering delicacies on guided tours to mastering the art of Italian cuisine with skilled chefs, join us as we unravel the hidden culinary treasures […]
Read More
Is a food tour in Rome worth it?

Italian food is one of the most beloved cuisines worldwide and the best way to get the most of it is by taking a food tour in Rome. They are usually prepared with fresh, seasonal, and simple ingredients, and include peas, globe artichokes, fava beans, shellfish, milk-fed lamb and goat, and a variety of cheeses. On a food tour in Rome, one has the best opportunity to try authentic Italian food. With a local guide, learn all about food history, preparations, eating habits, and its cultural importance.
What food is included on a food tour in Rome?

The wholesome variety of food dishes that you will taste on your food tour include artichokes, Cacio e Pepe, carbonara, gelato, pizza, pasta, parmigiana, tiramisu, and much more. You'll try these dishes at multiple cafes and restaurants in the city, some famous, some quaint hole-in-the-wall eateries. Your tours will be complemented with wine, ciambellina al vino, coffee, or limoncello.
Which are the best food tours in Rome?

The best food tours in Rome are:

Wine Tours: Wine tasting tours in the Italian capital give you a chance to discover some of Italy's finest wines, as well as learn all about winemaking and olive growing.
Sunday Food Tours: The tour will take you through the Jewish Ghetto and the heart of the Jewish community in Rome and taste iconic Jewish-Roman dishes like fried artichokes, fried zucchini flowers stuffed with mozzarella, and more.
The Big Rome Food Walk: Eat your way around Rome with an expert food guide who will show you the best snack spots across the city, and learn about Rome's street food culture with the Big Rome Food Walk tour.
Rome Food Tour by Sunset: This food tour takes place around the Prati District where you will be escorted for dinner to l Giardino Del Gatto E La Volpe Srl, Paciotti Salumeria, La Tradizione, Pizzarium, and many of the neighborhood's favorite eateries and learn about their culture.
Rome Street Food Tour: Explore Rome's street food diverse and vibrant culture with a foodie guide. Get a taste of their finger food, and some of your favorite Italian finger foods' origins.
Are wine tours available in Rome?

Yes, the Italian countryside is famous for its lush vineyards and fine, fresh ingredients. Visit different

Rome wineries

on your tour, sample the delicious wines with some local delicacies. On a wine tour, you'll enjoy benefits such as round trip return transfers, the company of an expert local guide, and several wine tastings.
Will I have a tour guide on a food tour in Rome?

Yes, you will be accompanied by a local food expert to walk you through the various recipes you will be tasting, how they are made, and their region of origin. You can expect your tour guide to be fluent in several commonly-spoken languages such as English, Italian, French, Spanish, German, and more.
Are private food tours available in Rome?

Some food tours in Rome also offer private group tours. This would include just an intimate group of you, your friends or family, and your guide. While the itinerary and guide remain the same as a non-private tour, private food tours are ideal for a more personal experience.
How long is a food tour in Rome?

The average food tour in Rome will last up to 4-5 hours. If you also include wine tasting in the countryside or a day trip from Rome, you can expect the tour duration to extend accordingly.