Skydive Dubai Reopening Date - 5th June 2020
---
Starting 5th June 2020, the Skydive Dubai has reopened its service. At the same time effective guidelines have been put in place by authorities, to safeguard all guests from the spread of infectious virus.
Safety Measures in place at the Skydive Dubai
---
To ensure maximum safety, all visitors must undergo temperature checks before entering the venue. It is mandatory to wear face masks at all points of time and maintain strict hygiene level throughout the visit.
All guests are required to wear trousers/pants with pockets in order to place your maks in during the skydive. It is also necessary to maintain a safe distance of 2 meters from other guests and staff within the venue.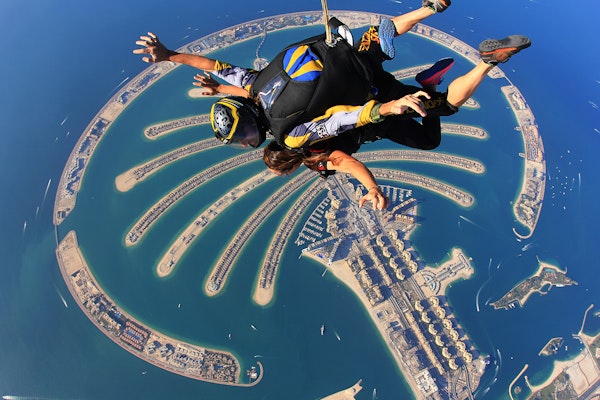 Booking Skydive Dubai Tickets Online
---
Tickets for Skydive Dubai are available here.
These tickets cannot be canceled although it can be rescheduled up to 24 hours in advance. Considering the current situation, it is advised to place the reservation online as cash payment will not be accepted at the venue. However, contactless and card payments will be permitted.
All guests must obtain a medical certificate before the skydive experience. Edited tandem videos and photos will be emailed to guests within 24 hours of their skydive experience.
Skydive Dubai - Revised Opening Hours
---
Skydive Dubai's Palm Dropzone
Friday and Saturday, from 9 am onwards.
For more information about visiting Skydive Dubai, refer to the official website here.