Naples To Capri Tours
How does a relaxing guided tour from Naples to Capri sound like? Opt for a small group tour or a luxurious private tour and explore the hidden corners of Capri. Spend time at iconic spots including Blue Grotto, the Piazzetta, the Gardens of Augustus, and more.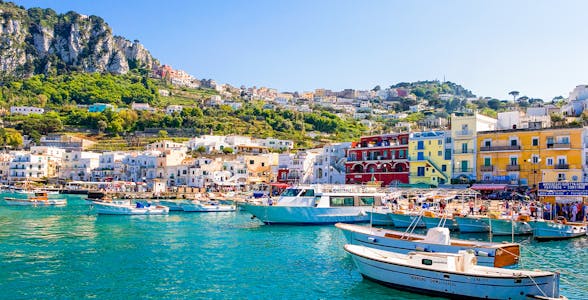 Headout's Top Recommendations
Free cancellation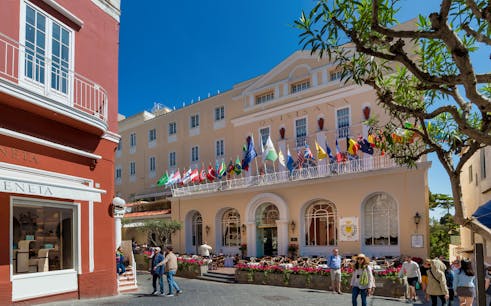 Free cancellation
Inclusions
Entry into Blue Grotto, Mount Solaro Chairlift & Gardens of Augustus
Land transportation on the island
Round-trip ferry to Capri from Naples
Lunch (valid up to the conclusion of the 2023 high season Oct 15th, 2023)
Blue Grotto (weather permitting)
Cancellation Policy
You can cancel these tickets up to 24 hours before the experience begins and get a full refund.
You can cancel these tickets up to 24 hours before the experience begins and get a full refund.
Naples To Capri Tours Guide

One of the highlights along the gulf of Naples, Capri ranks high up on your list of

Weekend Getaway from Naples.

In this day trip guide, we talk about the best ways to explore Capri, how to get there from

Naples

, and many other interesting facts and figures about this adored island.
Naples to Capri - In a Nutshell

Distance: 31 km (17 nautical miles)
Duration : Approximately 1 hr
Best time to visit : May- June or August-September
Best (and only) way to travel : By Ferry
Approximate budget/head : €100 per day
Highlights : Blue Grotto, Anacapri, Villa Jovis, Mount Solaro & more.
Capri - The Pearl of the Mediterranean

Capri is a picturesque island like no other from its stunning cove-studded coastline to the crystal clear blue waters and scenic pine tree-laden rocky landscape, this island is a vacationer's paradise that's teeming with things to see and do.
Nestled 30 minutes off the coast of Naples in the Campania region, the island is located off the Sorrento Peninsula in the Tyrrhenian sea.
With a fabled history dating back to the ancient Neolithic era, Capri's fascinating past brims with intrigue and wonder. Legend has it that its earliest inhabitants were the mythical Teleboi from Acarnania, under the ruler Telon. In later years, the island became a melting pot for legendary European artists and writers like Maxim Gorky and Norman Douglas.
A day trip from Naples to Capri offers the best way to explore this idyllic island. Spend your day in Capri and experience the breathtaking scenic beauty that the island has to offer.
Why take a day trip to Capri?

Capri is famous for a myriad of reasons: its breathtaking natural beauty, lip-smacking cuisine, and world-class shopping opportunities. Here's why Capri should be high up on your bucket list:

A host of natural features

Be it the Blue Grotto (with its bewitching electric-blue waters that seem to glow), or the massive rock formation of Faraglioni, you're guaranteed much to feast your eyes on. In either location, make sure to click pictures with the perfect backdrop for your social media posts.

The food is to die for

Get yourself a Caprese salad (with vine-ripened tomatoes, milky mozzarella, basil leaves, and a drizzle of olive oil). In Capri, you'll find the Caprese salad on every menu. It is also home to many dome-shaped wood-fired ovens to try Italian pizza. Enjoy Capri's most-famous dessert, the flourless chocolate cake too!

Bump into a celebrity

Marina Grande fills up every summer with the world's most expensive yachts, as Capri is one of the most frequented star-studded destinations since the dolce vita days from the '50s. If you look closely, you might be able to spot Beyoncé's yacht or see Lenny Kravitz perform at a nightclub!

A tonne of nature walks

With many walking paths and wild hiking trails, Capri lets you be one with nature in numerous ways. With wooden trails, paved paths, and a series of steps, you will find yourself walking through an ancient forest grotto with breathtaking views of the sea and the Faraglioni. There are also great walks with sunset views of the lighthouse.

Crawling nightlife

Capri is a late-night town, so it doesn't shut down at midnight. In fact, all the raving nightclubs only open after midnight. Get a slice of the island's nightlife scene at its famous discos and nightclubs- stick around until the sun comes up and it's time to pass out on your hotel beds.
Best Day Trips from Naples to Capri

Guided Tours from Naples to Capri:

An organized guided tour promises a hassle-free experience wherein all you need to do is show up on time and enjoy the beauty of your surroundings. Your transportation woes are taken care of, and the accompaniment of an expert tour guide ensures you don't have to worry about logistics.

Self-Guided Tours from Naples to Capri:

If you're all about immersing yourself into the local culture and exploring a new land on your own, a self-guided tour might be the way to go. Make sure you do your research on each location ahead of time and make a rough itinerary for yourself.
Top things to do in Capri

Day Trip Itinerary

Here is a rough itinerary for you to follow if you're on a self-guided tour:

Blue Grotto

Gardens of Augustus

Monte Solaro

Villa Jovis

On a wooden rowboat, you'll be taken through a stone portal to a meter-high cave mouth. Enter a sparkling cavern with azure blue light brilliantly reflecting off the stone walls. Find out firsthand why the Grotta Azzurra is Capri's most sought-after attraction.
Ticket Price: €16/person
Timings: 9 AM to 5 PM (subject to change)

For the classic shot of the sea with the Faraglioni in the backdrop, head to the Gardens of Augustus. This viewpoint is only a stone's throw away from the Charterhouse of San Giacomo and offer quite the experience with its flower-decked terraces and views of the Faraglioni & the Bay of Marina Piccola.
Ticket Price: €1/person
Timings: 9 AM to 4:30 PM (Nov-Mar) & 9 AM to 7:30 PM (Apr-Oct)

To catch views of Capri's most stunning panoramas, head to the highest viewpoint on Capri, Monte Solaro. At a towering 589 meters above sea level, you'll see Bay of Naples, the Amalfi Coast, and the far-off mountains of Calabria.
Chairlift Price: €9 (1-way) or €12 (round-trip)
Timings: Opening times vary

Villa Jovis was built in the 1st century B.C and was chosen for its position along the edge of the cliff, promising security and privacy- both super important to the Emperor Tiberius. You'll find this at the end of Viale Amedeo Maturi, with multiple steps with marble slabs.
Ticket Price: €6,00
Timings: Opening times vary
Other things to do in Capri

Shopping at Via Camerelle

Gelato at Buonocore Gelateria

Faraglioni

Marina Piccola

There's nothing quite like designer shopping at Via Camerelle; after all, very few places on earth can compete to the high concentration of designer shops found here. Find yourself lost in the world of fashion as you skip from one designer shop to the next.

Even though every town in Italy has a gelateria with a special take on the world-famous dessert, you must give the gelato at Buonocore Gelateria a try. Strawberry and crema flavors are known to be beloved the most (by locals and tourists alike)- what do you think?

The stunning coastal rock formations of the Faraglioni are among Capri's most renowned sights. They comprise three rocky stacks that combine to create one of the most astonishingly beautiful landscapes in the world. Hop on a boat for a tour of the island to get some of the best views.

Lying directly opposite the Faraglioni and located on the southern side of the island, Marina Piccola is the ideal spot to spend your day if you're looking to bask in the sun. The Marina is split into the Marina di Mulo and the Marina di Peannauro by the Scoglio delle Sirene cliff. Mythical legends suggest that the cliff was once inhabited by bewitching sirens.
Best way to get from Naples to Capri

The distance between both regions is roughly 31 km (17 mi) and the only way to get to Capri from Naples is by boat/ferry.

Naples to Capri by Ferry

Organized tour

The easiest way to get from Naples to Capri is to take the ferry. There are frequent ferries from Naples and the Amalfi coast to the island of Capri. The two major ports where you can board the ferry include Molo Beverello and Calati di Massa. The journey takes between 50 to 80 minutes, depending on the speed of the ferry you choose.

If you'd prefer a quicker journey, make sure you pick the ferry at the Molo Beverello Port. You can then check the departure board to find out which dock you need to be on. The ferry costs around €15. We recommend 

booking tickets online 

in advance to avoid waiting in long queues. You can check the ferry timings to make planning your trip much easier.

There are three types of ferries available to choose from

Slowest: traghetto (90 minutes)
Medium-speed: Nave Veloceor (70 minutes)
Fastest: hydrofoil (50 minutes)

You can avoid the hassle of planning the day trip by simply booking an organized tour. No more waiting in lines, worrying about planning a step-by-step itinerary and arranging travel from scratch. From beginning to end, all your travel logistics will be taken care of by your tour guide. Book your

Naples to Capri day tour

here.
The island hardly has any traffic, so moving around by taxi or a minibus shouldn't be much of a hassle. The quickest and most convenient way to get around Capri is by taking a taxi. The taxi services in Capri are reliable and there are plenty of convertible luxury taxis to take you around town in style. Public buses are another good option, as they run around the entire island, but are often packed with tourists and locals.
The island of Capri is blessed with hot, mostly clear summers and cool, windy winters. The moderate temperatures make it a sought-after tourist destination throughout the year. The ideal time to visit is in the spring and fall seasons, when the weather is characteristically pleasant. If you'd like to escape the hustle-bustle of tourists flooding in and have a relaxing vacation, the off-seasons of May and June and August through September are a great option.

Visiting in May also means that you'll get a chance to celebrate the feast of San Costanzo, with a procession at La Piazzetta, the main square of Capri, and a sailing regatta at the sea.

The summer offers numerous classical music concerts and the International Folklore Festival in August. If visiting in the summer is not for you, the end of the year brings with it the Capri film festival throughout December and a spectacular fireworks display at the La Piazzetta on New Year's Eve.
Where can I eat in Capri?

Here is a list of must-visit eateries in Capri with our recommended must-try dishes:

BAGNI TIBERIO'S RESTAURANT

IL GERANIO

TERRAZZA BRUNELLA

DA GELSOMINA

LIDO DEL FARO
Where can I stay in Capri?

Hotel La Canasta

La Vega Capri

Hotel Caesar Augustus

If 'great value' is on your radar, this is the place to go to: 16 B&B rooms with Capri-styled tiled floors and pleasing furnishings promises a pleasant stay in Capri. Apart from a great deal, you're promised great views of the city.

Starts from €100/night

For the townies, we recommend staying in the heart of Capri. The prices are higher, but you save on transportation. This hotel is just off the Piazzetta di Capri, with spacious rooms and incredible views from your balcony.

Starts from €792/night

If glitz and glamor is on your mind, head to Caesar Agustus. Splurge on this 5-star establishment where each room oozes old-world allure. It's must-try restaurant offers great views of Mt. Vesuvius.

Starts from $3200/night
f you ask the locals about souvenirs in Capri, they will say you NEED to pick up three things: a bottle of Limoncello liquor, a pair of Canfora Capri Sandals, and a Capri bell!

The classical lemon-liquor, Limoncello originates from Capri and is made with lemons from the local island (according to a traditional recipe). This acts as a great gift for your friends or a classic souvenir to bring the flavor of Capri back home.
The Canfora Capri Sandals is best known to be Jacqueline Kennedy Onassis's favorite. These unique sandals are comfortable and add an exotic touch to your footwear. Head out to an original Capri boutique and get yourself a pair.
A lesser-known souvenir would be the Capri bells: a traditional good luck charm handcrafted by the locals. Rumored to protect the owner from any harm, many tourists pick them up from local boutiques and shops.
Handy Travel Tips for your Day Trip

Although tipping isn't customary elsewhere in Italy, it is a practically mandatory practice in Capri. Since many of the workers don't live on the island and travel long journeys on a daily basis, make sure to be generous while tipping.
Capri's local cuisine abounds with mouth-watering delicacies and dishes. Make sure you try the incredible Insalata Caprese at Lo Smeraldo and don't forget to savor the lightly fried fish. We recommend booking a table at the outdoor patio, as it offers phenomenal views.
We recommend boarding the Naples to Capri ferry early in the morning to enjoy touring all the locations at a leisurely pace. Don't forget to slather on the sunscreen!
Make sure you carry comfortable shoes as Capri is a great town to explore by foot, with great attractions at every corner.
Most of the fine dining restaurants and luxury hotels are concentrated in the central square of Capri. If you're budget-conscious and are looking for more affordable accommodation and dining, the remote areas around town are your best bet.
What is Capri? Where is it located?

Capri is a stunning island in Italy's Bay of Naples.

Is it worth taking a day trip from Naples to Capri?

Capri is one of the most sought-after islands in Italy and is a must-visit when in the area.

How far is Capri from Naples?

Capri is only 31 kilometers or 19 miles from Naples. (17 nautical miles)

How long does it take to travel from Naples to Capri?

Depending on the ferry service you choose, you can reach Capri within 50-90 minutes.

What are my travel options between Naples and Capri?

The only way to reach Capri from Naples is by boat/ferry.

Does Capri have any beaches?

Capri has two beaches: Marina Grande and Marina Piccola.

Is Capri expensive?

Capri is an island flocked by tourists- so, yes it is more expensive than mainland Italy.

How much can I expect to spend on meals in Capri?

Plan on spending €20-€40 per adult on each meal.

Should I get an organised guided tour for a hassle-free experience?

If you're hoping to make the most of your time in Capri without having to plan your own itinerary and worry about tickets, transportation, etc. your best bet is to book an organized guided tour.

What is the weather like in Capri?

Expect mild and Mediterranean climates on Capri. The hottest months are June, July and August. The coldest months are December, January and Febuary