Emily in Paris Tickets & Tours
These Emily in Paris tickets & tours make the most iconic sights of Paris available to you at cost-saving rates. Visit places like Orsay Museum, the Pantheon, Musée des Arts Forains, and more.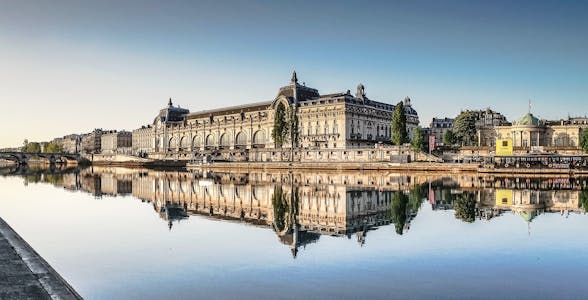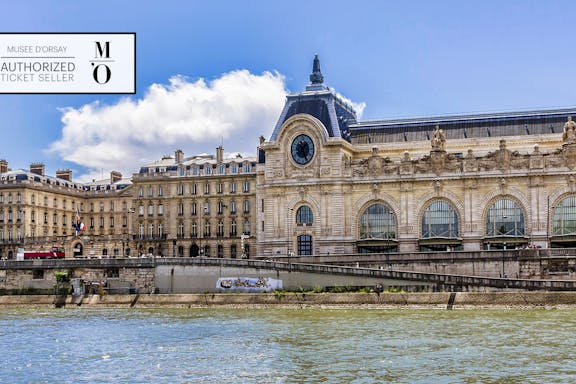 Headout's Top Recommendations
Inclusions
1-hr 40-min walking tour of 'Emily in Paris' filming spots
Local English-speaking guide
Access to permanent collections
Access to temporary exhibitions (subject to availability)
Access to temporary exhibitions
Cancellation Policy
You can cancel these tickets up to 24 hours before the experience begins and get a full refund.
These tickets can't be cancelled. However, you can use them any time until 15 Aug, 2023.
These tickets can't be cancelled. However, you can use them any time until 26 Dec, 2023.
Emily in Paris Tickets & Tours Guide

Emily in Paris is a romantic comedy-drama following the life of Emily Cooper, a young American woman from Chicago who moves to Paris for a job opportunity in a marketing firm. Throughout the series, Emily navigates cultural differences and language barriers while adjusting to her new life in Paris and exploring the city's rich culture and history. The show features many iconic locations in Paris, including the Eiffel Tower, the Louvre Museum, the Luxembourg Gardens, the Palace of Versailles, the Pont Alexandre III bridge, and many more.

Read on if you want to create a Paris itinerary that follows the footsteps of Emily and live out your dramatic Hollywood-inspired dreams much like her!
Paris is one of the most iconic and romantic cities in the world, and here are some of the top reasons why one must visit the fashion capital of the world:

World-Famous Landmarks: Paris has some of the world's most iconic landmarks, including the Eiffel Tower, the Louvre Museum, Notre-Dame Cathedral, and the Arc de Triomphe. These landmarks are visually stunning and hold cultural and historical significance.
Art and Culture: Paris is home to some of the world's most famous museums and galleries, such as the Louvre Museum, the Musée d'Orsay, and the Centre Pompidou. These institutions house an extensive collection of art and cultural artefacts, making Paris a hub for art and culture enthusiasts.
Food and Wine: Paris is known for its incredible food and wine scene, with many restaurants offering diverse cuisine, from classic French dishes to international cuisine.
Fashion and Shopping: Paris is a hub of high-end fashion houses and boutiques. Visitors can explore the city's fashion districts, such as the Champs-Élysées and Rue Saint-Honoré, and indulge in luxury shopping.
Romance and Atmosphere: Paris is often called the City of Love for a good reason. The city's romantic atmosphere, charming streets, and picturesque views make it a popular destination for couples.
Emily in Paris Tickets And Tour Options

Self-Guided Tour

Guided Tour

Sightseeing Cruise

If you prefer to explore the Emily in Paris location at your own pace while walking around the spot with an awe-inspiring glint in your eyes, you can choose to pick any of the self-guided tour tickets. The self-guided tour ticket options include tickets to Pantheon, Orsay Museum, Opera Garnier, and L'Atelier des Lumieres.

Recommended Experiences

This self-guided walking tour to the Pantheon Paris will allow you to explore the remarkable architecture of the monument, learn more about its historical significance and gain an impressive cultural experience, all at your own pace!

Would you prefer an experienced local guide walking you through the breathtaking landmarks in Paris where Emily in Paris was shot while getting your fill of exciting information and stories? The local guided tour is perfect for you! You can buy the Guided Tour tickets of Emily in Paris filming spots or the Montmartre Street Art tickets (that include an art history specialist guide).

Recommended Experiences

This guided tour is ideal for individuals who are fans of the Netflix show 'Emily in Paris' and want to trace the footsteps of the main character in the enigmatic city of Paris. This tour will take you through the key locations including Emily's neighbourhood, Monnaie de Paris Museum, Pont des Arts, Place de Valois, Palais Royal Garden and many more!

Seine River often makes its appearance in Emily in Paris. It's shown in the first episode when Emily and her co-worker Sylvie take a boat tour of the Seine river and then again in a later episode when Emily and Gabriel go on a romantic walk along the Seine river. If you want to experience a relaxing cruise on the Seine River, consider the Seine River Cruise ticket, which will allow you to witness the beautiful Parisian monuments while enjoying live commentary from a knowledgeable guide!

Recommended Experiences

If you would like to explore the city on a cruise, while having an experienced guide offer live commentary about the significant spots of Paris, then you must consider taking the Seine River sightseeing cruise. This 1 hour 10 minutes of cruise will help you catch Parisian attractions with a whole new perspective!
What Is The Best Way To Book Your Emily In Paris Tickets? Book Online!

Paris is one destination that is a must-visit for everyone. Its atmosphere is delicate and romantic, the food oh-so-delicious, and the overall aesthetics will have you fawning over the city in no time. You must book your tickets to your preferred Emily in Paris tour well in advance. You can do so by booking your tickets online. It comes with several benefits too, like:

Great deals: Purchasing tickets online will help avoid paying hefty prices later. Plus, you can also enjoy some fantastic discounts and deals!
Peace of mind: Booking your tickets online well before time will assure you a guaranteed spot on your self-guided or local-guided tour, thus ensuring peace of mind.
Convenience: Want to avoid standing in obnoxiously long queues to buy your tickets? Fast-track your process by booking online and saving your precious time and energy!
Key Highlights Of Emily In Paris Tour

Here are some beautiful locations you will see on your Emily in Paris tour, depending on the tour tickets you pick!

Pantheon: Originally intended to be a church, Pantheon was later converted into a secular mausoleum that houses the remains of many notable French figures, including Voltaire, Rousseau, Victor Hugo, etc. In Emily in Paris, the Panthéon is featured in episode 5, where Emily and her friends visit the famous mausoleum and reflect on the grandeur and history of the building.
Pont des Arts: Pont des Arts is a pedestrian bridge in Paris that connects the Institut de France and the Louvre Museum. Visitors adore the Seine River views and attach love locks to the bridge's railings, praying for everlasting love. In Emily in Paris, the Pont des Arts serve as a backdrop for several key moments, including a romantic encounter between Emily and her neighbour, Gabriel.
Palais Royal Garden: Palais Royal Garden is a beautiful garden located in the heart of Paris, steps away from the Louvre Museum. In the show, the park plays a significant role in Emily's storyline, where she has a pivotal conversation with her boss, Sylvie, about her future at the marketing firm.
Orsay Museum: Orsay Museum is a renowned art museum in Paris that houses an extensive collection of French art from the 19th and early 20th centuries. In "Emily in Paris," the main character visits the museum several times throughout the show, marvelling at the iconic works of art by artists such as Monet, Renoir, and Van Gogh. She also works to secure a partnership between the museum and her marketing firm.
Seine River: The Seine River represents the iconic beauty of Paris and the romance and magic that the city evokes. In the show, the location appears several times. More significantly, it's the site of a romantic encounter between Emily and Gabriel, as the two kiss on a bridge overlooking the river.
Montmartre: Montmartre is a vibrant neighbourhood located in the 18th arrondissement of Paris. It is known for its charming cobblestone streets, lively cafes, and breathtaking city views. In the show, Emily moves into a lovely apartment in Montmartre, where she experiences the neighbourhood's unique, artistic, and bohemian vibe.
L'Atelier des Lumieres: L'Atelier des Lumières is a digital art museum in Paris with immersive multimedia exhibits. It represents the cutting-edge cultural experiences that Paris has to offer. In the Netflix series, the art museum serves as an essential location for Emily and her friends, who attend a stunning exhibit featuring the works of Vincent Van Gogh.
Plan Your Visit For An Emily In Paris Tour

Timings

Getting There

Visitor Tips

Timings: The timings for the Emily in Paris tours vary depending on the ticket you choose. Some tour experiences allow you to enter anytime within the operating time (whether that's 9:30 AM-6 AM or 10:00 AM-6 AM), and some experiences are held at a specific time, like 10:00 AM or 1:30 AM. The sightseeing river cruise offers you multiple timing options to choose from, starting from 10:15 AM to 10 PM. The cruise happens every 30 to 45 minutes.

Last admission: For experiences with an open time range during which it operates, the last entry is 45 minutes before closing.

Tour length: Your tour length again depends on the experience chosen. The experience where you can enter the landmark during operating hours, there you can stay for as long as you would like. On the other hand, the Montmartre guided tour is 2 hours 15 minutes, the sightseeing cruise on the Seine River is around 1 hour 10 minutes, and the Emily in Paris guided tour is 1 hour 40 minutes.

Best time to visit Paris: The best time to visit Paris depends on your preferences, interests, and what you want to experience. If you want to avoid crowds and get lower prices, the best time to visit is during the off-peak season in the fall and winter. However, if you want to experience the city's liveliness and enjoy outdoor activities, the best time to visit is spring and summer.

Meeting point for Skip-The-Line Ticket to Pantheon Paris: Panthéon, Place du Panthéon, 75005 Paris

By Subway/RER: Line 10 / RER B.
By Bus: Lines 21, 27, 38, 82, 84, 85, 89.
By Car: Boulevard Saint-Michel and Rue Soufflot.

Meeting point for Guided Tour of Emily in Paris filming spots: Place de l'Estrapade, 75005 Paris, France

By Bus: Lines 21 and 27. Get down on Saint-Jacques-Gay-Lussac and walk to the meeting point, which is 5 minutes away.

Meeting point for Dedicated Entry Tickets to Orsay Museum: Esplanade Valéry Giscard d'Estaing, 7 Quai Anatole France, 75007 Paris, France

By Bus: Line 73 will take you to Musee d'Orsay, a 2-minute walk to the meeting point.
By Train: Train C will drop you to Musee d'Orsay train station, which is a minute away from the attraction.

Meeting point for Self-Guided Tour of the Opera Garnier: Palais Garnier, rue Scribe and rue Auber - 75009 Paris, France

By Bus: Lines 20,21,27,29,32,66, N15, and N16 will drop you at Auber, which is 1 minute away from the opera house.
By Metro: Lines 3, 7 and 8 will take you to Opera metro station and you can walk to the attraction 2 minutes away.

Meeting point for Seine River Sightseeing Cruise: Bateaux-Mouches Pier, Pont de l Alma 1 Port de la Conference, 75008 Paris, France

By Subway: Get off at Alma-Marceau using line 9.
By Bus: Get off at Alma-Marceau using buses 72, 42, 80, 63 and 92.

Meeting point for Montmartre Street Art guided tour: In front of Starbucks opposite the Moulin Rouge, 5 Pl. Blanche, 75009 Paris, France.

By Bus: Lines 68 and 74 will take you to the Blanche bus stop, 1-minute away from the meeting point.
By Subway: Line 2 will drop you at Blanche subway station, a 1-minute walk from the meeting point.

Meeting point for Skip-The-Line L'Atelier des Lumieres:  L'Atelier des Lumieres, 38 Rue Saint-Maur, 75011 Paris, France

By Metro: Line 3 will take you to Rue Saint-Maur, a 5-minute walk from the museum.
By Bus: Bus 46 will take you to the Chemin Vert bus stop, 3 minutes from the attraction.

Some experiences may not allow you to bring luggage to protect the monument. So, make sure to check the security measures of the place before heading there.
Most of the experiences will require you to do considerable walking, so it'd be best to wear comfortable shoes.
Be respectful of your surroundings. For example, if you are at the Pantheon, try to be quiet and cryptic to maintain the decorum of the place.
Not all experiences may be suitable for wheelchair or pram users or people with reduced mobility due to the amount of walking involved, so be mindful of that.
Use public transport because it's an efficient and cost-effective travel method and will save you hefty transportation costs.
Learn some French phrases to have basic interactions with Parisians if required.
Dress smartly because French people are known for their elegant dressing style, so you would want to avoid being the odd one out, wearing flip-flops in public.
Top Things To Do In Paris

Paris is one of the world's most beautiful and iconic cities, with an endless array of things to see and do. Here are some top places to check out in Paris:

Louvre Museum

The Louvre Museum is one of the most famous museums in the world, located in the heart of Paris. It houses an extensive collection of art and artefacts, including the iconic Mona Lisa painting. The museum's stunning architecture and rich history make it a must-visit destination for any art or history lover.

Palace of Versailles

The Palace of Versailles is a stunning example of French Baroque architecture just outside of Paris. It was once the home of French kings and queens and now serves as a significant tourist attraction, with its opulent interiors and sprawling gardens.

Eiffel Tower

The Eiffel Tower is an iconic symbol of Paris, located on the Champ de Mars in the city's heart. It was built in 1889 for the World's Fair and stands at 324 meters tall, making it one of the tallest structures in France.

Disneyland Paris

Disneyland Paris is a world-famous theme park just outside Paris. The park features thrilling rides, family-friendly attractions, and beloved Disney characters that bring magic to life.

Arc de Triomphe

The Arc de Triomphe is a famous Paris monument located at the western end of the Champs-Élysées. It was built to honour those who fought and died for France in the French Revolutionary and Napoleonic Wars and symbolises French national pride.

Grevin Wax Museum

The Grevin Wax Museum is a famous tourist attraction in Paris, featuring lifelike wax figures of celebrities, historical figures, and fictional characters.

Rodin Museum

The Rodin Museum in Paris is dedicated to the works of the French sculptor Auguste Rodin. It features an extensive collection of his famous sculptures, including The Thinker and The Kiss, and is located in a beautiful 18th-century mansion.
Emily In Paris Tour And Tickets FAQs