Free cancellation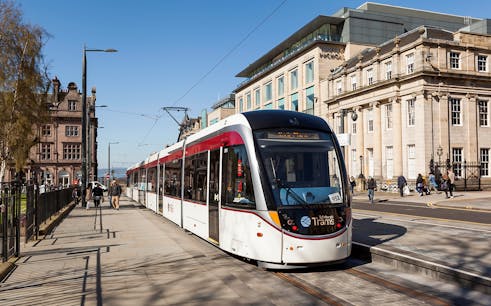 Free cancellation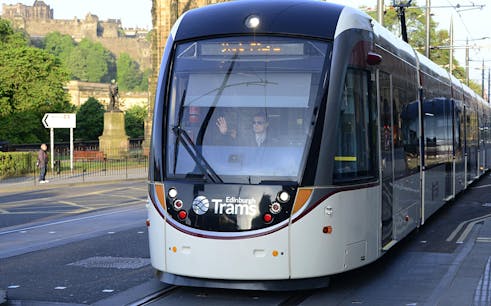 Traveling With Edinburgh Trams 

Sort your Edinburgh Airport Transfers with the incredibly convenient and efficient Edinburgh Trams. Edinburgh Trams connect you from the Edinburgh Airport to St Andrew Square and back, frequently throughout the day and come with excellent amenities onboard at affordable rates.

Why Book Edinburgh Tram Tickets?

Hassle-free Booking: Book tickets online for a fast and easy booking experience and get instant confirmation. 
Safe & Reliable: With all safety precautions in place, rest assured of a reliable and safe passage to your destination.
Affordability: Enjoy a comfortable transfer while not burning a hole in your pocket, as Edinburgh Trams offer excellent services at economical prices.
Wheelchair-Friendly: Easily access Edinburgh Trams and find dedicated space for wheelchairs and mobility scooters in the middle carriage.
Connectivity: St Andrew Square is an ideal drop-off point, as the Waverley Train station, bus stops and many attractions are close by.
Flexible Cancellation: Cancel bookings up to 24 hours before departure for a full refund.
Ample Luggage Storage: Store even your bulky luggage securely on designated racks with plenty of space.
Free Wifi: Stay connected with your loved ones with the free wifi available onboard.
Restroom: Make use of the clean and hygienic toilet on the Edinburgh Trams to freshen up.
Air-conditioning: No matter what the weather is outside, stay cool and fresh on the air-conditioned Edinburgh Trams
Edinburgh Airport to St. Andrew Square
Distance Covered: 12.2 km
Duration: 35 minutes

One-Way Tickets

Round-Trip Tickets

Edinburgh Tram One-Way tickets connect you either from the airport to the city or from the city to the airport. If you have not set a return date and seeks to commute comfortably, choose these tickets.

Duration: 35 minutes
Frequency: Every 7 minutes

Edinburgh Tram Round-Trip tickets include the journey from the airport to the city and back. They are cost-effective and would be the right fit for a well-planned itinerary.

Duration: 35 minutes
Frequency: Every 7 minutes
Edinburgh Tram Routes & Timings

Edinburgh Airport to and from St. Andrew Square

Stops: 15
Distance Covered: 12.2 km
Duration: 35 minutes
Edinburgh Airport to St. Andrew Square: Daily: 06:18 AM to 11:24 PM
St. Andrew Square to Edinburgh Airport: Daily: 05:32 AM to 11:32 PM 

The stops on this Edinburgh Tram Route are:

Edinburgh Airport
Ingliston Park & Ride
Gogarburn
Edinburgh Gateway
Gyle Centre
Edinburgh Park Central
Edinburgh Park Station
Bankhead
Saughton
Balgreen
Murrayfield Stadium
Haymarket Station
West End
Princes Street
St Andrew Square
FAQs: Edinburgh Tram Tickets

Where can I buy Edinburgh Tram tickets?

You can purchase Edinburgh Tram tickets online from Headout and avail exciting discounts on your ticket price.

What is the luggage allowance for Edinburgh Tram tickets?

Edinburgh Trams allow ample luggage per passenger, including bulky luggage. You can store these on the spacious luggage racks onboard.

Are Edinburgh Trams pet-friendly?

Yes, Edinburgh Trams are pet-friendly, however, make sure that they are placed in appropriate carriers.

Are Edinburgh Trams wheelchair-accessible?

Yes, Edinburgh Trams are wheelchair-accessible. They are equipped with designated wheelchair and mobility scooter space, wide doors and low floors for easy access.

Does Edinburgh Tram connect to St Andrew Square?

Yes, Edinburgh Tram connects to St Andrew Square from Edinburgh Airport.

What are the amenities available on Edinburgh Trams?

Edinburgh Trams have state-of-the-art amenities, built to ensure maximum comfort to passengers, like air-conditioning, wheelchair accessibility, wifi, restroom, luggage storage, bicycle space and spacious seats with ample legroom.

What is the cancellation policy of an Edinburgh Tram ticket?

You can cancel your Edinburgh Tram tickets up to 24 hours prior to the commencement of the experience to get a full refund.