When someone says don't judge a place by its name, the Hunter Valley stands out as a prime example. Although the name conjures an image of grasslands, predators, and camouflage, the Hunter Valley presents a rather contrasting image. Vineyards spread out in the foothills of the Brokenback Range, the Hunter River flowing in the north, an aureate sunshine, and a few kangaroos hopping about in the woods is what the Hunter Valley actually looks like. Located north of Sydney, this valley is a bucket-list essential and a day trip to Hunter Valley is all it takes to experience Australia's oldest wine region. A stunning landscape and a three-hour train ride later, treat yourself to the iconic white wine Semillon.
In this detailed guide, find the best Hunter Valley Wine Tours, learn all about the Hunter Valley Gardens and all about spending a day at Hunter Valley on a day trip from Sydney.
Hunter Valley - History Under 1 Minute
---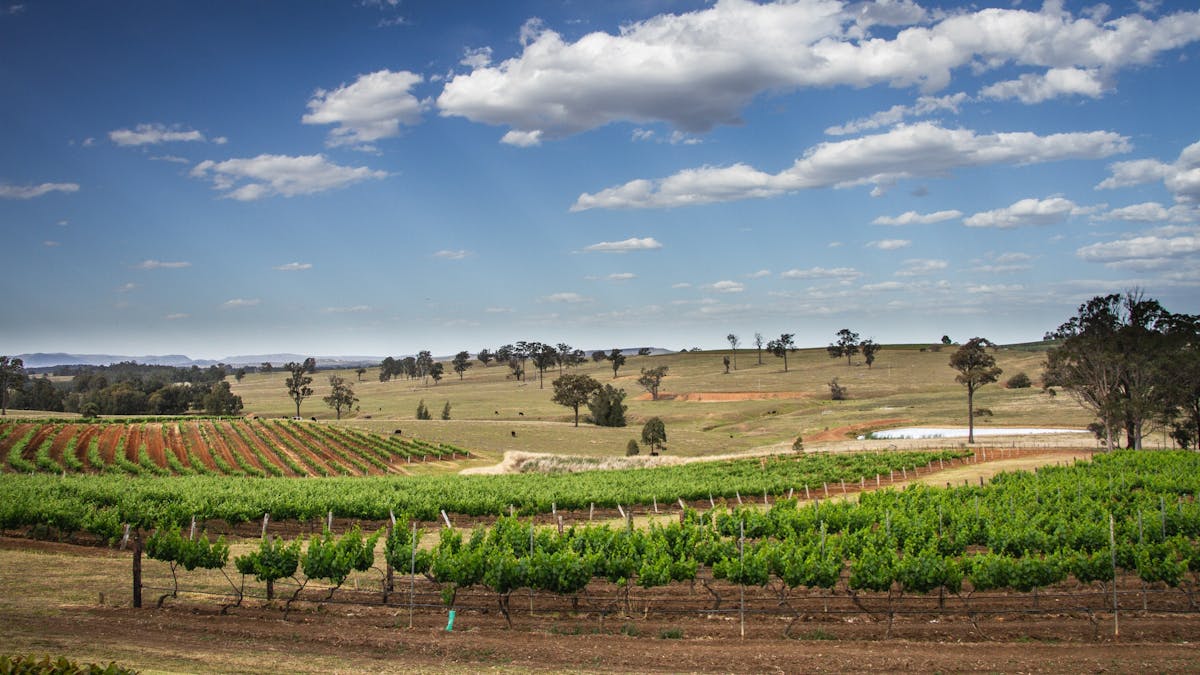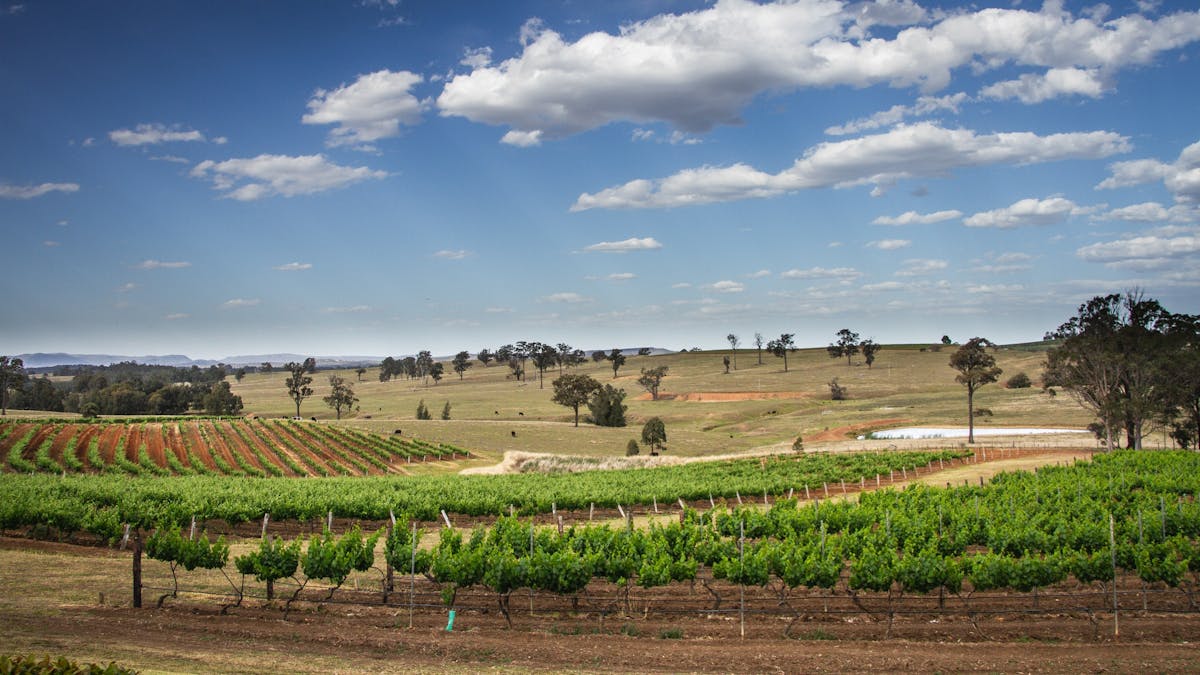 The Hunter Valley exemplifies the perfect weekend getaway with about 150 wineries offering their champion varieties — Shiraz, Semillon, Chardonnay, and Verdelho. The Hunter Valley's mélange of whites and reds is attributed to James Busby, also known as Australia's father of wine. In 1825, Busby brought cuttings from over 500 vineyards to the region. By the 1850s, it had earned worldwide acclaim. Among the white and red varieties, the former grows better as the region's occasionally harsh climate favors it. The most popular one is Semilion. Red wine lovers are recommended to try Busby's own planting of Shiraz, which is flourishing to date.
Why take a day trip from Sydney to Hunter Valley?
---
Soar through the Sky
The Hunter Valley gives an imperative respite from the urban lifestyle that Sydney offers. A day which can be spent doing anything from a silent recluse with gourmet dining to an adventurous trail across vineyards and historic establishments. Explore the picturesque Hunter Valley from the boundless altitude of a Hot Air Balloon. An exemplary service and assured safety guarantees panoramic views of vineyards, olive groves and the countryside.
Vin over your Palette
The vineyards and breweries of Hunter Valley connect your palette to the rich and refined flavors whilst immersing you into the visually stimulating spreads of green vineyards and aesthetic breweries that seem to have sprung up from another time period. Indulge yourself in some delicate wine tasting which will leave your taste buds fluttering in the air.
Indiana Jones of the Hunter Valley
The cultural and traditional veins of Australian heritage run deep in Hunter Valley, so explore the Aboriginal ancestry, bushranging and mining through many outlets such as Tourist Drives, Trails and Museums. Rekindle the curious explorer in yourself to find the hidden relics and historic elements all around Hunter Valley.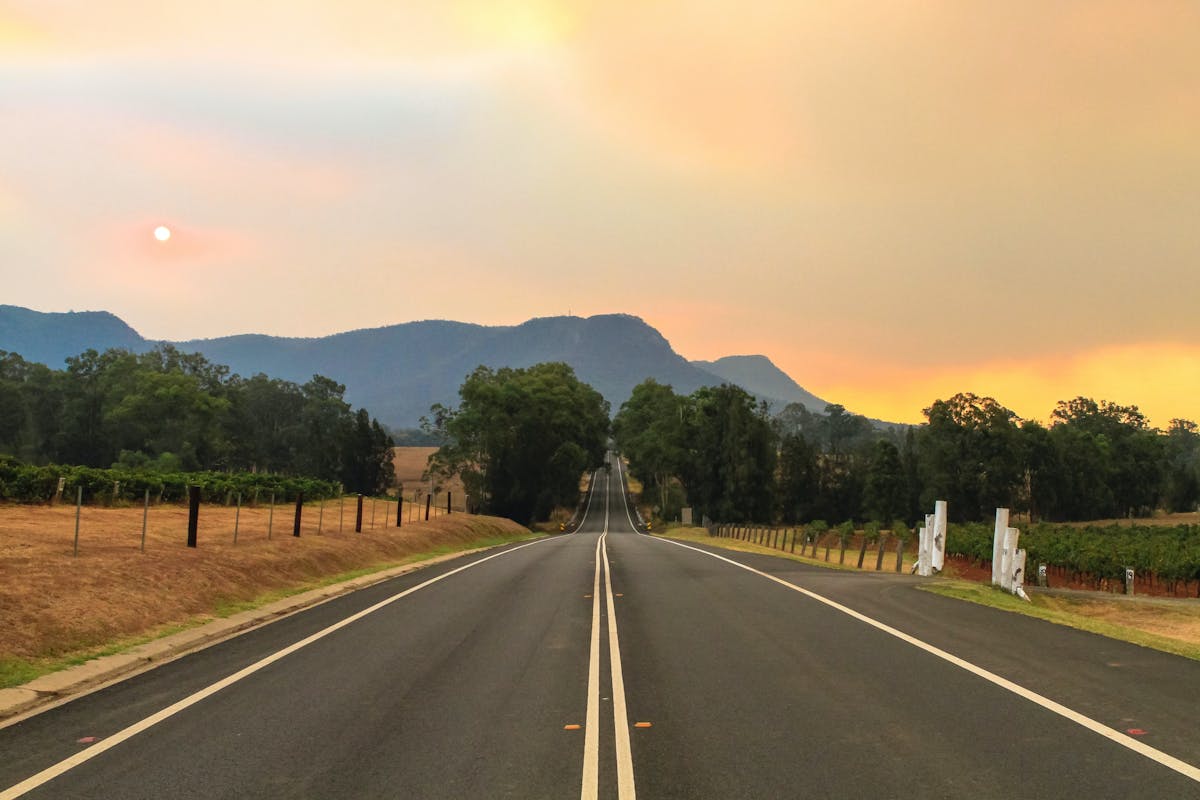 Mesmerised by the Artists' stroke
A region so steeped in culture, nature and diversity, the final feather in its cap is art and culture to explore in its various galleries and studios. Viewing these sculptures and murals with their efficient and alluring spectacle make for a very soothing yet revitalizing afternoon.
Nature's Nirvana
Hunter Valley is a natural recluse that offers all that Nature has to offer on a plate. From scenic beaches to stretches of soothing plains, mountains with enticing trails to National Parks with eye catching attractions. The sheer multitudes of options at the visitor's disposal gives them the benefit of experiencing nature's massive potential at its mightiest.

But apart from the many attractions at the destination, the route from Sydney to Hunter Valley follows a breathtaking path flanked by hills and trees that harmonises your mood for the Day trip.
Best Sydney to Hunter Valley Day Trips
---
Sydney to Hunter Valley Guided Tours
Organized tours are the best way to traverse the distance. There are multiple tour operators that transfer from Sydney. The tickets are generally priced at $155.

One minibus can accommodate a maximum of thirteen people. Apart from the lunch stop, which is generally at the Roche Estate situated in the middle of a gorgeous vineyard, these tours make several stops, including wine tasting sessions at Blueberry Hills and Mount View Estate, cheese tasting at Smelly Cheese, beer tasting at Potter's Brewery, and chocolate and fudge tasting at the Hunter Valley Chocolate Company's factory. Some even stop at the Walkabout Wildlife Park.
Here are the top Hunter Valley wine tours you can choose for an ideal organized day tour.
Sydney to Hunter Valley Self-Guided Tours
If you're doing a self-guided tour of the Hunter Valley, here are the top 5 wineries you must hit up. Don't try and squeeze in more than 3 wineries in a day for a sedate experience.
5 Best Wineries in Hunter Valley
---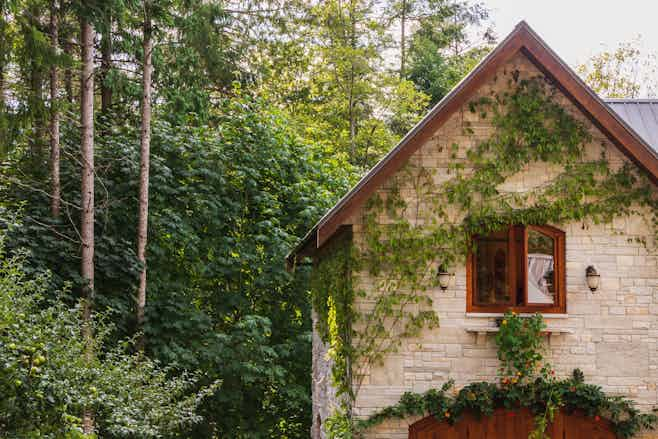 Scarborough Wines
One of the finest and family-run vineyards in the Hunter Valley, Ian and Merralea Scarborough's fruits of labor have landed them onto the wine lists of some of Sydney's best restaurants, where they hand deliver their wine - a quite non-traditional approach to distribution. The most famous is their Chardonnay, the Yellow Label. The Scarboroughs ensure that visitors enjoy their wines in a homely and relaxed manner. All their tastings are accompanied by a delicious and complimentary cheese platter.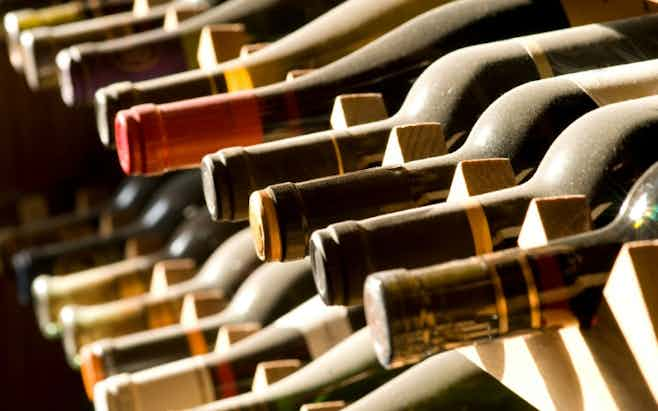 Audrey Wilkinson Winery
This 270-acre vineyard is one of the oldest wineries in the Hunter Valley. Audrey Wilkinson is one of Australia's early wine pioneers whose legacy of "It's all about the taste" is central to this winery. Visitors can choose to spend the night at the Mulberry Cottage or The Dairy, both offering a stunning 360-degree view of the picturesque patchwork of vines and paddocks of the Hunter Valley and the impressive Brokenback Ranges.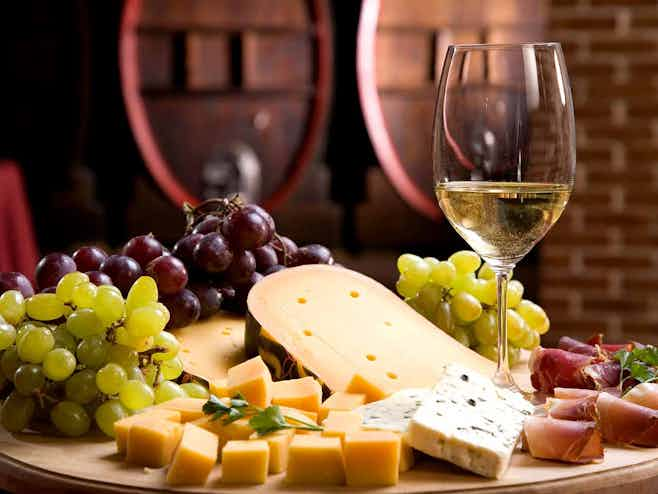 Krinklewood Biodynamic Vineyard
Krinklewood's French-inspired cellar door is set on the banks of the Wollombi Brook against the backdrop of the Brokenback Range. This vineyard is a cent percent organic and sustainable as no pesticides or herbicides are used. Guests at Krinklewood can enjoy their wine among the beautiful Provencal gardens. A wide range of wines is available which include Verdelho, Semillon, Chardonnay, Rose, Shiraz, Dessert Wine, Sparkling, Spider Run Reserve wines, and Basket Press wines.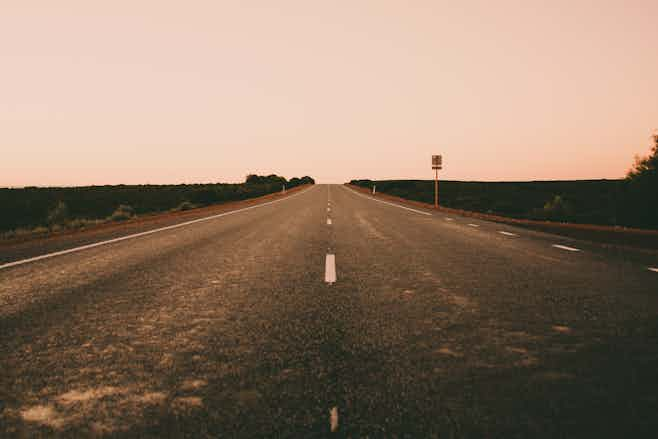 Brokenwood Wines
Established in 1970, Brokenwood is home to the famous Graveyard Vineyard Shiraz, the highly acclaimed ILR Reserve Semillon, and the popular Cricket Pitch Range. It has consistently maintained its position as a 5-star winery. Recently, Sydney-based architecture and design company Villa + Villa constructed Brokenwood's new cellar door, which covers 1,400 square meters. It is now the largest in the Hunter Valley wine region.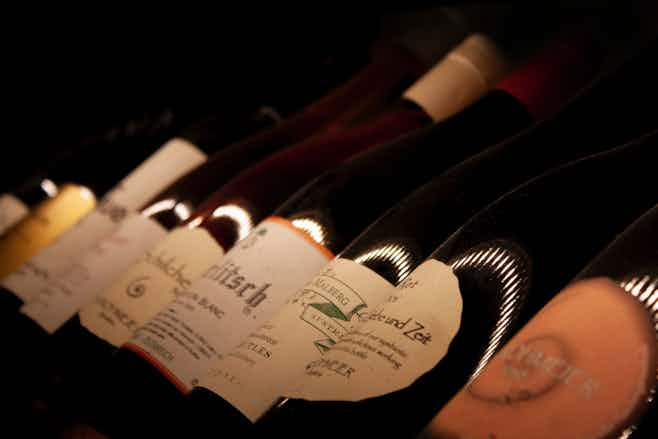 Pepper Tree Wines
The Pepper Tree winery was founded in 1991 and offers the best quality wine as well as food. While this vineyard majorly focuses on grapes from the Hunter Valley, its owner John Davis has vineyard sites in four premium wine-growing regions, namely Hunter and Orange in NSW and Coonawarra and Wrattonbully in South Australia.
Beyond The Wineries at Hunter Valley
---
More things to do at Hunter Valley
If you're looking for more things to do beyond wine and cheese tasting in Hunter Valley, here's what you should consider. From a hot air balloon flight to a game of golf, Hunter Valley has a lot to offer beyond the vineyards.
1

Visit The Hunter Valley Gardens
If you are looking for a retreat, nothing is as peaceful as the Hunter Valley Gardens, situated along Broke Road on the Pokolbin trail. The formal gardens will cost you $20 but the park across the lake is free. There's a mini golf, aqua golf, and a quaint village where you can dine and shop. Grab your Hunter Valley Garden tickets in advance for a smooth visit.
If you are an adrenaline junkie, head to the rally track at Cessnock. Following a demonstration by a rally driving professional instructor, you can hop into Turbo rallycars. Relax on the passenger seat and allow your instructor to take you for two to three hot laps. What a rush!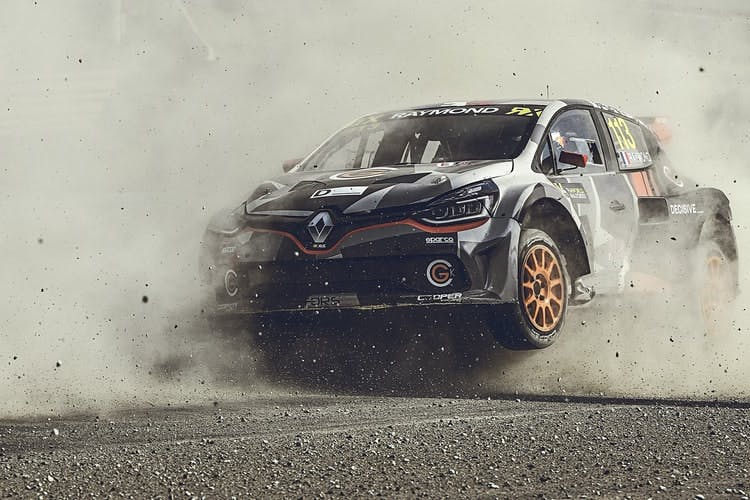 3

Tandem Skydive at Hunter Valley - 15,000 ft
Whether you book this tour for special occasions or just as a part of the trip - the experience will be a memorable one. A skydive experience is nothing short of an absolute daring adventure! Know more about Tandem Skydive At Hunter Valley tickets here.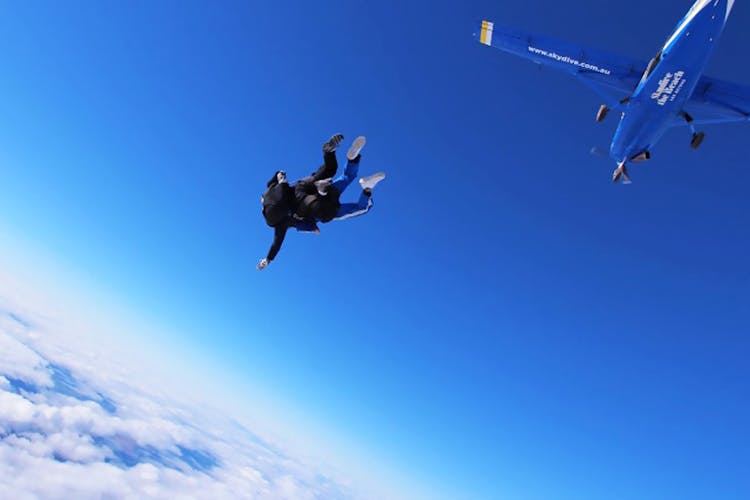 4

Take a Hot Air Balloon Flight
What better way to see the vineyards and countryside than up in a hot air balloon? There are many tour operators, such as Balloon Aloft, to provide you this service. Don't miss the chance to treat yourself to the breathtaking panoramic view of the Hunter Valley wine region.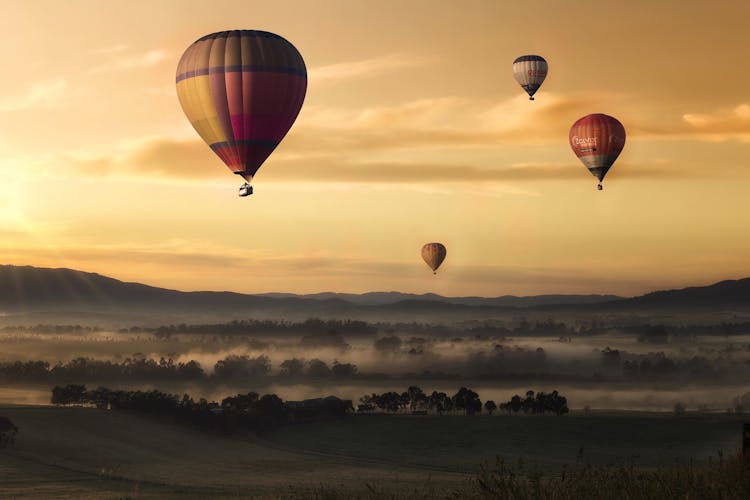 5

A Sweet Treat at the Hunter Valley Chocolate Company
For the ones with a sweet tooth, the Hunter Valley Chocolate Company should be definite pit stop. The gourmet locally made chocolates are made using Belgian chocolate. Make sure you try the chocolate-covered honeycomb, which combines the richness of the chocolate with the sweet crunch of the honeycomb - scrumptious snack.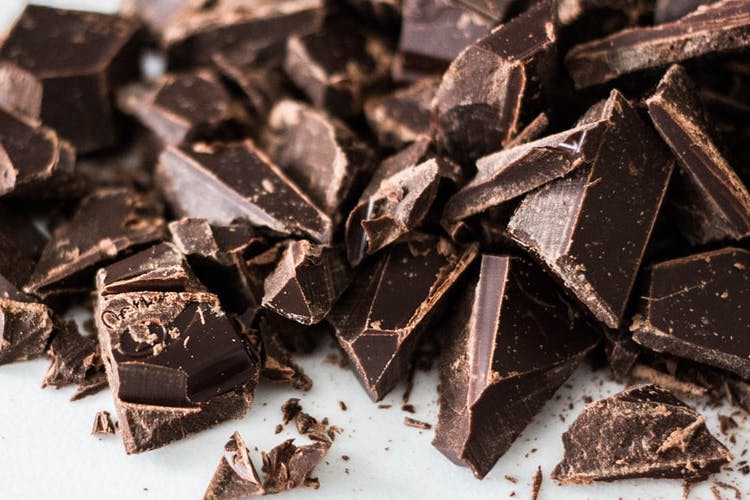 A popular pastime for the tourists in the Hunter Valley is a game of golf. Whether you're a novice or an expert, head to the Greg Norman-designed championship course at The Vintage for a game or two.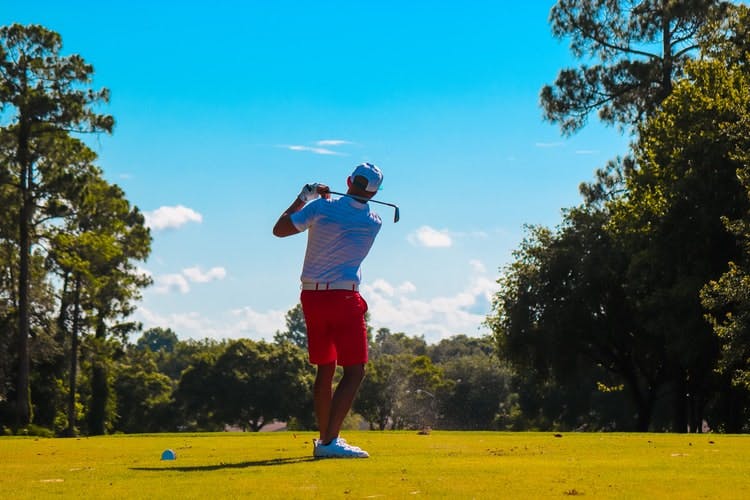 7

A Change of Spirits at The Matilda Bay Brewhouse
Stationed a few steps away from Hermitage Road Cellars, the Matilda Bay Brewhouse is a haven for beer lovers. The boutique brewery provides different beers on tap, including light beers like the ginger beer or a bitter stout like the Nitro. They are available by the pint or as part of a tasting paddle.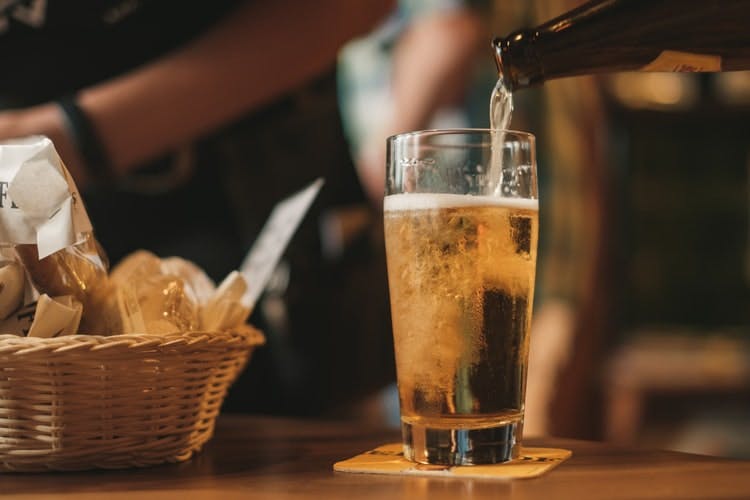 Best time to visit Hunter Valley
---
The ideal time to visit Hunter Valley is in the Autumn, March to May. The optimum temperature and rainfall delivers in moderates which gives the landscape hues of orange, green and brown. The climate coupled with the warm coloured setting is crowd magnet and is a peak season for Hunter Valley. For those on a budget, June, July, September and October are the months which tend to be colder keeping the visitors away but still deliver all that the Hunter Valley has to offer.
Sign up for our monthly newsletter
Your dose of travel fix - from hacks and deals to travel tips and everything in between, delivered monthly to your inbox
Please enter a valid email
Unsubscribe anytime
Going From Sydney to Hunter Valley
---
Transport Options From Sydney To Hunter Valley
The Hunter Valley is 244kms (152 miles) from Sydney and the best way to reach the region is either by car, which will take you around two hours, or by train, which would be a three-hour long journey.

Given below are the best ways to travel from Sydney To the Hunter Valley:
By Train
The Express Wine Train from Sydney Central Railway station takes you to the Hunter Valley's Singleton Railway station in three hours. This is not a city train and with only seven stops, you will reach the valley by lunchtime. Most people prefer to travel by train because of the picturesque view that accompanies the entire distance. It's better to book your tickets in advance and in case you get hungry during the journey, head to the Café Car to enjoy some delicious snacks and beverages.
Another option is the cityrail service to Maitland or Morisset. There are connecting buses from each of these stations to Cessnock, from where it's a 20-minute (approx.) cab ride to your desired location in the region.
By Bus
From the Morriset station, you can catch one of the Rover Coaches' buses as they match their transfers with the train timetable. If you plan to take a bus from Sydney, there are several local and Sydney-based tour operators that pick up and drop off from Sydney.
By Car
A road trip to Hunter Valley is also a great option. The route commences from Sydney Harbour Bridge and follows the Pacific Highway toward Hornsby. Before Hornsby (at Wahroonga), take the Pacific Motorway north toward Newcastle. From here on, there are three exits to the Hunter Valley Vineyards.
Exit the Pacific Motorway at the Newcastle Interchange and take the Hunter Expressway until you reach the Lovedale Road exit (24km), the Wine Country Drive exit (36km) or the Hermitage Road exit (48km).
Alternately, you can exit the Pacific Motorway at the B82 (Freemans Drive) exit ramp and follow the signs along the B82 to Cessnock/Hunter Valley Vineyards.
If you want a scenic view of the mountains, take the Tourist Route 33 via the mountains of Wollombi. However, if you are looking for some spirited driving, you can skip this route.
Where can I eat in Hunter Valley?
---
Here is a list of must-visit eateries in Hunter Valley with our recommended must-try dishes: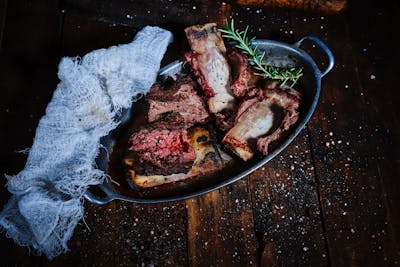 Bistro Molines
Savour the area's best views as you tuck into rabbit with mustard and olives or braised beef short ribs in red wine sauce. And feast on the prettiest cheese platter you've seen, which is just the icing on the cake.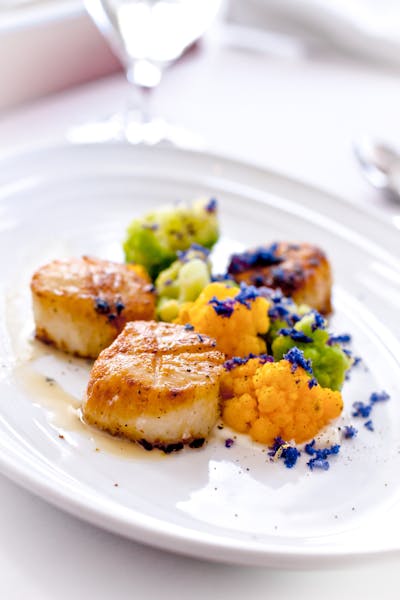 Circa 1876
Tucked into a heritage cottage overlooking a thriving kitchen garden, Circa 1876 combines country comfort with sophisticated cuisine, with diners able to choose anything between two and seven courses.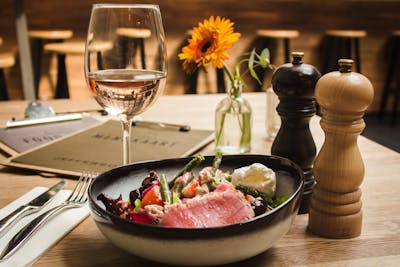 Margan Restaurant
The best way to start a meal at Margan Restaurant is with a walk around the 4,000 square-metre (one-acre) kitchen garden. With self grown produce, the food here has the aroma of love and toil whiffing through it. This produce manages to capture the essence of a platter of ever changing seasonal dishes.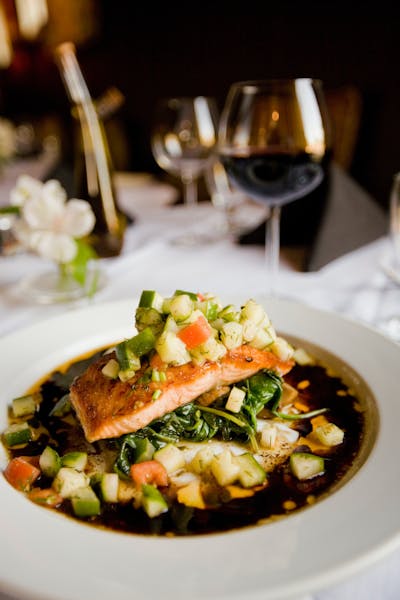 Muse Dining
This fine dining restaurant delivers beautiful, local produce in a refined way and is perfect for a special occasion. For something more casual try sister restaurant Muse Kitchen at Keith Tulloch winery.
Where to shop in Hunter Valley?
---
Pokolbin Village and Hunter Valley Gardens Shopping Village are both home to a wide variety of retail outlets, either for the souvenir requirements for your mantelpiece or to gift to your loved ones.
Chocolates are always a festive favourite but if you want to bowl over chocoholics, handmade artisan confections are the way to go.
Alpaca, a luxury fibre that's super-soft and lightweight – and unlike wool, has no lanolin, so it's coveted by people with sensitive skin and allergies.
The highlight of a trip to the Hunter Valley is the wine tasting. A must get for your festive seasons, fancy dinners or a lazy night is a bottle of local wine and cheese from Hunter Valley. But for something a bit extra-special, what about a bottle engraved with a personal message? Ivanhoe Wines specialises in custom-engraved wines for any occasion.
The Hunter Valley Christmas Shop carries a curated selection of Christmas decorations you will not find in any big chain store. Whether you're trying to find that vintage Christmas decoration you remember as a child or just want to find a decoration for someone special, it's bound to have it because the buyers spend all year searching for decorations to stock in store!
Tips For Your Hunter Valley Trip
---
Leave Sydney early in the morning: Since the Hunter Valley can be covered in a day, make sure you start early so that you can enjoy a relaxing trip instead of speeding from one winery to the next.
Breakfast at Café Enzo: Enjoy an artfully arranged "breakfast board" at Café Enzo. The café is located within the picturesque Peppers Creek Village.
Hop On Hop Off Wine Tours: If you're driving to Hunter Valley, park your car and grab tickets to the Hop On Hop Off Wine Tours to experience your fair share of wine tasting. Read more about Hop On Hop Off Wine Tours
Staying at the Hunter Valley: If you plan to spend the night, you will find pocket-friendly accommodation in Cessnock. If you don't mind splurging, stay at the Crowne Plaza.
Tempus Two: When you visit this winery, keep your notepad ready because Tempus Two has the best wine describing sessions in town. Also, their wine tasting is free!
A Day on the Green: Experience the perfect "adults' day out" at these concerts which host a fusion of great music and delicious food (read wine).
Harrigans Irish Pub: If meat is your staple, have a meal at this pub. Their steaks are huge and delicious!
A Spa End: When all the wine tasting wear you out, pamper yourself at a day spa, such as Château Élan.
Wine Knowledge: Always dreamt of becoming a wine connoisseur? Learn more about wine at the Hunter Valley Wine School or Wine Theatre.
Frequently Asked Questions About Hunter Valley Tours
---
What time do the Hunter Valley tours depart from Sydney?
How many passengers do organised coach tours from Sydney to Hunter Valley typically hold?

What is the best time to visit Hunter Valley?

What time can I expect to be back in Sydney after a day tour of Hunter Valley?

Should I take a Wine Tour or visit the wineries by myself?

Do wine tours in Hunter Valley run every day?

Ready To Explore The Rest of Sydney?
---
Check out our comprehensive Sydney Travel Guide packed with itineraries, tours, culture trips, best hotels, restaurants and a lot more.