Louvre Abu Dhabi Reopening Date - 24th June 2020
---
With the lockdown restrictions currently being curbed in Abu Dhabi, visitors have begun to make their way to visit the iconic Louvre Museum. Effective steps have been taken starting June 24th 2020, to safeguard visitors' health providing maximum safety and hygiene.
Safety Measures in Place at Louvre Abu Dhabi
---
To maintain maximum safety all guests are required to wear masks and gloves at all times within the museum. Social distancing of 2 meters must be followed within the venue.
Hand sanitizers have been made available throughout the attraction for guests to make use of. To limit contact, all paper maps and brochures are currently made unavailable at the museum. However, visitors can download the Louvre Abu Dhabi app for free which will help explore artworks and navigate the venue easily. All guests are advised to carry their own headphones.
The Children's Museum has been temporarily suspended.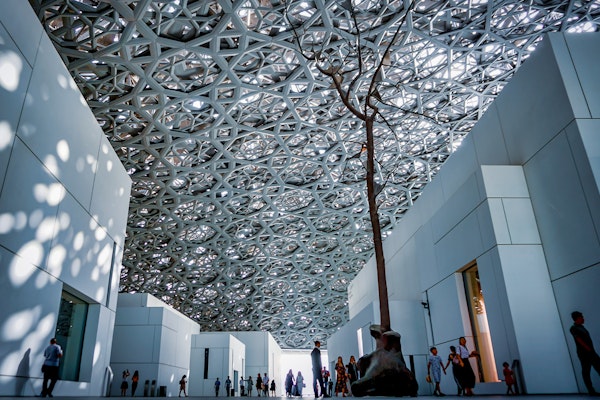 Booking Louvre Abu Dhabi Tickets Online
---
Tickets for Louvre Abu Dhabi are available here.
Due to safety reasons it is mandatory for visitors to book in advance before arriving at the venue. These are timed entry tickets, however guests can stay as long as up to three hours.
Reservations can be placed both online and from the ticketing office.
A maximum of 2 adult and 2 child tickets may be purchased per visit per day. Children under 18 can visit the museum free of charge.
Louvre Abu Dhabi- Revised Opening Hours
---
Tuesday to Sunday, 10 am - 6:30 pm, Last Entry at 5:30 pm
Closed on Mondays
For more information about visiting Louvre Abu Dhabi, refer to the official website here.