Why You Shouldn't Miss This
Beneath the bustling streets of Paris lies a subterranean world holding the remains of over six million Parisians. Explore 2 kms of underground tunnels and travel back to 18th century Paris. The Catacombs of Paris are a grim yet beautiful reminder of the city's important history.
As a way to combat overflowing cemeteries during the Middle Ages, the capitol decided to transform its mines into an underground burial site. Gradually, the city relocated millions of dead bodies to a complex series of interconnected tunnels and rooms, creating a massive 300km stretch of ossuary that has shaped the Paris we know today.
From the role the Catacombs played in the French Revolution and Hitler's regime, to the impact this network of underground tunnels continues to have on the city, explore over 2,000 years of Parisian history in this incredible tour. Since the day they were created, the mysterious ossuaries aroused curiosity, and they continue to do so today.
What to Expect on Your Skip-the-Line Paris Catacombs Experience
On the day of your experience, head to the pick-up point, located 50 meters from the Catacombs, right next to McDonalds. Upon displaying your booking number, collect your skip-the-line tickets and avoid the hassle of waiting in a long queue. Walk straight through the entrance and venture 20 meters (65 feet) underground, into one of the city's most enticing attractions.
After descending 130 steps, you'll land on a gravel pathway. From here, allow your audio guide to lead you through a one-way, 2km stretch of mysterious ossuary. Explore the ancient past of Paris as you make your way along a maze of walls lined with skulls and bones. Learn all about how the Catacombs came to be and discover the role they've played on the city's past and present. Hear urban legends, ghost stories, and tales about secret Cataphile parties. At the end of your tour, climb up 83 steps and make your way out of the dark, back to The City of Lights.
For more tips on how to make the most of your time at the Catacombs and choose the best experience, refer to our Catacombs tours and tickets collection.
Know Before You Go
When to visit:
The Paris Catacombs are open Tuesday - Sunday. Closed on Mondays and major holidays (May 1st and January 1st).
Getting there:
The Paris Catacombs entrance is across the street from the Denfert-Rochereau station. You can reach via metro line 2, RER line B, or by bus (38 & 68). There is a paid parking lot at Boulevard Saint-Jacques. When you exit the Catacombs, the closest metro station will be Mouton Duvernet.
What to wear:
The Catacombs maintain a constant temperature of 14°C (57°F). Be sure to dress warm or bring a jacket. Wear comfortable shoes and clothes that you don't mind getting a little dirty.
Restroom facilities:
There is only one toilet, located at the exit.
Timings:
Headout Paris Catacombs audio guide tours are available Tuesday through Sunday.
Audio guide:
Please note, a complimentary audio guide is included in the adult ticket only. Guests under 18 years of age can enjoy a highly discounted ticket price; however, an audio guide will need to be purchased on site near the Catacombs entrance.
Skip-the-line entrance
Entry fee
Paris Catacombs audio guide for guests 18+ years (available in English, French, German or Spanish)
Priority access to areas of the Catacombs not open to the general public
Guide
Audio guide for guests under 18 years of age
Hotel transfers
Super Flexible Cancellation Policy
You may cancel up to 24 hours in advance for a full refund.
How to Redeem your Tickets
• You will receive an email with your Paris Catacombs voucher in a few minutes. On the day of your experience, display your voucher on your mobile phone at the redemption center located 50 meters from the Catacombs, next to McDonalds, and receive your physical tickets for the Catacombs.
• Head directly to the Catacombs entrance with your tickets and skip the long lines. Please note that you need not stand in any line and just head straight to the entrance counter.
• You may enter the Catacombs anytime within the 1-hour slot you booked for.
• Please note: Audio guides are only included with adult tickets. Guests who have booked a youth ticket can purchase an audio guide at the Catacombs entrance.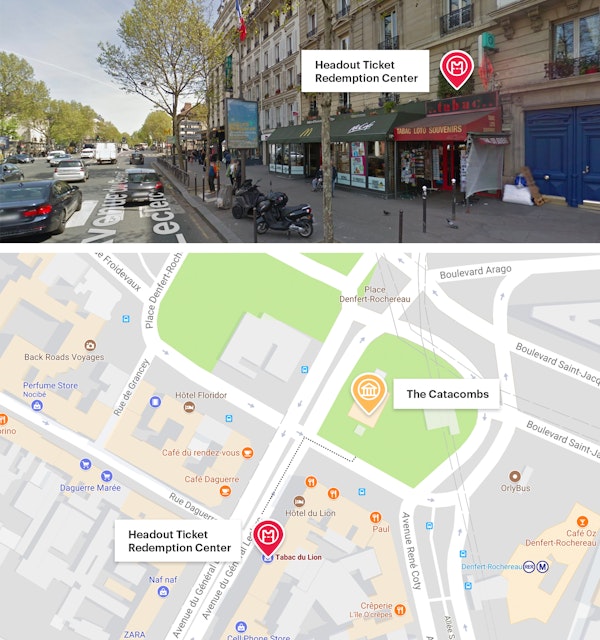 Validity
You may enter the Catacombs anytime within the 1-hour slot you booked for. A Paris Catacombs audio guide runs for 30 minutes; however, you may stay inside longer if you wish to do so. You will have the ability to pause and resume your audio guide at any point in time. Generally, visitors spend an average of 45 min - 1 hr inside the Catacombs.
Great place to visit, very educational.
Catacomb had a 2 hour wait and we were able to bypass it with headout. Although it cost more than regular admission, the time saved allowed us to see another attractions in paris
There was a long line at the ticket office. I was glad that we didn't have to wait in line. Besides, I enjoyed the audio guide and it came out cheaper than purchasing the ticket with audio guide at the site. I would use their service again.