Skydiving Tickets in Interlaken
Top Experiences
Free cancellation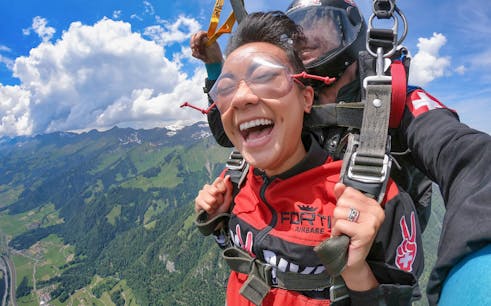 Is Skydiving in Interlaken worth it?

Skydiving from the pristine skies above Interlaken makes for an unbelievable experience as you will be greeted by the awe-inspiring Swiss Alps and its equally-enchanting surroundings. Our expert team will guide you every step of the way as you go free falling from the height of 13,000 ft. Lastly, this experience includes a tandem jump master so that you can have an exhilarating time without taking any stress. So, what are you waiting for?
Where can I go Skydiving in Interlaken?

The best place to go skydiving in Interlaken is in the scenic village of Reichenbach im Kandertal, located at a distance of 27 km from Interlaken. In order to get the most out of the experience, you can opt for the ticket -

Skydive Switzerland Tickets: Tandem Skydive from 13,000 Ft.

An overview of this ticket is given below -

Dive headfirst from the hair-raising height of 13,000 ft at the speed of 200 kms/hr and feel truly alive. 
Admire the natural setting of Interlaken, which is enhanced by the Swiss Alps, gorgeous peaks named  Mönch, Eiger, and Jungfrau, and stunning lakes like Brienz and Thun.
Don't let your nerves get the better of you because an expert tandem jump master will accompany you during the entire ride.
Enjoy the convenience of a hotel transfer service from your pre-selected meeting point. 
What are the timings for Skydiving in Interlaken?

Skydiving in Interlaken usually takes place during the day. The timings are based on various factors including weather conditions and vary from one service provider to the next. 
Where is the drop zone located for Skydiving in Interlaken?

The location of the drop zone is Reichenbach im Kandertal, Switzerland, which is situated 27 km away from the town of Interlaken. You can click

here

to find the precise coordinates of the location.
What to expect while Skydiving in Interlaken?

The first step is to sign a waiver and other necessary paperwork following which, you will get fitted with the skydiving gear and harness. Then, take a short airplane ride of around 15 minutes to reach the skydiving location. You will have to sit through a safety briefing before your take-off. Experience an adrenaline rush like no other as you free fall from the height of 13,000 ft at the speed of 200 kms/hr. After 45 seconds, the tandem guide will deploy your parachute and you will swiftly ride to the ground within the next 5 to 7 minutes.
At what age can I go Skydiving in Interlaken?

Minivans are a good option since there is less traffic on the roads than on waterways. There is space for your luggage as well, but oversized luggage will be charged. Minivan transfers are shared services that are available from 8 AM – 8 PM.
Are there health restrictions for Skydiving in Interlaken?

There are no specific health restrictions for skydiving, but participants should be physically and mentally competent. Note that this experience is not safe for pregnant women. People with a history of high blood pressure, diabetes, heart problems, etc. can participate only after consulting with their doctors. Needless to say, refrain from taking substances like drugs and alcohol prior to the experience. Additionally, any medication that can interfere with one's judgment while skydiving should be avoided.
What to wear during my Skydive Interlaken experience?

Dress comfortably in keeping with the day's weather conditions along with sneakers for footwear. Avoid dressing in flowy dresses or skirts and wearing items like chunky earrings, bracelets, jewelry, or anything that can act as a hindrance while skydiving. Lastly, it is recommended to keep your hair securely tied the whole time.
When's the Best Time to Go Skydiving in Interlaken?

The skydiving experience in Interlaken can be enjoyed throughout the year, good weather conditions permitting. If you want to take advantage of the exceptional scenery however, the best months are from December to February as the winter months see the temperature oscillating between 3° C and -3°C. During this time, the snow-capped Swiss Alps look beyond breathtaking!
Can I go tandem Skydiving in Interlaken?

Tandem skydiving refers to the skydiving experience where you will be strapped to a professional skydiver during the entire ride. They are tasked with overseeing the whole process, deploying the parachute at the right time, and ensuring your overall safety. It is an ideal way to bask in the gorgeous views that open up in front of you without a care in the world.
How much does Skydiving in Interlaken cost?

The cost of skydiving in the scenic landscape of Interlaken under the guidance of a professional team will set you back by CHF 420.