Loire Valley Castle Tickets
Headout's Top Recommendations
Free cancellation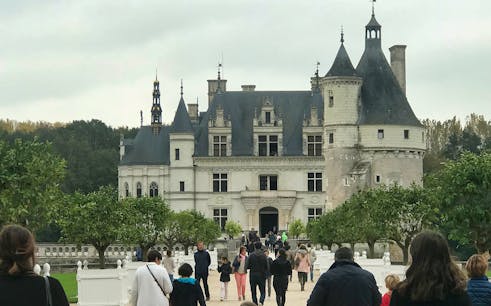 Selling out fast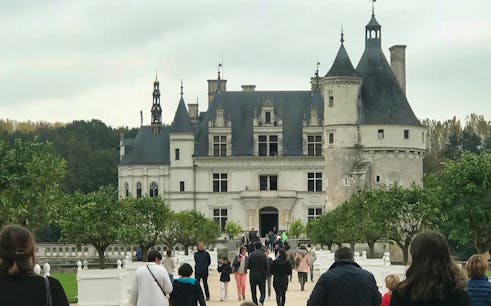 Inclusions
Expert, English-speaking tour guide
Small groups of 25 people or fewer
Entrance ticket and reservation fee for all sites visited
All transfers in an air-conditioned coach
Wine tasting in Château de Chenonceau
Round trip transportation in a minibus with air conditioning
Expert English-speaking driver-guide
Entry to the Chambord castle
Entry to the Chenonceau castle
Entry to the Amboise castle
Wine tasting session (from Apr to Oct only)
Cancellation Policy
You can cancel these tickets up to 24 hours before the experience begins and get a full refund.
You can cancel these tickets up to 24 hours before the experience begins and get a full refund.
Planning a day trip from Paris to Loire Valley

If you fancy an extravagant getaway within France, Loire Valley is just a train ride away from the capital and makes for a perfect

day trip from Paris

. The quaint stretch that is now nestled right between the crucial frontiers of Northern and Southern France was once best known for its strategic importance.

Apart from its rich yesteryears, Loire Valley still attracts several visitors who wish to catch a first hand experience of culture, art and splendour in a single trip. Moreover, wine tasting in Loire Valley is quite the fad, and Loire Valley Wine Tours from Paris are immensely popular. With meticulously planned hamlets and sprawling vineyards adding to the valley's beauty, there is no surprise that the Loire Valley is on the list of UNESCO's World Heritage Sites.
Paris to Loire Valley day tour tickets

Blessed with abundant fertility, the river banks around Loire Valley play host to a number of towns that preserve the lavish cultural legacy even today. A day trip to Loire Valley will acquaint you with the

best Loire Valley castles in France

, verdant vineyards, and opulent chateaux. Sip on some world-renowned wines (courtesy, of course, the Loire Valley) as you cosy up with a book in one of their roadside cafes and take in the resplendent scenery.

Guided day tours from Paris

Advantages of choosing a guided tour

Board an air-conditioned bus and set off to your first French castles for the day, the Château de Chambord. Enjoy the lovely landscapes of the Loire Valley and see green fields all the way upto the horizon with the River Loire flowing through the picturesque countryside. Explore several rooms at Château de Chambord before you head on to the other iconic castles of Loire Valley - Amboise and Checonceau. The day tour also includes a session of wine tasting and lunch in one of the castles.

Why go for these tickets?

• Enjoy a day trip to the Loire Valley, with round trip transfers in a comfortable air-conditioned coach
• Explore amazing castles on this tour – Amboise, Checonceau, and Chambord
• Relish red and white wines as part of an optional activity at Chenonceau
• Feast on a delicious three-course French meal where there will be more (unlimited) wine
• A small group size with a maximum of 8 people ensures an intimate and hassle-free experience

Before you decide to book tickets, here are a few aspects you should consider while opting for a day trip from Paris to Loire Valley:

Timing: A three-hour drive away from Paris, Loire Valley has become one of the most sought after day tours in France. However, given how massive the area is, if you wish to cover the important attractions, you should try leaving early. Home to numerous châteaux and awe-inspiring sights, a day trip to Loire Valley begins early in the morning from Paris and takes up at least 13 hours of your day. During the tour, you will be allowed to spend a comfortable amount of time at every attraction, giving you the liberty to click pictures and wander as per your will.

Season: Blessed with pleasant and cheerful climatic conditions all year round, planning a trip to Loire Valley may not be difficult. Although, if sunshine and a warmer climate is what you prefer, making a trip during the spring season is recommended. You may encounter off-season rain, but the climate tends to remain cool throughout these months. Summer season in France tends to attract a flock of crowd and is known for its long, dry spells — making it rather unfavourable for those looking to have a comfortable time out. The temperature in winter may drop down to 8 degrees, but those willing to tackle a little cold can find themselves enjoying the change.

Cost: Between a self-guided tour and a guided-tour, a self-guided tour option will definitely seem economical. However, a guided-tour takes care of your comfort and safety, along with any external costs that may come along your way. A guided-tour takes you comfortably in a luxurious air-conditioned coach, providing you the company of a well-informed guide and several tourists just like yourself. This not only gives you a chance to socialise, but also provides you the security of a close-knit group, along with other perks and privileges.
Day Trips from Paris to Loire Valley - Practical Information

Distance from Paris: 150 km

Travel time: 2 – 2.5 hours

Getting to Loire Valley from Paris

Getting to Loire Valley from Paris has now become easier than ever. A TGV ride from Paris will get you there in about 35 minutes. However, if you truly wish to enjoy the scenic route from Paris to Loire Valley, travelling by road is ideal for those interested in capturing the landscaping views into their camera. A journey by road takes three hours. You can even travel in a spacious air-conditioned coach as part of a day tour, making travel fun and convenient.
Things to do in Loire Valley

Châteaux: It isn't an exaggeration to say that Loire Valley is best known for its stellar castles. And while there are over 300 châteaux in Loire Valley, the Château de Chenonceau and the Château de Chambord are the most visited, as well as the most photographed, castles in France. Both Chambord and Chenonceau châteaux are well furnished with interiors dating back from the Renaissance period, and are home to several notable pieces of art from the 16th and 17th century. With their expansive courtyards and palace grounds, a visit to these castles can easily take up an entire day.

Musée des Beaux-Arts de Tours: A museum dedicated to the wonders of fine art, Musée des Beaux-Arts was built in the 18th century. It holds an eclectic collection of notable artworks, sculptures, furniture, as well as paintings beginning from the 14th century onwards. Monet, Delacroix, and Degas are only some of the well-known artists whose artworks are displayed in this opulent museum. Apart from the art, the Musée des Beaux-Arts is also regarded as an iconic structure in Loire Valley because of its strikingly beautiful facade.

Cathedrals: Apart from being home to a number of stunning castles, Loire Valley is also blessed with some of the finest cathedrals in the world. These include the Bourges Cathedral and the Chartres Cathedral, which attract pilgrims as well as tourists from around the world. Famous for their intricate architecture and their artistic stained glass windows, these cathedrals portray excellent craftsmanship that is almost 800 years old as of today. In fact, Cathédrale Notre-Dame de Chartres (Chartres Cathedral), the 12th century cathedral, has also earned itself a place in UNESCO's World Heritage Sites because of its splendid Gothic architecture and its unique religious allure.

Wine tasting: Being France's third largest wine producer, Loire Valley houses some of the most picturesque vineyards that produce a variety of wines. Making use of a myriad of grape varieties, Loire Valley creates some of the finest wines that you can try on your day trip. Each year, visitors from around the world visit during the harvesting period to enjoy a thorough, guided walk within Loire Valley's vineyards. A typical visit begins with a brief look into the process, which is both educational and interactive, along with a fun wine-sipping experience to go along!
Other day trips from Paris

Giverny

Reims

Versailles

Mont St Michel
Day tours from Paris to Loire Valley - FAQs

Can I visit Loire Valley from Paris in a day?

Yes, you can easily visit Loire Valley from Paris in a day. Most day trips take 12-14 hours in total, along with travelling to and fro.

Do these guided tours include lunch and wine tasting?

Yes, guided tours from Paris do come with a wine and lunch variants. Alternatively, you can eat at one of the may restaurants in Loire Valley.

Can I cancel my day tours after booking?

Yes, you can cancel your bookings up to 3 days before your day of experience.

How far is Loire Valley from Paris?

Loire Valley is 150 km from Paris and it usually takes 2-2.5 hours to travel by train or by road.