Classical Concerts Tickets in Prague
Top Experiences
Sort By: Our Recommendations
Free cancellation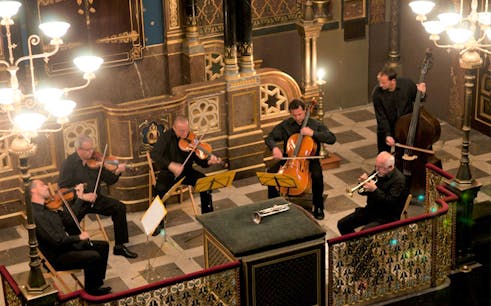 Free cancellation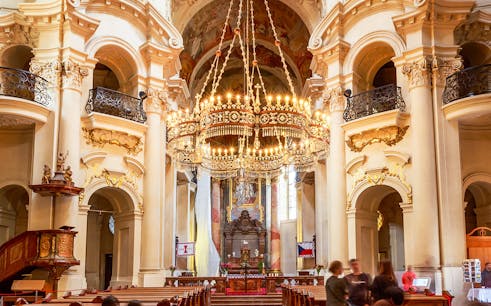 Book Tickets to Concerts in Prague

Classical concerts in Prague make for a great evening of entertainment. The city's historical venues are the perfect backdrop for indulging in some classical music. Prague has been host to some of the world's greatest musicians and composers. Booking tickets to classical concerts in Prague is a worthy expense as you'll get to witness top-notch performances by celebrated soloists and orchestras. You'll have a chance to immerse yourself in Prague's abundant culture while appreciating extraordinary live music from historic venues that have stayed the same since Mozart's time.
What is the Easiest Way to Book Tickets to Concerts in Prague?

The easiest and most efficient way to book tickets to classical concerts in Prague is undoubtedly to book them online. The advantages of booking online tickets are numerous. When you book online, you get to book tickets to classical concerts in Prague from the comfort of your home and right on your mobile device. At the click of a button, you can book your tickets to classicals concerts in Prague weeks or even months in advance. What's more is that you don't have to wait in long lines to purchase your tickets and run the risk of the tickets running out at the last moment!
Where Can I Find Discounted Tickets to Classical Concerts in Prague?

If you're looking to get discounted tickets to classical concerts in Prague, the best way to do it is by booking your tickets online. Booking online also allows for more flexibility as you can often choose between different seating options or even ticket types. Online ticket booking platforms also allow you to choose between multiple payment options ensuring a hassle-free experience.
What to Expect from Concerts in Prague?

When attending classical concerts in Prague, there is much to look forward to. Get mesmerized by great musicians and composers taking part in incredible orchestras, and performing renowned music at fantastic venues. The mix of beautiful architecture and spectacular music is an unbeatable combination and something that all classical concerts in Prague offer to their audiences.
What is the Dress Code For Attending Concerts in Prague?

Classical concerts in Prague are an illustrious affair and while there may not be a strict dress code to adhere to in most venues, it is a good idea to dress up in some semi-formal or formal attire. Going to attend classical concerts in Prague in casual clothing like jeans, tees, sneakers and so on may not be a great idea as this may make you awkwardly stand out in the crowd amongst other formally dressed audience members.
What is the Correct Etiquette to Follow While Attending Classical Concerts in Prague?

While attending classical concerts in Prague one must be aware of the etiquette to follow while attending. Here are some key points to remember:

Arrive early and take your seat before the music begins to ensure you do not cause disturbance to others and the performers by entering late.
Switch off your cell phones or put them on silent mode for the entire performance as they can interfere with other patrons' enjoyment of the music.
Do not talk during the performance as it can be extremely distracting for others who are trying to appreciate the music.
Applaud at appropriate times only – usually at the end of a piece played by an individual or the orchestra.

Is Photography Allowed During Concerts in Prague?

Photography and videography are strictly prohibited during most classical concert performances in Prague. It is advisable to seek prior permission from the organizers if you wish to record the performance.
Can I Cancel My Tickets to Concerts in Prague?

The cancellation policy depends and varies on the type of Prague concert ticket you choose. While some classical concerts in Vienna do allow for cancellations, some do not. Please make sure to check the cancellation policy on your preferred Prague concert ticket before making the purchase.