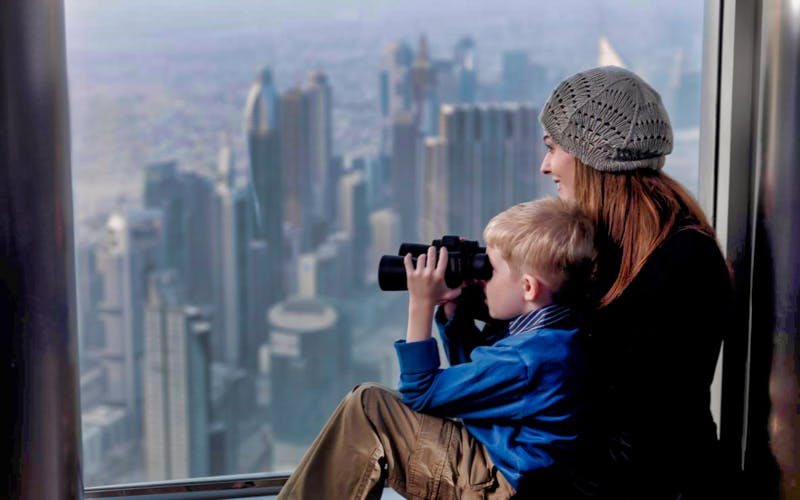 Burj Khalifa: At the Top Sky with Coffee & Introductory Tour (Level 124, 125 & 148)
Toon kaartjes op je telefoon
Sla de rij over en bespaar tijd
Beste Veiligheidsnormen
Deze ervaring is geverifieerd om te voldoen aan de beste veiligheidsnormen in overeenstemming met lokale voorschriften en de WHO
Details omtrent Veiligheid
Skip the lines and enjoy incredible views of Dubai from the 124th, 125th and 148th floors of the Burj Khalifa. Get a unique personalized tour, guided by a Guest Ambassador and step out to the terrace for some of the best views in the world.
insluitsels
Admission ticket
An Introductory tour with a guest ambassador
Dates and Arabic coffee
Interactive stations
Wi-Fi throughout the attraction
Visit to level 148, 124 and 125
cancellation policy
Get a full refund on canceling this ticket up to 48 hrs before the schedule
your experience
Enjoy special fast track access as you avoid the crowds to enter this iconic landmark. This is your opportunity to experience what it feels to be on top of the world! Be floored by breathtaking panoramic views of Dubai from the highest outdoor observatory in the world.
Skip-the-lines and begin with a warm cup of Arabian coffee at the At the Top Sky customer lounge before proceeding to the Observation Deck. Enjoy a personalized tour, guided by a Guest Ambassador and take the high speed elevator to the observation deck. Watch the visual projections of global landmarks as you fly upward to the observation deck on one of the fastest elevators in the world.
Once at the SKY lounge, marvel at the view while being offered sweets and drinks. Step out to the terrace and experience one of the most amazing views of Dubai. Following that, you will continue your journey to levels 125 and 124 where you may stay for as long as you prefer and take in the beautiful panoramic view of the Dubai coastline and cityscape.
You can also gaze down at the Dubai Fountains for a spectacular water show between 6:00 pm and 11:00 pm. You can also catch a breathtaking sunset between 4:00 pm and 7:00 pm from the best vantage point in Dubai.
know before you go
Timings
At the Top, Burj Khalifa is open from 8:30 AM to 11:00 PM.
Tickets are available for timeslots every 30 minutes.
Tickets for prime hours (sunset time) are costlier than non-prime hours (rest of the day).
Entry to the Burj Khalifa is time specific. However, once you're inside, you can stay for as long as you like. People on average spend 40-45 minutes at the observatory.
Guests of At the Top, Burj Khalifa SKY can stay at level 148 for up to 30 minutes to continue the journey to level 125, where they can stay as long as they prefer.
Keep in Mind Children under the age of 13 must be accompanied by an adult at all times during the visit. Children 3 years old and below are permitted free of charge. * No large pieces of luggage are allowed inside, but you can check them in at the Secure Baggage Area, located near the entrance. Handbags, cameras, and other small accessories are allowed inside.