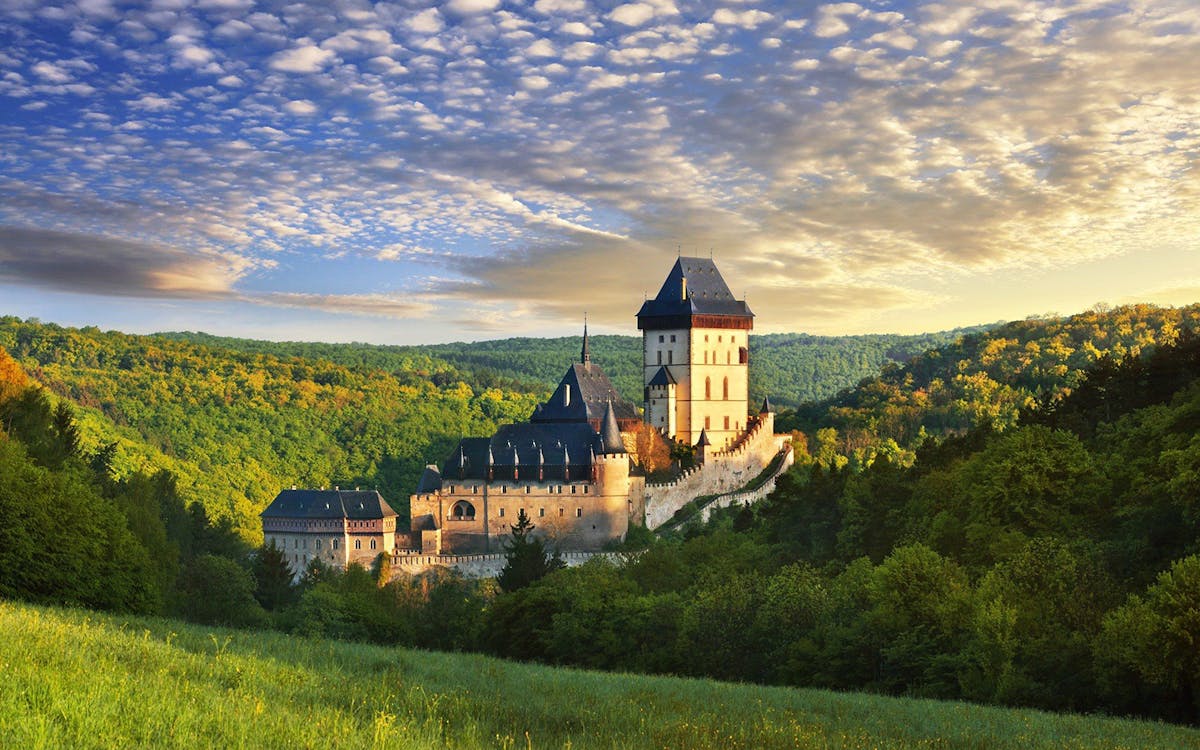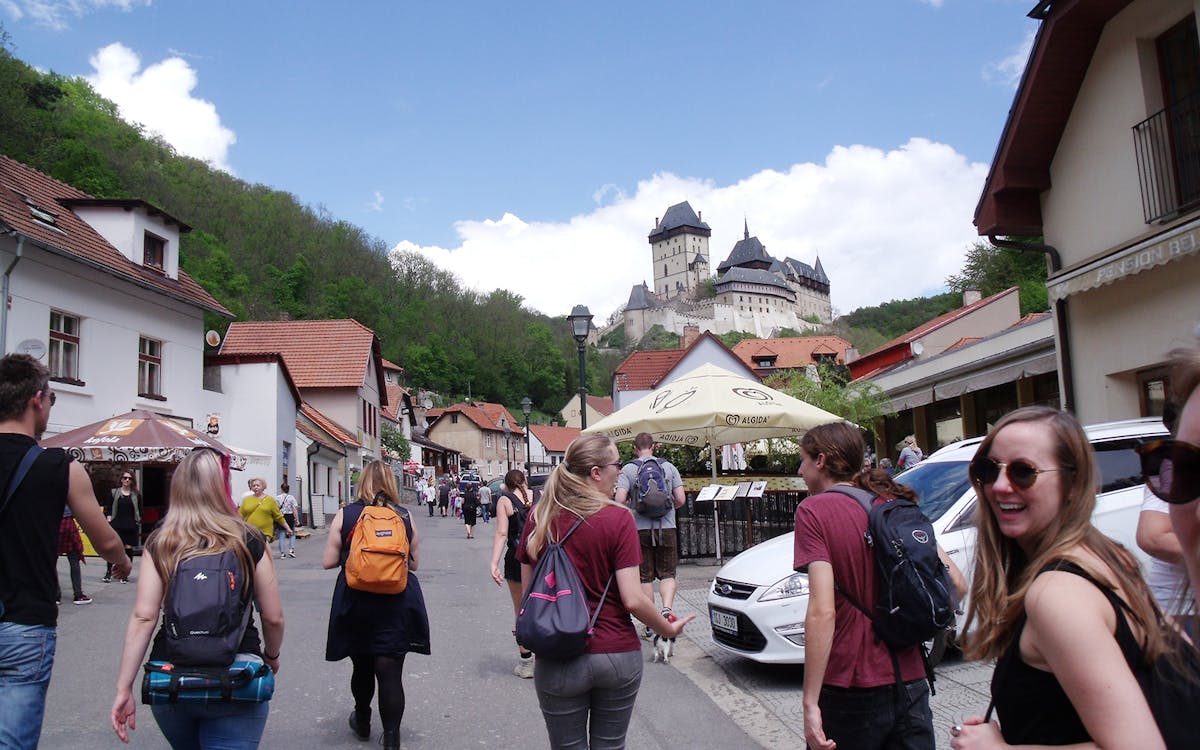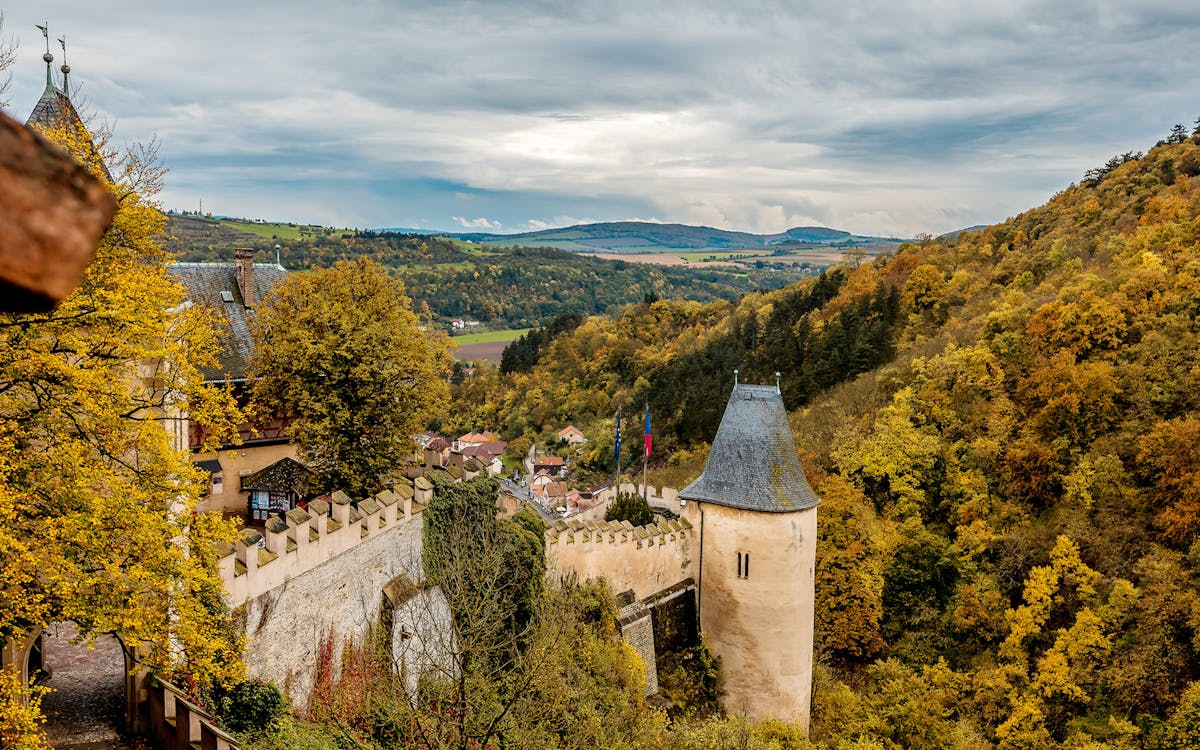 Guided tour of Karlštejn Castle with Lunch
Zeigen Sie Ihr Tickets auf Ihrem Handy
Visit the world famous Karlstejn Castle with a detailed guided tour of the interiors. Enjoy a hearty lunch and a ride back in an air-conditioned bus to Prague!
Highlights
Enjoy a comfortable trip to the Karlštejn Castle with a complimentary pick up from your hotel
Cap off your tour with a tantalizing lunch that includes some local delicacies
Catch a glimpse of the extravagant life led by Bohemian Kings
Revel in the beauty of Gothic architecture dating back 14th century
Why You Shouldn't Miss This
Located about 30 kilometers to the southwest of Prague, the Karlštejn castle is one of the most visited and famous castles of the Czech Republic. Built by Charles IV, the Holy Roman Emperor and the King of Bohemia in the 14th century, it housed some of the most important relics of this era. Being the royal treasury, priceless artifacts such as the Imperial Crown of the Holy Roman Empire and the Bohemian Crown Jewels, holy relics and royal archives were present in it, and thus, it was fortified extensively.
The layout of the buildings in the castle all the way up to the Imperial Palace was designed ingeniously and are a captivating sight. The individual castle buildings are arranged in a unique stair format, that is sure to leave you impressed. The centerpiece of the castle is the Chapel of the Holy Cross. The walls of this chapel are inset semi-precious stones, gildings, and astonishing 129 panel paintings. These paintings are that of popes bishops, knights, and mentors and form one of the largest collections of Gothic style art in the world.
Once your booking has been confirmed, you will receive a mobile voucher. You will be picked up by a tour bus at the hotel you specify while booking the tickets. Alternatively, you can be picked up at Václavské námestí 27 if you have haven't chosen the hotel pickup. The entire tour will be around 5.5 hours. This includes the travel to and fro from the Karlštejn castle which is located about 30 kilometers from Prague.
Only guided tours are allowed at the Karlštejn castle. Your ticket is part of a guided tour that is 1 hour long. You will first be taken through the historic 1st and 2nd floors of the Imperial Palace. The construction and decoration of the palace were overseen by Charles IV himself.
Then you will move onto the 1st floor of the Marian Tower which has priceless furnishings from the 14th to 19th centuries. Several Halls and Chapels can be explored, with the guide providing you with a brief history of the important ones. In the Castle Treasury, a copy of the St. Wenceslas Crown can be admired. The original is kept in a locked vault at the St. Vitus Cathedral in Prague. The Well Tower can be accessed from the main courtyard.
Located on top of a hill, the castle provides stunning views of the surrounding forests. In the fall season, the sight of a sea of red, yellow and green leaved trees is absolutely gorgeous and a must-see for anyone who visits this place.
At the conclusion of the guided tour, you will be taken to one of the best restaurants in the region. After a hearty lunch, you can relax in an air-conditioned journey back to Prague. You will be dropped off at the center of Prague, and the tour will come to an end.
Enthalten
Lunch
Optional pick up from your hotel
Guided tour of castle interiors
Nicht Enthalten
Drop off at your hotel
Skip the line entry into the castle
Know Before You Go
If you want to avail the pickup option, you must mention the hotel that you are staying in at the time of checkout. Failing to do so, you will have to reach the meeting point at Václavské námestí 27 yourself, from where you will be taken to the destination.
Drop off will be at the centre of Prague, and not till your hotel.

Timings

During February
Saturday and Sunday from 10 AM to 3 PM

During March
Saturday and Sunday from 9:30 AM to 4 PM

During April
Tuesday - Sunday from 9:30 AM to 5 PM

During May, June and September
Tuesday - Sunday from 9:30 AM to 5:30 PM

During July and August
Monday - Sunday from 9 AM to 6:30 PM

During October
Tuesday - Sunday from 9:30 AM to 4:30 PM

Upto November 11
Tuesday - Sunday from 10 AM to 3 PM

November 12- November 16
Saturday and Sunday from 10 AM to 3 PM

The castle is closed from December 17 to December 26 and again from January 7 to February 1

Super Flexible Cancellation Policy
You may cancel up to 24 hours in advance for a full refund.

Mia
Überprüft in April, 2018
Really nice tour of the Karlstejn Castle. Bus ride was very comfortable. Our guide was very very informative and we learnt quite a few interesting stories from the past. Highly recommend this tour to everyone in Prague!

Stella
Überprüft in April, 2018
Really enjoyable day out of Prague. Our guide was very nice and friendly, learnt a lot of interesting history about Czech.

Maya
Überprüft in April, 2018
Really loved this experience. Very well thought out and includes hotel pickup and lunch!
Meine Tickets
How to Use Your Tickets
You will receive your mobile voucher by email shortly. No need to print! A bus will pick you up from the hotel you've mentioned at 9:30 AM (1 PM in summers) or alternatively, from Václavské námestí 27, at 9:30 AM (1 PM in summers). Please display the tickets on your mobile phone with a valid photo ID at the time of pickup.
Getting there
Meeting point: Václavské námestí 27
By tram: Use tram no. 5 and get off at stop Václavské námestí.
By metro: Take the metro-line A to station Václavské námestí. You can also take a metro up to station Muzeum on the metro-line C.

Václavské náměstí 27, Praha 1 , Prague
Alert me when this is live
Sorry! You'll be the first to know when the tickets are available soon.
Wir werden Sie benachrichtigen.
Eine vertrauenswürdige Plattform, die von 100.000 Personen pro Monat genutzt wird
Erhalten Sie die besten Preise, die auch Last-Minute verfügbar sind.
Entdecke und lerne aus über 10.000 Erfahrungen
Entdecken Sie verifizierte Erfahrungsberichte und professionelle Fotos
Falls Sie eine Frage haben? Chatten sie Live mit unseren Experten rund um die Uhr