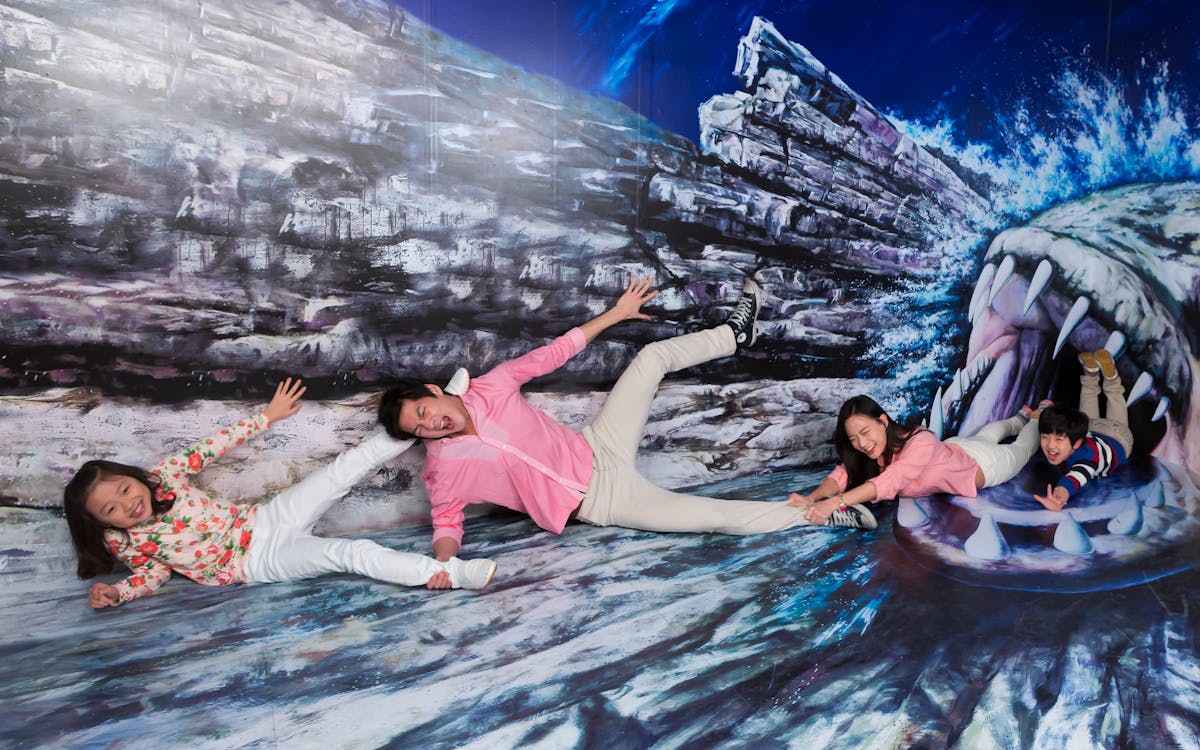 特麗愛 3D 美術館
Show tickets on your phone
亮點特色
Visit the Trickeye museum and watch as 2D paintings on the walls, floors, and ceilings appear to pop out and come to life.
With an art technique that turns 2-dimensional paintings into 3- dimensional masterpieces through the use of optical illusion, the Trickeye or Trick-of-the-Eye museum gives visitors the chance to awaken all their senses.
Enter a world of augmented reality with the help of Trickeye Museum's free app and discover a hidden world where animals, magic, and special effects come to life.
Step inside the paintings and watch a colorful, tricky story unfold before your camera
All guests must make prior bookings before heading down to the attraction
'Trick of the Eye' refers to the traditional art technique Trompe-l'oeil, which turns 2D paintings into 3D images using the principles of optical illusions. At the Trickeye museum, the visitors 'become one' with the art, as they nurture their creativity and interact with all the displayed exhibits. Here, you have the option to become the exhibition in itself. You are encouraged to step inside the installations and recreate memorable photos using your own creativity and imagination.
Take your experience to a higher level with the Trick Eye Museum's Augmented Reality App. As you look through the app, the exhibition comes to life with the magical appearance of an augmented reality world. Discover this new surreal world with the help of the Trickeye Museum app that you can download from the Google Play Store or App Store. Looking through the app, you will see your photos and videos manifest themselves with animals, magic, fireworks and other special effects!
With six themed zones, each uniquely crafted to awaken all five senses, you will be entertained by mystical encounters, overcome your fears, feel the love in the air, and feel your adrenaline rush as you experience the trick world!
Mystery: Discover the hidden secrets of Trickeye's 4-dimensional space. Touch and feel the surroundings as you experience the magic of Media Art, Ames Room and Dining Table

Excitement: Free your inner child as you taste the thrill and feel like a real adventurer at Trickeye

The Supernatural: Overcome your fears and befriend the not-so-scary ghosts as you enjoy being a part of multiple 'spooky' paranormal scenes

The Romantic Fairytales: Love is in the air! Lose yourself in the world of fairytales as you swim like Ariel, dance on ice like Elsa or fly on the magic carpet like Aladdin

The Land of Fantasy: Here, fantasies are no longer a dream. See the magical realms of fantasy come to life and experience a world where everything is picture-perfect

The Trick World: Finally, visit the Trick World, a collection of the most loved Trickeye exhibits and explore the impossibilities of reality.
Know Before You Go
Important Information
All guests must make prior bookings before heading down to the attraction
Timings
The Trickeye Museum has resumed its operations from 11 July, 2020.
It is open from Thursday to Tuesday, from 10 AM to 6 PM (last admission at 5 PM).
Closed Days: Wednesday.
Getting There
Trickeye Museum is located on Waterfront @ Resorts World Sentosa, 26 Sentosa Gateway. The nearest MRT station is Harbourfront. To access the museum via Sentosa Expressway, get down at the Waterfront Station.
Strict Cancellation Policy
These tickets cannot be canceled, amended or rescheduled.
我的票券
Your voucher will be emailed to you in a few minutes. Please display your voucher and display it with a valid photo ID at Waterfront @ Resorts World Sentosa Trick Eye Museum Ticketing Counter.