Collections
Louvre Skip The Line Tickets
Best Deals on Louvre Tickets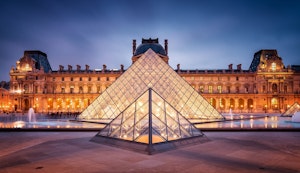 The Louvre Museum Tickets
The Louvre Museum is not only the world's largest museum but also a French historic monument. The Louvre Palace, that is now the home of the museum, was built in the late 12th century as a fortress. Today, the museum receives around 10 million visitors every year and is the second most visited museum in the world, behind the Palace Museum in China.
What To See At The Louvre Museum
Spread in eight curatorial departments, the Louvre is home to an exhibition of 380,000 objects and 35,000 works of art. Some of the most famous exhibitions that are a must see at the Louvre are:
1. Egyptian antiquities - With over 50,000 artifacts on exhibition, the Egyptian collection is one of the biggest ones at the Louvre. The objects belong to the Nile civilization, ranging from 4,000 BC to the 4th century AD. Pieces inclde the Gebel el-Arak Knife from 3400 BC, the Head of King Djedefre and The Seated Scribe. Also on exhibition are papyrus scrolls, mummies, clothing, jewelry, tools and weapons
2. Paintings - The painting collection at The Louvre consists of more than 7,500 works of art. Some of the most famous paintings at The Louvre are the Mona Lisa by Leonardo Da Vinci, Death of The Virgin by Caravaggio, The Lacemaker by Vermeer, La Belle Jardiniere by Raphael, Bathsheba at Her Bath by Rembrandt and many others. These are some of the top things to see at the Louvre.
3. Sculptures - The sculpture department consists of work created before 1850 and comprise of some of the most stunning works of art created in our history. Venus De Milo by Alexandros of Antioch, Dying Slave by Michelangelo, Winged Victory of Samothrace by Pythokritos, the Virgin and Child from the Sainte-Chapelle, The Code of Hammurabi and many others.
The Louvre Facts
1.The Mona Lisa has its own mailbox owing to all the love letters it receives.
2. The museum was renamed to Louvre to Musée Napoleon by King Napolean who had also expanded the museum collection by 5,000 pieces. These pieces were returned to the original owners when Napolean was defeated.
3. The Louvre has its own share of spooky stories. A mummy called Belphegor is said to haunt the museum while the nearby Tulleries Gardens are believed to be haunted by a man dressed in red.