Collections
Lifestyle & Entertainment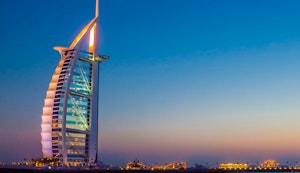 Burj Khalifa Tickets
Dubai
Burj Khalifa Discounted Tickets & Combos
Enjoy breathtaking views of Dubai with a trip to the world's tallest building, the Burj Khalifa. Headout's express entry voucher will zoom you past the long queues and have you straight on the world's fastest elevator. Zip to the 124th, 125th, and 148th floors and soak up the unforgettable views of the city, the ocean, and the desert from the observation decks and luxury lounges of the Burj Khalifa.
With efficient online booking, you can get tickets right up to the last-minute. It's quick, easy to use, and hassle-free. All Headout Burj Khalifa tickets include free wifi. Get access to a wide selection of exclusive passes, with special Burj Khalifa additions like a posh cafe experience, a visit to the 007 Exhibition, or add another iconic Dubai experience, like a visit to the Aquaventure Waterpark, with one of our combo passes - all at incredibly discounted prices. So what are you waiting for? Experience what it feels like to be on top of the world!
Information about Burj Khalifa
1. At the Top Burj Khalifa stands at a height of 828 m.
2.The tallest building in the world consists of 200 stories and 2909 steps.
3. It comprises of 24,000 windows, with each glass panel weighing over 360 kg.
4.The Burj Khalifa observation Deck is the highest in the world.
Burj Khalifa Opening Hours
1. Open 7 days a week between 8:30 am- 10:00 pm.
2. Entry closes 45 minutes prior to the last entry time.
Don't wait and get the best deals for your At the Top Burj Khalifa tickets, here at Headout!