Sentosa Attractions Tickets
Explore theme parks, water parks, beaches and get the adrenaline pumping at Sentosa. Enjoy a wide variety of panoramic rides, culinary delights, and more. Catch sight of Resorts World Sentosa, the Royal Albatross Ship, and Sentosa Cove at this entertaining island resort.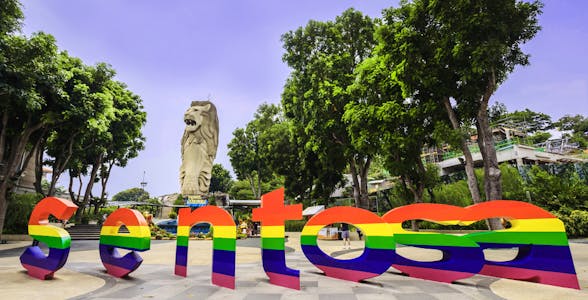 Skyline Luge Sentosa Tickets
Wings of Time Show Tickets
Headout's Top Recommendations
Inclusions
Access to Singapore cable car skypass
Admission to Wings of Time show
Admission to Trick Eye Museum (optional)
Admission to Skypark (optional)
Access to Skybridge
Admission to SkyHelix (optional)
Access to Head Rock VR Play (optional)
2 VR play package
Admission to Sentosa 4D Adventureland (optional)
Choice of 2 rides out of 4)
Admission to Madame Tussauds Singapore 4-in-1 package (optional)
Entry to Madame Tussauds Singapore
Spirit of Singapore boat ride
Ultimate film star experience
Admission to Van Gogh The Immersive Experience
Admission to Universal Studio Singapore (optional)
Admission to S.E.A. Aquarium™ (optional)
Cancellation Policy
These tickets can't be cancelled or rescheduled.
These tickets can't be cancelled or rescheduled.
These tickets can't be cancelled or rescheduled.
Sentosa Attractions Tickets Guide

The island of Sentosa in Singapore was once a British military base. It is now home to the single most popular cluster of attractions in the world. A day on Sentosa Island is an ideal getaway from the urban sprawl of Singapore. With a multitude of thrilling amusement park rides, dense green spaces, serene beaches, spa resorts, and laid-back bars; you'll never run short of things to do on Sentosa Island.  Let's take a look at all the Sentosa attractions, tour highlights, and everything else you'll need for a perfect trip.
Post Covid-19 Safety Measures and New Rules at Sentosa:

In light of the COVID-19 pandemic, Sentosa island has enforced several safety measures:

Face masks should be worn at all times, except while consuming food or engaging in strenuous activities like jogging.
A minimum of 1-meter distance must be observed between individuals and groups.
A group should consist of not more than 8 pax. The intermingling of groups is not encouraged.
Explore Sentosa Attractions

Universal Studios Singapore

Universal Studios has made its mark on Southeast Asia with this gigantic theme park. The Universal Studios park features seven themed zones that house 24 rides and attractions. Kids can enjoy meeting Elmo, or the minions, while you may be out enjoying a rollercoaster or shopping your heart out.

Recommended Experiences

S.E.A Aquarium Singapore

The S.E.A. Aquarium on Sentosa Island is known to house over 1000 species of marine animals. It offers equal amounts of fun and learning. Some of the animals here are also being conserved by the facility, apart from giving the visitors a chance to observe them. The Sharks, Dolphins, and coral reefs garner the most attention, so make your way to these first.

Recommended Experiences

Adventure Cove Waterpark

The Adventure Cove Waterpark is an attraction that is made for people of all ages. If you are a thrill-seeker, the water park will present you with the opportunity to ride one of its water slide or the wave pool. If you are in for a relaxing experience, you could spend some laidback time at the lazy river, or just relax at the cabanas. All in all, a day at the Adventure Cove Waterpark translates to an all-around exciting experience.

Recommended Experiences

Cable Car Singapore

Singapore Cable Car is one of the most often recommended attractions if you are visiting Sentosa with your family. The Sentosa line of the Singapore Cable Car service affords you a breathtaking view of mountains, greenery, and the blue ocean beyond. It hs has three stops, which means you can use it to get to other places of interest at Sentosa as well.

Recommended Experiences

Trick Eye Museum

This is one of the very few museums in the world that will encourage you to touch and get a feel of its belongings as much as you want. You can take photos too. The Trick Eye Museum is an optical art establishment that utilizes state-of-the-art technology to reveal a fun side of its offerings.

Recommended Experiences

iFly Singapore

Skydiving is a rage among thrill-seekers. It ranks quite high up the adrenaline chart, as well as the cost chart. iFly Singapore gives you a chance to experience a 9000 feet fall at a marginal charge. With its patented technology at the helm, iFly Singapore simulates the gravitational phenomenon experienced during free fall. The degree of safety makes it a safe bet even for jittery flyers!

Recommended Experiences

AJ Hackett Singapore

AJ Hackett is a one-of-a-kind adrenaline-based theme park that hosts Singapore's one and only Bungy Jump, The park also offers a unique Giant Swing experience and more, which allows you to literally conquer gravity and get rid of your fear of vertigo. The venue is perfect for friend groups and people who are looking for some excitement in their lives.

Recommended Experiences

Skyline Luge Sentosa

Skyline Luge in Sentosa allows you to ride along a downhill track on a unique vehicle. If you are looking for a little more thrill, you could take your pick from a number of its themed tracks. The total track length at Skyline Luge is 2.6 kilometers. If you want a laid-back experience, hop on the Skyride which gives you an aerial view of the South China Sea and Singapore. This ride is quite romantic at night and serves as a perfect getaway from the tumult of the park.

Madame Tussauds Singapore

Madame Tussauds is famous for its hyper-realistic wax statues of celebrities. At Sentosa, you get to experience the magic of Madame Tussauds without making a trip halfway across the world. From Hollywood stars to sporting icons, Madame Tussauds has everyone waiting to meet you. Additionally, there are interactive activities and virtual reality racing games for the entire family to enjoy.

Recommended Experiences

Mega Adventure Park

Mega Adventure Park does justice to its name with the activities offered by it. The most popular of its offerings is the MegaZip, which is the steepest in South East Asia. You get to travel down the zipline at a speed of over 60 kilometers per hour! You may also go for MegaClimb, set at a height of up to 15 meters from the ground. 

Recommended Experiences

Go Green Segway Eco Adventure

Gogreen Segway Eco Adventure is one of its kind Eco Adventure in Asia. The Segway is a futuristic mobility device, which you will be taught to operate before setting off on the tour. You will head to Siloso Beach for this adventure. Onboard the Segway, you will explore the wonderful sights of the island shores. You can choose between a 30-minute tour of one beach or a 60-minute tour of all three beaches.

Recommended Experiences

Butterfly Park & Insect Kingdom

The Butterfly Park & Insect Kingdom is one of the most austere experiences that you can be a part of at Sentosa. The lush outdoor sanctuary for the butterflies is at once wondrous and calming. The entire area of the park goes beyond the visible. The recreated rainforest brings a multisensory delight t the visitors. Kids, in particular, will cherish a visit to the Butterfly Park & Insect Kingdom and also go home with nuggets of precious knowledge.

Recommended Experiences

Wings of Time

Wings of Time is a show that teaches you about friendship and affection. It teaches you about courage and its rewards. As you take your seat overlooking the majestic ocean, the variegated bird Shahbaz takes a flight to set off on a journey back home. Accompanying the bird, are Rachel and Felix, who have their own destinies to fulfill. You are absorbed by the ambitious storyline that unfolds with the employment of water, fire, and laser effects. This is an ancient story told in the most modern of ways.

Recommended Experiences

Sentosa Merlion

The Merlion is a Singapore icon. It is known as the guardian of the nation's prosperity. The mythical creature is part lion and part fish. The lion stands for the rediscovery of Singa (lion) Pura (land) by Prince Sang Nila Utama, while the fish represents the fishing village of Temasek. The attraction not only provides visual grandeur but also gives you a generous dose of the historical background of Singapore. 

Recommended Experiences

Fort Siloso

Fort Siloso stands as a testament to Singapore's immense significance in the 19th century. The British empire built 12 gun batteries, out of which only Fort Siloso could be restored to almost its former glory. A lot of the original defensive structures and tunnels remain for the scrutiny of the visitors. You can explore the structure from the skywalk, or take a closer look in the Heritage Trail or the Gun Trail. Alternatively, let an immersive show called the Surrender Chamber transport you to the glory days of Fort Siloso.

Headrock VR

Headrock VR stands out in all of Asia as the first virtual reality theme park. There a total of 11 thrilling attractions to choose from. Since you will be experiencing everything in VR, there is no limit to the adventure. You will be fully immersed in the hyperreal media adventure that will subject you to adrenaline-pumping scenarios and will compel you to give it another go.

Recommended Experiences

Wavehouse Sentosa

Although the island is blessed with an abundance of aquatic wealth all around it, the one thing that Singapore lacked is the waves that attract surfers to various coastal destinations. Wave House has brought the waves to Singapore with its exclusive Double Flowrider that allows visitors of any skill level to enjoy surfing. The Flowbarrel on the other hand is for more advanced surfing with constant barrelling waves.

Images of Singapore Live

Images of Singapore LIVE is an attraction that can be bundled with the Madame Tussauds. It reveals the rich history of the nation employing an interactive and theatrical experience. Live actors and special effects work in tandem to bring the history of Singapore to life right in front of you. The newly added boat ride adds another dimension to this wonderful experience.

Sentosa Beaches

Sentosa Island has three beaches of varied characteristic features. The most popular one is Siloso beach. This beach is known for the activities that are available on and around it. You can have meals at some of the best restaurants in Sentosa located around this area. Palawan beach is for having relaxing family time. With playgrounds available for children, this is where you should head if Siloso seems too busy for you. Tanjong Beach is for enjoying an even more secluded getaway from the tourist crowd. It has a beachside club with a bar and thatched shelters by the beach.

KidZania Singapore

If you are heading to Sentosa with a child, this is a must-visit. KidZania is a theme park in Singapore that is built keeping the likes and dislikes of children in mind. The park provides the children with real-life activities like flying a plane, performing surgery, cooking a meal, to name a few. Children can take part in role-play activities and even earn salaries in the KidZania currency.
Visiting Sentosa can prove to be an overwhelming experience due to its vastness and popularity. However, here is all the information you'll need for a seamless visit.

Getting to Sentosa

Getting Around in Sentosa

Tips & Guidelines

How do I get to Sentosa?

Sentosa is just a 10 minutes away from the Central Business District of Singapore and can be reached by taxi, car, monorail, and cable car.

How do I reach Sentosa by taxi?

If you're planning to reach Sentosa via taxi, you'll be accessing the island via the Sentosa Gateway. For taxis, there is a fare of $2-$6, depending on date and time of entry. Note, this fee will be included in the total taxi fare and you do not have to pay it at the entrance.

How do I reach Sentosa by car?

For those driving to Sentosa, there is a cashless system which charges per car. There are 5 carparks on Sentosa Island and the fares are around $3-$5 for the first 4 hours and $1-$2 for each hour thereafter. You are required to pay the parking fee using cash or card at the Guest Services Center

How do I reach Sentosa by monorail?

From Sentosa Station on Level 3 of the VivoCity Mall, you can purchase a Sentosa Pass for $4 which covers a round trip journey and entrance to the island as well unlimited use of the Sentosa Express around the island for the day.

How do I reach Sentosa by cable car?

Taking the Sentosa Cable Car in undoubtedly the most picturesque way to get to the island, but also the most expensive. The cable cars depart from near the VivoCity Mall, so head up to Level 3 and make your way to the HarbourFront MRT station. From here, take Exit B and you'll reach Harbourfront Tower II where the boarding happens. It's best advised to purchase the cable car tickets online in advance to save time standing in queues.

How can I travel within Sentosa?

Sentosa is jam-packed with attractions and activities that will keep you hopping from one place to another all day. The transport system within the island has been set up keeping that in mind. There are busses, trams, and cycles available for transportation within the island.

Are there buses in Sentosa Island?

Yes, there are 2 free bus services that can take you from one point to another in almost no time. In fact, it takes about 15 minutes to go from Tanjong beach to Fort Siloso, two points at the opposite extremities of the island.

Can I use the beach train to commute between beaches in Sentosa?

There are 2 mini trains (tram-like buses) services in Sentosa. They are called the "beach train" as they mainly shuttle between the beaches. While one line operates between Siloso Beach and Beach Carpark, the other line shuttles between Palawan Beach and Tanjong Beach. There are 20 stops in total between the two lines and both trains operate from 9:00 AM to 7:00 PM daily.

What is the ideal time to be spent at Sentosa Island?

Depending on the number of attractions you intend to hit up, you can plan a trip to Sentosa for a day or maybe two days. For eg; Universal Studios itself can take up more than half a day! If you prefer exploring the island at a relaxed pace, you need to set aside 2 days.

Which is the best time to visit Sentosa?

Mid-January to early-March is the best time to visit Sentosa as the humidity still hasn't peaked and the crowd is dwindling. It is advisable to reach Sentosa as early as possible to avoid standing in queues in the humid & hot weather.

When should I avoid visiting Sentosa?

Avoid heading to Sentosa during the Formula 1 week. F1 brings its fanfare to Singapore, and some of it spills to Sentosa, making the attractions more crowded than usual. A considerable rise in hotel rates is also not uncommon in Singapore.
Is entry to Sentosa free?

No, there is no entry fee to enter Sentosa Island, but to reach the island, you are required to take some mode of transport which involves a fee. That apart, you have to pay only for the attractions you'd like to visit.

Is Sentosa open 24 hours?

Sentosa is an island which houses attractions, hotels, beaches etc. While some attractions like the Sentosa boardwalk and Sentosa Casino are open 24 hours; others like Universal Studios, AJ Hackett operate only for specific hours.

What are the top free attractions on Sentosa Island?

There are many things you can do for free in Sentosa - Fort Siloso, Palawan Beach, Imbiah Lookout, Quayside Isle, Palawan Green and even the Sentosa walking trails and cycling routes. However, most attractions on Sentosa are decently priced and shouldn't cost you much.

What are the best things to do in Sentosa at night?

While Sentosa does not really have a raging nightlife, there are a few attractions that are open late into the night. Some of them are iFly Singapore, Wave House Sentosa, Skyline Luge, Sentosa 4D AdventureLand, Wings of Time, Trick Eye Museum and the K-Live sessions.