Scottish Highlands Tickets
Discover Scotland's Highland beauty on unforgettable tours. Ancient castles, misty lochs, and endless adventure. Explore Loch Ness, Ben Nevis, and iconic clan history in this timeless land of wonder.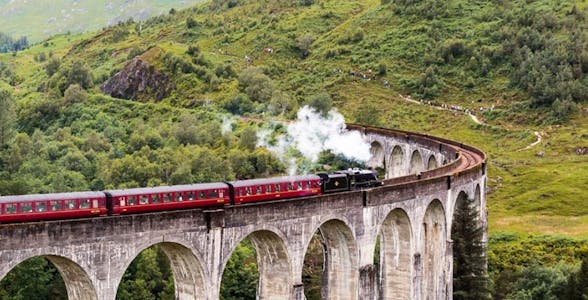 Scottish Highlands Tickets Guide

In all of your vacations to date, what have you enjoyed the most? Is it the pristine beaches, or the soaring mountain, or dense forests? Whatever it might be, you are yet to experience true beauty if you haven't been to the 

Scottish Highlands

. It is a place where facts meet fiction. Much like how the very real nation of Scotland has quite an imaginary national animal. The home of Nessie, the 

Loch Ness Monster

, boasts of unreal beauty. The endless stretch of dry rugged mountainous land overlooks the unsullied Moray Firth. If you find yourself in 

Edinburgh

 with a day to spare, you must not think twice before heading to the Highlands.

Here's all you need to know before going on a day trip from Edinburgh to Highlands - distance, tours, tips and more.
Edinburgh to Highlands : The Day Trip Experience

In a nutshell, your day trip from Edinburgh to Highlands will look something like this.

Discover the stunning castles of the Highlands that not only acquaint you with history but also form the backdrop for popular movies and shows.
Visit a number of Lochs that are a characteristic feature of the Highlands, and take in the breathtaking view around you.
Marvel at the sight of the monstrous sculpture of the shape-shifting spirit known as the Kelpies. Know the myth captured in the structure.
Get an up close and personal experience of a traditional Scottish Whisky distillery and taste some of the premium native liquor.
Experience the richness of Scottish wildlife at the Trossachs National Park and Loch Lomond.
Edinburgh to Highlands Itinerary Deconstructed

This day trip guarantees to take you through the best of Scottish coutryside. Don't believe us? Look at all the attractions that you'll be stopping by! We have deconstructed the itinerary time-wise for a better understanding of how your day is crafted on this day tour.
Edinburgh to Highlands Day Trip Highlights

The Kelpies

Stirling Castle

Lake of Menteith

Aberfoyle

Duke's Pass
Other Edinburgh to Highlands Day Trip Highlights

Hairy Coos

Trossachs National Park and Loch Lomond

Loch Katrine

Deanston Distillery

Doune Castle
Best Ways To Go From Edinburgh To Highlands

Via Train

By Car

Organized Tour

Trains are the most reliable way of getting to the Scottish Highlands from Edinburgh. ScotRail Has a reliable service running from Edinburgh to Stirling, which takes you to the heart of the Highlands. You also opt for LNER service. The one-way trip takes less than an hour.

Scotland is famous for its lush landscape, and a drive would be a perfect way to experience it. Take the A90 from Edinburgh and get to M9 via the A904. This route takes roughly an hour with typical weekday traffic.

The best way to experience all the highlights of the Scottish Highlands, however, is to take an organized tour. These tours come with guides and pre-booked time slots that make the experience hassle-free and streamlined.
Tips & Hacks For A Terrific Day Trip

Make sure you carry some handy cash as the remote towns and villages have only 1 ATM and they may not always be operational. Also, most places accept only cash in the rural areas hence carrying a minimum of £30 per person is recommended.
Weather in Edinburgh is highly unpredictable and it can rain on any given day. Carry a rainproof jacket for contingency.
If you have opted for a guided tour, know that the seats are unreserved and allocated on a first-come, first served basis upon check-in. Hence, it is recommended that you come 15 minutes prior to departure to catch a window seat.
Take some time out to hike in the Scottish Highlands. The landscape and the serenity will make it worth your while.
Try a bit of the local cuisine while you are out exploring. The rugged geography oddly adds a new dimension to the taste of a good shortbread, bangers, and mash.
Wash down the local delicacies with some of the locally distilled whiskey. Scottish whiskey has its own fragrance and underlying fruity notes that is sure to intoxicate you.
Delve into the history of the bleak Scottish culture. Almost every structure outside Edinburgh and Glasgow has a rich history, and you would learn a lot from your guide.
Explore one of the public museums in the area to quench your thirst for knowledge about Scottish culture. All public museums here are free to enter.