City Sightseeing Cadiz - Hop on Hop off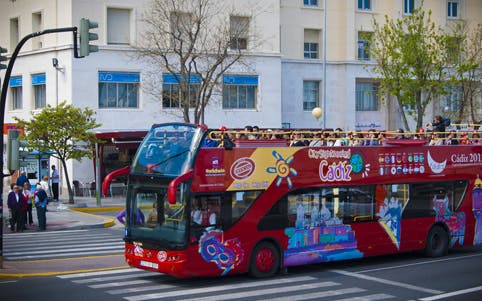 Cádiz is said to be the oldest city in Western Europe, as it was founded by Phoenician sailors about 3000 years ago. The city of Cádiz is now famous for the picturesque, Moorish charm of its old central quarter which is in the tip of the peninsula and is buzzing with delightful plazas that are constantly full of life. The new town is an elegant metropolis with excellent beaches. City Sightseeing Cádiz provides 12 conveniently located stops around the city and enables you to make the most of your visit. Hop on and off at your leisure, as many times as you like for 24 hours.
Travel around Cádiz on the top deck of a London Double-Decker City Sightseeing Cádiz bus on a route which loops around the city and along the coast. The Plaza de la Catedral houses both the Cathedral, the city's most famous landmark, and the baroque Santiago church, built in 1635. Lovers of Architecture and culture may also wish to visit the city's other churches including Iglesia de la Palma, Iglesia del Carmen, Iglesia del Rosario, Iglesia de San Antonio and Iglesia de Santo Domingo. For a fantastic view of Cádiz, hop off at the Torre Tavira and gaze through the Cámara Obscura, one of the city's most popular attractions. Absorb the history of Cádiz in one of the city's fascinating museums like the Museo de Cádiz, Museo de Las Cortes de Cádiz and the Palacio de Congresos.
Perhaps you may want to spend a relaxing afternoon on the beach at Playa Sta Maria, Playa de la Victoria or Playa de la Caleta; or wile away the day at the majestic and leafy Parque Genoves. The Mirador Torre de Poniente offers stunning, panoramic views. Dedicated night owls will enjoy the evenings as Cádiz has a vibrant nightlife consisting of traditional tapas bars, street cafes, night clubs and some wonderful local fiestas. Be enchanted by theatrical performances at Teatro Permán and the Tratro Romano and experience a magical night of culture. Plaza Mina in the centre and Calle De Manuel Rances are among the liveliest places when the sun goes down. Head for the Paseo Maritimo seafront promenade, which buzzes with outdoor activity on warm summer evenings.
To view the route map, please click here.
*Please note that Routes/Maps are subject to change without notice. Any changes are beyond our control and no refunds will be offered. For the most up to date Route/Map please always enquire when in resort.
These tickets can't be cancelled or rescheduled.