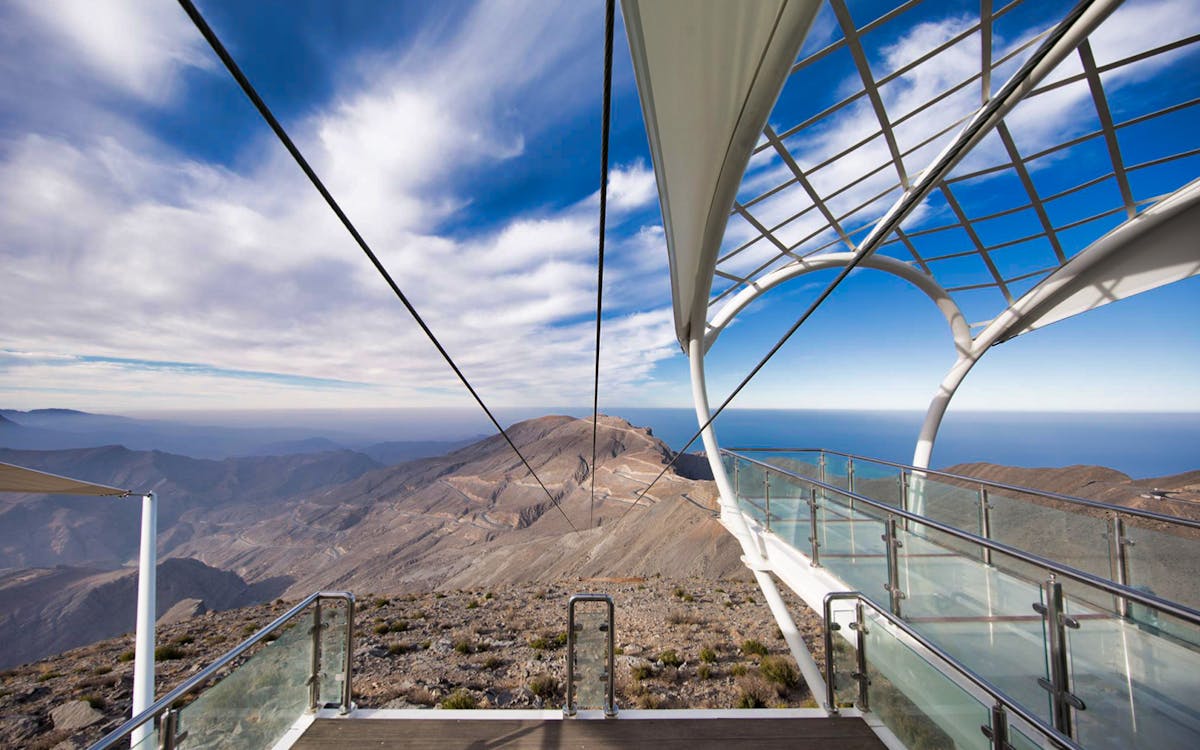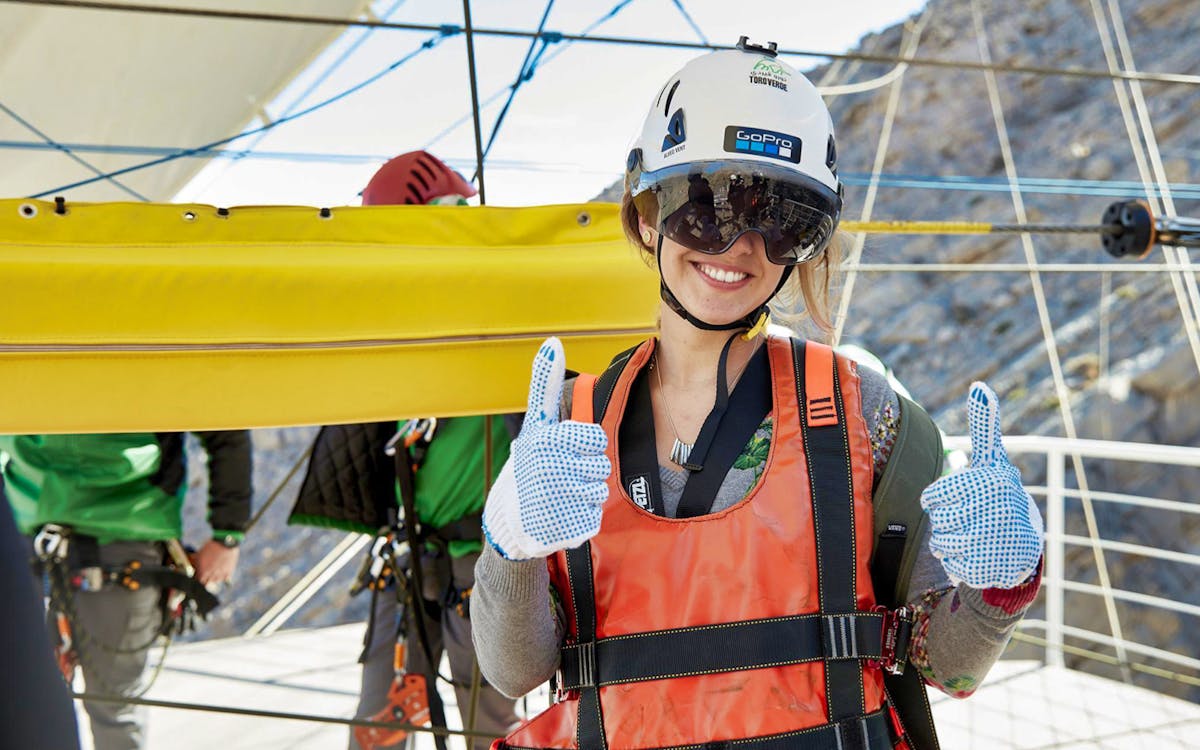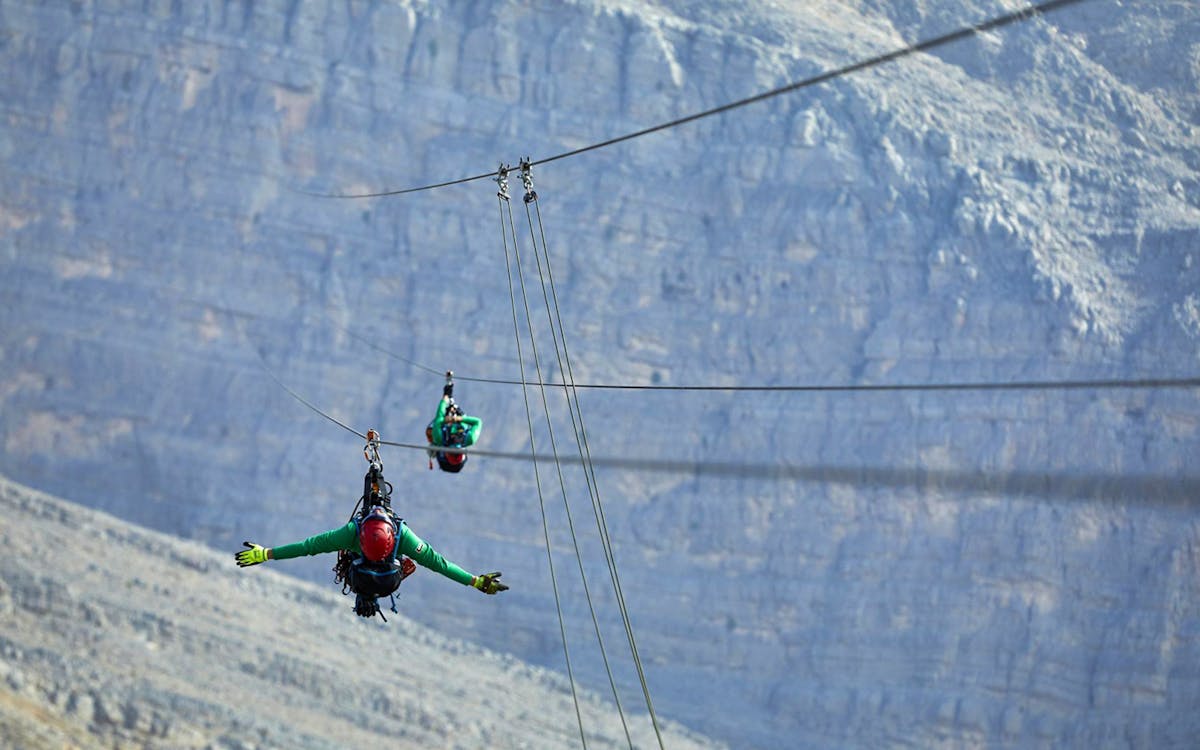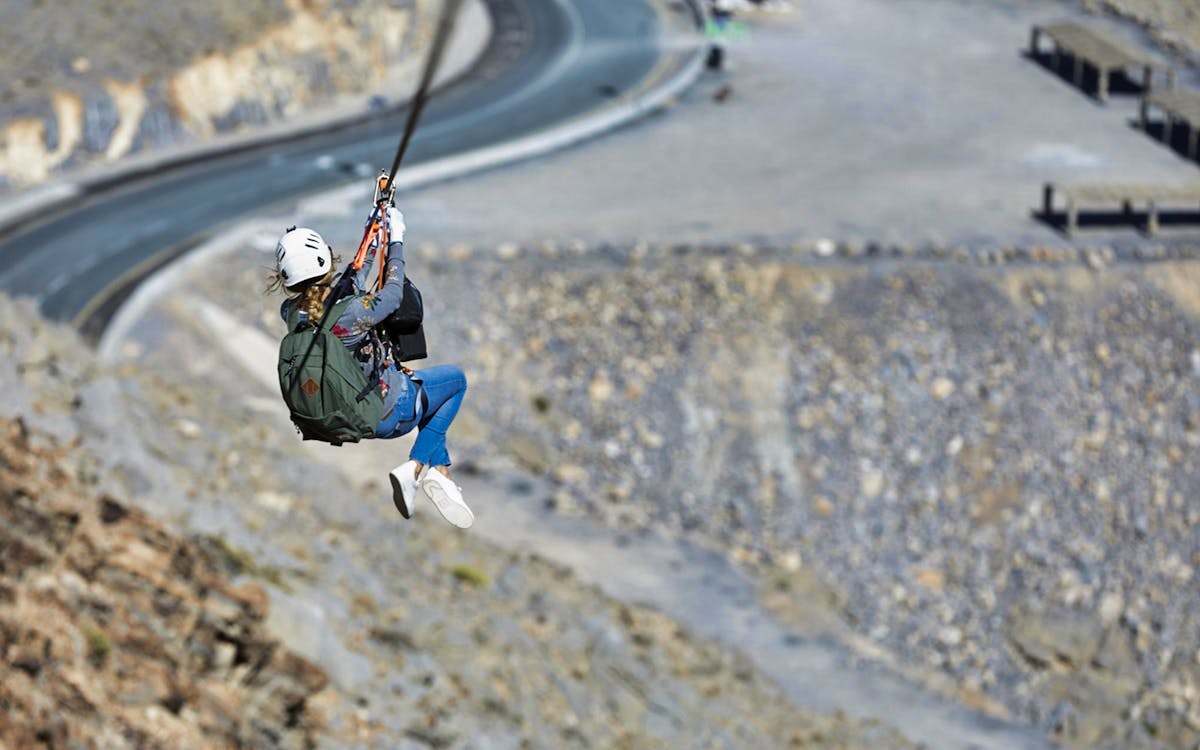 Jebel Jais Zip Line
Zeigen Sie Ihr Tickets auf Ihrem Handy
Glide along the world's longest zipline and reach breakneck speeds of almost 150 kilometers an hour! Take a second on a suspended landing platform to reach the ground level and catch your breath after that breathtaking experience!
Highlights
Witness the breathtaking beauty of the UAE as you plummet safely down the Jebel Jais mountain.
Enjoy a gripping experience on the longest zip line adventure in the world!
Why You Shouldn't Miss This
Ras Al Khaimah is one of the seven emirates that make up the UAE. The Jebel Jais mountain is located in Ras Al Khaimah and has an elevation of 1934 meters, making it the highest point in the UAE. A zip line was opened from the top of the mountain and is an astonishing 2832 meters long. Speeds of up to 150 kilometers an hour can be reached by enthusiastic adventurers gliding down the zipline, making this mountain one of the most popular tourist destinations in the UAE.
A road scaling the entire mountain is being constructed with plans to build a ski slope, golf course, a launching ramp for paragliders, and a cable car. It is expected to become a haven for thrill-seekers across the world in the years to come.
The adrenaline rush of speeding towards the ground at a rapid 150 Km/hour is not something you are likely to forget too soon. The weather here is always conducive to some exciting activities. Unlike most other zip line adventures, you will need approximately two to three minutes to reach the bottom; long enough to catch sight of the massive stony mountain and the bright, blue sky. Although often praised only for its feats of engineering and hospitality, you will soon realize that the natural splendor of the United Arab Emirates, which is often overlooked, is just as breathtaking as its engineering marvels.
Once your adventure is complete, you will be spend some time on a suspended platform above the ground. This is your best opportunity to click a few photos of the splendid mountainous terrain all around. The numerous hairpins can be seen twisting up the mountain. If you are looking for something adventurous to do in the UAE, this is the perfect thing for you.
Enthalten
Incredible experience on the Jebel Jais zipline.
Free parking in the area.
Know Before You Go
Timings
The tour is available on all days of the week except on Mondays and Tuesdays.
It is available between 9 AM and 5 PM in 1-hour slots (9 AM to 10 AM, 10 AM to 11 AM, and so on). You must arrive at the meeting point an hour before your booked time slot.
Rules and Restrictions
Those below the age of 18 must be accompanied by an adult at all times.
Pregnant women and guests under the influence of drugs and/or alcohol will not be permitted.
This experience is designed to suit guests of average fitness and mobility.
The minimum weight to undertake Zipline Activities tour is 40kg (100lbs) and the maximum is 130kg (290lbs). You may be weighed in order to determine if you are fit for the experience.
You must inform the authorities on sight of any pre-existing medical conditions that would make your participation riskier. A medical evaluation will be conducted on-site regardless and on-site authorities reserve the right to refuse admission should your health and fitness be unsuitable for the experience.
You agree to the photographing, filming, or videotaping of you while you are taking part in the activity.
Strict Cancellation Policy
These tickets cannot be cancelled or rescheduled.

Ora
Überprüft in May, 2019
This is one adrenile pumping activity not for the faint hearted! Just the thought of it will get you rushed

Lewis
Überprüft in April, 2019
Intense experience. I ride motorcycles and speed is nothing to me. This zip line is a whole new speed experience.

Whitney
Überprüft in March, 2019
My husband and i got tickets from here for the zipline at such a nominal cost that even our freinds couldnt believe it. We had a blast ziplining
Meine Tickets
You will receive an email confirmation along with your mobile voucher shortly. No need to print. You can show your voucher along with some valid photo ID at the meeting point.
Meeting Point
Toroverde Ras Al Khaimah Parking Lot
How to Get There
You will have to drive 15 kilometers up the Jebel Jais mountain. There are many sign boards that will indicate the correct route along the way. If you are being transported by an agency, you will arrive at the Welcome Center directly. You must arrive at the meeting point an hour before your booked time slot.
Validity
This tour is valid for the date and time selected at the time of booking.
Toroverde Ras Al Khaimah Parking Lot, Dubai
Eine vertrauenswürdige Plattform, die von 100.000 Personen pro Monat genutzt wird
Erhalten Sie die besten Preise, die auch Last-Minute verfügbar sind.
Entdecke und lerne aus über 10.000 Erfahrungen
Entdecken Sie verifizierte Erfahrungsberichte und professionelle Fotos
Falls Sie eine Frage haben? Chatten sie Live mit unseren Experten rund um die Uhr
Andere Erfahrungen ähnlich wie Jebel Jais Zip Line
---