West Rim Helicopter Tours
---
Helicopter and Skywalk Combos
---
Self-Drive to the Grand Canyon
---
Las Vegas to Grand Canyon Helicopter Tours
---
Visiting the Grand Canyon
At 18 miles wide, 1 mile deep and 277 miles long, the Grand Canyon is, without doubt, one of the world's most recognizable geological wonders. A two billion-year-old gorge eroded slowly by wind and water, the canyon attracts a staggering five million visitors each year. More than just a sight to behold, the cascading colors and impressive rock layers evoke an emotion that everyone should feel at least once in their lifetime.
"The rocks are chiefly variegated shades of beautiful colors –creamy orange above, then bright vermilion, and below, purple and chocolate beds, with green and yellow sands."
- Major John Wesley Powell, 1869
Established as a National Park in 1919, the Grand Canyon preserves a living timeline of Earth's history. The opportunity to explore such an astounding natural wonder is one of sheer fortune and, thankfully, one that is quite attainable in a variety of ways. Soar over the Canyon in a helicopter and take in sweeping views from a bird's eye view. Hike through the West Rim and delve down, via chopper, into the canyon's floor for a champagne picnic. Travel by coach from Las Vegas to the South Rim, home to the most iconic views of the Grand Canyon, and enjoy the stunning beauty of Mather Point and Bright Angel Point. For adventure enthusiasts, hop on a thrilling white water rafting excursion down the Colorado River, or cruise on a pontoon boat ride as you gaze up at the canyon walls surrounding you.
Las Vegas to Grand Canyon
Situated just 125 miles from Las Vegas, a visit to the Grand Canyon should be on everyone's Vegas bucket list. A two and a half hour drive or a 35 minute flight, there are several options to choose from when planning your journey from Las Vegas to the Grand Canyon.
Grand Canyon by Helicopter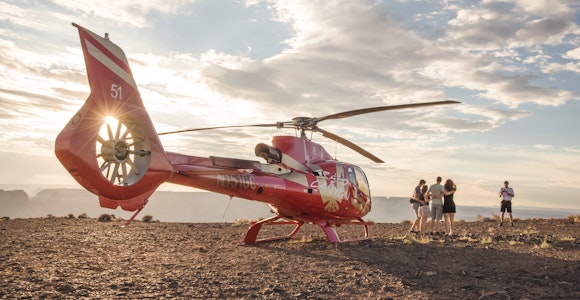 One of the largest helicopter sightseeing destinations in the world, nothing compares to an air tour over the Grand Canyon. In fact, the only way to reach the canyon floor on a day trip is by helicopter! Soar over the Colorado River, take in views of the Kaibab National Forest and dive into the canyon's narrow corridors. For the real thrill seekers, pump up the adrenaline and opt for a helicopter without doors. Keep in mind, flights departing from Las Vegas only fly to the West Rim. If you wish to take a helicopter ride at the South or North Rim, you must first travel by airplane, coach, or private car and then board a flight from the helipad located at the Grand Canyon.
Each year, nearly 750,000 people arrive at the park via small planes or helicopters. You can take a helicopter directly from Las Vegas, or travel by airplane, car, or coach, then board a helicopter from the Grand Canyon heliport. A helicopter flight from Las Vegas to the Grand Canyon is about 35 minutes.
Grand Canyon by Airplane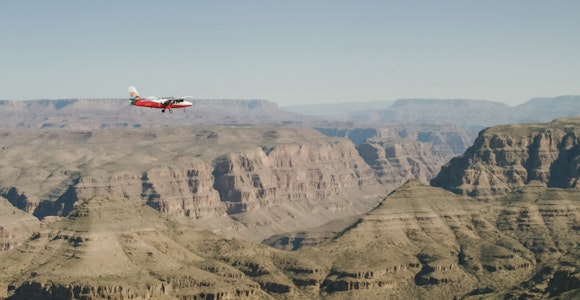 Enjoy headset narration as you fly over some of the Grand Canyon's most popular landmarks. Capture postcard worthy photos from your window as you float over the Hoover Dam and Lake Mead. Pass over the rugged wilderness of the desert on your way to the West Rim, or catch panoramic views of Mather Point and Bright Angel Point as you fly from the South to North Rim.
Airplane tours are available directly from Vegas, or from the Grand Canyon. If you prefer to make your own way to the park by coach or personal car, there are tours to accommodate both.
Grand Canyon by Coach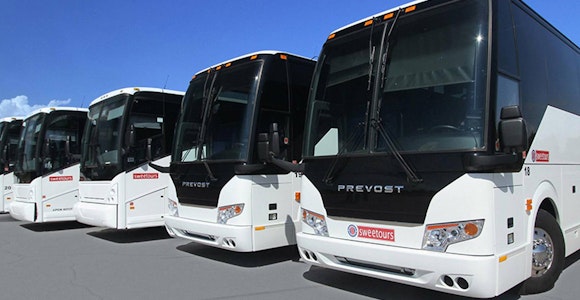 While hopping on a plane or helicopter from Las Vegas to the Grand Canyon will certainly save you time, there are several perks to traveling by road. On a luxury coach tour, you can sit back, relax, and take in sights from your window. Stop at the O'Callaghan - Tillman Bridge – the new Hoover Dam bypass which gives you magnificent views of the Dam. Travel through the Colorado River Valley and the Mojave Desert as you make your way towards Arizona. And experience a taste of culture at Joshua Tree Forest.
The journey from Las Vegas to Grand Canyon West takes approximately 3 hours, while a trip to the South Rim will take you 5 hours. Because of the road quality, the West Rim is also an ideal location for guided bus tours. Once you reach the Grand Canyon, you can opt for a helicopter or airplane tour.
Grand Canyon Self-drive Before exploring the Grand Canyon, kick start your adventure with a road trip from Las Vegas. Create your own itinerary as you head down the interstate toward Hoover Dam. From Las Vegas, follow US-93 south to Boulder City. Continue about 45 miles (72 km) to Pierce Ferry Rd. in Mohave County and turn left. After 28 miles (45 km) on Pierce Ferry Road, turn right onto Diamond Bar Road, which will merge into Buck and Doe Road and continue onto Grand Canyon West.
The total distance distance from the center of Las Vegas is about 125 miles (196 km). It takes about 2 hours and 20 minutes to drive to the West Rim. From Grand Canyon West to the South Rim, it's another 5 hour drive by car.
Picking the Best Las Vegas to Grand Canyon Tour
There are dozens of tour packages to choose from when it comes to visiting the Grand Canyon from Vegas. The key to picking the tour that best suits your desires is to first understand your options. To help make your life easier, we've laid everything out, step by step, to help you narrow down your decision.
Landing vs Fly Over Only
Regardless of whether you choose to start your air tour from Las Vegas or directly from the Grand Canyon, there are several things to consider:
Fly Over Only
By helicopter or airplane
Where
West Rim, South Rim or North Rim
Highlights
Feel the adrenaline rush of a lifetime as you soar over the breathtaking Grand Canyon. On your way from Las Vegas, fly over Lake Mead, the Mojave Desert and the Colorado River.
Explore all Grand Canyon Tours that fly over the Grand Canyon
Landing at the Bottom
By helicopter only
Where: West Rim
– Immerse yourself in the raw beauty of the Grand Canyon's landscape by landing at the bottom. Amidst the rushing creeks, towering cacti, blazing hot boulders and tiptoeing elk - it's an experience for all the senses.
– Go white water rafting, cruise the Colorado River on pontoon boat ride, or have a champagne picnic on the canyon floor.
Landing at the Grand Canyon
By helicopter or airplane
Where
West Rim, South Rim or North Rim
Highlights
Explore the canyon's best view points like Eagle Point, Guano Point and Mather Point. At Grand Canyon West, experience the exhilarating Skywalk.
Las Vegas Strip
By helicopter or airplane
After taking in sweeping views of one nature's most gorgeous wonders, fly over the famous Las Vegas Strip!
Highlights
Pass over the Stratosphere Tower, Caesars Palace and catch a glimpse of the Bellagio's fountains before spotting the skyline of New York-New York and the beam atop the Luxor pyramid. It's the best way to experience the Strip during the evening.
West Rim vs South Rim vs North Rim
Another thing to consider when planning out a trip to the Grand Canyon is deciding which area you would like to visit. Each rim has its own characteristics, and offers different activities to those who visit.
West Rim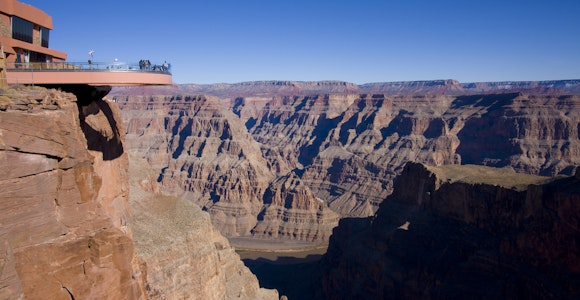 Most helicopter tours visit Grand Canyon West, as it's the only area where you can fly below the rim and land at the bottom.
What to see
– Home of the famous Skywalk
– Eagle Point and Guano Point
– Explore the Hualapai Indian Reservation (Joshua Forest, Grand Wash Cliffs, Hoover Dam)
– Things to do at the bottom of the canyon:
– Champagne picnic
– White water raft
– Pontoon Boat Ride
South Rim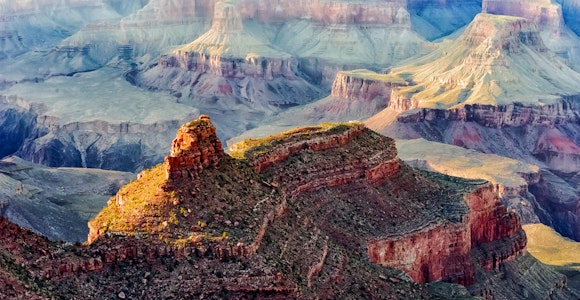 The South Rim is the most popular among visitors, with a reputation for having the most quintessential Grand Canyon views. It's also home to the deepest part of the canyon, accessible only by foot. A longer haul from Vegas than the West Rim, it's accessible by plane, coach or personal car. While you cannot take a helicopter from Las Vega to the South Rim, you can board one from the Grand Canyon Airport,located just 10 minutes south of the Park's main gate. All helicopter rides follow the same flight path: Kaibab Plateau to the rim, then straight into the Dragoon Corridor, the widest, deepest part of the canyon.
What to see
– Explore the Hualapai Indian Reservation (Joshua Forest, Grand Wash Cliffs, Hoover Dam)
– Mather Point
Things to do
– Free shuttle between viewpoints
– Walk the rim
North Rim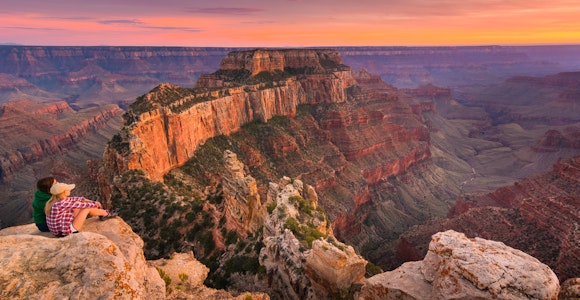 The North Rim is the only part of the Grand Canyon that temporarily closes during winter. Considered the 'quiet' rim, it receives a tenth of the visitors as the South Rim. Swing by the 8,803-foot Point Imperial, the rims highest point, and head to Bright Angel Point for stunning views of the Roaring Springs.
What to see
– Bright Angel Point
– Point Imperial
Things to do
– ATV Tour
Skywalk Nicknamed the "Glass Bridge," Skywalk takes you 70 feet beyond the canyon's edge and suspends you 4,000 feet above the Colorado River. Comprised of 44 glass-deck panels that cost $250,000 each, it's one of the most impressive structures! Located in Grand Canyon West, the Skywalk is the closest, most accessible section of the Grand Canyon from Las Vegas.
Eldorado Canyon and Red Rock Canyon Tours
For those looking to discover other famous landmarks in Nevada, opt for a trip to either Red Rock Canyon or Eldorado Canyon. Just 20 minutes outside of Las Vegas, explore Red Rock Canyon on a day tour. Hop into a helicopter with no doors and live on the edge as you glide over peaks, valleys, the Calico basin and incredible sandstone formations.
Learn more
For a more interactive day trip, pair your Grand Canyon helicopter tour with a stop at Eldorado Canyon. Located just 45 minutes from Las Vegas, Eldorado Canyon gives you the opportunity to explore Nevada's historical Techatticup Gold Mine & Mill Site. Land in the canyon and explore the area by ATV as you make your way along trails originally traversed by mule driven ore carts. Ride on mountainous terrain and up and around incredible cactus gardens as you follow along the same path miners of the 1800's used to search for gold. Afterward, enjoy a champagne picnic before making your way back to Vegas.
Learn more
The Logistics: Planning Your Trip from Las Vegas to Grand Canyon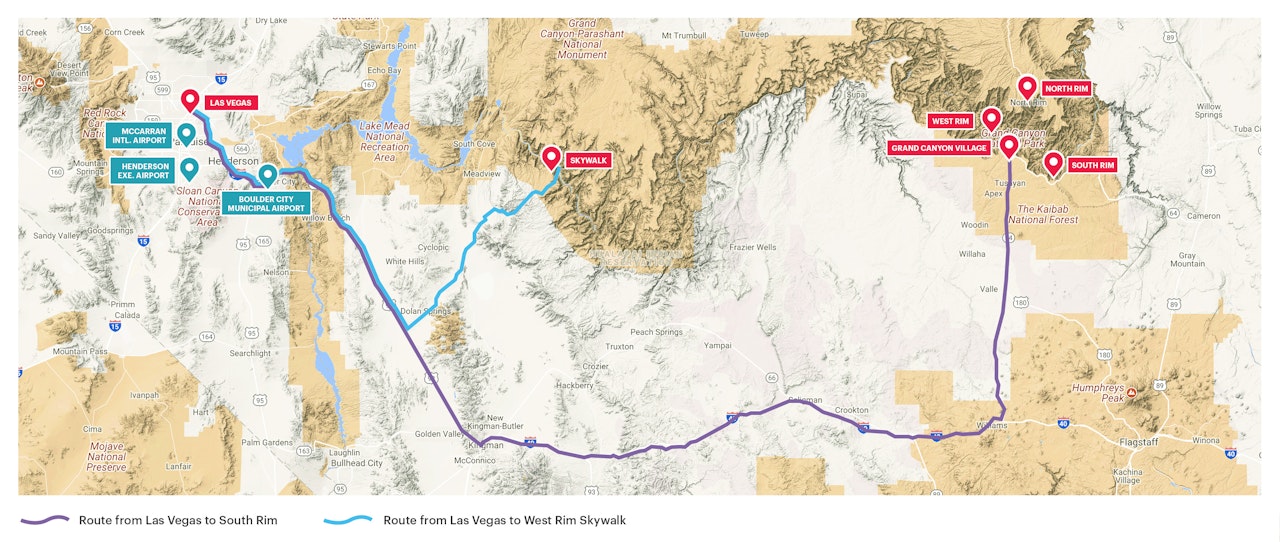 Getting to your tour
While most Grand Canyon helicopter and airplane tours departing from Las Vegas offer hotel pickup and drop-off, some require you to make your own way to the airport. There are three airports typically used for air tours from Las Vegas to Grand Canyon:
McCarran Airport
– 10 min from downtown Las Vegas
– Most hotels offer shuttle service to the airport
– A taxi from the Strip should cost you around $15
– Most helicopter tours depart from here.
Henderson Executive Airport
– 25-30 minutes south of Las Vegas
– Some airplane tours depart from here.
Boulder City
– 30 minutes from Las Vegas
– Both helicopter and airplane tours depart from here.
– Flights from Boulder City can easily add an extra 1.5 hours to your tour duration just for travel between your hotel and the helicopter terminal - be sure to plan accordingly.
Please note: No helicopter tours departing Las Vegas fly directly to the South Rim, as the distance is too far for sightseeing aircrafts. If you'd like to tour the South Rim by helicopter, you will need to first fly there by airplane or travel by road, then board a helicopter.
What kind of Helicopter is the best?
The most advanced and luxurious helicopter for sightseeing tours is the ECO Star EC-130. The second most popular sightseeing helicopter is the A-Star AS-350. An EcoStar EC-130 has 25% more cabin space than an A-Star helicopter. As a result, some tours will add a seventh passenger to the EC-130. All Grand Canyon helicopter tours fly either an A-S350 or EC-130 helicopter; both offer great visibility when flying 6 passengers. A 7 passenger helicopter has less visibility than a 6 passenger helicopter. Unless you have a group of 7 you are better off flying in a 6 passenger helicopter and should choose a tour that only flies 6 passenger helicopters to ensure you have the best visibility. All Headout tours to the bottom of the Grand Canyon use the ECO Star EC-350 helicopter.
Do I Need to Book Ahead?
It is highly recommended visitors book a Grand Canyon Helicopter tour in advance. Especially during peak season, June to November, it's best to book two to four weeks in advance. Popular tours can sell out as early as a month before their departure date. Flights are available 365 days a year; if you have a relatively flexible (i.e. give or take a day or two), booking two weeks in advance should suffice.
As tours start to sell, the first things to fill are the best time slots and the best seats. If you're planning a once in a lifetime helicopter tour, booking in advance will ensure you make the most of your incredible experience.
Things to Consider Before Booking
When is the Best Time to Visit the Grand Canyon
One of the wonderful things about the Grand Canyon is that it can be visited any day of the year. While weather conditions vary considerably, each season presents the canyon in its own unique way.
Spring & Fall
In terms of weather, March to May and September to November are the best times to visit the Grand Canyon. Temperatures are pleasant, precipitation is light and the crowds are manageable. Spring is also wildflower season, although the blooms are dependant upon the amount of rainfall during the preceding winter months. Spring temperatures range between 60 - 80 degrees Fahrenheit during the day. Fall daytime temperatures average 70 degrees Fahrenheit. The North Rim is always the coolest, followed by the South Rim. Grand Canyon West weather is very similar to that of Las Vegas, averaging 80-90 degrees Fahrenheit during spring and fall months.
Summer
The park's peak season is summer, making it the most crowded time to visit especially at the South Rim. From mid-May to mid-September, you can expect long, sunny days with temperatures hovering anywhere between 40 and 85 degrees. Be sure to wear sunscreen; canyon breezes can disguise the sun's rays, making it difficult to tell if you're getting burned.
Winter
Heavy snow and low temperatures tend to scare visitors away during winter; however, December, January, and February are perhaps the most underrated months to visit the canyon. Sure, you'll need to bundle up a little, but the Grand Canyon covered in snow is an absolutely beautiful sight. You can expect daytime temperatures to float in the 40's; it's only at night that temperatures fall to freezing.
Keep in mind, the North Rim has a relatively short season. Open from mid-May through mid-October, the North Rim typically runs 10 degrees cooler than the South Rim. It's the only rim that completely closes during the winter. The South Rim and West Rim can be visited year-round.
Refer to this sun chart for Grand Canyon sunrise and sunset times.
Grand Canyon Hours
Grand Canyon West
April - August: 7 am - 7 pm
September - March: 8 am - 6 pm
South Rim
Open 24 hours a day, 365 days a year.
North Rim
Open from May 15 - October 15.
Closed during the winter.

What is the Legacy Package?
Grand Canyon West is privately owned and operated by the Hualapai Tribe and requires the purchase of a Legacy Tour Package for entry. It includes a self-guided tour of all points of interest at Grand Canyon West, as well as unlimited use of the hop-on hop-off shuttle to the three main viewing points: Eagle Point, Guano Point and Hualapai Ranch. If your Headout tour includes landing at the West Rim, it is safe to assume the tour price includes your Legacy Package. In addition, some tours include a meal coupon, which includes a meal at any of the canteens at the stops, excluding the Skywalk Restaurant. The Legacy Package does not include a ticket to the Skywalk.
FAQs
What happens if the weather is too bad to fly?
If your flight is cancelled due to bad weather, you will have the option to reschedule without any extra fee. If you do not live in the area and rescheduling is not an option, you can receive a full refund.
In addition to the pilot, helicopters seat 6 or 7 people, depending on the type of aircraft.
Why is there a weight check?
Helicopters have a very strict weight limit policy. To ensure safety, all passengers must get weighed before boarding the aircraft. Keep in mind, your weight will be taken with whatever else you wish to bring onboard with you. This includes camera equipment.
Can I take pictures at the Skywalk?
Unfortunately, no. To protect the glass paneling from scratches, personal items including cameras and cellphones are not allowed on the Skywalk. But, you can purchase a souvenir photo from a professional photographer. You'll also be required to wear fabric shoe covers to prevent scratching.
What is the age of a lap child?
Children under 2 years can sit on the lap of an adult during all helicopter tours. You will be required to present a birth certificate for confirmation.
Can I bring a bag on my flight?
Only small bags are allowed on helicopter tours. Most heliports offer lockers if you need to leave bags behind.
Can pregnant women fly?
Yes, pregnant women are permitted to fly; however, consult with your doctor before.
Do helicopters have wheelchair access?
Helicopters can accommodate a wheelchair for flights. However, you will need to have a collapsable wheelchair, as well as someone can assist with boarding.
Can children fly without a guardian?
Passengers under 18 years of age are required to fly with an adult.
Will there be places to eat at the Grand Canyon?
Food services are available throughout the park. Most full-day tours include meals, or allot for time to grab a bite at one of the canteens on the premises. Bringing outside food into the Grand Canyon West is not permitted.
Grand Canyon Fast Facts
Grand Canyon National Park covers 1,904 square miles (4,931 square kilometers). It took 3-6 million years to form. Today, rosion continues to alter its contours.
The highest points at the Grand Canyon are found at Point Imperial on the North Rim, which is 8,803 feet high, and Navajo Point on the South Rim, which is 7,498 feet high.
The greatest depths of the Grand Canyon extend just over 1 mile beneath its rim.
The volume of the Grand Canyon is estimated to be 5.45 trillion cubic yards.
The total length of the Colorado River is 1,450 miles. Within the Grand Canyon, it measures 277 miles from Lees Ferry in the east to Grand Wash Cliffs, near Lake Mead in Nevada, and flows at an average speed of speed of four miles per hour.
The Colorado River's average width in the Grand Canyon is 300 feet. It's narrowest width is 76 feet. The river's average depth is 40 feet, with its greatest depth at a staggering 85 feet.
in Grand Canyon National Park, there are 373 species of birds, 91 species of mammals, 57 species of reptiles and amphibians, 17 species of fish (this number has dropped quite a bit in the last decade) and more than 1,700 species of plants.
There are also 8,480 known species of invertebrates (i.e., critters that don't have an internal skeleton) at the Grand Canyon.
Back in the 1920s, the average visitor would stay at the Grand Canyon for two to three weeks.
Today, the average person spends about three to four hours at the Grand Canyon, often shortening their transit time and enhancing their views by taking a helicopter ride.
Tourists started visiting the Grand Canyon in the late 1800's.
The Grand Canyon was established as a National Park in 1919, when Woodrow Wilson was President.
The first people living in the canyon were the Paleo-lndian (Ancient Native American People) 12,000 years ago.
The deepest point of the canyon is just over a mile deep.
The North Rim of the Grand Canyon has an average height of 8,000 ft. - 1,000 ft. higher than the South Rim.
Arizona has the largest percentage of land set aside for Native American use than any other state.
Grand Canyon Reviews

Jennifer Rodriguez
Grand Canyon West Rim Helicopter Tour with Landing
So incredibly happy with our our helicopter tour of the West Rim. There are so many options to chose from that i can be quite overwhelming to pick one. We found Headout's website and team to be SUPER helpful in finding us the best tour - at the best price. We flew from Vegas in an airplane, then hopped on a helicopter at the Grand Canyon and went all the way to the bottom! From there, we did a boat cruise and just soaked up the amazing scenery. Highly recommend this tour - or any other Headout tour, for that matter!
Stacey Phillips
Fantastic! Grand Canyon from the sky is breathtaking!
If you're in Vegas and have a day to spare, taking a helicopter ride to the Grand Canyon is a must. We flew over the South Rim and I cannot rave enough about the views. It's like having all the pictures you saw growing up, come to life. Headout is 100% trustworthy. It was our first time booking with them and will certainly not be our last.