Collections
Lifestyle & Entertainment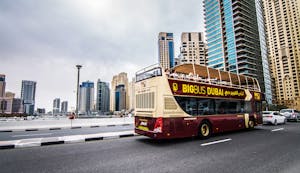 Dubai Bus Tours
tours take you around the city through some of the most popular and prominent attractions. You can choose from among a series of bus tours like the Wonderbus Tour and the Hop-On-Hop-Off bus tour, where you can discover and explore the city at your own pace.
Popular Tours
The Wonderbus Tour is a wonder in the sense that you come aboard a vehicle that rides on the road and cruises on water. This unique experience is accentuated by the fact that you will have an experienced tour guide who will give you information and facts as you see more of the city. Watch out for the following on this tour:
Shindagha Heritage Village, Diving Village, Gold Souk, Floating Restaurants, Twin Towers
Take one of these bus tours and explore the city at your own pace. With an open top bus and audio commentary available in over 13 languages, this tour offers you the complete package.
Watch out for the following:
Burj Al Arab, Souks, Atlantis the Palm, Jumeirah Mosque, Dubai Museum