Collections
Lifestyle & Entertainment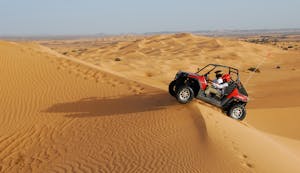 Dune Buggy Adventures
Dubai
Dune Buggy Dubai
Dune Buggy driving in Dubai is one of the most popular desert activities. Designed to driven off the tarmac and on the rough ground, dune buggies are a wonderfully exciting and unique way to travel in the desert. The special thick tyres are comfortably able to move across the desert sand without getting stuck. The abundance of power and safety of a protective cage and gear provide the most fun one can get out of an automobile in the sand. This makes dune buggy riding in Dubai one of the most popular activities.
Dune Buggy Safari in Dubai
Dune buggies are present in many desert camps in Dubai. Present along with other exciting experiences such as sandboarding and quad biking, dune buggies offer their own distinct taste of fun. Being a small vehicle when compared to cars, dune buggies are extremely light and maneuverable and a joy to ride in the desert.
Desert Safari Activities
A dune buggy safari begins at your residence where you will be picked up by your driver in a 4x4 and driven to the desert camp. At the desert camp, which is set up in a traditional Bedouin way, you can participate in multiple activities along with driving a dune buggy. As the day comes to a close, one can enjoy a traditional buffet dinner and then head back to their residence to bring the day to a wonderful end.