Collections
Lifestyle & Entertainment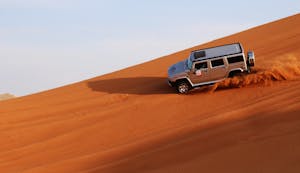 Hummer Desert Safari
Dubai
Hummer Desert Safari
Hummer Desert Safaris are one of the most popular desert safaris in Dubai. You are picked up from your residence and driven to the desert camp location in a Hummer, one of the toughest vehicles ever made. Based on the US Army Humvee, these vehicles are capable of traversing some of the toughest terrain, including deserts and sand.
Why is a Hummer a good Desert Safari vehicle?
The requirements of a vehicle for a desert safari are usually its off-roading capabilities and the amount of comfort it can provide to its passengers. In the case of the Hummer, both these boxes are checked. Given that the Hummer is based after the US Army Humvee, its off-roading capabilities are second to none. Couple that with the fact that Hummers are some of the widest automobiles. The amount of space and comfort that a Hummer can provide is easily more than other vehicles. This makes the journey in the vehicle an experience and not just any mundane form of transportation.
Activities in a Dubai Hummer Desert Safari
A desert safari includes many activities that one can experience. These range from traditional experiences such as camel riding, henna painting, watching a belly dance and modern activities such as sand-boarding, dune bashing and desert buggy riding in the Arabian Desert. A Hummer Dubai Desert Safari includes these as well as bashing the dunes in a Hummer.
Other Desert Safari Options
Hummers, though the most popular, are one of the many vehicles selected for a desert safari. Other Dubai desert safari vehicles include Toyota Landcruisers, Toyota FJ Cruisers, Nissan Patrols, Ford and Dodge Trucks, Mercedes G Wagons and others.