Collections
Sightseeing Combo Tickets
Lifestyle & Entertainment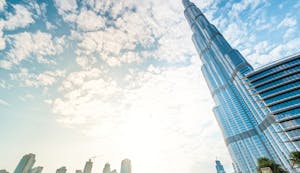 Sightseeing Combo Tickets
Dubai
Burj Khalifa Sightseeing Combos
There is so much more to explore in Dubai than just the Burj Khalifa. These Burj Khalifa sightseeing combos offer you the chance to experience much more of Dubai than just the Burj Khalifa. You can pair your tickets for the Burj Khalifa with visits to the Dubai Aquarium, a traditional Dhow Dinner Cruise and a tour of the city.
Burj Khalifa and Desert Safari Combos
A desert safari in Dubai is when you go out in the desert, camp out in traditional Bedouin style and participate in activities associated with the desert. These could be traditional experiences such as camel rides, henna painting, traditional dances or modern experiences such as dune buggy riding, sandboarding and dune bashing.
These desert safaris are available in convenient combos along with a visit to the Burj Khalifa and transfers to and from the desert.
Burj Khalifa and Dhow Cruise Combos
A dhow is a traditional boat, the design of which hasn't changed for over hundreds of years. Many modern dhows have been converted to luxurious boats that offer stunning dinner and sightseeing cruises in Dubai's harbour as well as the Marina. From the waters, the landscape of modern Dubai looks like a stunning achievement of the human civilization and its abilities. Along with the marvellous sight, these dhow cruises are famous for serving up some of the most delicious food and buffets in Dubai.
Burj Khalifa and Aquarium Combos
The Dubai Aquarium and Underwater Zoo is yet another example of Dubai's indulgence and the ability to create that which can be dreamed of. The Aquarium is an indoor tank, rising three floors in height and having a capacity of 10 million litres. This makes it one of the largest tanks in the world. The Dubai Aquarium is home to 33,000 animals from 140 species of aquatic animals. Since it is situated in the Dubai Mall, right next to the Burj Khalifa, a combo for both is highly efficient and one of our most popular experiences.
Burj Khalifa and Dubai City Tour Combos
The Burj Khalifa is an obvious choice of travellers to the city of Dubai. But there is so much more to experience in the city, and so many attractions to visit, that a city tour combo along with tickets to the Burj Khalifa will cover all your Dubai essentials. Along with visits to the top of the Burj Khalifa, you will also discover other Dubai landmarks such as the Palm Islands, the desert, the Burj Al Arab, old city centres, medieval forts and some of the most modern theme parks in the world.