Collections
Sightseeing Combo Tickets
Lifestyle & Entertainment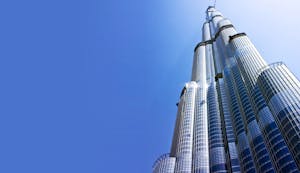 Skip The Line Tickets
Dubai
Burj Khalifa Skip The Line Tickets
The Burj Khalifa is the most visited attraction in Dubai. The Burj Khalifa was visited with over 2 million visitors in 2016. Since almost half of the visitors to the Burj purchase tickets at the counter, the lines at the ticket kiosk are notorious for being one of the best tests of patience in the world. Hence, skip the line Burj Khalifa tickets are extremely valuable to seasoned travellers as well as families visiting this famous Dubai attraction.
The Burj Khalifa
The Burj Khalifa Dubai is the tallest structure in the world. Standing at a height of 830 meters, the Burj Khalifa has one of the highest observation decks in the world as well as the most floors in any building in the world.
Completed in 2009 and inaugurated in January 2010, the Burj Khalifa broke several records and became the tallest construction or structure in the world, a record it still mightily holds.
Name: Burj Khalifa, formerly known as Burj Dubai
Opening Date: 4 January, 2010
Height : 830 meters, including the antenna
Transport: 57 elevators and 8 escalators
Floor Count: 163 floors above ground
Burj Khalifa Facts and Records
The Burj Khalifa is the tallest building in the world at a height of 830 meters.
The building has the highest number of stories in the world, including the highest occupied floor in the world.
The Burj Khalifa has the tallest service elevator in the world. The elevators also have the longest travel distance in the world.
The Burj Khalifa Sky is the second highest observation deck in the world at a height of 555 meters. It was surpassed by the Shanghai Tower in June 2016 when it opened an observation deck at a height of 561 metres.
How To Get To Burj Khalifa
Address: 1 Sheikh Mohammed bin Rashid Boulevard, Dubai, United Arab Emirates
Taxi - Take a cab from anywhere you are and head to the Burj Khalifa in Dubai Downtown.
Metro - Both Terminals 1 and 3 stop at the aptly named Burj Khalifa Station. Get down at the station and walk to the Burj Khalifa ten minutes away. It is a huge building and hard to miss.
Others - People have been known to skydive on to the building as well.
Top Burj Khalifa Skip The Line Ticket Reviews
"Extraordinary! This was definitely an experience not to be missed. I would suggest booking online as it was very busy the day we visited and we still had to queue. The lift is extremely quick and the views amazing." - Elaine, Feb 2016
"Used this service to book last minute tickets for At the top - Burj Khalifa, Dubai. Made payment online and received voucher for tickets within 20 minutes, via email. Good choice of experiences available and some combined package deals for those wanting to book more than one experience at a time. Will definitely recommend this site and use it again myself in the future." - Anita, July 2016