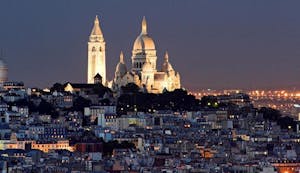 Montmartre - Sacre Couer
Paris
Montmartre
Montmartre is a hill situated in metropolitan Paris and is famous for the Basilica of the Sacre Couer and it's narrow alleys. It is also a famous nightclub district. Montmartre has also served as inspiration for artists such as Van Gogh. Have a look at the following products and choose your pick from the best options available.
Take a 3 hour long tour of the Montmartre district that will be led by expert historians. Learn about the history, tradition and culture of this famous and sometimes quaint neighbourhood.
Take a tour of this interesting district and get a taste of award-winning baguettes, visit the world's first ever bistro and discover where Picasso's first ever studio was located.
Take a private guided tour and discover hidden gems and facts about Montmartre and the prominent attractions it houses.
Other Attractions at Montmartre Hill
Look out for:
The Elysees Montmartre Theatre
St. Pierre Museum
Church of Saint Pierre
Montmartre Museum