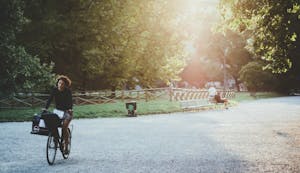 Bike & Segway Tours
A segway is a self balancing two-wheel, electrically charged vehicle and is widely used as a recreational tool. Have a look at some of the best and most exciting segway and bike tours across Paris.
Take a night segway tour around Paris and spot sites such as the La-Ville Lumiere, Ecole Militaire, Grand & Patit Palais and the historic Eiffel Tower, among others.
Bike your way through the Palace of Versailles as you make your way through it's history and beauty. Additionally, these tickets come with skip the line access. Click on the link above to book these tickets.
Tripadvisor Reviews
I can't overemphasize just how well-suited bike travel is to experience the sights and sounds of Paris. Our tour guide Allie at Bike About was the perfect leader - genuinely kind, charismatic and engaging. She did a great job of getting to know everyone a little bit and incorporating that knowledge throughout the duration of the tour. My daughter, only 7, was fully interested in what Allie had to say and loved the side game of Space Invaders (silly but fun!). The 4-hour tour was safe for all levels of riders so if you have young kids - no worries! Of course we hit all the important points-of-interest but found some hidden little gems as well. In general, choosing this travel mode is so much more immersive than taking a stuffy bus that runs air conditioning all day and get stuck in traffic. I've gone on several other bike tours in other cities (London & Montreal) and they're always great but this one with Bike About was the best to date. Put it on your to-do list! - Craigowbotham
We did a bike tour our first full day in Paris, in part as an orientation. Our guide Rachel did a good job making it fun and keeping everyone involved. At a couple key locations she offered to take photos of bikers and often had good tidbits of info. It was easy to meet up with the guides at Notre Dame and then walk to a garage a few blocks away for bikes. The bikes were basic but in good working order. The pacing of the trip is easy so that there is time for looking around a bit and all abilities can participate. The coffee shop they own was also very nice and was a good spot to end the trip and worth a visit on its own. - Soprisorbust
Bike About Tours is a delightful way to see one of the most beautiful cities on the planet: Paris. We had a spectacular day, weather-wise, which is always a wonderful start to a bike tour. Our guide, Rachel, made it really special because she is a font of Parisian knowledge and has an effervescent personality. She proudly declared her roots as an Oklahoman but her knowledge about French history and fun pieces of folklore is extensive. The tour was conducted at a leisurely pace, with plenty of stops for pictures and interesting anecdotes. It also did a beautiful job helping us establish a topography of the expansive city, noting where we might want to return. Anyone who has been on a bike in the last ten years would be fine navigating this journey... and those of us (me) who weren't "avid bikers" appreciated the use of smaller back roads and more residential streets to avoid major traffic areas. There was something especially cool about rolling through areas like the Concorde and the Pyramid at the Louvre - who knew one could ride a bike through those places? We do, now. And we loved every minute of it! - Camino_Cap