Ski Dubai Reopening Date - 2nd June 2020
---
With the aim to create a relaxed and safe space for all, Ski Dubai has introduced new rules and guidelines which needs to be strictly followed by every visitor.
Safety Measures & New Rules at Ski Dubai
---
For safety reasons, it is necessary for both visitors and staff to wear face masks and gloves within the venue. Temperature checks will be conducted before entering the attractions as well.
Instructional signage has been placed at various points within Ski Dubai to ensure social distancing is maintained. Safety ambassadors within the venue will also be able to guide guests on best physical distancing protocols to be followed.
In order to ensure maximum hygiene, fogging machines will be used to disinfect large areas and staff will see to it that all the common touch points including counters, POS and payment terminals are extensively cleaned and sanitized frequently.
Guests can now pre-order their food online before arriving at the venue. Highest level of safety and hygiene will be maintained when providing food and beverages at Ski Dubai. This includes monitoring and recording the temperature to ensure it is safe for consumption. The staff will see to it that all workstations are sanitized every 20 minutes ensuring maximum cleanliness.
All equipment used including garments, headwear and footwear will be thoroughly cleaned and disinfected after every use.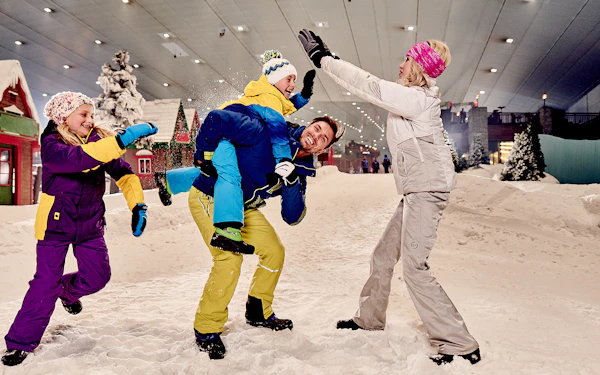 Booking Ski Dubai Tickets Online
---
Tickets for the Ski Dubai are available here.
To avoid overcrowding at the venue , all visitors are advised to book their tickets online before arriving at the venue.
Contactless payment will be accepted within the venue. For safety reasons children below the age of 2 will not be permitted into the venue.
For more information about visiting Ski Dubai, refer to their website here.