Gardens by the Bay Reopening Date - 1st July 2020
---
In the mission to create a relaxed and safe space for all, Gardens by the Bay has introduced new rules and guidelines which need to be strictly followed by every visitor.
Safety Measures in place at Gardens by the Bay
---
For safety reasons, it is necessary for all visitors to undergo temperature screening and wear masks within the venue. This also includes moments when personal photos are being taken.
Hand sanitizers have been placed at various points within the venue for guests to avail. In order to avoid overcrowding, capacity has been significantly reduced. Social distancing must be maintained at all times within the venue especially at areas where there are long queues.
Signage and floor markings have been placed throughout the venue providing informative guidelines for a safe and seamless visit. One-directional flow must be maintained at all times within the venue. Strict supervision will be taken up by the staff to ensure there is no direct contact and safety protocols are followed thoroughly.
All areas within the venue will be cleaned extensively and sanitized thoroughly. This also includes disinfecting all common touch-points such as barriers, lift buttons and escalator railings. Sanitisation of public facilities such as toilets will be done on an hourly basis.
In order to limit maximum contact automatic entry and exit doors have been installed. If you're feeling unwell, it is advised to stay at home or seek medical attention before visiting the venue.
At the moment Flower Dome, Cloud Forest and Far East Organization Childrens' Garden are now open to all visitors. OCBC Skyway will open to Friends of the Gardens members from 4 September 2020. It will resume for public visits starting 7th September 2020.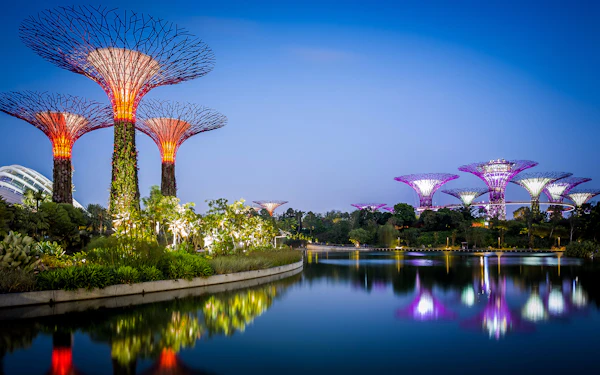 Booking Gardens by the Bay Tickets Online
---
Tickets for the Gardens by the Bay are available here.
In order to avoid overcrowding at the venue, it is advised to purchase online before arriving at the venue. Visitors can scan the SafeEntry QR code at the entrance.
Group visits cannot exceed more than 5 guests. Re-entry is not permitted once visitors have left the attraction.
For more information about visiting Gardens by the Bay, refer to their website here.