As countries around the world start to open up after the pandemic, there is an uptake in leisure travel. As people start to leave their homes and step out into the world, there are many that are looking for romantic places to travel to with their better halves. Be it the glorious architecture of Barcelona or the sparkling waters of Bora Bora, there are so many places around the world to discover and admire with your loved one. Here is our list of the must-visit romantic destinations 2021.
Top 5 Romantic Destinations 2021
---
Here are our top 5 romantic destinations to visit in 2021 — the absolute best of the best. Click on the image to learn more about what to do, when to visit, and what to expect.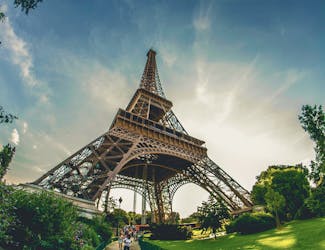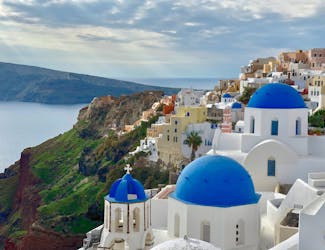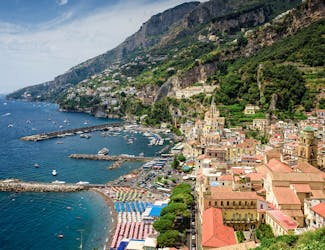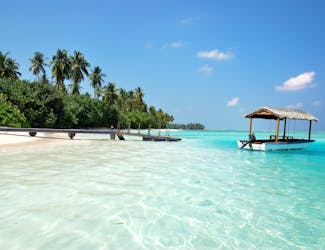 Top 20 Romantic Destinations to Visit in 2021
---
Here are some of the most romantic places to travel in 2021. While this is not an extensive list, it notes the top 20 options for those looking to travel. Some countries are under lockdown currently, but as the situation improves, they may open up, so keep your eyes on our global travel reopening tracker for more information.

It is of no surprise that Paris, the City of Love, tops this list of romantic places in the world. Be it enjoying wine and cheese while you cruise over the Seine, indulging in some pastries and fresh coffee in one of the many cafes across the city, or even strolling by the Eiffel Tower at night, every experience is magical.
France is currently under lockdown and travel is not allowed. See which countries are open for travel.


A popular honeymoon destination, Santorini is one of the most popular romantic destinations in Greece. It is known for its iconic whitewashed houses and blue-domed churches. When in Santorini, try the local food and head to a winery to sample some fine wines. Couples can also catch the sunset at Oia, hike over the Santorini Volcano, or sail around the island.
Greece is currently open to visitors with partial restrictions in place. Most tourist attractions and eateries are open with the necessary safety measures in place.
Best Time to Visit
May to early June, September to October
Must Do
Oia, Santorini Volcano, Black Beach, Fira, and cave hotels.

With turquoise waters surrounding the steep cliffs, the Amalfi Coast is a sight to behold. A popular tourist destination in Italy, Amalfi is a paradise for lovers. Some things to absolutely try on your romantic vacation in Amalfi include limoncello liqueur, scialatielli ai frutti di mar, and different varieties of cheese. You will truly feel the love in the air as you cruise on a boat, take in the sun on the beach, or drive around the coast.
Italy is open for travel with partial restrictions, with it being mandatory to submit a Self Declaration Form on arrival.
Best Time to Visit
May to early June, September to October
Must Do
Positano, Villa Cimbrone, Amalfi's Cathedral, Spiaggia Grande, and Amalfi Coast drive.

One of the most romantic places to visit in Southeast Asia, Bali is a couples' haven. Pristine white sand beaches, lofty peaks, verdant rice fields, and the clear, blue sea make for a beautiful setting to celebrate love. When in Bali, couples can visit the temples of Ulun Danu and Tanah Lot, go snorkelling and scuba diving across the island, take a yoga retreat, try out water sports, or rent a scooter and explore the green countryside.
The borders of Indonesia are currently closed to all travellers. Learn more about when we can travel again.
Best Time to Visit
May to September
Must Do
Mount Batur, Bali Treetop Adventure Park, Padang Bai diving, Sidemen, and Uluwatu Temple.

Yet another popular honeymoon destination, the Maldives is known for its sparkling aquamarine waters, beautiful beaches, and tall palm trees. When visitng the country for a romantic getaway, couples can go scuba diving, snorkelling, island hopping, or take a helicopter ride over the many islands. They can also enjoy a romantic candlelit dinner by the beach, stay in a water bungalow, and cruise the azure seas on a private yacht.
The Maldives currently has no restrictions on travel, with no quarantine period necessary.
Best Time to Visit
November to April
Must Do
Vadhoo Island, Hanifaru Bay, Submarine Tour, Dolphin Watching, and Island Hopping.

Among the most romantic places in the world, Kyoto is all about serenity and stopping to smell the roses, er, cherry blossoms. Kyoto, with its tranquil bamboo forests, stunning architecture, ancient temples, and impressive shrines, is visited by millions of people annually. This city is also the place to go to experience oneness with nature and experience its true beauty as the cherry blossom trees start to bloom and cover the city in a light pink hue.
Japan is currently open to visitors, with partial restrictions in place and compulsory quarantine for two weeks on arrival.
Best Time to Visit
March to May, September to October
Must Do
Fushimi Inari-taisha Shrine, Kinkakuji Temple, Kyoto Tower, Mount Kurama, and Arashiyama.

The City of a Hundred Spires may be an unconventional choice for some, but the city loves love like no other. In fact, May 1 is celebrated as "Svátek zamilovaných" (Valentine's Day), where couples kiss under the blooming cherry trees on Petřín Hill. Other romantic experiences to indulge in involve taking a walk across Charles Bridge, admiring the Prague Astronomical Clock together, taking a cruise over River Vltava, leaving a lock on a bridge in Malá Strana, and touring the Old Town in a horse-drawn carriage.
The Czech Republic is open to tourists, with partial restrictions in place.

Bruges is like a fairytale come to life. Cobblestone pathways, beautiful canals, and X will leave you enchanted. One of the most romantic experiences in the city is crossing the Minnewater Bridge over Lake of Love — legend has it that couples that do so will be together forever. Other experiences to try on your romantic vacation include sharing Belgian beer and chocolate, strolling through the cobbled streets, and cruising the canal on a boat.
Belgium is open with partial restrictions in place for visitors, and there is no quarantine period for those visiting from approved countries.
Best Time to Visit
June to September
Must Do
Belfry Tower, Lake of Love, Church of Our Lady Bruges, Koeleweimolen, and Groeningemuseum.
9

Bora Bora
French Polynesia

Pristine beaches, turquoise sea, and beautiful water bungalows come to mind when one thinks of Bora Bora. Yet another paradise for honeymooners, Bora Bora is an island in Oceania. It is here that you can swim with sharks and enjoy a stay in some of the most luxurious resorts in the world. This romantic destination is great for couples that want to relax and for those that want to try out different adventure and/or water sports.
French Polynesia is open to all visitors with stringent measures in place that you can read about on the official website.
Best Time to Visit
May to October
Must Do
Mount Otemanu, Matira Beach, Mont Pahia, Coral Gardens, and Shark and stingray feeding.

The brilliant Gaudí wonders, vibrant culinary scene, and balmy weather make for one of the most romantic destinations in Western Europe. Some experiences for couples to try out include sailing, wine tours, cooking classes, and a dance class. Other incredible attractions include Chocolate Museum, Magical Fountain, La Boqueria, and La Rambla.
Spain is currently under lockdown. Here is a list of COVID-free countries you can travel to right now.
Sign up for our monthly newsletter
Your dose of travel fix - from hacks and deals to travel tips and everything in between, delivered monthly to your inbox
Please enter a valid email
Unsubscribe anytime

Switzerland is on every couple's must-visit list. The snowy Alps, sapphire lakes, pristine forests, and delicious food make for an unforgettable experience. Couples are encouraged to take scenic train rides, share fondue, visit some of the best chocolatiers in the continent, and visit iconic attractions like Matterhorn, Seebergsee, and Montreux, among others.
Switzerland is currently open with partial restrictions in place.
Best Time to Visit
April-June, September-October
Must Do
Jungfrau, Rhine Falls, Glacier 3000, Interlaken, and Chillon Castle.

Luxembourg is a landlocked country between Belgium, France, and Germany. It is a small, quaint country with charming villages, scenic landscapes, beautiful churches, and ancient castles. The country is known for its heavenly wines, outdoor markets, high-end restaurants, and incredible museums. Couples can indulge in various culinary experiences and try their hand at hiking, cycling, golf, fishing, water sports, and other physical activities.
Luxembourg is open with partial restrictions — nationals of European Union, Schengen area, Canada, Georgia, Hong Kong, Jordan, New Zealand and the United Kingdom can enter.
Best Time to Visit
June-September
Must Do
The Old Quarter of Luxembourg City, National Museum of History and Art, Walls of Corniche, Luxembourg Ardennes, and Bourscheid Castle.
One of the last states to join the USA, Hawaii has many romantic getaway hotspots, the most popular of which is Honolulu. The island city offers a variety of experiences and attractions for couples such as pristine beaches, scuba diving, snorkeling, Luau experiences, underwater scooter experiences, and the famous Hanauma Bay Nature Preserve.
The United States is open to visitors of most countries, excluding China, Iran, Brazil, EU, and Schengen Area.
Best Time to Visit
Mid-April to early June, September to mid-November
Must Do
Iolani Palace, Waikiki Beach, Diamond Head State Monument, Manoa Falls, and Chinatown Markets.
14

Cotswolds
United Kingdom
The Cotswolds is a region in the UK that can be visited as a day trip from London. Designated as an Area of Outstanding Natural Beauty (AONB), the Cotswolds consists of rolling grassy hills over an area of 800 acres. Peppered with quaint and charming villages, the Cotswolds is home to ancient castles, verdant parks, impressive buildings, stunning churches, and gentle waterways. Couples can visit Batsford Arboretum, Birdland, The Royal Gardens at Highgrove, and lavender fields for a truly cozy and intimate experience.
England is currently under lockdown due to a surge in the number of COVID-19 cases.
Best Time to Visit
March to May
Must Do
Blenheim Palace, Castle Combe, Bampton, Broadway Tower, and Daylesford.

The sun, sand, and sea come together to give visitors a beautiful experience in Fiji. An island country in Oceania and one of the most romantic places in the world, Fiji has long been a favoured destination for honeymooners. Couples can take a romantic picnic on the beach, go snorkeling and scuba diving, and visit deserted islands, mud pools, and waterfalls. You can also indulge in adventure sports like ziplining, surfing, skydiving, and kayaking.
The borders of Fiji are currently completely closed down to outsiders.
Best Time to Visit
June to September
Must Do
Tavoro Waterfalls, Mamanuca Islands, Malolo, Turtle Island, and Tifajek Mud Pool & Hotspring.

The Eternal City is one that welcomes lovers from across the world. Together, couples can make a wish at Trevi Fountain, gorge on gelato, sit on the Spanish Steps, take a trip back in time at Roman Forum and Colosseum, and attend ballet or opera at Teatro dell'Opera (Rome Opera House). The city has many attractions, but visitors can also take a day trip to Vatican City to admire the Sistine Chapel, Vatican Museums or St. Peter's Basilica.
Italy is open for travel with partial restrictions, with it being mandatory to submit a Self Declaration Form on arrival.

Nestled in Northern Africa, Marrakesh is a paradise for explorers. The Red City balances between its ancient traditions and modern charms. The dazzling culinary scene, stunning medina, impressive museums, and massive souks and markets make for an experience you will cherish forever. When in Marrakesh, couples must absolutely indulge in a hammam experience, which is extremely popular in the country. The city is also known for its many museums with resplendent architecture and incredible displays.
Morocco is under complete restriction for travel — its borders are closed to visitors of all countries.
Best Time to Visit
March-May, September-October
Must Do
Bahia Palace, Medina, Djemaa el-Fnaa, Koutoubia Mosque, and Jardin Majorelle.
18

Charleston
United States of America

Charleston, South Carolina is one city that constantly turns up in lists of romantic cities in the world — and with good reason. This enchanting city, with its beautiful waterfront, historic district, romantic restaurants, and verdant gardens is not to be missed. Couples are encouraged to try out activities like axe-throwing, sailing, and even taking a cooking class to enjoy their time together.
The United States is open to visitors of most countries, excluding China, Iran, Brazil, EU, and Schengen Area.
Best Time to Visit
March-May, September-November
Must Do
Sullivan's Island, Cypress Gardens, Angel Oak, Spooky Tours, and Folly Beach.

Turkey is yet another popular destination for couples looking for a romantic vacation — and one that's a cheap place to visit too. With its dreamy atmosphere, dazzling minarets, incredible architecture, and delicious food, Turkey is perfect for a couple looking to explore a new city. Couples can visit the hammam (Turkish baths), explore the beautiful mosques, partake in cultural experiences, and party at night in this fusion city that offers a myriad of experiences.
Turkey is currently open with certain restrictions in place.
Best Time to Visit
March to June
Must Do
Hagia Sophia, Topkapi Palace, Turkish Baths, Blue Mosque, and Grand Bazaar.

Often called the "Paris of South America", Buenos Aires is one of the most romantic cities in South America. Couples can learn how to do the tango, fill their stomachs with culinary delights, sip on local Malbec wines, kiss on the Puente de la Mujer, take a gondola ride, and visit an estancia (ranch). The jacaranda trees are in full bloom around November, when the whole city turns purple due to these beautiful flowers.
The borders of Argentina are currently closed to nationals of all countries.
Best Time to Visit
April-June, September-November
Must Do
Tango Show, Puerto Madero, Teatro Colón, El Ateneo Grand Splendid, and Jardin Japones.
Tips for Visiting Romantic Destinations in 2021
---
Ensure you book your tickets in advance so that you get a good price.
Try to book tickets that are flexible, and allow cancellation, amendments, or refunds in case your plans change.
Many places, especially popular honeymoon destinations, offer packages exclusively for couples. Check and book those in advance for a hassle-free romantic getaway.
Check in advance what documents you need to carry along, and whether or not you need to get any tests done.
Ensure you carry a mask and sanitizer on person at all times. Here's a Post-COVID Packing Checklist to ensure you carry all the essentials.
Most countries recommend you download a health app. Check in advance on the country's official website and ensure you have it on your phone when you visit.
Check in advance what the quarantine period is at the place you are going to, and plan your visit accordingly.
Romantic Destinations 2021: Frequently Asked Questions
---
The Maldives, Bali, and New Zealand are romantic destinations where couples can indulge in adventure activities such as rock climbing, scuba diving, ziplining, and white water rafting.
Santorini, Bora Bora, and Bali are some of the places to head to if you want a relaxing and romantic vacation.
Bali, Koh Samui (Thailand), Maldives, Quito (Ecuador), and Brasov (Romania) are some places for a cheap romantic vacation.
The Pacific (Oceania) consists of several islands. Some of the most romantic destinations here include Bora Bora, Fiji, and Tahiti.
Apart from the ones mentioned above, Luxembourg, Geneva (Switzerland), Nice (France) and the Cotswolds (UK) are some of the most romantic destinations in Europe.
The most romantic destinations in Asia include Bali (Indonesia), Turkey, Koh Samui (Thailand), India, and The Maldives.
Some of the most romantic countries in Africa are Seychelles, Mauritius, Tunisia, Tanzania, and Zambia.
Hawaii (USA), Banff, Alberta (Canada), Quito (Ecuador), Buenos Aires (Argentina) and Rio de Janeiro (Brazil) are some of the most romantic places in the Americas.