Top of the Rock Reopening Date - 6th August 2020
---
In line with the mission to create a relaxed and safe space for all, Top of the Rock has introduced new rules and guidelines which needs to be strictly followed by every visitor.
Safety Measures & New Rules at the Top of the Rock
---
For safety reasons, it is necessary for all visitors to wear masks and undergo temperature screening before entering the venue. Social distancing of at least 6 feet must be maintained at all times. In order to limit direct contact, the venue has implemented contactless check-in at the entrance.
Hand sanitizers and handwashing stations have been made available where possible for guests to avail.
To promote safe distancing, capacity has been reduced at Top of the Rock to avoid overcrowding. This also includes limiting the capacity within each elevator cab to no more than four people or a single party.
Face coverings and gloves will be worn by all employees within the venue for maximum safety. Strict supervision will be taken up by the staff to ensure there is no direct contact and guidelines are followed. All areas within the attraction will be cleaned extensively and sanitized thoroughly in accordance with the Centers for Disease Control and Prevention (CDC) guidelines. This also includes disinfecting all common touch-points such as door handles and barriers.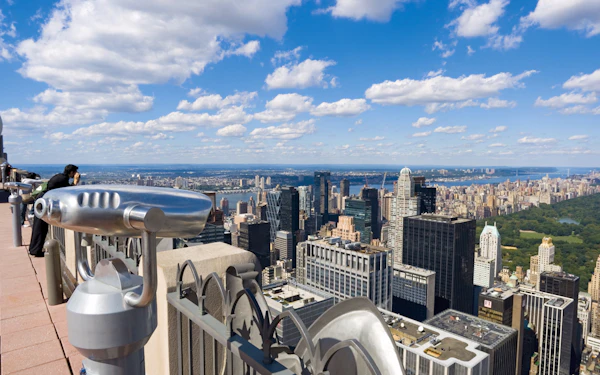 Booking Top of the Rock Tickets Online
---
Tickets for the Top of the Rock are available here
All visitors are advised to book in advance before arriving at the venue. Guests will only enter at the south side of 50th Street between 5th and 6th avenues. Kids age 12 and under are free with the purchase of one adult ticket per child through Labor Day.
Contactless payment will be accepted within the venue.
For more information about visiting the Top of the Rock, refer to their information page here.