Naples is woven together by lanes and landmarks that are a testimony to its Greco-Roman origin. The vibrant city was first established by the Greeks in the 2nd century, and has been a thriving center of art and culture ever since. If you are planning to explore Naples and its multi-layered history, your time in the city will be packed with visits to the many magnificent structures like the Pio Monte della Misericordia, Palazzo Zevallos Stigliano, Palazzo Reale di Capodimonte, and Museo Archeologico Nazionale di Napoli (AKA National Archeological Museum Naples) - home to an unparalleled collection of Pompeiian mosaics and frescoes.
The best way to explore the museums, palaces, castles, and the ancient ruins in Naples is to do it at your own pace. One way of doing this is to take a Naples hop on hop off bus tour. A favorite among the tourists, it gives you the freedom to spend as much time at a site as you like.
Types of Tours
---
Naples is a traveller's paradise and there are a number of bus operators offering Hop on Hop off bus tours. But some of the most liked among them are the tours offered by City Sightseeing Naples. It is part of the City Sightseeing Worldwide that offers bus tours in 130 countries, making it the world's largest provider of open top double decker bus services.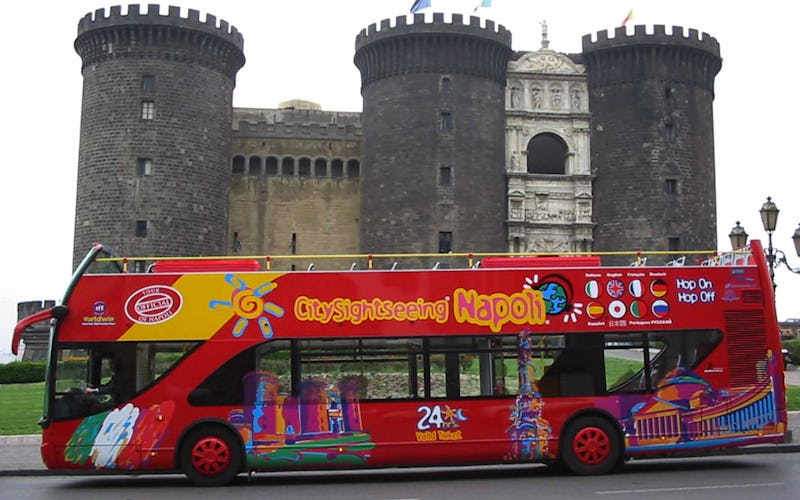 City Sightseeing Naples offers different tour packages that you can choose from. You can opt for the City Sightseeing Naples to explore the many monuments that dot the city. One of the must see places near Naples is Pompeii, and the Day Trip package is an ideal choice. City Sightseeing Naples also offers Shuttle bus service between Naples and Reggia Di Caserta (Royal Palace of Caserta), and also to Museo Di Capodimonte.
All You Need to Know About Naples Hop On Hop Off Tours
---
Click on the feature to know more about it.
Routes
Frequency
Price
Extras
3 routes - Red, Blue, and Green lines.
Red Line: 61 minutes
Blue Line: 72 minutes
Green Line: 90 minutes
Starting from

Book Now

Complimentary WiFi and multilingual commentary
Routes
The three interconnecting Hop on Hop off bus routes — Red, Blue, and Green lines — service the whole of Naples and you can hop on to any of buses with your 24-hour access pass.
The Red and Blue Lines run throughout the week, whereas the Green Line runs only on weekends between April and October, and you will need to reserve a seat in advance.
Frequency and Timings
City Sightseeing's Naples Hop on Hop off buses run all year long, except for Christmas Day (25 Dec) and New Years' Day (1 Jan).
Red Line: This is a 61 minute route with buses departing from Luoghi dell'Arte at 9:45 AM, 10:25 AM, 11:10 AM, 11:50 AM, 12:35 PM,1:20 PM, 2:00 PM, 2:45 PM, 3:25 PM, and 4:10 PM.
Blue Line: This is a 72 minute route with buses departing from Le vedute del Golfo at 9:30 AM, 10:05 AM, 10:55 AM, 11:35 AM, 12:20 PM, 1:05 PM, 1:50 PM, 2:30 PM, 3:15 PM, and 3:55 PM.
Green Line: This is a 90 minute route with buses departing from San Martino at 12:10 PM, 2:30 PM, and 4:30 PM.
Please note that unlike the other two lines, the Green Line only runs on Saturday and Sunday, and you need an advance reservation for the same.
Extras
Apart from the Hop On Hop Off tickets, City Sightseeing also offers various complimentary extras to ensure you make the most of your tour.
The Hop on Hop off buses are equipped with multilingual guides that let you choose from eight languages — Italian, English, French, German, Spanish, Chinese, Japanese, and Russian. The running commentary is a great way to learn all about the history of Naples and anecdotes on the routes you will be following throughout your day.
The buses are equipped with free Wi-Fi.
There is also a Sightseeing App that you can access and known more about Naples through the recorded walking tours.
Naples Hop on Hop off Bus Tours: Tickets
---
Hop On Hop Off Naples Sightseeing Tour
Save on transport costs and still explore Naples to the fullest by hopping onto one of the red open-top buses.
Explore major attractions like Sanità, the Royal Palace of Naples, Castel Nuovo, and National Archaeological Museum, among others.
Get unlimited access for 24 hours to the three interconnecting Hop-on Hop-off routes.
Enjoy access to free Wi-Fi.
Starting from
Advantages of Choosing a Naples Hop on Hop off Bus Tour
---
Hop On Hop Off Whenever You Want: Hop on Hop off buses are a great way to travel around the city because you can spend as much time at a place of your liking. Once done, you can simply hop on to the next bus and make your way to the next stop; and you can do this as many times as you want through the day.
Free Transport: The one-time ticket fee makes your voucher valid for 24 hours and you end up saving up on all the extra transport costs while roaming through Naples. Skip the hassle of paying for taxis and buses, or even of finding a ride for yourself - just board the bus and be on your way!
Engaging multilingual commentary: City Sightseeing Naples offers multilingual commentary. Choose from eight languages and get information on Naples and its long history. The Sightseeing Mobile App also is a great resource with pre-loaded walking tours and information pages.
Create your own itinerary: Given that you can hop on hop off anywhere, and skip any stops if you want, youu get the freedom to decide where you want to go and not be bound by a fixed itinerary.
Tips
---
There is free admission for children up to 5 years.
Don't forget to carry your identity card with you.
Wear comfortable shoes as you will be doing quite a bit of walking.
Make use of the running commentary on the bus and the Sightseeing App to learn all about Naples and get an insight into its history.
Start early so that you can spend more time at each location and possibly visit more places.