Guggenheim Museum Bilbao Reopening Date - 1st June 2020
---
The Guggenheim Museum Bilbao reopened its doors to the public on 1st June, 2020. Since it is the first major museum to start operating in Spain again, effective measures have been taken by the authorities to ensure maximum safety is maintained throughout the visit.
Safety Measures Followed at Guggenheim Bilbao
---
Safety being at utmost importance, all visitors are required to undergo temperature checks. Those with temperatures higher than 37º C will not be given access to the museum.
It is necessary to maintain a social distance of at least 2 meter apart from each visitor and also essential to wear face masks throughout the visit. Hand sanitization is advised and has been supplied throughout the museum. Frequent hand wash needs to be practised within the attraction as well.
Moreover, all visitors must follow a one-way itinerary, which begins on the third floor. The instructions can be followed by signs and arrows displayed within the venue. Guggenheim Museum has created a series of green pictograms which essentially covers all the new guidelines which is also available throughout the attraction and online.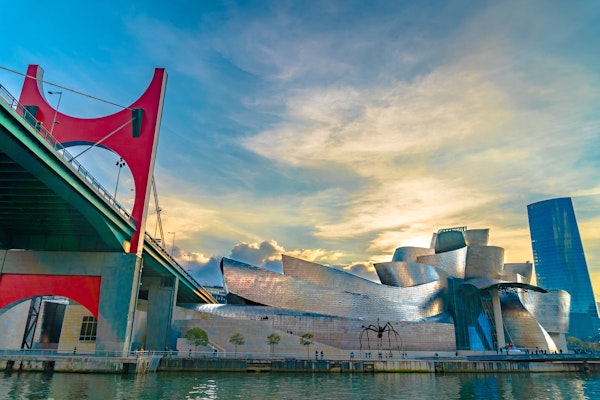 Restriction and Temporarily suspensions
---
The cloakroom is temporarily unavailable.
Visitors are not allowed to enter the museum with bags larger than 35cm x 35cm or with non-folding umbrellas.
There will not be a physical delivery of audio guide equipment. However, visitors can download the audio guide application on their mobile device.
Buying Guggenheim Museum Bilbao Tickets Today
---
Guggenheim Museum Bilbao's capacity has been reduced to one third of its usual capacity. It has also been made mandatory to purchase tickets online. Considering the current situation only card payments will be accepted both at the venue and other outlets.
Booking Guggenheim Museum Bilbao Tickets Online
We recommend buying Guggenheim tickets online for a contact-free experience.
Guggenheim Museum Bilbao - Revised Opening Hours
---
June
From Monday to Friday - 2:00 pm to 7:00 pm
Saturdays and Sundays - 11:00 am - 7:00 pm
July
From Monday to Sunday - 11:00 am to 7:00 pm
Closed on Mondays except Mondays in June, July, August, September 7 and 14, and Monday holidays.
For more information about visiting Guggenheim Museum Bilbao, refer to the information on museum's official website.