It is common knowledge that New York has its fair share of quirky and not-so-common activities, shows and things to do. From visiting a morbid anatomy museum and canoeing in the dirtiest waterway, Gowanus Canal, to watching a drunk comedy and even witnessing a live bubble show! NYC definitely has it all and way more. In this post, we will be taking a look at one such outlandish show, which has managed to wow and amaze audiences of all ages, for 12 straight years - The Gazillion Bubble Show!
The Gazillion Bubble Show is a mind boggling affair full of spellbinding lasers, spectacular lighting effects, pumping music and of course, jaw-dropping pieces and acts of bubble art. Started by the 'Master of Bubbles' himself, Fan Yang, this out-of-the-box performance has garnered immense praise and has quickly become an NYC favourite.
Why Watch Gazillion Bubble Show
---
The Gazillion Bubble Show is one of those rare on-stage performances that manages to attract and entertain people of all ages, be it young children, teenagers or even parents. Fan Yang, the creator of this masterpiece, along with his wife, Ana, have perfected the craft and skill of 'Bubble Artistry' and put forth a unique form of show-telling that exceptionally combines a comic storyline with futuristic sounds and sensorial effects. The show also features an interactive segment, where children, from the audience, are invited onto the stage to experience the "unbubblievable" magic for themselves.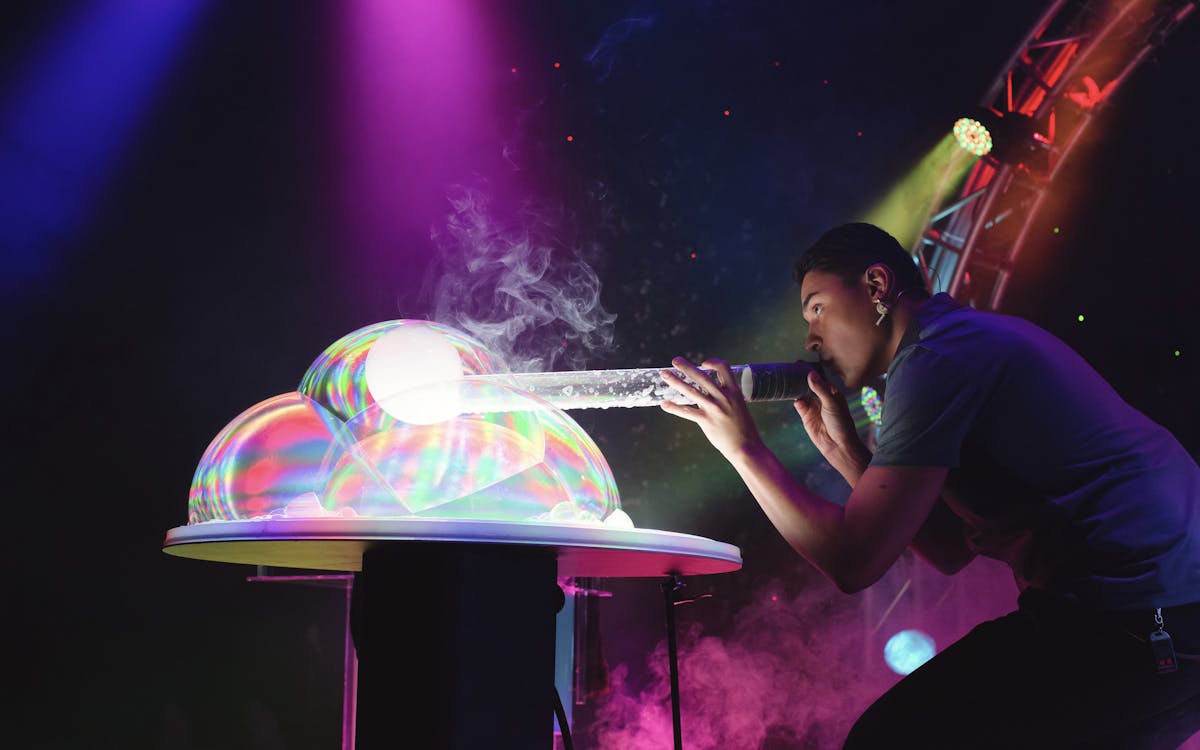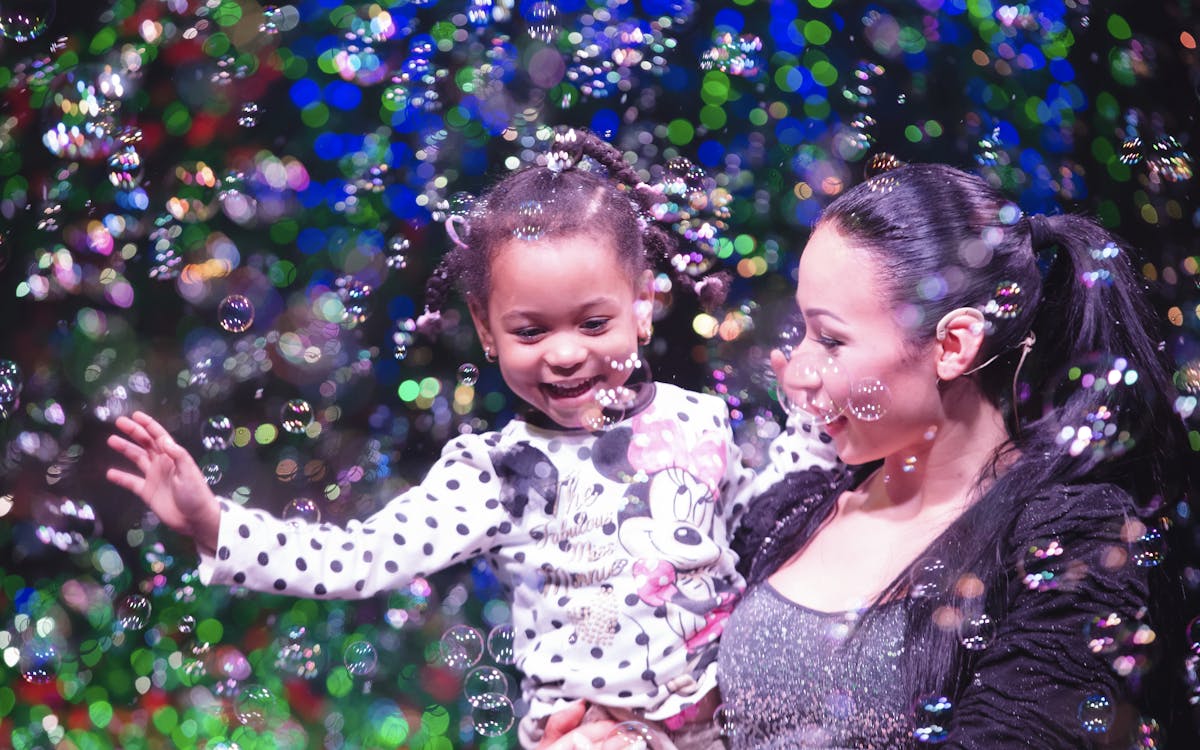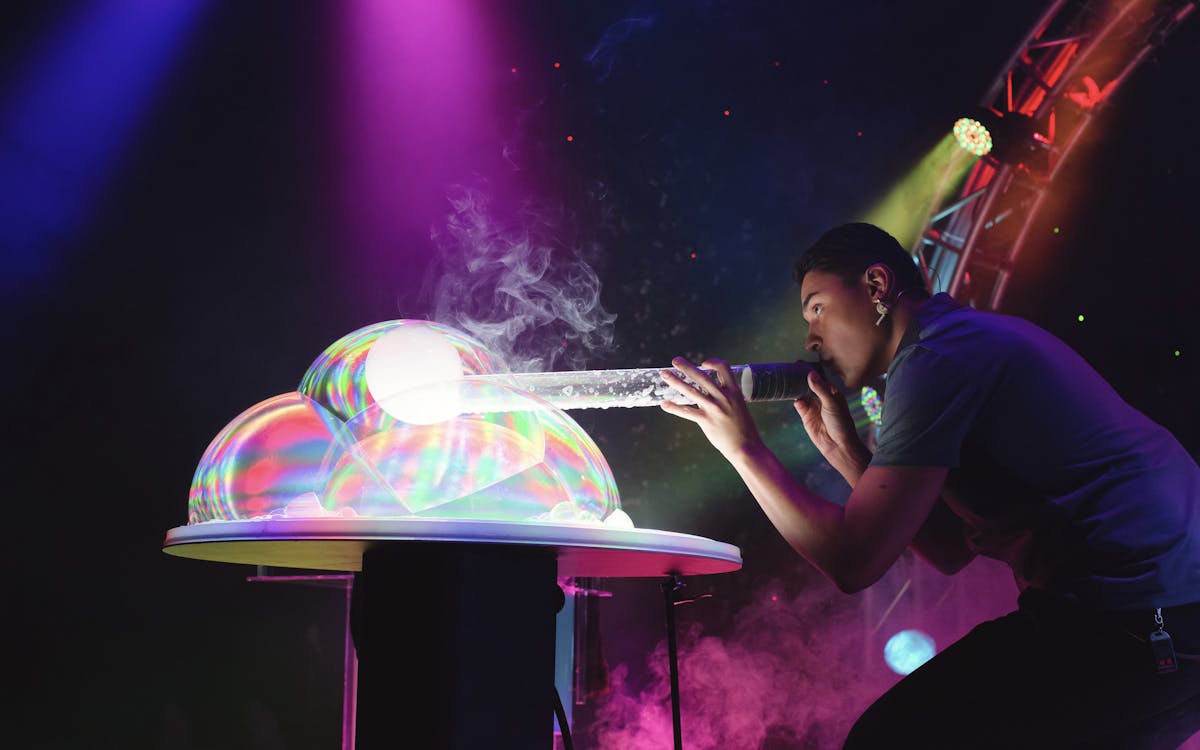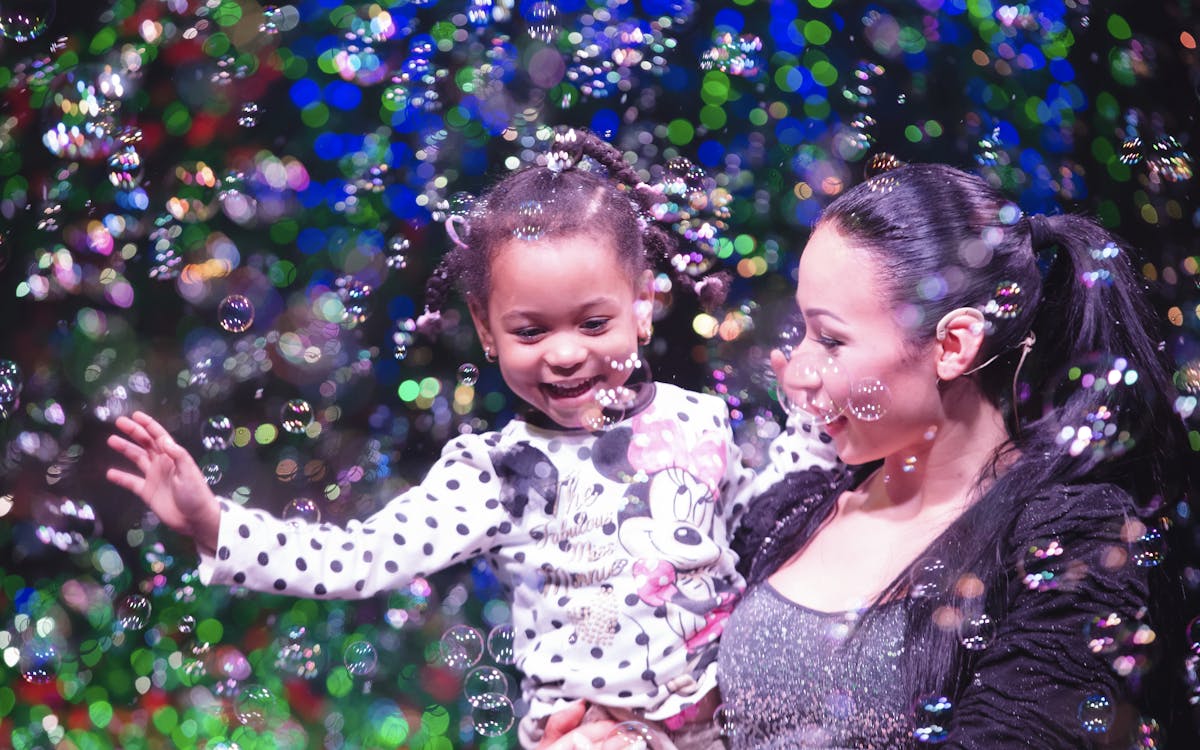 Gazillion Bubble Show Ticket Discounts
---
Looking out for discount on Gazillion Bubble Show tickets!
Have a look at theavailability and prices of Gazillion Bubble Show on Off-Broadway.
Gazillion Bubble Show Off Broadway Ticket Prices
Orchestra - from $47
Check Seat Availibility and Prices
About the Show
---
Timings:
Fridays - 7:00 PM
Saturdays - 11 AM, 2:00 PM and 4:30 PM
Sundays - 12:00 PM and 3:00 PM

Duration: 1 hour 20 minutes
Venue: New World Stages, Stage Two
Location: New World Stages,340 West 50th Street, New York, NY 10019 .
Getting there: The nearest monorail station is the MGM Grand.
By Subway:New World Stages is easily accessible by Subway, with the following stations located nearby: 50th Street Station, 49th Street Station and Rockefeller Ctr. Station
By Bus - The following bus lines stop near New World Stages: M104, M50, M7 and Q32
By Car - If you are planning to come in your car, you can park at the Valet Garage, located at 350 West 50th Street
Gazillion Bubble Show - The Acts
---
As the name of the show suggest, the entire show revolves around bubbles and the magic the performers create with them. Square bubbles, floating bubbles, bubbles within bubbles (bubble inception) and dancing bubbles, this show literally has bubbles in all sizes and configurations. Fan Yang, along with his entire family, take audiences on an 'incredibubble' journey through this show, which involves spectacular bubble artistry with a fun, light-hearted storyline.
The show usually features one artist, either Fan or Ana, who showcase one bubble-themed trick after the other, often leaving audiences gaping and awe-struck. Throw in some lights, laser and music, and it all comes together to create one marvelous spectacle. And apart from simply watching and observing the scene on the stage, children even get the chance to experience the bubble-magic firsthand as they are invited onstage to participate! The entire performance builds up to the climax which is bound to take your breath away.

New World Stages
---
Locations: 340 W 50th St, New York, NY 10019, USA
Get Directions

The Gazillion Bubble Show takes place at New World Stages, Stage 2. Located in New York's Hell's Kitchen neighbourhood, New World Stages is a popular and well-known Off-Broadway performing arts complex. This theatre is famous for playing host to outlandish, quirky and not your typical run-off-the-mill productions like Altar Boyz, Naked Boys Singing and of course, The Gazillion Bubble show.
Interestingly enough, this theater was constructed on the site of New York's third Madison Square Garden and was initially opened as a multiplex cinema! After going through heavy renovations, it was reopened as Dodger Stages in 2004, before it finally became New World Stages in March, 2006. The theatre today has 5 different stages, with capacities ranging from 199 - 499, thereby making it an off-broadway stage. New World Stages also houses The Green Room, an upscale bar and kitchen, perfect place to get a drink before your show.
The Cast
---
Fan Yang
He is the main man and mind behind The Gazillion Bubble Show. Fan Yang has been working with bubbles for the past 20 years and is renowned all over the world for his unique talent and skill. He has managed to take such a simple thing, a soap bubble, and transform it into an absolutely beautiful piece of art! His work has earned him 16 Guinness World Records, and he was voted 'Artist of the Year' in Germany.
Fan's shows have been featured at the National Museum of Science and Technology, Singapore Science Centre, Ontario Science Centre and the Discovery Science Centre. Apart from performing, Fan also works as a bubble scientist, having created The Ultimate Bubble Toy. The solution for this tor is made only by Fan, based on his knowledge and formula, and can be used to make stunning bubble creations.
Ana Yang
Ana Yang is another Master of Bubbles and like her husband Fan, has been plying and perfecting her trade for the past 2 decades. She has entertained crowds all over the world with her fascinating and delicate performances, having performed in Australia, Canada, Europe Asia and all across the United States. She too has a Guinness World Record and has been often touted as "The World's Greatest Female Bubble Artist". Apart from performing on stage, Ana also has a ton of experience showcasing her bubble skills on television shows all around the world including RAI 1 (Italy), TF1 'Patrick Sebastian' (France) and 'The Today Show' (New York, NY).
Deni Yang
In the Yang family, the apple definitely does not fall far from the tree. Following the footsteps of his parents, Deni too has taken into the family occupation and has wowed and entertained fans around the world with his slick and smooth bubble tricks. He began his career on the stage at the tender age of four when he performed on RAI 1 Italian Television, and caught the attention of millions of people watching. He solidified his career as a 'Bubble Artist' with his live show at the Monte Carlo International Circus Festival in 1997. Since then, Deni has gone on to perform all around the world, starring in the 'White Bubble Show' in Seoul, Korea and 'The Gazillion Bubble Show' in Dollywood.
Melody Yang
The youngest member of the Yang family to join the bubble business, Melody, like her brother, got into the world of bubbles at the age of three when she performed with Deni on Italian Television. After another performance with her brother at the Monte Carlo International Circus Festival, Melody got a fan following of her own, thanks to her charm and bubble-wielding skills. Melody made her New York City debut with The Gazillion Bubble Show and she hasn't looked back since.
Jano Yang
Fan Yang's brother, Jano Yang, is a multi-talented and hugely skilled 'bubble artist'. Born in Vietnam and growing up in erstwhile Yugoslavia, Jano attended ballet school and also learnt Judo. He eventually went on to become a National Judo Champion, having an affinity for fighting and defense sports. His many talents include acrobatics, juggling, pantomiming, clowning and of course, the family tradition of creating magic with soap bubbles. As a bubble artist, Jano has a ton of experience, having performed at the Monte Carlo Casino, Crazy Horse Paris and even on the Costa Cruise Line for 5 years. He joined his brother, Fan, in the year 2004 and has been performing with the family ever since. Most recently, he was on stage at the "Mega Bubble Show" in Las Vegas and "Fan Yang's Bubble World" in Seoul.
Reviews
---
"The Gazillion Bubble Show presents a fantasy world that hinges on the mystical allure, aesthetic pleasure and spirited promise of precarious pockets of air. While it's undeniably kooky, the show is a welcome change of pace for kids who are constantly inundated with overtly commercial, Disney-esque entertainment"
- Time Out New York
"Every trick is a treat to watch. The kids watching often yelled out "wow!" and "holy cow!" and sometimes it is hard to restrain yourself from exclaiming out loud as well. The music, lights, and videos that supplement the bubbles make it a real show, but don't distract from the beauty and awe of the bubble mastery."
- GoLocalProv
Gazillion Bubble Show Tickets
For those looking to book discounted Gazillion Bubble Show tickets online, platforms like Headout are your best bet, as they source tickets directly from the venue and scour the internet for any discount codes available for these shows. Any price advantages are then passed on ensuring that you are paying the lowest prices.
The Headout advantage for booking Gazillion Bubble Show Discount tickets:
One of the few platforms that gives you the ability to select specific seats.
Gives you the ability to skip the box office lines and directly pick up Puffs the Play discount tickets from our Headout hosts stationed right outside the theatre.
Last-minute tickets: If you made a spontaneous plan, we generally have decent last minute inventory for most Broadway shows.
24/7 customer service to back you in case something goes wrong.