Frozen, when released in 2013, captured the imagination of moviegoers worldwide with a story that honors the bond between sisters. Accompanied with a catch soundtrack, including the song "Let it go", Frozen immediately cemented its place as one of the standout movies of the 21st century. The Broadway production of the story has been carefully crafted by the creators of the movie, aiming to stay true to the source material. With stellar set design that beautifully captures the majesty and familiarity of Arendelle, you're in for a magical ride back to Elsa and Anna.
Frozen Story
Elsa, the young princess of Arendelle, posses the power of cryokinetic magic. After she accidentally injures her sister Anna, the parents force the sisters to grow up separately, living in the same castle but separated by literal and figurative walls. After their parents die in a storm out in the sea, Elsa must suppress her powers in order to become the Queen of Arendelle. However, an outburst causes Elsa to reveal her powers and unable to handle it, she runs away to retire in the mountains. Unfortunate turn of events sees Arendelle engulfed in an eternal winter while a deceptive prince of the Southern Isles serts his eyes on the kingdom. Will Anna succeed, bringing her family together and reunite with her sister?
Practical Info
---
Show Details
Show Timings
Tues, Thurs & Fri: 8 PM
Wed & Sat: 2 PM & 8 PM
Sun: 3 PM
Duration
TBA (No intermission)
Leading Roles
Caissie Levy as Elsa
Patti Murin as Anna
Jelani Alladin as Kristoff
Greg Hildreth as Olaf
Directed by
Michael Grandage
Book by
Jennifer Lee
Music & Lyrics by
Robert Lopez and Kristen Anderson-Lopez
Top Songs
"Let It Go", "True Love", "Do You Want to Build a Snowman?", "Love Is an Open Door", & "For the First Time in Forever"
Know Before You Go
Audience
Frozen is intended for children at least 8 years old.
Available Facilities
Wheelchair accessible
In-house bar
Coat check
Seating
The St. James theater has a seating capacity of 1,707. For tips on how to choose the best seats, you can refer to our St. James Theatre Seating Chart Guide.
Outside Food
Strictly prohibited. If you'd like to grab a meal before or after the show, check out our guide to the 30 Best Restaurants in the Theater District.
Dress Code
Smart and casual wear. Theater is air conditioned throughout the year and can get a bit chilly.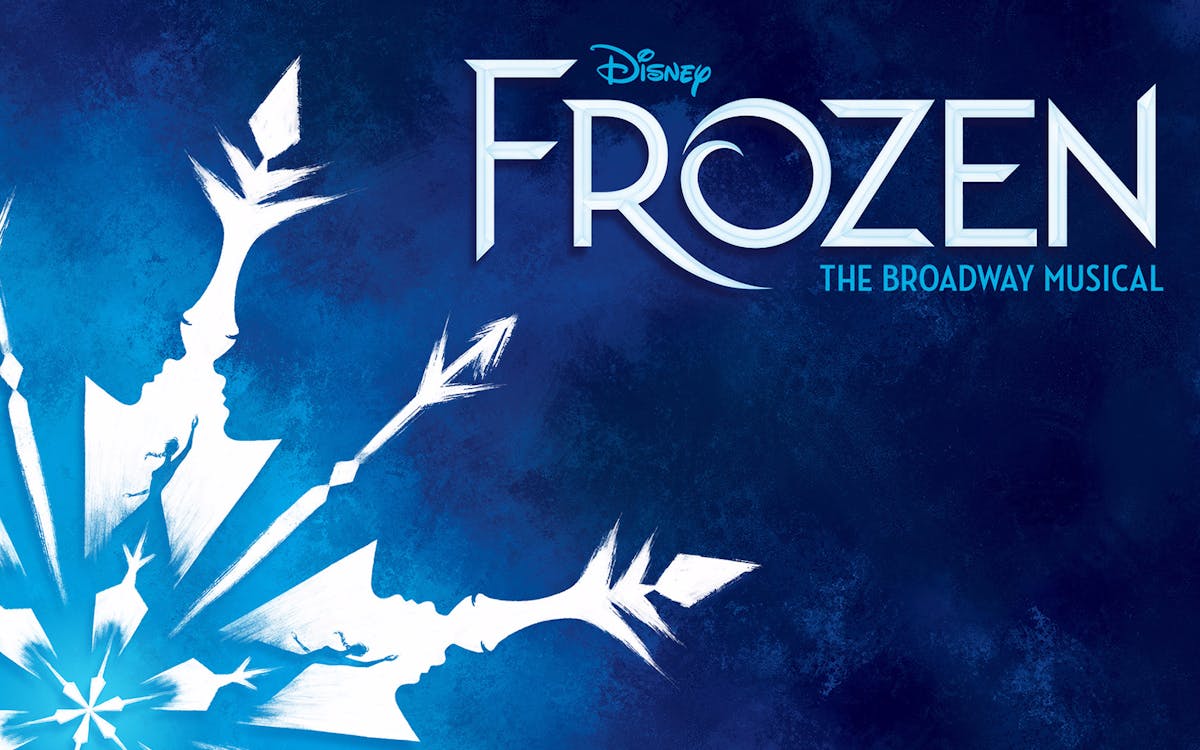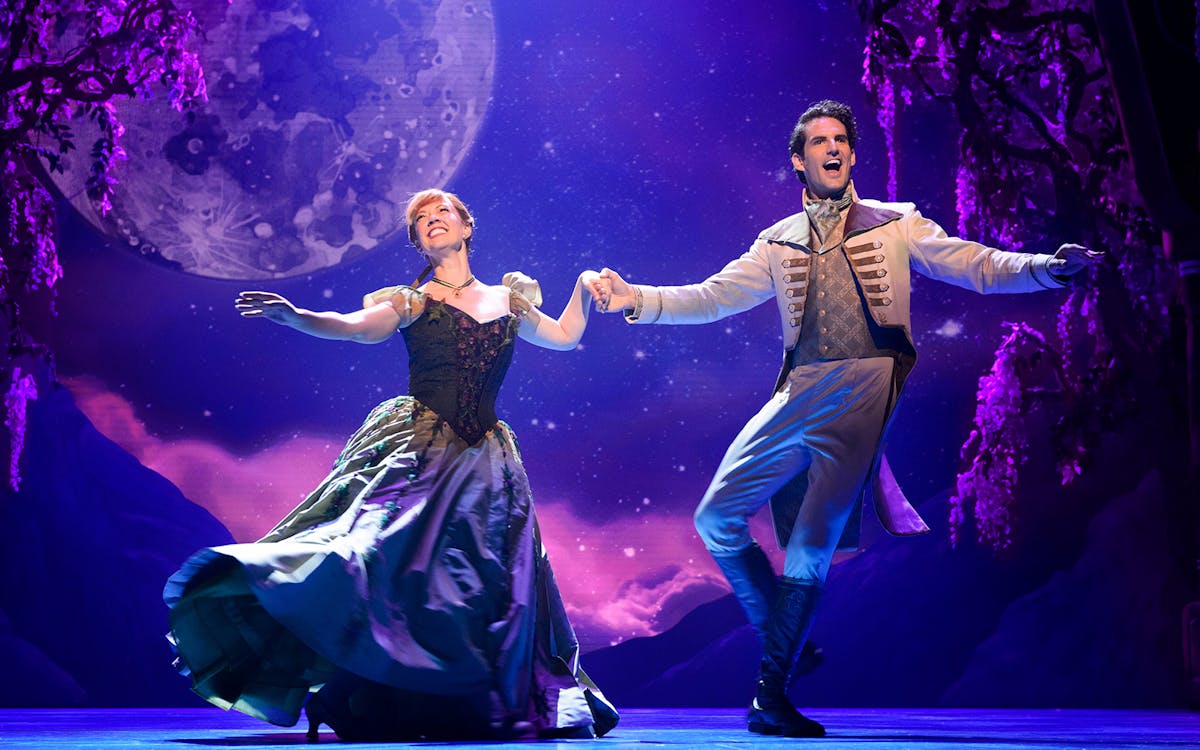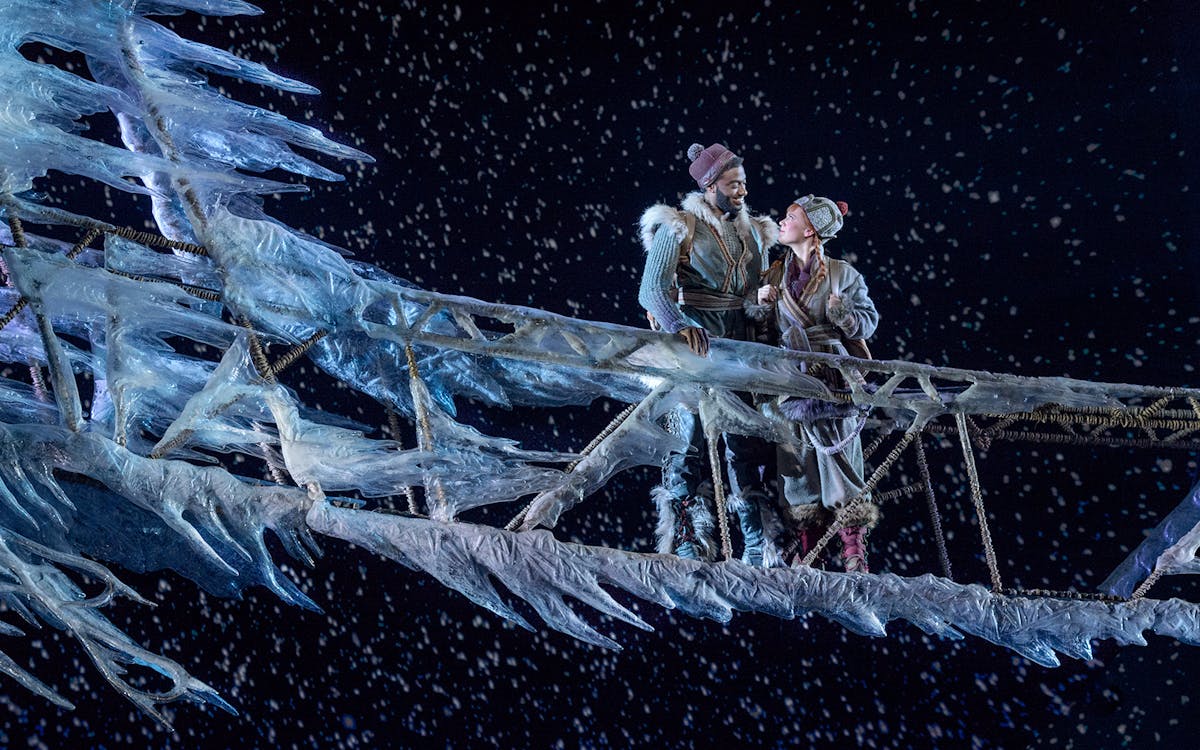 Performance
---
Frozen has been running since February 2018. It has sold 26,880 seats since its premiere - meaning the show was at near capacity with 99.83% seats occupied. As of March 2018, it has grossed $3,363,839.
Frozen Broadway Reviews
"The girl-power message still runs deep in Disney's Broadway-bound version of its 2013 animated blockbuster Frozen. What's notably different are at least 10 new songs, the addition of full-fledged musical numbers, a more subdued color palette, and of course the characters are now played by humans who must tread the line between caricature and reality. The diverse, well-trained cast does all this and more."
– The Hollywood Reporter

"The musical's reported development budget of $25 million to $30 million has been well-spent on grand gestures like the "Let It Go" metamorphosis, and on more nuanced details like the pillowy clouds that float past when the gloomy palace's doors are flung open to reveal beautiful skies. The scale of Arendelle's wooden palace is imposing, as is Elsa's mountain refuge."
– Variety
Show Score
: 82
Frozen Broadway Tickets on Discount
Looking out for Frozen discount tickets !
Have a look at the real-time seat availability and prices of different sections for Frozen on Broadway. In the interactive seat-map, select the date that you would like to watch the show and check out the seats available for that day. You can filter the seats as per your desired price range and purchase tickets directly.
St. James Theatre - Frozen Ticket Prices
Orchestra - $80 - $175
Mezzanine - $63 - $75
Balcony - $55 - $65

Check Real-Time Seat Availibility and Prices
St. James Theatre Seating Chart Guide
will help you find the best seats in the theatre.
About St. James Theatre
---
Established in 1927 as The Erlanger, the St. James theater finally came into its own in 1957, moving from housing just musicals to live theater of all kinds. Over the years, this New York City landmark has hosted everything from Oklahoma! and Hello, Dolly! to Gypsy and Bullets Over Broadway. With a seating capacity of 1,710, St. James is one of the bigger Broadway theaters, while still offering patrons an intimate viewing experience.
For tips on how to choose the best seats, you can refer to our St. James Theatre Seating Chart Guide.