You could spend a lifetime in Barcelona and never get tired of its charm and beauty. However, after you've spent an afternoon or two pootling around the gothic quarter, admiring Antoni Gaudi's quirky architecture and long strolls along the city's palm-tree-decked plazas - set off to explore a little more of Catalunya's coastline. Barcelona is the perfect base for a bunch of day trips - beaches, vineyards, monasteries and what not! Here are our top picks for the best day trips from Barcelona.
7 Best Day Trips From Barcelona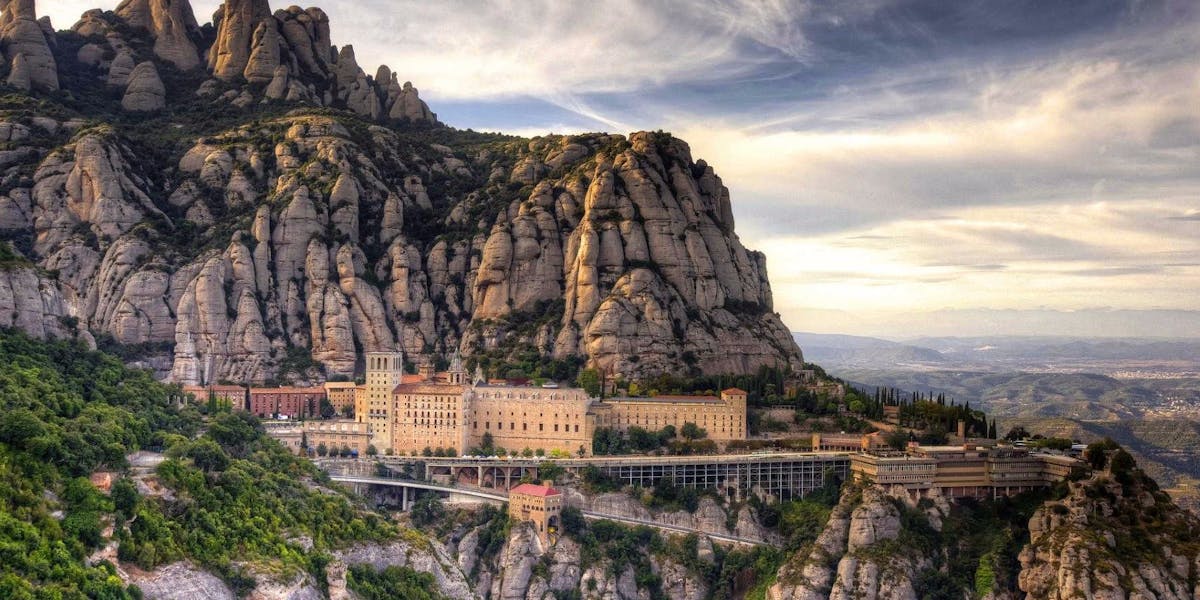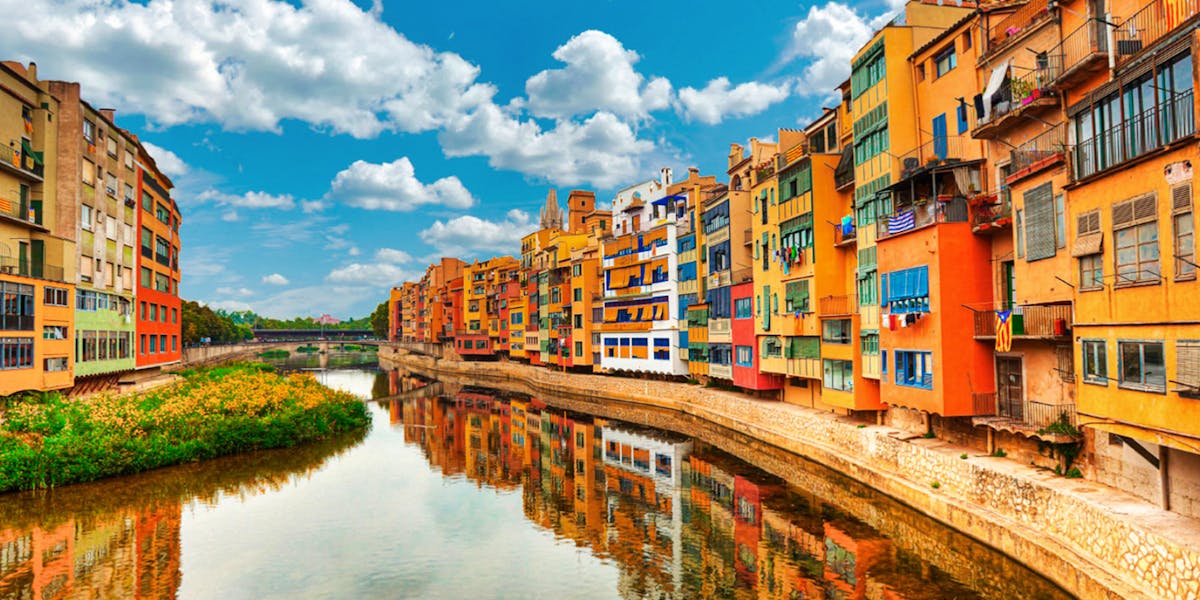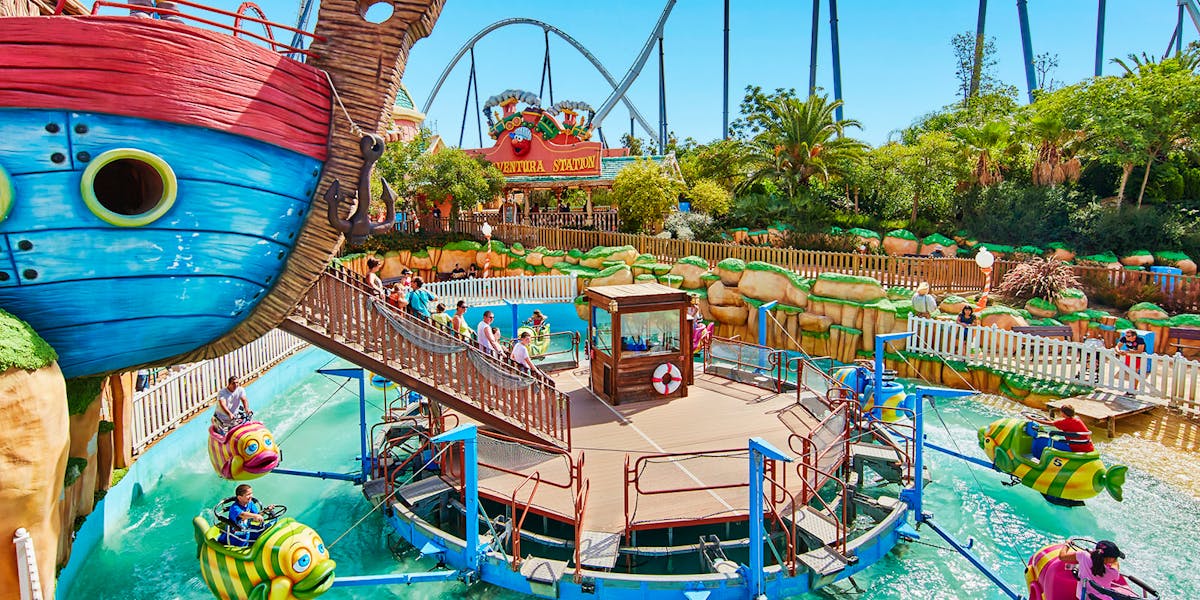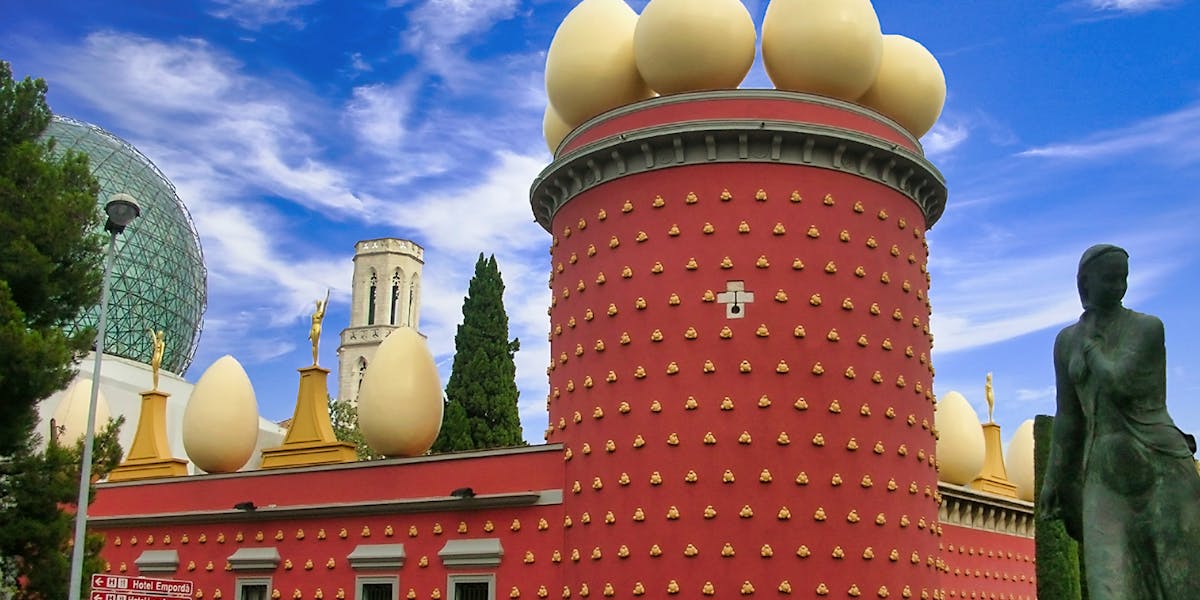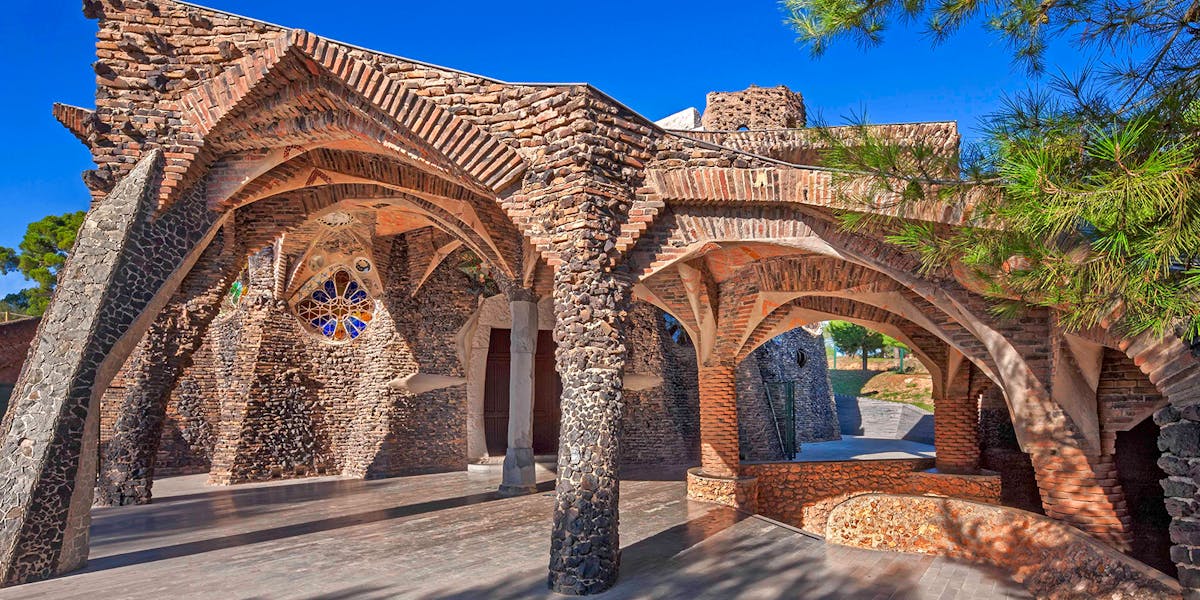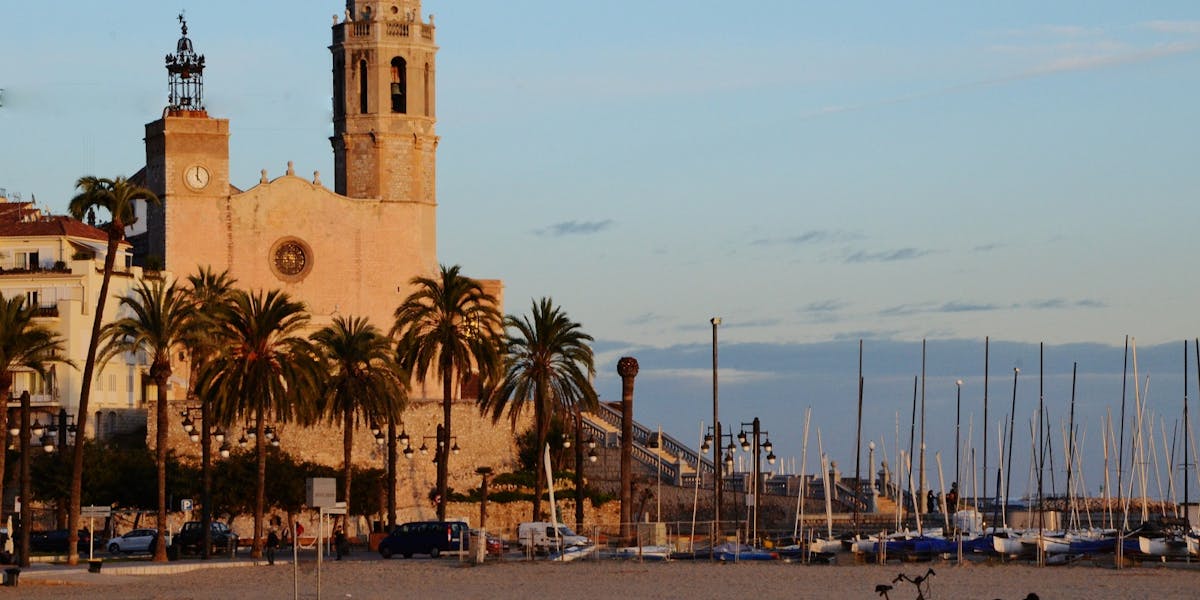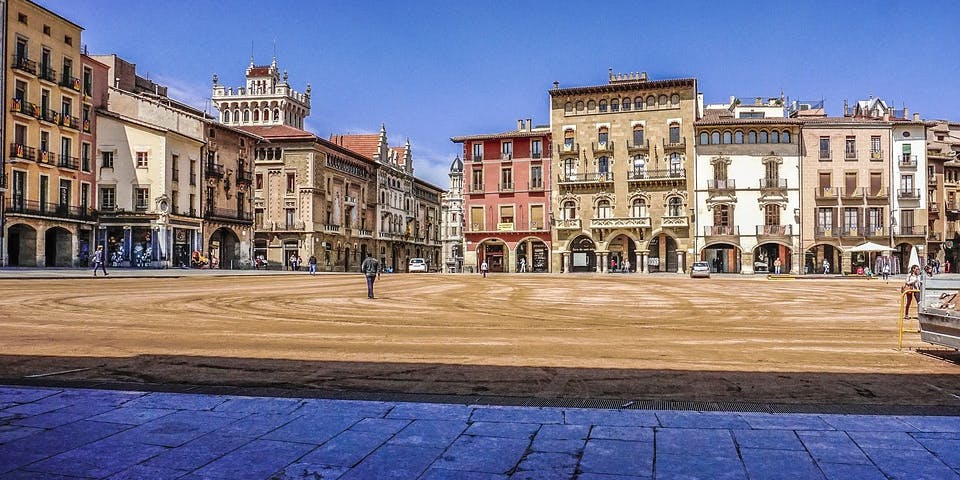 1

Montserrat
Day Trips From Barcelona
61 km
Distance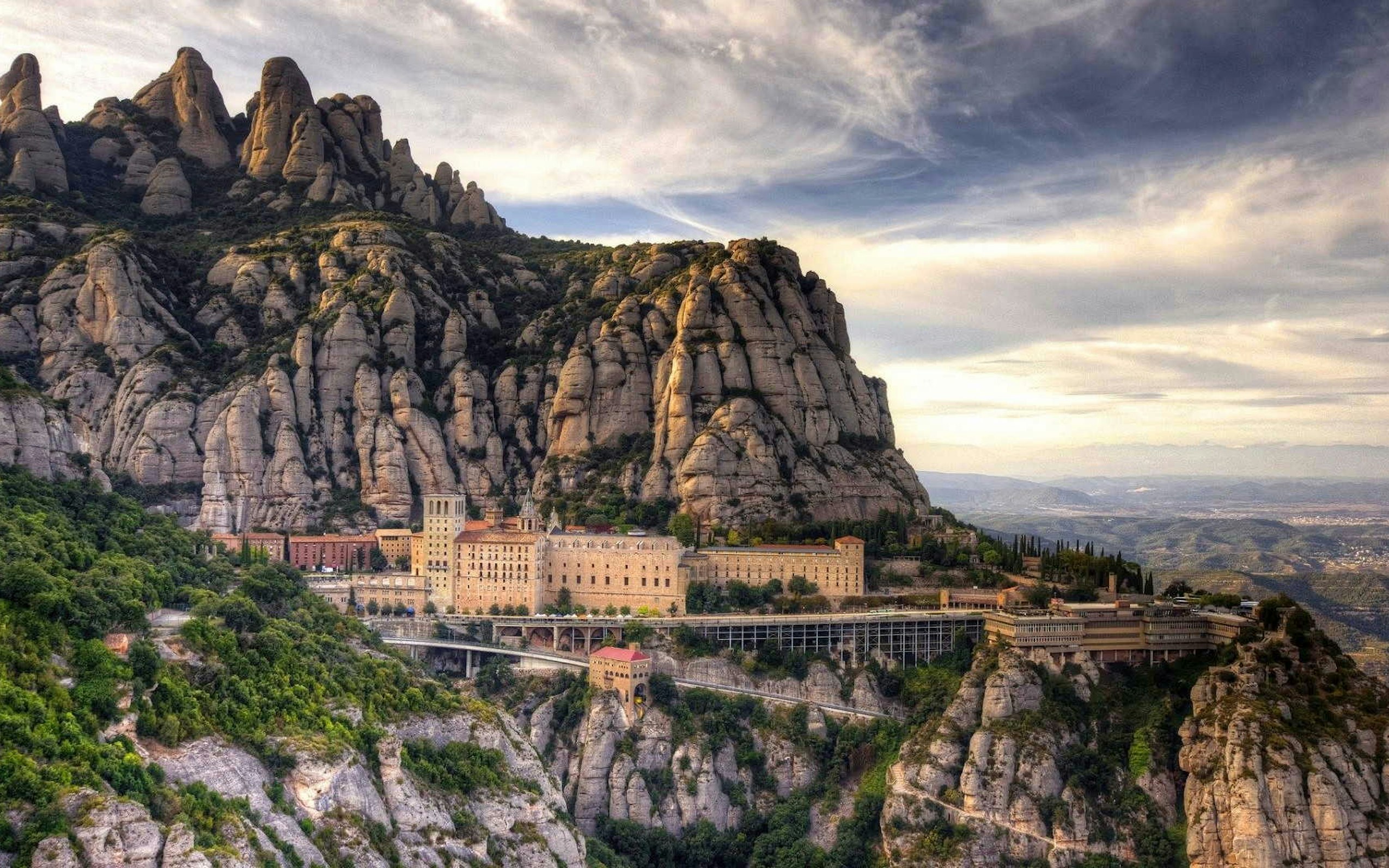 Named after its jagged peaks which literally translates to 'saw mountain' in Catalan – the pink conglomerate Montserrat mountain is known for its breathtaking natural beauty and immense religious significance in Spain. Relax in the peaceful atmosphere of the monastery and pray to the Black Madonna, hike up to the top of the mountain and watch the sunrise, view artistic masterpieces at the museum - the possibilities on a Montserrat from Barcelona tour are endless!
Best Time to Visit
March to July
Benedictine Abbey
The Benedictine Abbey, is the host of the famous Catalonian Virgin of Montserrat who was known far and wide for the miracles and wonders she performed. Legend has it that it was once home to the Holy Grail. Today, it is home to over 70 monks, and is visited by millions of pilgrims and tourists.
Basilica of Montserrat
This beautiful Gothic structure houses what is arguably Montserrat's most important feature - the statue of the Black Madonna. The statue sits behind a sheet of glass with a single hand, holding a sphere to symbolize the universe. Be prepared to wait in a queue as the Black Madonna is one of the most popular images in Spain.
Funiculars Of Santa Cova And Of Sant Joan
The Santa Cova funicular, or cable railway, connects to the Santa Cova cave chapel. Once you step down from the funicular, visitors can see the Rosari Monumental - an important group of outdoor sculptures in Catalan Modernism - with pieces by Antonio Gaudí and Josep Llimona, among other famous artists.
Museum of Montserrat
This museum is a delight for art-lovers and amateurs alike. It houses 1300 pieces of art by various artists Picasso, Dali and Caravaggio nestled in amongst less well-known artists. Audio guides are also available for self-guided tours around the museum.
Sant Miquel's Cross
You can reach the Cross of Sant Miquel through a hike from the Monastery. Though steep and seemingly treacherous, this easy hike takes about 40-60 minutes.
Aerie de Montserrat
This humble cable car is not just another means of transport in the Montserrat region. While ascending the 4,000 ft from the bottom of the Montserrat Mountain to the Monastery, you'll experience breathtaking views of the River Llobregat, the village of Monistrol and even the famous Santa Cove shrine.
By Train + Cable Car
This is the best option for those who want to experience Montserrat's scenic beauty, even before getting there. From Plaça Espanya in Barcelona, take the R5 line to Aeri de Montserrat, from where a cable car can be taken to the top of the mountain.The train journey from Barcelona to Montserrat takes about 1.5 hours.
By Train + Rack Railway
This option is lighter on the pocket than the cable car option, though it may take you slightly longer. From Plaça Espanya in Barcelona, take the R5 line one stop farther to Monistrol de Montserrat. Change to the Cremallera, a green railway that runs to the top of the mountain.
By Train + Hiking
If you're interested in the fun hike take the R5 line from Plaça Espanya, to Monistrol de Montserrat. Upon arrival, take a walk through the town of Monistrol and hike your way up the scenic mountains of Montserrat!
By Bus
Buses leave from Estacio Sants train station in Barcelona for Montserrat. This is generally not the most popular option, as most opt to travel by train or cable car to enjoy the beauty of the mountain range.
Organized Tours from Barcelona To Montserrat
Taking a guided tour from Barcelona to Montserrat is wise. Going on a guided tour with an official Catalan historian makes your experience all the better - with transfers included and a perfectly curated itinerary that makes sure you cover everything Montserrat has to offer.
Recommended Guided Tours From Barcelona To Montserrat
2

Girona
Day Trips From Barcelona
104 km
Distance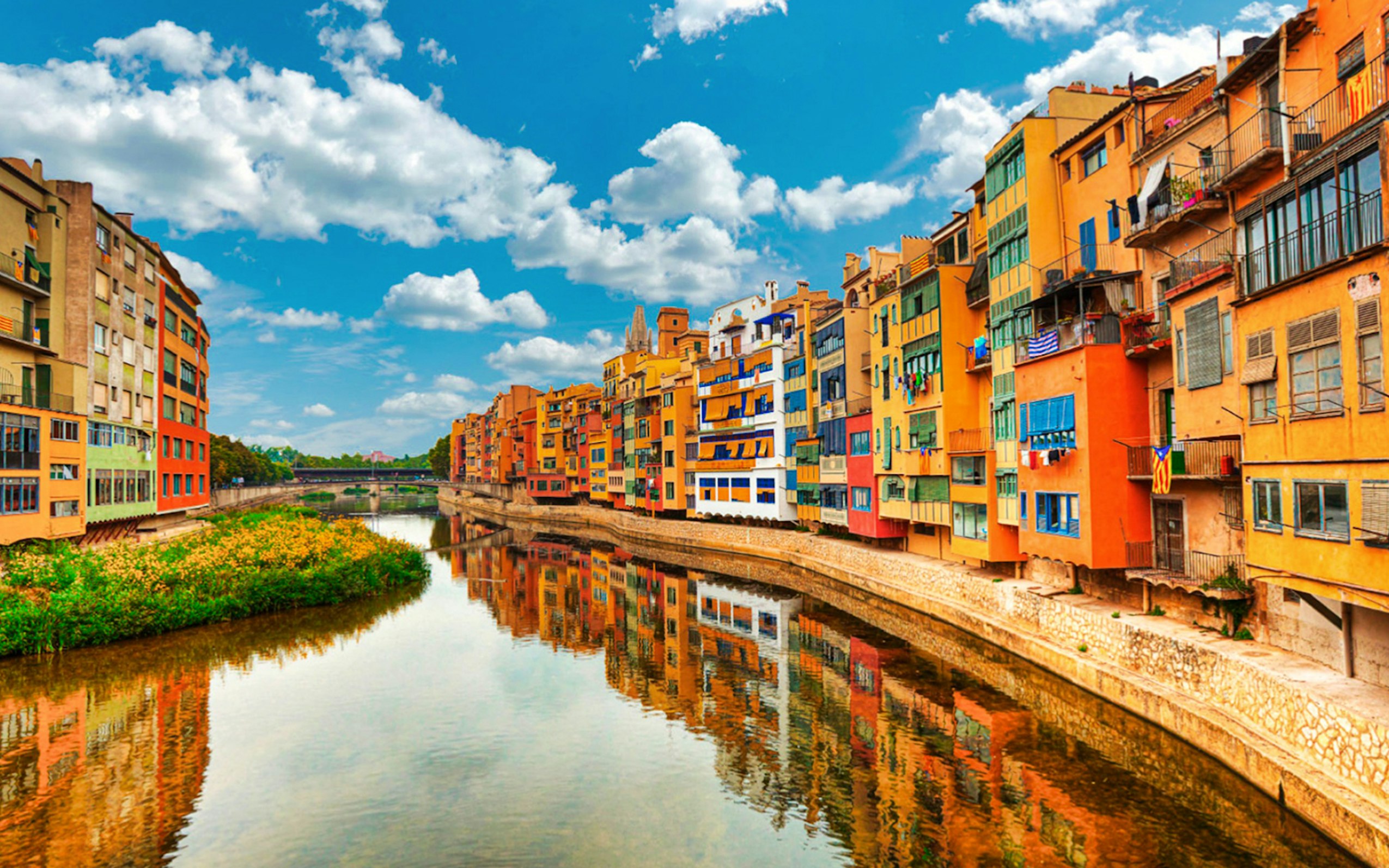 At the confluence of the rivers Ter, Onyar, Galligants, and Güell, stands Girona - the largest northern Catalonian city, replete with medieval architecture, gothic churches and a Jewish quarter. Girona is a relatively small city, a lot calmer and slow-moving so it makes for the perfect day trip destination from the bustling Barcelona. If you're a Game of Thrones fan, don't forget to visit the Girona Cathedral and visit its shooting location!
Best Time to Visit
May to October
Travel Time
1 Hour 22 Minutes
Girona Cathedral
The Girona Cathedral is an integral part of the city's skyline. Its singular most feature is the large Gothic nave, at a width of 23 meters, is the widest of its kind in the world. Apart from being impressive, it was also the shooting location for Game of Thrones in Season 6.
Girona City Walls
The horseshoe-shaped wall of Girona passes through the medieval parts of the city with many entry points throughout, allowing you to see the old and new Girona. The towers along the wall provide excellent vantage points offering splendid views of the city.
River Onyar
River Onyar divides the city in two and has many bridges for residents to cross from one side to the other. Each of these bridges offer spectacular views of the River, lined with rows of houses with brightly colored facades - it's postcard perfect!.
Museu d'Historia dels Jueus
This museum is dedicated to the culture and history of the Catalonian Jewish community. It has 11 different rooms where the daily lives and rituals of the Jewish community during the medieval period, including a rare mikvah and an ancient Jewish house, are displayed.
By Bus
Bus company 0 Sagales organizes a few trips from Barcelona to Girona throughout the day. Be sure to check the schedule before traveling as there aren't too many buses per day.
By Train
A high-speed AVE train will take you to Girona from Barcelona in under 40 minutes. The trains are more frequent than buses, giving you more flexibility and taking lesser time in commute.
By Car
Follow the AP-7 road from Barcelona to Girona (note that AP roads are toll roads) and you should take a little more than an hour to reach your destination.
Organized Tour from Barcelona to Girona
There are many guided tours available allowing you to get the most out of your trip, as you, not only get to travel to Girona in complete comfort on a coach but also have a guide show you all of the town's highlights. You also have the option of going on a bike tour if you're feeling adventurous.
3

PortAventura
Day Trips From Barcelona
112 km
Distance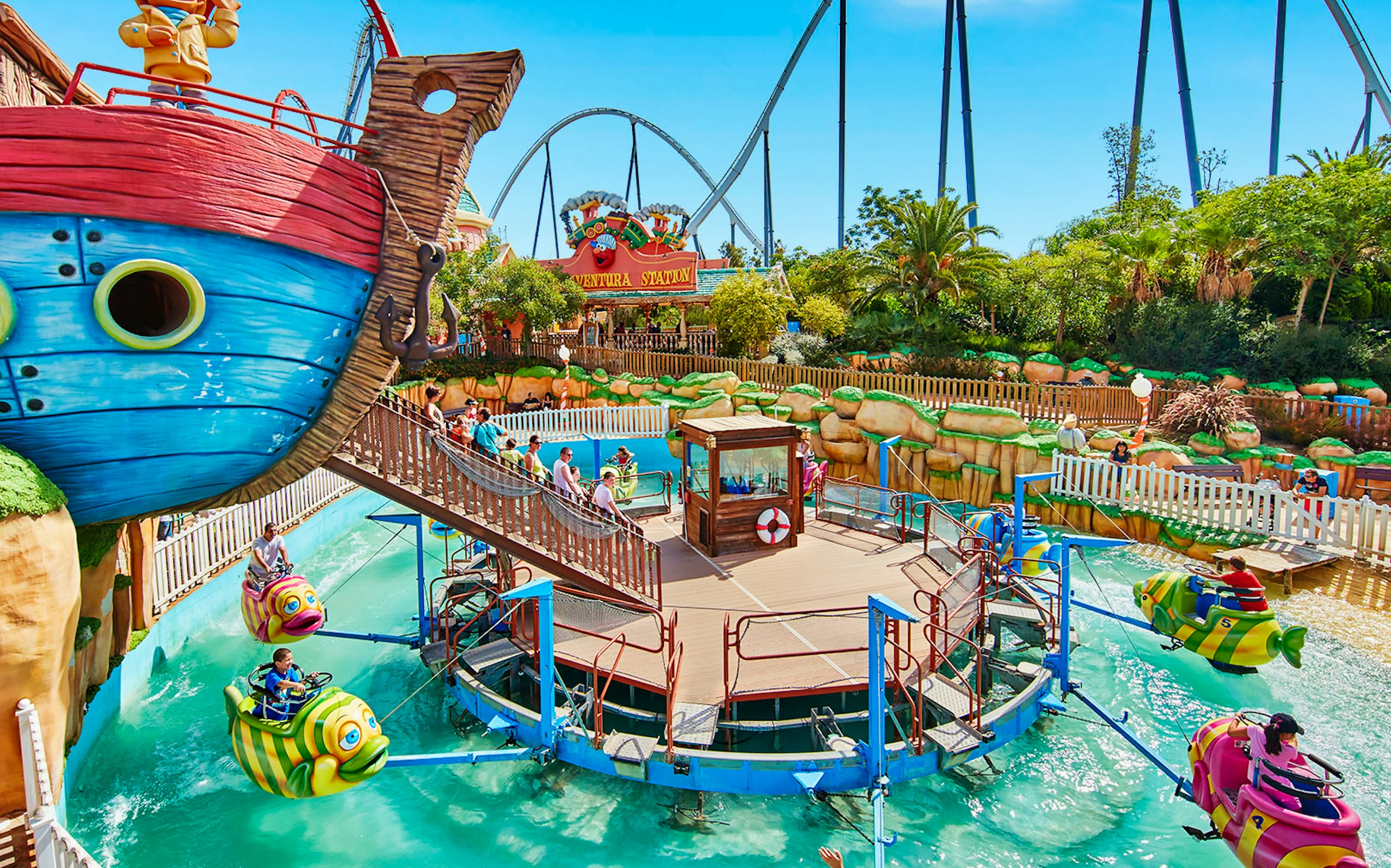 If you like theme parks, PortAventura World is a must on your Spain itinerary. It is not only the biggest resort in the south of Europe, but also has 3 theme parks inside + 6 lavish hotels. . Packed with nerve-shredding rides for all age groups and an excellent range of on-site hotels, bars and restaurants, PortAventura World is the ideal place to experience thills and chills while absorbing Catalan culture on the coast of rural Spain. On a day trip from Barcelona, you may not be able to hit all 3 theme parks - PortAventura Park, Ferrari Land, Costa Caribe - but you can choose your pick and spend the day at one.
Best Time to Visit
June to August
Travel Time
1 Hour 24 Minutes
Portaventura Park
PortAventura Barcelona is designed around 5 featured theme areas built around civilizations: Mexico, Polynesia, China, the Far West, and the Mediterranean. Top rides here include Furius Baco, an accelerator coaster with a top speed of 135 km/h; Hurakan Condor, one of the tallest free-fall rides in the world at 330 ft; Dragon Khan, a roller coaster with 8 inversions and has consistently ranked as one of the best rides in the world; and Shambhala, the fastest and tallest roller coaster in the world.
Ferrari Land
Ferrari Land Salou, dedicated to the prestigious Italian firm, Ferrari, is a huge amusement park spanning over 70000 sq.m packed with adrenaline pumping, technologically advanced thrilling rides gives a dose of complete adventure to all.
Costa Caribe Aquatic Park
The Costa Caribe Aquatic Park is a themed water park featuring waterfalls, huge pools, lush greens and reggae music set on a tropical island. With a total of 14 attractions including the King Khajuna, one of the tallest slides in the continent, 6 lanes of the Rapid Race, heavenly pools of Playa Paraíso and the exciting Triángulo de las Bermudas, you're destined to have a fabulous day under the Spanish sun.
By Train
There is a stop in PortAventura World on the R-16 line run by Rodalies de Catalunya from Barcelona. The journey takes about 1 hour and 20 minutes.
By Car
You can access PortAventura World from the A-7. Enter your starting point here and follow the directions to arrive at the resort in the easiest possible way.
By Bus
There are direct buses from Barcelona to Portaventure daily, however they take the longest - 2 hours. The bus drops you in front of Hotel Caribe, which is a 12 minute walk from the amusement park.
Discounted PortAventura Tickets online
4

Figueres
Day Trips From Barcelona
141 km
Distance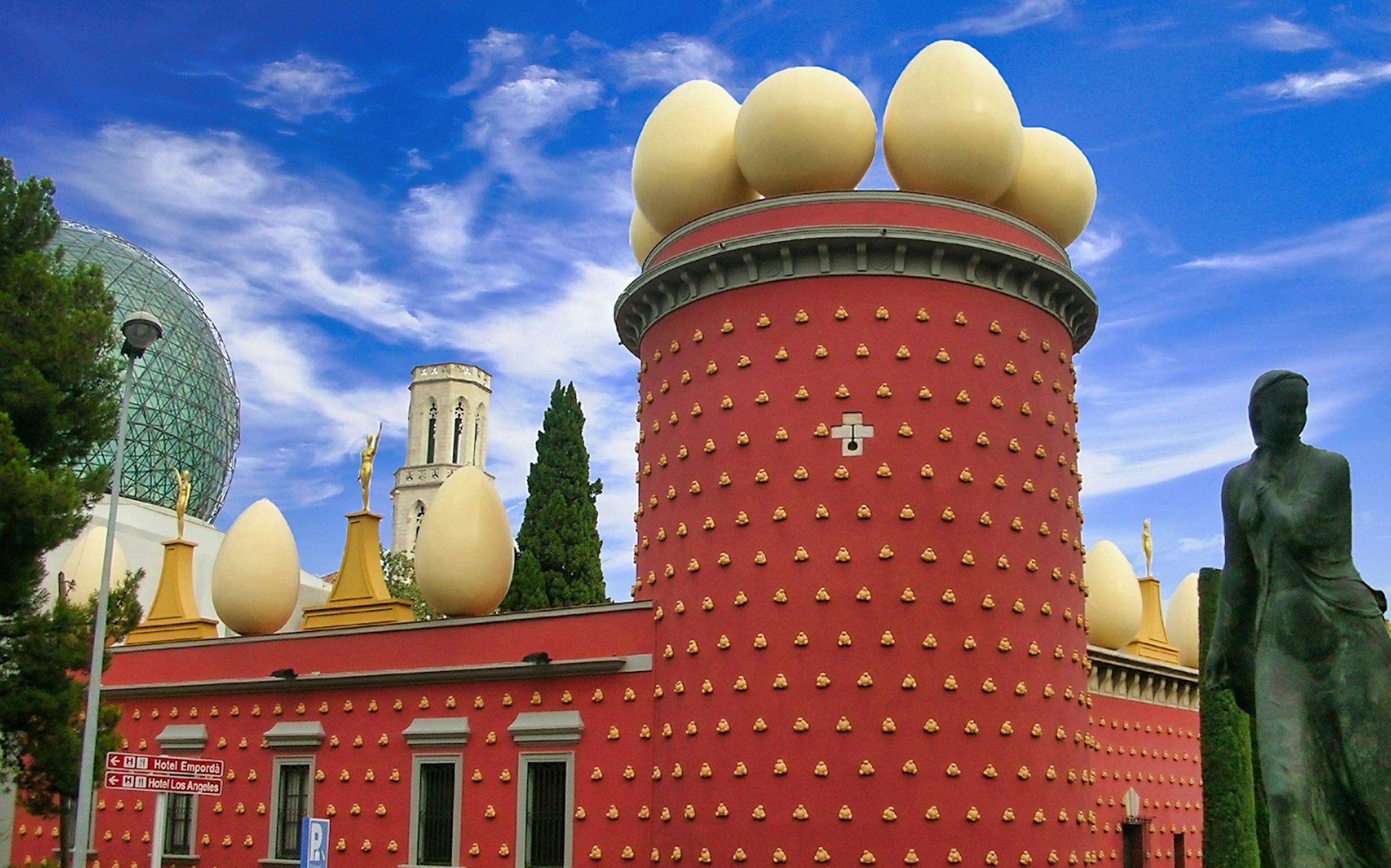 The quaint town of Figueres is located within Catalonia's Costa Brava region, about 100 km away from Girona. If you're visiting Girona, go the extra few miles and visit Figueres as the town has many tourist attractions that are worth a visit. Figueres is mostly famous for being the birthplace of the renowned Spanish artist, Salvador Dali. You'll find here the Dali Theater-Museum, dedicated to his work, which is the second most visited museum in Spain. The town has other museums, as well as the largest monument in Catalonia, the Castell de Sant Ferran, and a 'Rambla' lined with tiny cafes and peppy restaurants.
Best Time to Visit
March to April
Travel Time
1 Hour 42 Minutes
Teatro Museo Dalí
The Teatro Museo is housed in a large red theatre, renovated by Dalí himself. It is covered in yellow pieces of the local bread, with white eggs on the roof and golden statues - symbolic of his surrealist journey through his bizarre world. The museum houses one of the best Dalí collections of art in the world, featuring not only paintings and drawings, but also three-dimensional installations and sculptures. Dali himself is buried here.
Dalí Jewels Collection
Right next to the Dalí Theatre Museum is the Dalí Jewels Collection, a permanent exhibition housed in a purpose-built two-storey building. It showcases an extensive collection of jewellery made by the artist between 1941 and 1970.
Castell de Sant Ferran
This castle is an old fortification dating back to the 18th century and surrounded by bastions. The castle covers an area of 32 hectares with a capacity to hold 4,000 men, making it one of the largest fortresses in Europe.
By Train
Hop on a regional train from Sants or Passeig de Gracia stations to Figueres station, under 2 hours, with ticket prices ranging from 11.20 -15 €. Buy ticket at station on the day of travel. You can also take a high-speed AVE train from Barcelona to Figueres, and the journey takes just 53 minutes.
By Bus
You can take a bus from Barcelona Nord to Figueres and the journey will take you around 2 hours 45 minutes.
By Car
The only perk about driving from Barcelona to Figueres is the ability to make multiple pit stops at Girona, the town of Portlligat or maybe visit the beach in Roses.
5

Colonia Guell
Day Trips From Barcelona
20 km
Distance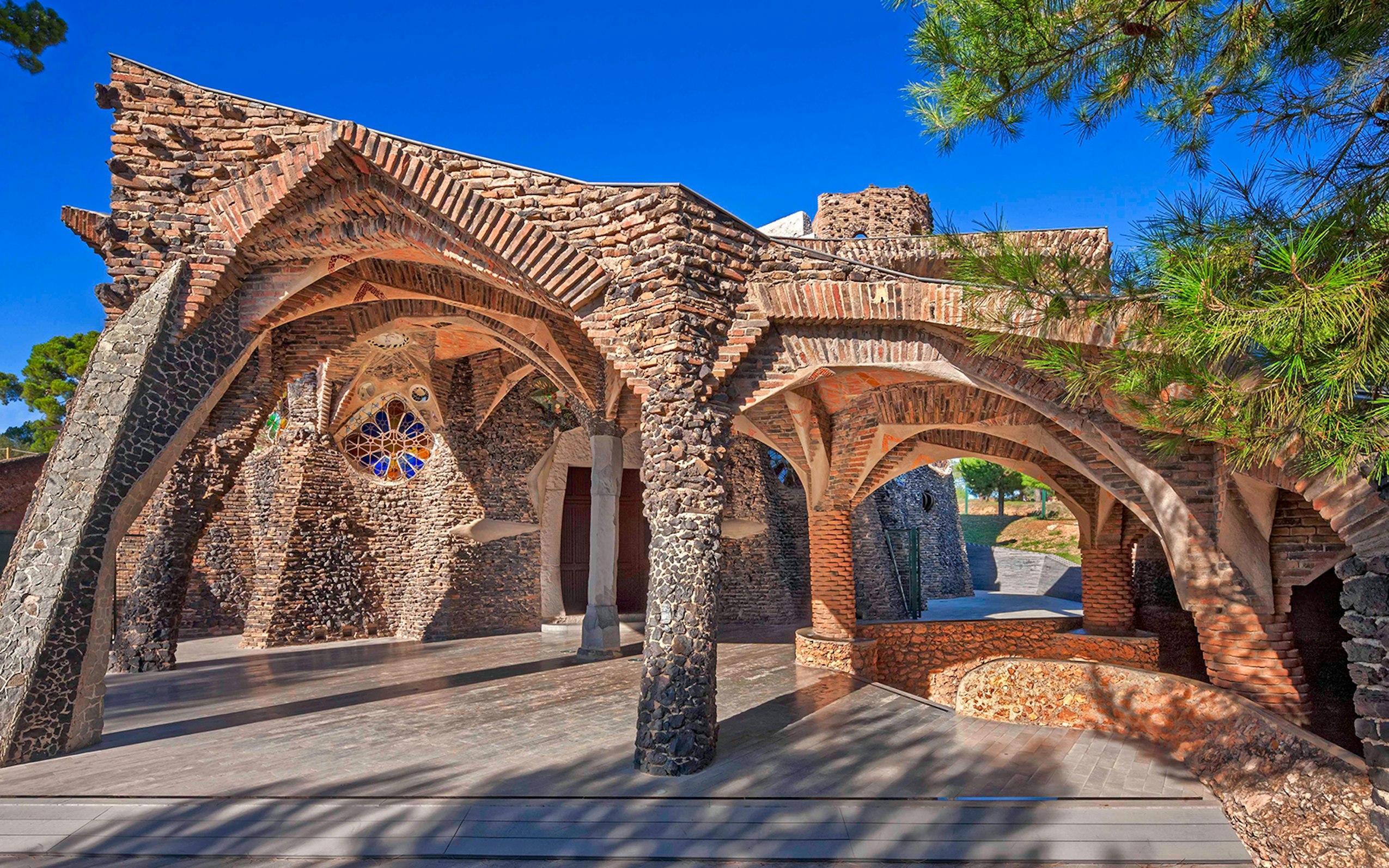 Colonia Guell is home to Gaudi's crypt, a UNESCO World Heritage Site, that was built in the early 1900's to be a Church for the workers living in the industrial village. Spain's industrial revolution in the 19th century resulted in creation of worker colonies outside of the city, and Colonia Guell was one such colony. The colony had theatres, schools, gardens, and an Athenaeum that were meant for the residents and walking in the area will transport you to 19th Century Spain.
Best Time to Visit
May to June
Gaudi's Crypt
Gaudi's Crypt at the Colonia Guell Church is a UNESCO World Heritage Site and bears Gaudi's seal. It sits in harmony with nature - green trencadis covering the structure and curved pillars at the entrance. This is considered the highlight of Colonia Guell, so make sure you spend ample time exploring the intricasies of Colonia Guell's Crypt.
Castillo Torre Salvana
This is a short walk from the parking lot of Colonia Guell - an abandoned building, yet so beautiful. One cannot enter this hidden castle due to its weak walls, and it is predicted that it may crumble in the next few years. Catch a glimpse from afar on your way back.
By Train
S4, S8, and S33 are the three train lines that run between Plaza Espana and Colonia Guell. The journey takes only 30 minutes.
By Bus
Hop on to L70 and L72 from Barcelona Pl. Espanya and settle down for a 40-minute ride to Frederic Mompou, from where the Crypt is about a 15-minute walk
By Car
Driving to Colonia Guell from Barcelona takes about 30 minutes and the route being scenic, makes for a great roadtrip.
Guided Tours
A guided tour of Colonia Guell includes round trip train transfers from Barcelona and a tour of the crypt - making it a lucrative option for the price.
6

Sitges
Day Trips From Barcelona
41 km
Distance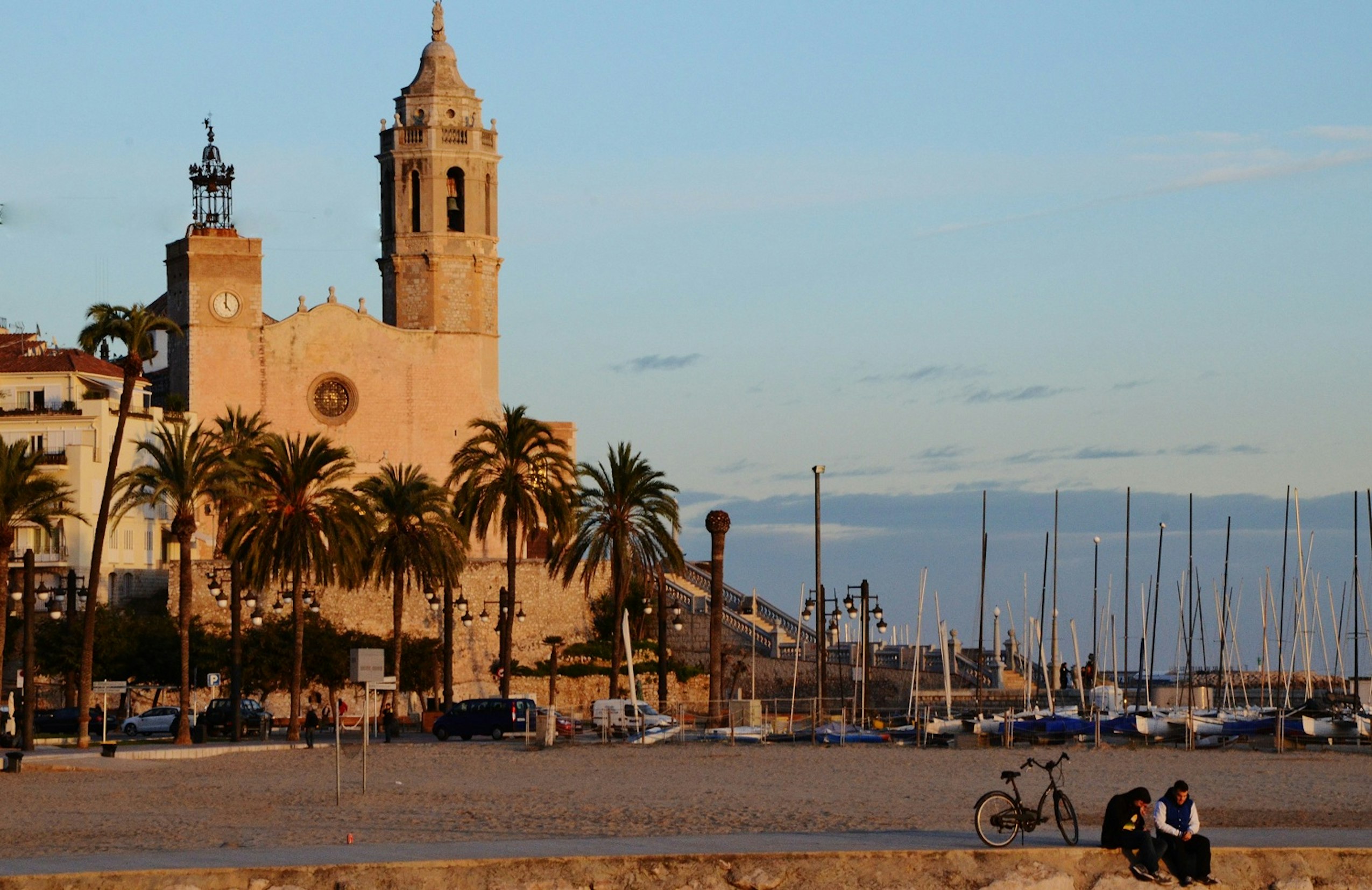 Sitges is a popular coastal town in Catalonia, bordered by the Garraf mountains and a spectacular coastline - ideal for lots of fun under the sun. It is home to several annual festivals such as the International Film Festival, Carnival, and sporting events. You can also spend you time at the Maricel Museum and Cau Ferrat Museum that lend Sitges the cultural edge it is commonly known for. If you're looking to work a tan, lounge at Sant Sebastià, Platja de la Fragata or Platja de les Anquines for as many as hours as you'd like.
Best Time to Visit
May, June, September and October
Museu Cau Ferrat
The Cau Ferrat building was once the home of Catalan artist Santiago Rusiñol, one of the leading figures of the Catalan Modernist movement. Upon his death, the artist bequeathed the house and its his drawings, paintings, ceramics and more – to the town of Sitges on condition that it be opened to the public as a museum.
Passeig Maritim
A wide pedestrian boulevard stretching along the waterfront, the Passeig Maritim is one of the most scenic walks to be enjoyed in Sitges. The walkway is lined with cafés, restaurants and ice cream shops, so grab something to munch and take a long stroll
Old Town centre
At the Old Town of Sitges, the old fishermen's neighbourhood and its white houses with blue borders, as well as the 15th-century Church of Sant Bartomeu and Santa Tecla and its Baroque interior are worthy of a visit.
Garraf Natural Park
Sitges is surrounded by the Garraf Natural Park, located on the mountain ranges of Garraf Massif. There are a number of marked trails one can complete in a day, or explore via a train that runs along the coastline ( if you're not in the mood for a hike). Watch out for the Buddhist Monastery and abandoned villages along the way.
Casa Bacardi
Casa Bacardi is a museum dedicated to Facundo Bacardi. The founder of the Bacardi Rum Distillery grew up in Sitges before emigrating to Cuba and the museum is dedicated to the brand's history.
By Train
Going by train is the fastest and easiest way to get to Sitges from Barcelona, taking just about 45 minutes. You can take the train from one of Barcelona's 3 main train stations: Sants, Franca, or Passeig de Gracia to the main train station in Sitges. The closest beach is just an 8 minute walk from the station.
By Bus
You can take the bus to Sitges with MonBus for as little as $4 each way. Buses leave Barcelona from Ronda University, Plaza Espanya, and the Gran Via II Shopping Mall throughout the day. The journey takes anything between 45 minutes to an hour, depending on the station you hop on from and the traffic.
By Car
Without traffic or delays, it takes about 45 minutes to drive from downtown Barcelona to Sitges. Get on the B-10 Highway and continue onto the C-32 for another 36 kilometers until you can take Exit 30, which will bring you into the town of Sitges.
7

Vic
Day Trips From Barcelona
73 km
Distance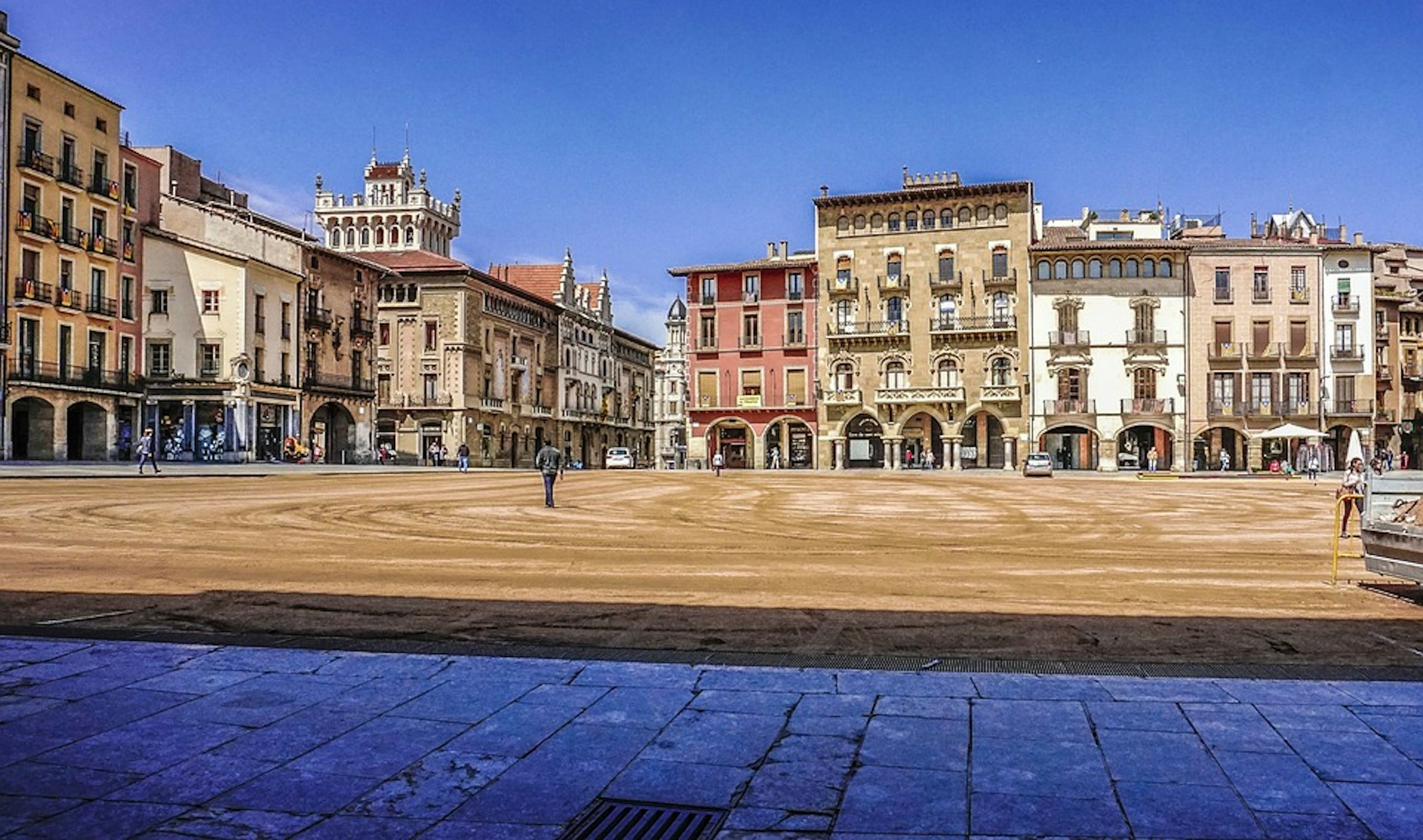 For travellers seeking the complete Catalan experiences, there is no better day trip from Barcelona than a visit to the villages of Vic. A hopelessly romantic and charming village, there is a certain calmness to this georgic area that is often a welcome contrast to the endearing chaos of Barcelona. At the centre of Vic you will find the captivating Plaça Major encompassed by porticoes town houses. If you go on Tuesday and Saturdays, you'll also find a colourful food market that adds a wonderful fragrance to the clean rustic air.
Best Time to Visit
July to August
Plaça Major
Plaça Majos is Vic's main square and the town's hub - everything happens here. It is surrounded by numerous shops, cafés and restaurants and some rather notable buildings - the 14th-century gothic town hall building, 14th-century Casa Cormella and the Casa Costa, a 20th-century modernist building.
Sant Pere Cathedral
This 11th century cathedral still has its original romanesque crypt and bell tower from the time of its construction. Other baroque and neoclassical elements were added in the following centuries and this peculiar blending of styles makes the cathedral particularly pleasing.
Episcopal Museum
This museum contains an impressive collection of over 29,000 pieces of Catalan gothic and romanesque artwork - including paintings, jewellery, textiles, archaeological remains, ironwork, glasswork and pottery.
Hot-Air Balloon Ride
One of the most popular ways to explore the town of Vic is to take a hot air balloon ride. The town is surrounded by the mountains of the Montseny natural park, and a balloon ride offers the chance to admire the Catalan countryside.
Monastery of Sant Pere Casseres
Perched on a cliff overlooking River Ter, the Monastery of Sante Pere Casseres is an 11th-century Benedictine monastery constructed in romanesque style. Enjoy scenic vistas of the countryside from here.
By Train
Renfe Cercanias R3 has many trains that ply multiple times from PlaÇa Catalunya, Barcelona to Vic in a day. The journey takes 1 hour 25 minutes.
By Bus
You get hourly buses from Casp - Pau Claris, Barcelona to Pont del Blanqueig in Vic. The journey takes only an hour and is super convenient.
By Car
Without traffic or delays, it takes about 54 minutes to drive from downtown Barcelona to Vic, via C-17
Barcelona Day Trips - Compare Your Options
| Day Trips | Distance | Duration | Category | Best Time To Visit |
| --- | --- | --- | --- | --- |
| Montserrat | 61 KM | 1 Hour | Mountains, Monastery | March to July |
| Girona | 104 KM | 1 Hour 22 Minutes | Medieval Architecture, Game Of Thrones | May to October |
| PortAventura | 112 KM | 1 Hour 24 Minutes | Theme Parks, Adventure | June to August |
| Figueres | 141 KM | 1 Hour 42 Minutes | Dali Museum, Castles | March to April |
| Colonia Guell | 20 KM | 26 Minutes | Antoni Gaudi, UNESCO World Heritage Site | May to June |
| Sitges | 41 KM | 44 Minutes | Beaches, Festivals | May, June, September and October |
| Vic | 73 KM | 44 Minutes | Hot-Air Balloon Ride, Rustic Village | July to August |
Barcelona Day Trips Map
FAQs
Some of the best day trips to take from Barcelona include visiting the city of Girona, taking a tour of the Montserrat Monastery, and exploring the coastal town of Sitges.
Be sure to pack sunscreen, comfortable walking shoes, snacks and water, and a map of your destination.
Most day trips from Barcelona will last between 4 and 8 hours, though some may be shorter or longer depending on the activity.
Some of the easiest places to get to from Barcelona include the cities of Girona, Sitges, and Tarragona. All of these destinations can be reached by train from Barcelona.
Some of the best day trips for avoiding crowds in Barcelona include visiting the city of Girona, taking a tour of the Montserrat Monastery, and exploring the coastal town of Sitges.