Cruising River Danube, the fairytale watercourse cutting through Budapest is a quintessential experience once you step foot in Budapest. Locals often say that the best way to feel the romance in Budapest is to take a Danube River Cruise. With every Budpest River Cruise, be prepared to pamper yourself with world class service onboard while passing through years of history and culture during your comfortable journey. Ready to hop aboard a cruise of your choice and view Budapest from a central perspective? Here's all you need to know before taking a Budapest River Cruise.
Why You Must Go On A Budapest River Cruise?
---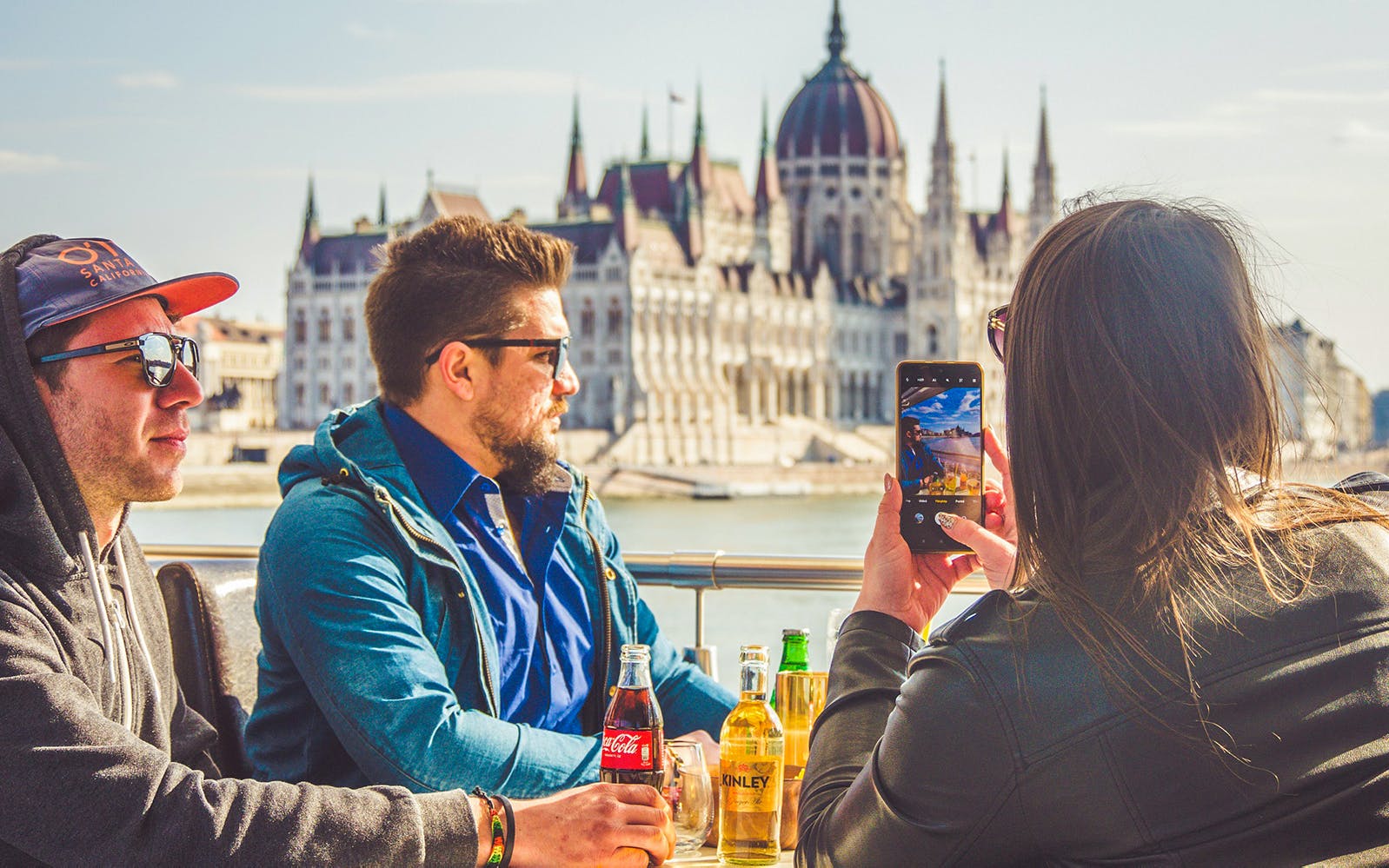 River Danube is not just a river. It is a breathtaking showcase of some of the finest world heritage sights chosen by the UNESCO. You can see the Buda Castle, Hungarian Parliament, Matthias Church, Fisherman's Bastion, Gellert Hill, Gellert Spa, Gresham Palace, Hungarian Academy of Sciences and many historical bridges , buildings and churches. There's literally no better way to bask in the beauty of Budapest than on a Danube river cruise. The sights mentioned above can be experienced from a unique vantage point and you also reach parts of the city that cannot be accessed by foot!
The Danube river divides the city into its two constituent halves: Buda and Pest. On the Buda side, you will see the famous Buda Castle and the Fisherman's Bastion. Pest, on the other hand, is filled with beautiful urban buildings and historical landmarks. A Budapest River Cruise in short, captures the spirit of Hungary's capital in its entirely.
6 Best Budapest River Cruises
---
Budapest River Cruise - Tips & Hacks for Choosing the Right Cruise
---
When you think river cruise, you think of dinner cruises, maybe a brunch cruise or a plain ol' sightseeing cruise. Well, Budapest offers you all of these but it also has some really exciting ones that I have never heard of before. They have a Pizza & Beer Cruise, a Craft Beer Cruise, a Piano battle cruise and a cruise with Operetta & Folklore ! Agreed they are all cruises in the end, but the experience inside the cruise is what makes all the difference and these unique Danube River Cruises are nonpareil. Make up your mind about the following and you'll have chosen the right tour.
1. Time of the day
What time of the day would you like to go for the Budapest River Cruise? Morning or Evening? If you can squeeze in an evening cruise, which allows you to witness the city under the pinkish sunset hues and then be illuminated under the starry night sky, nothing like it! That way, you experience Budapest from the river under daylight and at night. Quick tip: Most Tripadvisor Reviews recommend a night Danube River Cruise.
2. Duration of Cruise
How much time do you have to spare for a cruise? If you're on a tight itinerary, out 75 minute Budapest Sightseeing Cruise is the way to go. It takes you through the entire city and its mesmerising sights in 75 quick minutes and has you back on dock right in time for your next activity. Bonus guided commentary onboard as well!
3. With or Without Food & Beverages
Are you looking for a no-frills cruise or a fancy cruise with a good Hungarian meal and some local brews? If you're looking for the latter, you have a plethora to choose from. Budapest is especially famous for its Pizza & Beer Cruises, so if you can squeeze a little extra, you must definitely try them.
4. With or Without Onboard Entertainment
Are you looking for some quiet time with your partner or maybe some local folklore and some wine to go? I personally prefer onboard entertainment because it is a taste of local culture in the right setting. Also, how long can you stare out?! Might as well have something keep you entertained for a while onboard. The Piano battle Cruise is quirky option and a popular choice amongst music lovers.
5. Budget
Are you traveling in Budapest on a budget? We have just what you're looking for, that too at a 20% discount! The Budapest Sightseeing Cruise costs less than 10 Euros and allows a 70 minute cruise. I'd spend my day traveling through Budapest just on this! No traffic quick commute, not to mention a beautiful commute.
6. Sights Covered
While this is not much of a deciding factor since most Budapest Cruises have a similar route, if you have a wishlist of places you want to see from River Danube, pick a cruise accordingly. The most famous sights that are covered on every other cruise are : Chain Bridge, Margaret Bridge, Elisabeth Bridge, Liberty Bridge, Rákóczi Bridge,Petőfi Bridge, Árpád Bridge, Buda Castle, National Theatre, Matthias Church, Szent Gellért, Citadella , Gellért Hill, Gellért Baths, Vigadó Square, Budapest Parliament and all the other buildings lining the shores of Danube.
Top 5 Tips for Your Budapest River Cruise
---
Budapest river cruises are a great way to see the city. The views from the river are stunning, and it's a great way to relax and enjoy the scenery. Here are a few tips to help you make the most of your experience:
1. Plan ahead: If you know you want to take a river cruise, book your tickets in advance. The Headout Budapest river cruise tickets can ensure that you get a good spot on the boat and avoid any last-minute rush!
2. Dress comfortably: The weather can be unpredictable, so it's best to dress in layers. You'll also want to wear comfortable shoes as you'll be doing a lot of walking.
3. Bring a camera: The views from the river are truly breathtaking, so make sure to bring your camera along to capture the memories.
4. Explore the city: There's more to Budapest than just the river cruises. Be sure to explore all that the city has to offer, including its many museums and historical sites.
5. Relax and enjoy: The most important thing to remember is to relax and enjoy the experience. Budapest river cruises are a great way to see the city and create lasting memories.
Budapest River Cruise Reviews
---
We were a group of six friends and we booked a Budapest cruise on Headout. Apart from simply loving it, the whole ambience you get of Budapest and Danube is really worth it.
- Howard, Headout, March 2022
River cruises can be taken during daylight or evening, the latter being particularly pleasant in the Christmas period. Light refreshments are available, and dinner cruises also take place. English commentary, and no doubt other languages, are provided. The duration of our cruise was one and a half hours, and we thought it time well spent in warm comfortable facilities.
- DavidCO94 , Tripadvisor April 2022
Budapest River Cruise: FAQs
---
There is no dress code for cruises in Budapest, but most people dress casual. It's a good idea to wear comfortable shoes as you will be spending a lot of time standing or walking. If you're going on a dinner cruise, you may want to dress up a bit more.
Most cruises last around 1-2 hours, and they typically include commentary from the captain or tour guide. You can expect to see some of Budapest's most famous landmarks including the Parliament Building, Buda Castle and the Chain Bridge. Daytime cruises usually offer the best views, but nighttime cruises can be just as romantic and atmospheric.
The best time to go on a cruise in Budapest depends on what you're looking for. If you want to see the city in all its glory, daytime cruises are ideal. For a more romantic experience, try a nighttime cruise. If you're interested in trying some of the local cuisine, there are dinner cruises available which offer traditional Hungarian dishes.
A Budapest river cruise is a leisurely way to see the city and its sights from a different perspective. You can choose to cruise during the day or at night, and there are even dinner cruises available. Cruising down the Danube is a great way to relax and take in the cityscape.
In addition to river cruises, there are plenty of other ways to get around Budapest. The city has an excellent public transport system, and you can also take advantage of the many taxis and cars for hire. If you're feeling active, you could even try hiring a bike!
Budapest River Cruises Guide