Picture old Dutch fishing boats anchored at the harbor, colorful wooden cottages lining the banks, and the fishing village bustling with excitement during the day- this is what Volendam is all about!
Step back in time as you visit Volendam, Holland's most popular fishing village. A mere 20 kilometers from Amsterdam, Volendam makes for a good day-trip destination from Amsterdam. Get a taste of Dutch countryside as you dress up in traditional garb, learn about Dutch wooden clogs and cheese-making, and dive into Dutch history at the Volendam Museum.
You can also combine it with other must-visit Dutch destinations, such as Marken, Zaanse Schans, and Monnickendam.
Why take a day trip from Amsterdam to Volendam?
---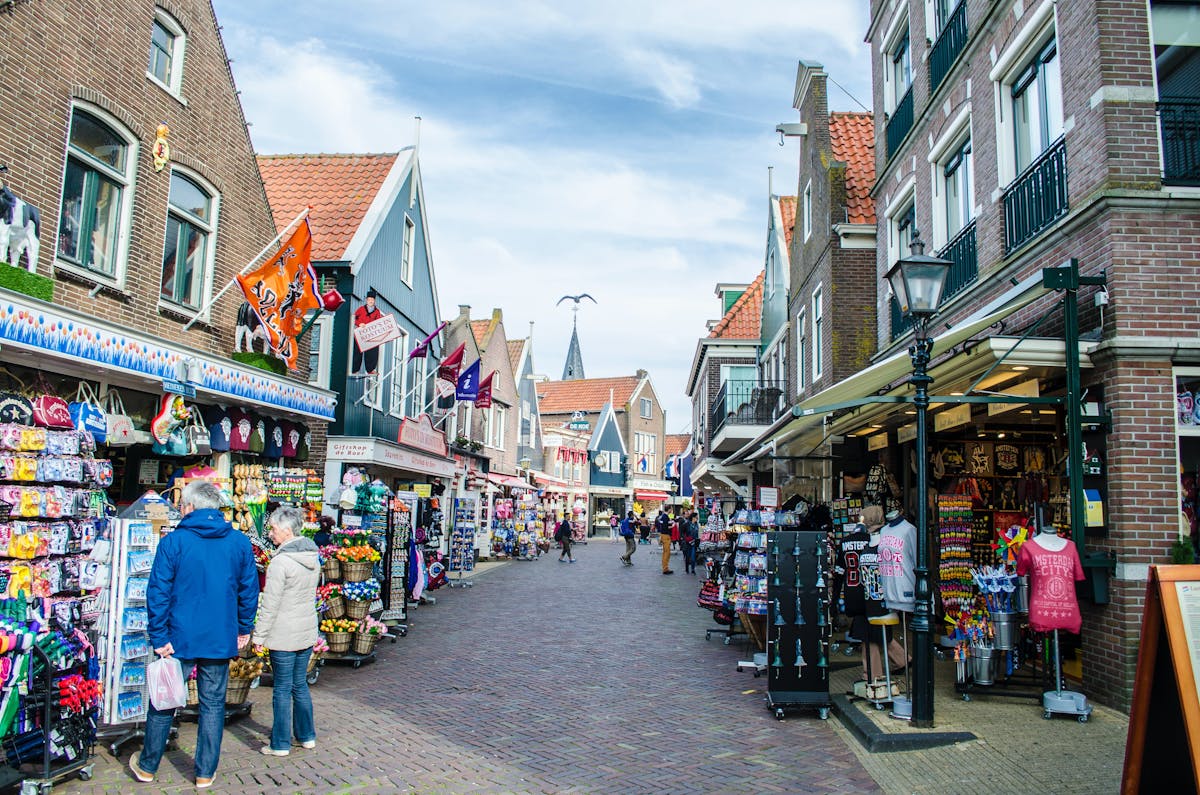 3 words: Countryside. Cheese. Fishing.
You can sum up your visit to Volendam in these three words. A quick drive from Amsterdam, this centuries-old fishing village should make it to your itinerary when in The Netherlands. If you're a sucker for nature, countryside drives & good old-fashioned cheese, a day's trip to Volendam is for you.
#CountrysideVibes At Its Finest
Local cheese factory, gigantic windmills and lush green fields, locals with their traditional attire, Pinterest-y cafes, historic museums and churches, pretty and colourful wooden houses - get ready for those #CountrysideVibes on your 'gram. Also referred to as the 'pearl of South sea', this hamlet is a perfect blend of modern and ancient.
Nothing's Fishy 'Bout This!
Claimed to be Holland's most popular fishing village, Volendam is nestled on the shores of Lake Markermeer, where you can spot an array of vintage Dutch ships and boats at this harbour.
Say Cheese!
One of the most iconic landmarks and a must-visit is Volendam's cheese factory. A cheese factory-cum-museum where you can understand the evolution of cheese making, opt for a cheese tasting session and of course, pack some home too!
Sail Into History
While at the store, your next stop can be the Volendam Marken Express, a scenic boat ride to the historic hamlet of Marken. It's an approximate 30 minutes boat ride.
Or, Walk Into History
Well, if you're a history buff, this hamlet has a lot to offer. Packed with an array of lovely museums where you can explore this hamlet's traditional costumes, paintings, old ship models and lots more. Music lovers, don't forget to visit the Palingsound Museum and eel smokehouse, that's popular for palingsound, a popular genre of music.
Guided vs Self-Guided tour of Volendam
---
Volendam Guided Tours
A guided tour is the most convenient way to get from Amsterdam to Volendam, ensuring you make the best of your time in Amsterdam.
Seamless transportation – The locations across the Waterland region are easily accessed by road and not too far from each other. Instead of waiting for public transport you can hop on to the luxury coach and get places quickly, spending more time exploring the attractions.
Cover multiple locations – The guided tours are designed to ensure you explore maximum attractions in the region. You can cover places like Zaanse Schaans, Edam, Volendam and Maarken all in one day without the strain of figuring out your itinerary or arranging transport!
Authentic experiences – A tour will also offer unique experiences like cheese making and tasting, authentic dining, and visit to wooden clog workshop.
Volendam Self-Guided Tours
Are you one to venture into a new land and discover its highlights on your own with little to no planning? Are you one to make a dangerous pitstop just to take a great photograph? A self-guided tour might be the right option for you.
Rent yourself a car and drive your way through the Dutch countryside, making spontaneous stops wherever you deem necessary! Or use public transportation to traverse between locations and soak up the local culture at your own pace- the choice is yours!
Planning a day trip from Amsterdam to Volendam is not necessarily easy. Allow us to help you craft a memorable itinerary:
Top Places to Visit in Volendam
---
Start your day from Amsterdam at around 10-10:30 AM, so you can make the most of your day's trip at Volendam.
Here's a list of top places to visit in Volendam:
1

Volendam Cheese Factory

CHEESE LOVERS
This museum-cum-factory lets you step into the rich world and history of Dutch cheese. Understand the evolution and modern mass production of cheese. A 10-minute tour includes a cheese tasting along with other exciting demonstrations. Pick up Dutch gouda cheese and other frehs homemade cheese from their cheese shop.
Timings: 10 AM - 4:30 PM
Entry: Free
2

Volendam Museum

HISTORY LOVERS
This museum showcases the traditional costumes, old ship models, paintings and sculptures. Throwing light on Dutch's early lifestyle, Volendam Museum takes you back to the 1850 - 1950 period and gives an understanding of their rich culture. One of the most important highlights of this museum is the Cigar Band Room, which showcases stunning mosaic art made using 11 million cigar bands.
Timings: 10 AM - 5 PM
Entry: € 5
Guided Tour: € 25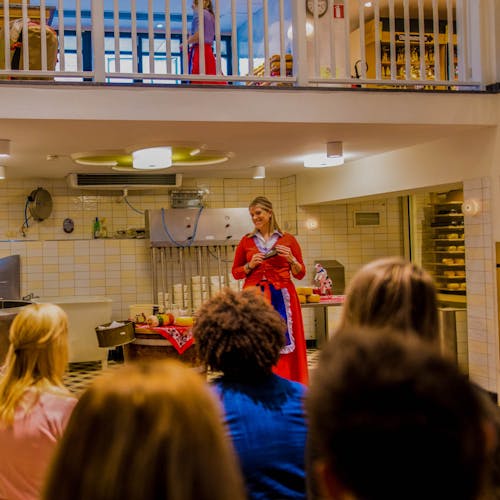 3

Simonehoeve

HERITAGE LOVERS
A traditional cheese and a clog farm, Simonehoeve holds regular workshops, arranges for demonstrations and has a lip-smacking in-house restaurant that serves authentic Dutch cuisine. You can opt for their cheese platter, picnic box or go for their full-fledged traditional Dutch lunch package.
Timings: 8:30 AM - 6 PM
Tip: They have free parking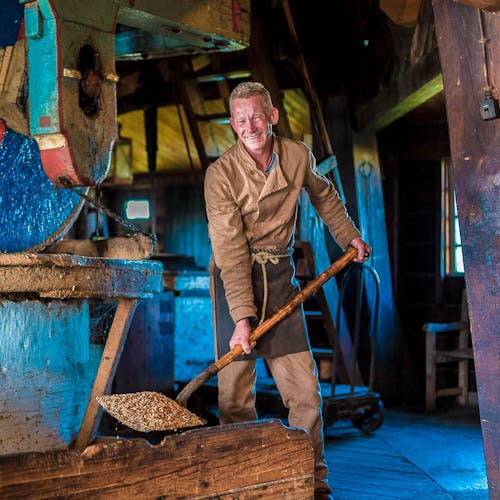 4

Palingsound Museum

MUSIC LOVERS
The four walls of this museum stores over 100 years of rich music history that this town prides upon. Palingsoung (or eelsound) is a popular Dutch music genre that represents Dutch's classic style of pop music. The museum displays a stunning collection of music themed memorabilia such as musical instruments, record covers, video recordings, photographs, platinum and gold records, and more.
Timings: 9:30 AM - 6 PM
Entrance fee: € 1.75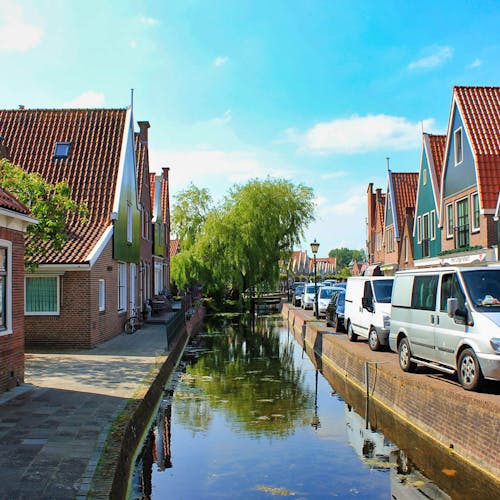 5

Historical Museum & Photo studio

CULTURE VULTURES
Virtual reality meets history at this popular tourist attraction. You can go back in time sitting in just one place via their cool virtual reality tours. Apart from this, you can also get your photos clicked in traditional Volendam clothes.
Timings: 11 AM - 5 PM
Entrance fee: €9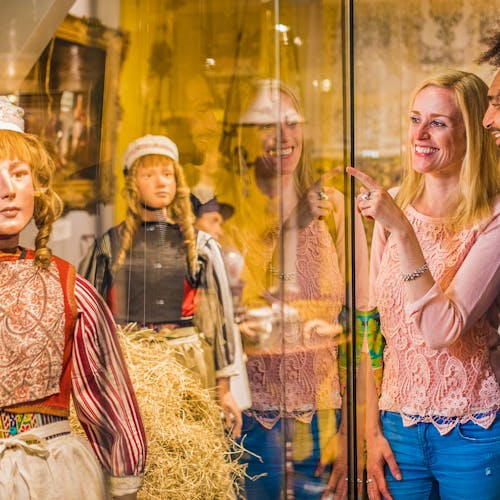 6

Volendam Marken Express

PHOTOGRAPHY LOVERS
This is one the most ideal ways to catch the pretty sunset and end your day. A mesmerizing boat ride from Voledam to the historic hamlet of Marken, there are multiple time slots throughout the day. Oh, and you can also host parties, feasts or company outings at this boat.
Boat ride price: €8- €12
Note: The last boat to Merken sails from the shore at 5 PM.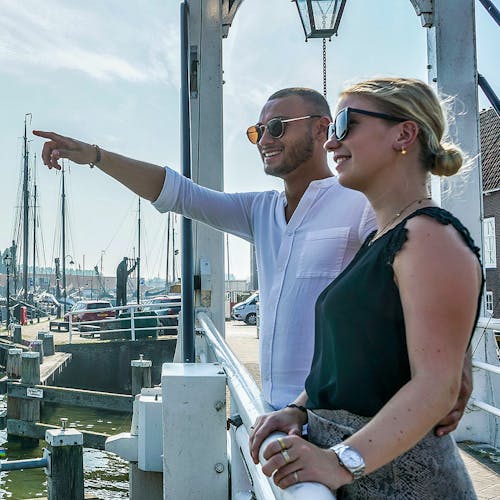 Best Ways to Travel from Amsterdam to Volendam
---
| Mode of Travel | Time | Cost | Best For |
| --- | --- | --- | --- |
| Car | 20 minutes | from €3 - €5 | Freedom to stop at leisure |
| Bus | 30 min | from € 4.69 | Scenic journey |
| Organised Tour | 8-9 hours roundtrip | from €55 (all inclusive) | Seamless, no hassle travel |
Traveling from Amsterdam to Volendam: All Your Options Listed
---
From Amsterdam to Volendam by Bus
The journey from Amsterdam to Volendam by bus is quick and cheap. You can take the Bus Number 316 from Amsterdam Centraal and it will drop you at Volendam in approximately 30 Minutes.

The cost of a one-side bus ticket from Amsterdam to Volendam is € 4.69 and you can use the Amsterdam City Card to pay for your bus journey. The bus will drop you at the Volendam Centrum from where the Volendam Museum is just around the corner and the Volendam Harbor is a walk of 500m.
From Amsterdam to Volendam by Train
The nearest train stations to Volendam are Purmerend (14.5 KM) and Amsterdam Centraal (24 KM). There is no train station in the town of Volendam and thus there is no convenient way to reach from Amsterdam to Volendam by train.
From Amsterdam to Volendam by Car
Traveling from Amsterdam to Volendam by car is a quick and convenient option. The distance between Amsterdam and Volendam is about 20 KM and can be covered in around 30 minutes. Volendam is in North Holland, in the municipality of Edam-Volendam. You can plug in 'Volendam' in Google Maps/GPS or use these coordinates: 52° 29' 42.00" N, 5° 04' 14.99" E There are at least four free parking lots in Volendam, use them as there are parking restrictions throughout the town.

Free Parking Lots –
Marina Park - Strandweg 1, 1131 PM Volendam
Art Historical Centre -Noordeinde 66, 1131 GD Volendam
Haven - Slobbeland 2A, 1131 AB Volendam
Volendam Museum - Zeestraat 41, 1131 ZD Volendam
From Amsterdam to Volendam by Boat
Volendam has a harbor and it offers regular ferries to the town of Marken. However, there is no direct boat transfer from Amsterdam to Volendam. You can go to Marken via Bus or Car; it is about 24.5 KM from Amsterdam Centraal. If you wish to travel by Bus you can take the 314 or 305 to Broek in Waterland and then shift to Bus number 315 to Marken. The entire journey from Amsterdam to Marken will take you about 45 minutes.

From Marken you can take a ferry to visit Volendam, the cost of ferry for an adult is Return (€ 11.50) and One way (€ 8.50).
Walking or Biking to Volendam
Amsterdam and its neighbouring areas are a haven for bicyclers. The region has dedicated bicycling lanes even on the highways, and one such road connects Amsterdam to Volendam.

The bicycle lane distance between Amsterdam and Volendam is about 25 KM and is ideal for a day trip out of the city. You can use the GPS or just follow the road signs. The bicycle lane traverses alongside the highway in most parts and takes diversions through picturesque villages in a few. You will cross several villages along the way including Monnickendam and Broek in Waterland.

Once you reach Volendam, you can park your bicycle near the harbor and walk around exploring the town.
Is it possible to visit Volendam and the Zaanse Schans in one day?
---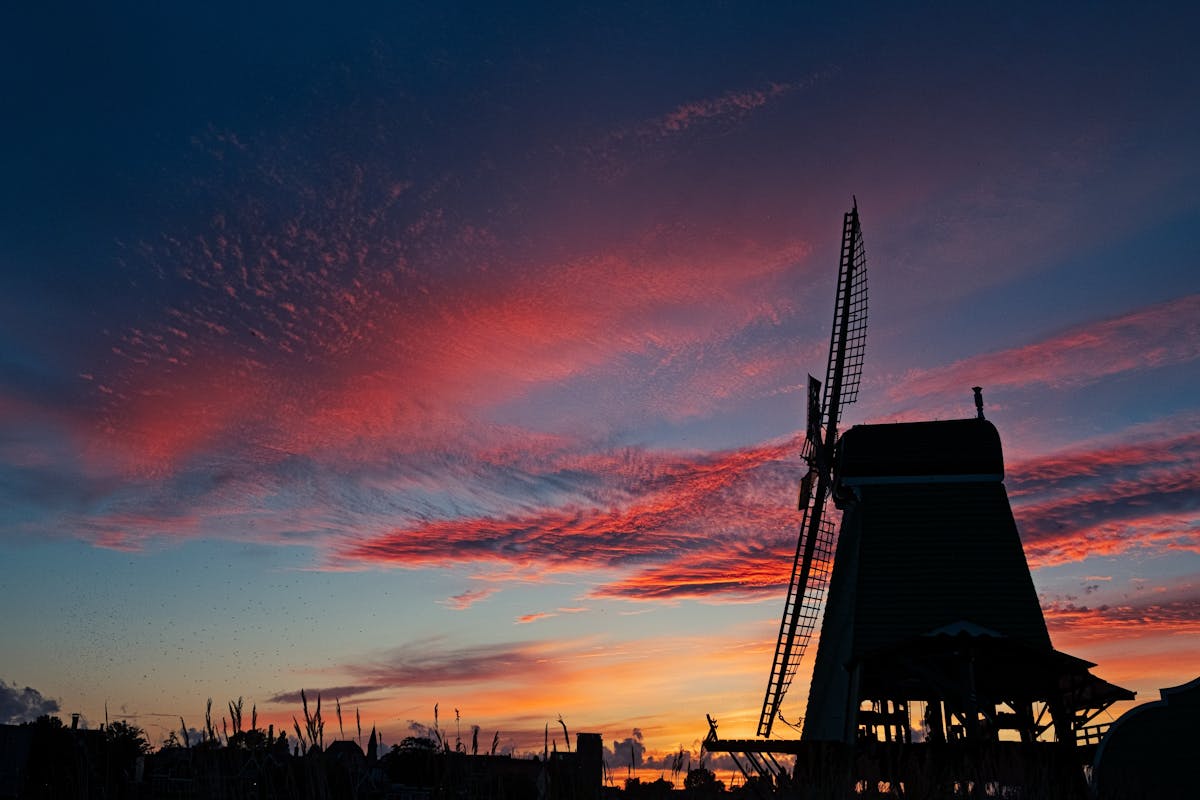 Yes, you can combine both Volendam and Zaanse Schans on a day trip from Amsterdam. Both the towns are equidistant from Amsterdam being about 20 KM away by road, and form a triangle as Volendam and Zaanse Schans are about 24 KM from each other.

However, there is no direct public transport between Zaanse Schans and Volendam throughout the year, except for July and August (Bus Number 817). You would have to go back and forth from Amsterdam, wasting a lot of time and spending double the money. Instead, you can take a guided day tour from Amsterdam that will easily cover Volendam and Zaanse Schans, plus a few other towns like Edam, and Marken.
Best Time to Visit Volendam
---
The best time to Volendam is during the summer season from June to August, the temperatures are a pleasant 21 degrees and the sun is out. A lot of seasonal activities and attractions are open during this time making it an ideal time to visit. Being a tourist town, the true spirit of Volendam comes alive during this time, however the downside is the heavy tourist flow.
If you don't like the tourist throngs then the next best time to visit is during spring in the months of March and April, this time is also good to combine with the tulip season in Amsterdam and gives you a chance to explore all the different regions of Holland.
Restaurants in Volendam
---
Looking for places to eat in Volendam with good reviews and even better local specialties? Check out our recommended list of must-visit restaurants with their must-try culinary delights.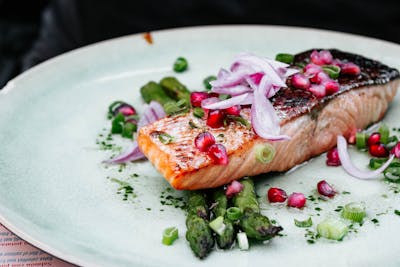 Lotje Wine & Dine
A Pinterest-like cafe with cutesy white and glass doors, this joint serves healthy salads, premium fish dishes and great coffee. We hear the chef highly recommends the dishes including Raw and home smoked salmon, Tournedos and Zarzuela (this one's for the real fish lovers).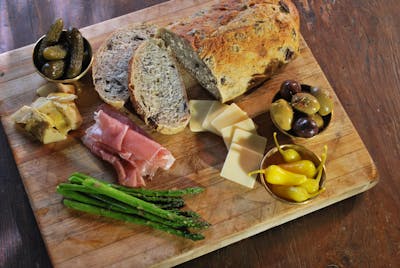 Cafe de Dijk
A tourist hotspot, this bar cum restaurant offers delicious European and seafood fare and fine wine. When there, surely try out their Smoked eel fillet, tuna sandwich, chicken burger and smoked salmon.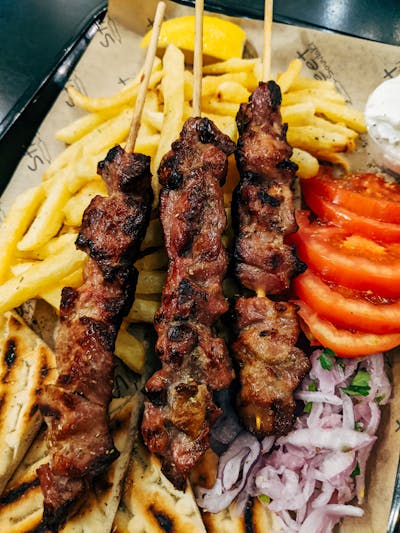 Cafeteria Kippie
If you're looking to grab a quick bite and continue to explore, make sure it's from this cafe: from yummy sandwiches to fries and snacks, you can place your order and take it to go! You can opt for their Pistolet smoked chicken, Thai beef, large fries, chicken nuggets and more.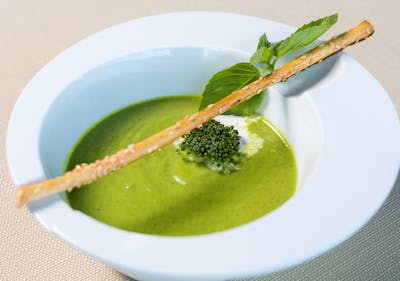 Amvo
Vintage decor, historic postcards and banners, books on the shelves and wooden furniture - this restaurant captures the real Dutch within its four walls. A combination of fast food options and authentic Dutch ones, you can head here to spend a lavish night over some really good dinner and wine.
Where can I stay in Volendam?
---
Thinking of extending your trip for another day or two? Here are some of my hotel recommendations to check in for the night.
Art Hotel Spaander
Opening right to the pretty shoreline of Volendam, Hotel Spaander is located in Central Volendam - making it accessible to most landmarks. They've got an array of room types including bridal suite, family room, ocean view and more.
Starts from € 82
Hotel Old Dutch
Another hotel where you'll be blessed by the scenic view, Hotel Old Dutch has got cosy rooms well-equipped with modern amenities. Oh, and they offer complimentary breakfast too!
Starts from € 105
Roompot Marinapark
A relaxing resort with some of the best amenities and facilities, this one is ideal for families and couples. From an indoor pool to gym and other facilities and comfortable rooms, Roompot Marinapark Volendam offers a super comfortable stay.
Starts from € 89
Tips for Going from Amsterdam to Volendam
---
The countryside is extremely windy and if you are cycling to Volendam you need to ensure you are wearing layers like a windcheater, which you can take off once you finish your ride.
The centre of Volendam is pedestrian or cyclists only and you cannot park your car in any other spots except for the parking lots. Your vehicle will be towed away if you park in any other place.
The best way to visit the village of Marken is by ferry as it gives you a chance to enjoy the panoramic views of the villages; however, if you are looking for a faster way to reach Marken then it is by road. The journey of 16 KM can be done by car or by taking a public bus number 610 which will take you about 20 minutes.
All the attractions in Volendam open around 10 AM which is when most of the tourist buses start arriving in the town. If you wish to explore the city a bit more leisurely without the crowds, arrive an hour early to enjoy the town with almost no tourists.
Don't forget to stop at Edam, a small town about 3 KM away from Volendam. It is best known for its Edam cheese which is a hard cheese that is yellow inside but is coated with a red paraffin wax on the outside. If you're taking a guided tour from Amsterdam to Volendam, then Edam is almost always a part of the itinerary.
Amsterdam to Volendam Guide