With more than a millennium of history dating back to Moorish times, the Alcazar of Seville has earned a claim to fame as the oldest royal residence in Europe still in use. Located in the heart of Seville, it is a UNESCO protected royal widely renowned as a beautiful example of Moorish architecture, especially for it's outstanding examples of Mudéjar architecture. There's no leaving Seville without visiting the Alcazar, and since everyone thinks so, getting tickets to the Royal Alcazar of Seville is quite the task.

But, don't you worry! We have a couple of hacks that will get you last minute Alcazar Seville tickets. Read on to know how.
Real Alcazar of Seville, Reales Alcazares or Royal Alcazar of Seville?
---
First things first, getting the name right. The Alcazar of Seville goes by several names - Royal Alcazar of Seville which translates to Real Alcazar of Seville in Spanish and Reales Alcazares of Seville which again translates to Royal Palaces of Seville in Spanish. Sometimes, you may also hear it being referred to as the Alcazar Castle in Seville, but that one's definitely wrong as the Alcazar is Palace and not a Castle.
But I think what the locals call it makes the most sense - Reales Alcazares. This is because the Alcazar Seville constitutes a number of palaces built by different rulers over different times. However, the official website still calls it the Real Alcazar of Seville, but that's just maybe because that's the more popular lingo!
Types Of Alcazar Seville Tickets
---
Before looking at different ways to get Alcazar Seville tickets, know the 6 different types of tickets you have the option to purchase.
General Admission Tickets - These are the most basic tickets (€ 12.5) which give you access to the ground floor of the palace complex and gardens. You don't have the skip the line option or guided tour on these tickets basic tickets, but they can be purchased online in advance. Should you want, you can purchase on audio guide on-ground to compliment these tickets.
Royal Apartments Tickets - These tickets give you access to the furnished royal palace upper floor which may be added to the general admission. They cost €17 and you are assigned a slot as per availablity on the date of your convinience. Online reservations in advance are highly advisable. Note, most morning guided tours give you access to the Royal Apartments.
Skip The Line Tickets - These fast track tickets allow you to skip the lines and avoid the queues that could take up to 1-2 hours and waltz in by just flashing your mobile tickets. They are economical, hassle free and simply the best! You also have the option to pair this up with an audio guide, should you like to learn some interesting commentary of the surroundings during your visit.
Skip the Line Tickets With Guided Tour- This one's the real deal, my personal favourite. You are entrusted with a historian guide who will usher you in, away from the crowds and give you an impeccable tour of the Alcazar. Nothing beats having a tour guide in a place immersed in such history. Honestly, no audio guide, book or even google can do justice to the lores and facts this local historian guide can give you. Book Now >>
The Combo Deal : Alcazar + Cathedral - Seville has 2 prime attractions - the Alcazar and the Cathedral of Seville. If you're planning to visit them both, why not grab a combo ticket and save a few euros? Also, you can do away with the hassle of buying two seperate tickets and have them bundled into one! Makes sense? Yes! Book Now >>
A Night Tour : For the night owls, here's a tour that you'll love. Exploring the city of Seville at night is a sight that words often fail to evoke. However, note that you will not be allowed entry into the Alcazar, but you will be able to see the General Archive of the Indies, the Alcazar palace complex, and the Seville Cathedral on this night tour. PS: You get to visit Casa de la Guitarra and enjoy a traditional flamenco show! If you're in Seville for just an evening, this experience is your best bet. Book Now >>
Recommended Alcazar Seville Tickets
Different Ways To Get Alcazar Seville Tickets
---
Official Website
Tickets for the Real Alcazar of Seville is easily available on their official website. While you do have to pay a €1 surcharge for the privilege of booking online, any euro that allows you to skip past the queues and head straight in, is a euro well spent in my books. Tickets on the website sell out months in advance, so make sure you grab them well before your day of visit.
Third Party Vendors
The best part about third party vendors like Headout is that you get to score a few discounts on your purchase as compared to the official website prices. Moreover, you have the option of buying combo deals, night tours and other deals that the website may not offer you.
The Guided Tours
To get the best of your Real Alcazar Seville experience, I would say go for a guided tour with no second thoughts! Having a local historian guide who relays the history, facts and lores of the Alcazar enhances your experience leaps and bounds. I know they are slightly costlier, but trust me, it is well worth your money. Moreover, these guided tours allow skip the line access and they are an absolute boon during peak hours/season
On-Site Purchase
This is most definitely the easiest and cheapest way to get tickets as it involves no planning. You just have to turn up and stand in a queue to get your ticket. However, queues to buy tickets for the Alcazar Seville can be long, slow and very, very hot. Temperatures in Seville reach 40 degrees celsius during summers and by the time you get your tickets, you probably want to head home for a nap! However, if you do want to save the €1 fee charged on online bookings, this one's your best resort.
Best Alcazar Seville Tickets
---
Alcazar Seville Hours
---
October to March: From Monday to Sunday, 09:30 to 17:00
April to September: From Monday to Sunday, 09:30 to 19:00
Closed on the 1st and 6th of January, Good Friday and the 25th of December
Free Mondays 16:00 to 17:00 (October-March) and 18:00 to 19:00 (April-September)
Good To Know Before You Go
---
If you're purchasing tickets on the official website, make sure you use a Mastercard and not a Visa Card. Many people have faced difficulties in their payment going through with a Visa Card. Headout does accept all cards, hence go ahead and purhcase from Headout if you have a Visa card. You'll face no issues.
Admission is free on Monday during the final hour of the day. However, I'd recommend buying online tickets (€1) for this time too, as on busy days, i.e. almost all Mondays, visitors queuing without tickets may not gain admission. This is because on Mondays, the number of visitors allowed into the palace complex remains limited to keep the crowds in check. Spend the €1 and you'll have an assured entry on the free Monday.
The Royal Apartments (Cuarto Real Alto) constitute the 15 rooms on the upper floor of the palace that required an additional ticket and is open for visit only until 13:30 daily. You can purchase the Royal Apartment tickets while booking your general admission tickets or make a reservation at the dedicated desk as soon as you enter the complex. Note, admission to the royal apartments is strictly by time slot reservations and the time printed on your tickets are for entering the Royal Apartments, not the Alcazar complex.
The best times to visit the Real Alcazar Palace, like most top tourist sites in Europe is first thing in the morning (9:30 AM) or towards the end of the day. Avoid weekends and holidays as much as you can. The Alcazar is noted to be busiest from just before 11:00 to mid-afternoon, so avoid these times too.
You have limited food options inside the complex. The cafeteria in the garden serves basic snacks and drinks and is the only café in the complex.
Toilets are available off the Patio de la Monteria before entering the main Mudejar palace. It's close to the café, at the far end of the garden.
Parking at the Real Alcazar can be tight. It's best that you leave your car in one of the parking lots in the city centre and walk from there.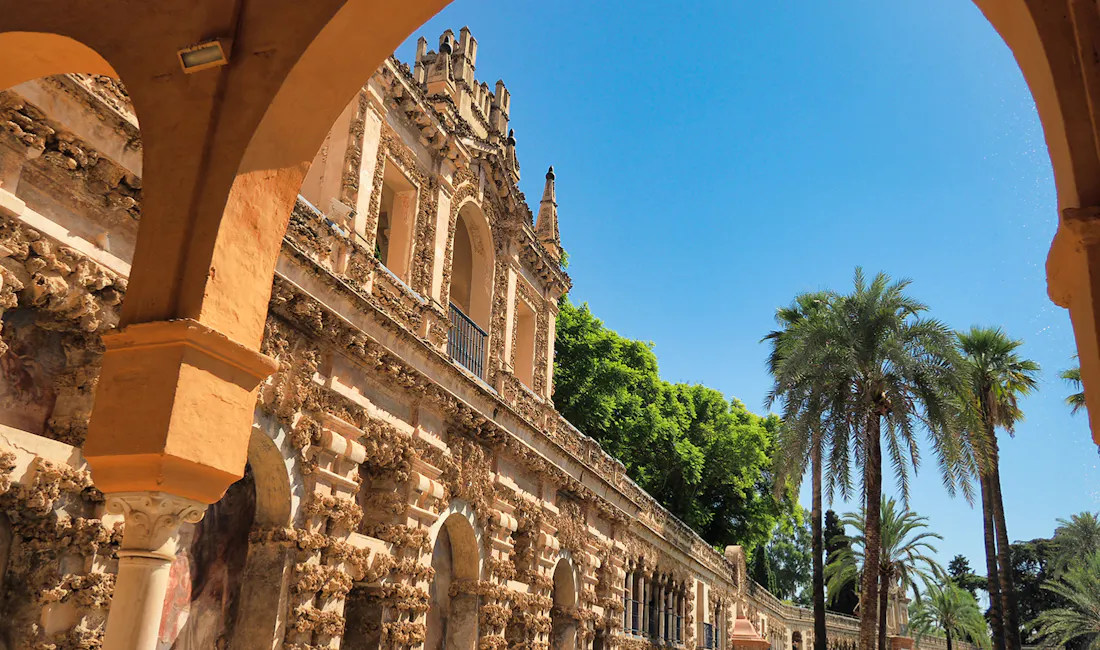 Frequently Asked Questions
---
What do I do if the tickets are sold out?
Is the Alcazar Seville Guided Tour recommended?
Can I visit only the Gardens of Alcazar?
Can I visit only the Royal Apartments of Alcazar?
What is the cancellation policy for Alcazar Seville Tickets?
Is there a way to see the Real Alcazar for free?
What is the best time to visit the Real Alcazar of Seville?
Is there a baggage check at the entrance?
Are there any limitations on Photography?
How much time should I keep aside for a sedate visit?
Is the Alcazar Seville a child-friendly attraction? Are there reduced prices?
Recommended Alcazar Seville Tickets
Ready to Visit Seville?
---
Here are some detailed blogs that will help you plan your Seville vacation better.