Aerobus Barcelona Reopening Date - 16th April 2020
---
Starting 16th April 2020, Aerobus Barcelona has reopened its service. At the same time effective guidelines have been put in place by the sanitary authorities, to safeguard oneself and fellow passengers from coronavirus.
Safety Measures Followed To Be Followed By Aerobus
---
To maintain maximum safely, one must always use a mask at stops and vehicles when travelling. It is necessary to keep a safe distance of at least 2 meters from other passengers.
All vehicles will have limited occupancy of 50%. To ensure it is a hygienic environment, cleaning and disinfection measures at buses have been strictly enforced.
Cash payments will not be accepted. Only Credit & Online payments will be accepted. The driver will not be attending to the passengers at any point during the journey. If one belongs to the risk group, they are strongly recommended to avoid using the transport.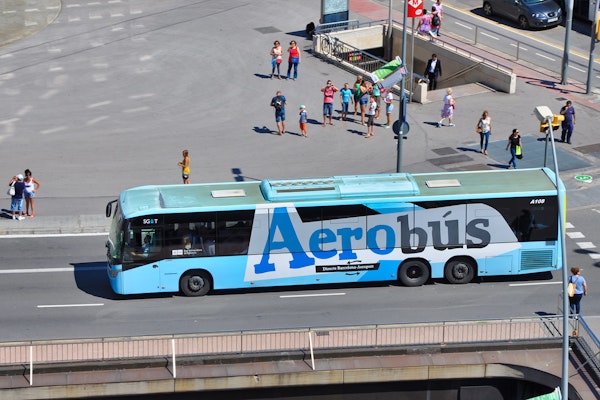 Buying Aerobus Barcelona Tickets Today
---
Considering the ongoing situation, direct cash payment has been temporarily suspended.
Booking Aerobus Barcelona Tickets Online
Tickets for Aerobus Barcelona are available here. The average travel time per journey is 35 minutes.
Aerobus Barcelona - Revised Opening Hours
---
Line A1 - Terminal 1:
Pl. Catalunya (Barcelona) - Terminal T1 (Airport BCN) will be operating from 7:00 AM to 10:00 PM, every 25-30 minutes approximately.
Terminal T1 (Airport BCN) - Pl. Catalunya (Barcelona) will be operating from 7:40 AM to 10:15 PM every 25-30 minutes approximately.
A2 line has been suspended, until further notice, due to the closure of Airport T2.
For more information about visiting Aerobus Barcelona, refer to the preventive measures information here.