Barcelona is a very well planned city. It is constructed of Superblocks, an urban design concept to minimise traffic. All public modes of transport and cars need to drive around these superblocks. The city's favourite and most convenient mode of transport is to board a bus. Among them, Aerobus Barcelona is local and tourist-friendly. It is a shuttle bus that takes you from El Prat Airport to Barcelona's city centre in under 35 minutes. Sounds easy, peasy? Here is all about the reopening of the commute, tickets, how and where you can board them.
What is Aerobus Barcelona?
---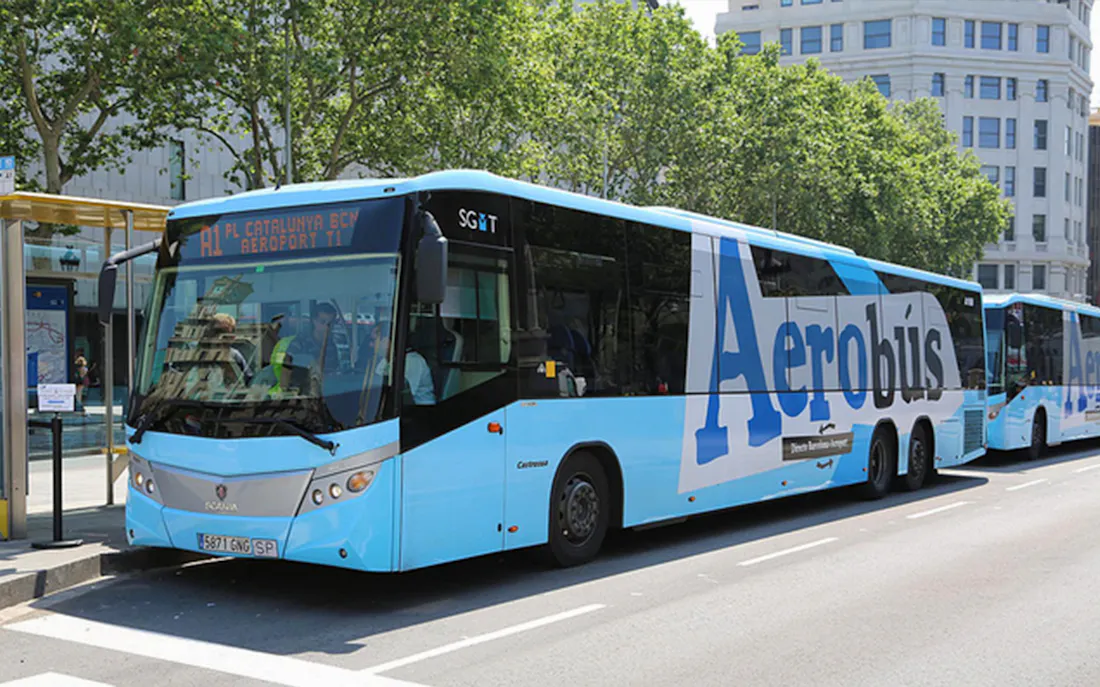 Aerobus is the city's shuttle bus that transfers people to and from the airport and within the city. Reaching the city from the airport within 35 minutes is every tourist's dream, that is realised with Aerobus. Missing a bus is no big deal since there is one arriving every 5 minutes. What is more assured is that it is available every day of the year. The bus feels like a mini luxury van with air conditioning, TV and Wiki. Space is the last thing you will be worried about since the bus has ample room for you and your luggage. Arrive and depart effortlessly while in Barcelona.
Aerobus Barcelona Reopening Date - 16th April 2020
---
Starting 16th April 2020, Aerobus Barcelona has reopened its service. At the same time effective guidelines have been put in place by the sanitary authorities, to safeguard oneself and fellow passengers from coronavirus.
Safety Measures Followed To Be Followed By Aerobus
---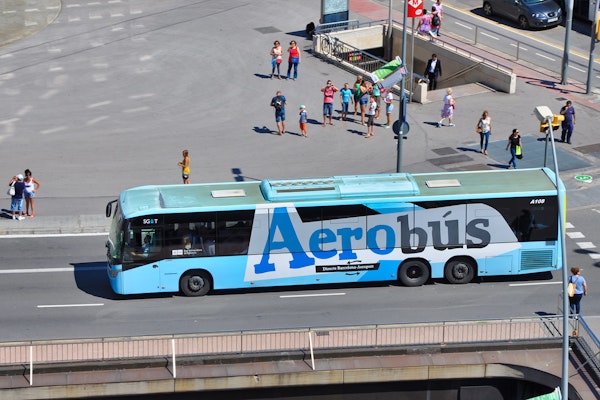 To maintain maximum safely, one must always use a mask at stops and vehicles when travelling. It is necessary to keep a safe distance of at least 2 meters from other passengers.
All vehicles will have limited occupancy of 50%. To ensure it is a hygienic environment, cleaning and disinfection measures at buses have been strictly enforced.
Cash payments will not be accepted. Only Credit & Online payments will be accepted. The driver will not be attending to the passengers at any point during the journey. If one belongs to the risk group, they are strongly recommended to avoid using the transport.
Buying Aerobus Barcelona Tickets Today
---
Considering the ongoing situation, direct cash payment has been temporarily suspended.
Booking Aerobus Tickets Online
Contrary to the popular belief, purchasing Aerobus Barcelona Tickets in advance has its perks. For starters, the starting ticket price is €5.9 only. You also need not stand in long queues at the airport with your luggage. The tickets are valid for 6 months from the date of purchase.
Aerobus Barcelona Horario
Revised Opening Hours
---
You can board Aerobus every day of the year. Single and round trips by the shuffle are offered.
Schedule for Line A1 - Terminal 1 to Pl. Catalunya
5:37 am to 11:00 pm, every 15 minutes
Schedule for Line A1 - Pl. Catalunya to Terminal 1
5:00 am to 10:30 pm, every 15 minutes
A2 line has been suspended, until further notice, due to the closure of Airport T2.
For more information, refer to the preventive measures information here.
Navigating Aerobus Barcelona Routes
---
Primarily, the shuttle travels from and to Terminal 1 and terminal 2 of El Prat Airport. The different Aerobus Barcelona stops are Pl. Espanya / Gran Via Urgell / Pl. Universitat and finally Pl. Catalunya. There are two main routes.
Line A1 - Picks up and drops off at Terminal 1.
Line A2 - Picks up and drops off at Terminal 2.
Stops for both routes remain the same. Please note that terminal 2 has been closed since 1st December 2020.
Handy Tips For First Time Aurobus Passengers
---
While purchasing a round trip, save the redeemed ticket received at the beginning of your journey. The same redeemed ticket must be produced on your return trip.
Check the validity of your tickets at the time of purchase if you intend to stay for a longer periods.
In case you intend to stay for long periods of time, it is recommended to purchase a single trip. You may book the trip back to the airport on the desired date.
Keep your luggage and valuables close at hand to board the bus quickly.
Frequently Asked Questions
---
What time does the Aerobus start in Barcelona?
Can you buy Aerobus tickets at Barcelona airport?
Where does the Aerobus stop in Barcelona?
How much is Aerobus Tickets in Barcelona?
How long does it take to reach the city from the Airport via Aerobus Barcelona?
How do I get from Barcelona airport to the city center by bus?
Can I purchase Aerobus tickets online?
Ready To Explore Barcelona?
Check out our comprehensive guide of top things to do in Barcelona packed with itiniraries, tours, culture trips, best hotels, restaurants and a lot more.