Your Experience
The Ride
Get ready for a thrilling desert drive over the red sand dunes, deep into the heart of the Lahbab desert. You will be picked up on a 4x4 and driven to the desert leaving the city behind.
Once you arrive at the desert, your expert driver will take to the sands and ride over the dunes for an adventurous 4x4 experience. Follow that with a session of thrilling sand boarding amidst the dunes.
The Camp
After the ride, you arrive at a traditional Bedouin camp where other desert activities are in store. Here, you will be able to experience camel riding, aromatic shisha, and henna hand painting.
Adding excitement to an already fun-packed evening will be entertainers performing traditional tanoura and fire shows and belly dancing. Post the fun, you can also dress up in traditional Arabic dresses and take photos of an Arabic version of yourself.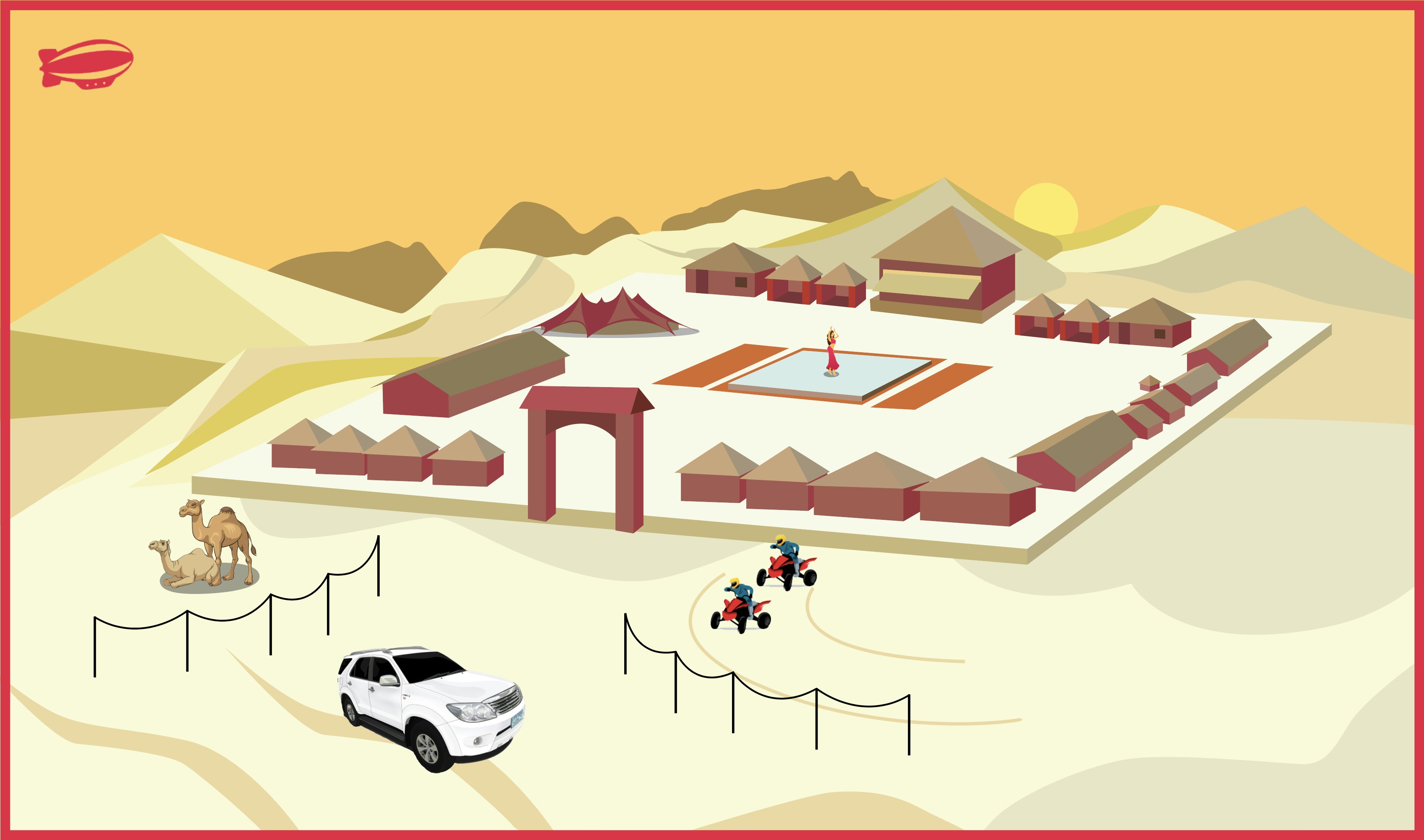 The Food
As the day comes to a close, you will be led to a delectable buffet which you can pair with unlimited soft drinks, water, tea, and coffee. With a wide array of vegetarian and non-vegetarian dishes to choose from, your buffet will perfectly cap the evening.
Know Before You Go
Timings
Depending upon the pickup location and the operator conducting your desert safari, you will be picked up anytime between 03:00 PM - 04:00 PM. You may directly get in touch with the operator for information on your exact pickup time. At the end of your excursion, you will be dropped off between 9:00 PM and 9:30 PM.
Desert Safari Location
The camp is located in and around the Al Aveer Desert.

During Ramadan
On account of Ramadan, there will be no entertainment shows and alcohol served between 15th May - 18th June, 2018.
Important Information
Please note: On account of Prophet Mohammed's Birthday, there will be no entertainment shows and alcohol served at the Safari between 30th November - 1st December.

There will be a dry day from 6 pm on Friday, April 13th until 7 pm on Saturday, April 14th. During the dry day, there will be no entertainment and no alcohol will be served. Please be guided accordingly.
Infants below the age of 2 years are not allowed.
People of age above 70 years are not allowed.
Henna painting is available at the camp but not included in this experience.
Camel rides will be brief so as not to overburden the animals, especially given the heat.
Pregnant women are not allowed.
On this stunning desert safari, you will travel in a 4x4 vehicle to a traditional Bedouin camp where the thrills of bashing the dunes and sand boarding await you.
Experience a wide variety of desert activities such as camel riding, shisha smoking, and henna painting.
Enjoy the night further as dancers perform belly dancing, tanoura dance and fire show.
Relax under the stars with a delicious buffet meal paired with unlimited soft drinks, water, tea and coffee.
Hotel pick-up and drop-off by 4x4
Sand boarding
Desert dune bashing
Belly dance
Tanoura and Fire show
Short Camel ride
Unlimited soft drinks, water, tea and coffee
Unlimited hubblee-bubblee shisha
Arabic dress photograph opportunity upon availability
Vegetarian and non-vegetarian BBQ buffet dinner
Sunset photography opportunity
Separate restrooms for men and women
Super Flexible Cancellation Policy
You may cancel up to 24 hours in advance for a full refund.
You will receive your desert safari voucher in an email. No need to print. Please display the same on your mobile phone at the time of pick-up with a valid photo ID. Your vehicle will pick you up from the hotel you've mentioned between 03:00 PM - 04:00 PM.
Great Tour, But limited customer service from the web. Actual tour service is good.
Everything was just so brilliant. The service was great- the car ride was smooth; the campsite was beautiful. Then there was the fire show, the belly dancing, the camel ride, the dinner, everything was just so perfect.
There was so much to do, the camel ride, the show and we took so many pictures. This was one of the best evenings in Dubai.